Emirates business class flight plus hotel offers
Until 6 October Expedia are running a special offer when you buy flights plus accommodation travelling on Emirates business class from the UK.
Examples include:
Bangkok – business class flights and 5 nights accommodation from £2,235 but for around £2,500 there is a large selection of 5* hotels including the Shangri-La Bangkok and the Conrad
Phuket – business class flights and 5 nights accommodation from £2,235
Singapore – business class flights and 5 nights accommodation from £2,458
Is it a good deal? Taking Bangkok as an example for the travel period of the offer the flights alone cost £2500 so you are at worst getting a 5* hotel free if you went for that option. You could also reduce the cost even more by using Topcashback.
Booking Dates: until 6th October
Travel Dates: until 14th December
You can find the offer page here. 
Ex Eu to Miami from £1127 – optimisable for 760 tier points
Miami is a great place to visit for some sunshine and nightlife with miles of sandy beaches, great restaurants and nightlife. There is also the iconic South Beach district with its Art Deco buildings along Ocean Drive. The current offer from Stockholm or Gothenburg is incredibly cheap with BA and also makes an ideal cheap tier point run if you optimise it.
The rules:
Book by: 31 December
Travel period: Permitted 27 Jun – 4 Sep,  18 Nov – 22 Nov, 22 Dec – 1 Jan and 15 Apr – 26 Apr
Minimum stay a Saturday night or 6 days
Here is an example routeing from Paul of how to optimise this to get 760 tier points: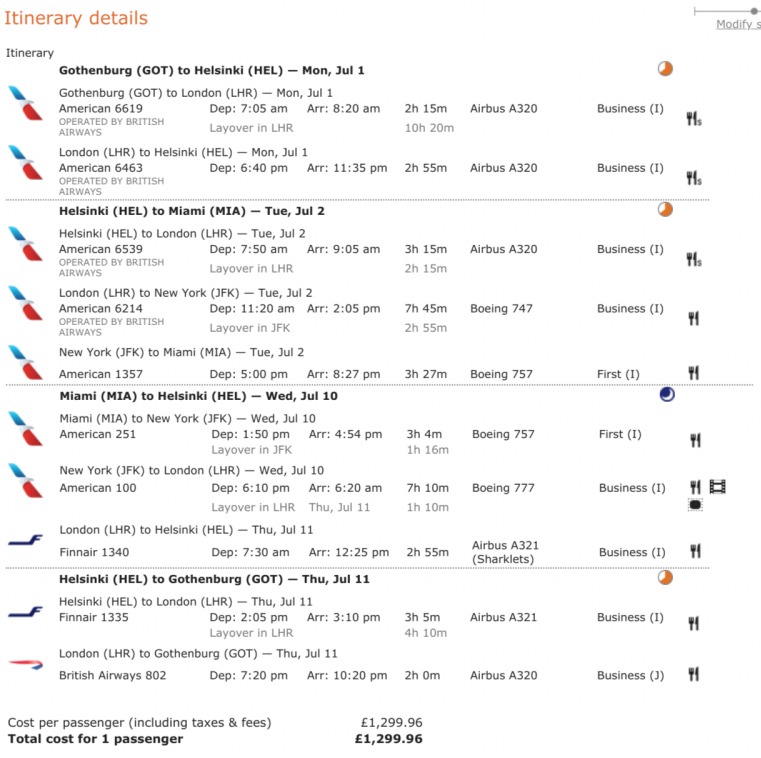 If you are new to optimising tier point runs and using ITA, you can read Paul two guides here – part 1, part 2.
You can book the flights direct with British Airways. 
Qatar increases order for A350-1000s
Qatar Airways has announced that it has upgraded five of its current order of A350-900s to the higher-capacity A350-1000. The airline has already taken delivery of 30 A350 aircraft (27 A350-900 and three A350-1000) from the total order of 76 A350 XWBs.
With the current blockade still in place which has negatively affected Qatar's financial performance, Qatar has had to switch strategy to concentrate on more long-haul route capacity which is likely to be behind the switch. Qatar made a $69 million loss for its last financial year. The airline blamed the loss "directly to the illegal blockade" imposed by Saudi Arabia, UAE,  Bahrain and Egypt since 5 June 2017.
Qatar Airways Group Chief Executive, His Excellency Mr. Akbar Al Baker, said: "Qatar Airways is delighted to have upgraded five of its previously ordered A350-900 to the more recently launched A350-1000. Since taking delivery of the world's first A350-1000 in February 2018, we have been extremely pleased with the aircraft's performance, which has prompted us to update our original order. The A350-1000 has been a welcome addition to our fleet and very well received by our passengers who enjoy the unprecedented levels of comfort and technology that this new generation aircraft offers."
The A350-1000 is only seven metres longer than the A350-900 but offers 28% more capacity in the business class cabin.