British Airways new Elemis Spa T5 review
A couple of weeks ago I wrote about the make-over of the BA Elemis spas at Heathrow (and New York JFK to follow). I was passing through T5 on Tuesday so I popped in to try a treatment and take a look at the new spa.
If you are flying First you can make an appointment 28 days in advance either by phoning YouFirst or by using the new online spa booking form. If you are flying in Club World or are a Gold cardholder on a long haul flight you can book at the spa reception. Don't forget in T5 there is also a spa at the B Gates lounge which often has more availability.
As well as a makeover by British designer Kelly Hoppen, there is also a new menu of treatments to choose from.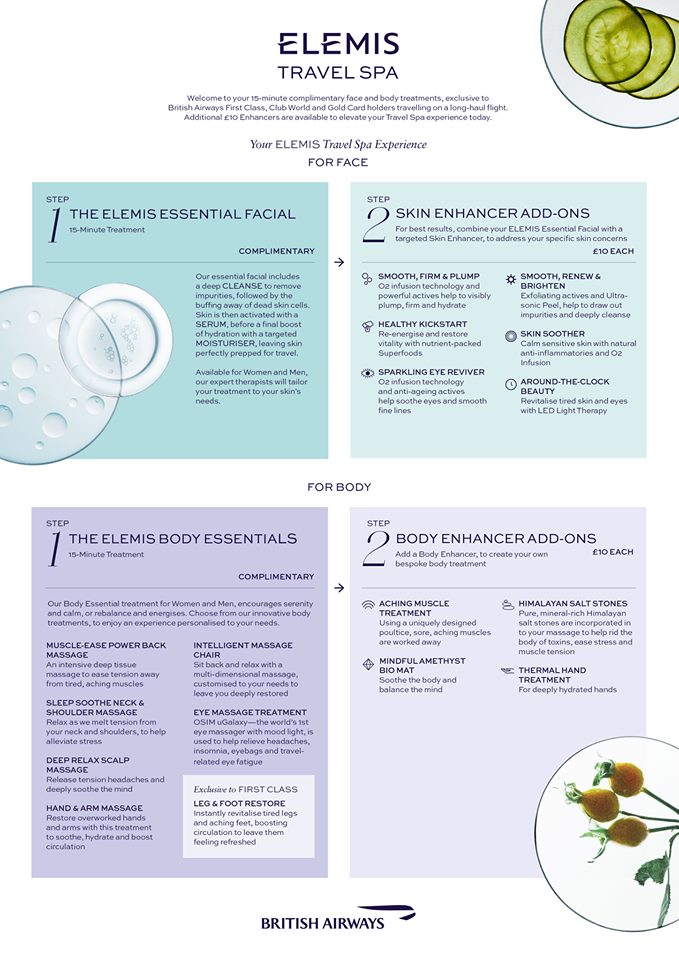 If you want a bit more indulgence you add on extras to the treatment. I was tempted by the eye massage treatment but this is actually using an electronic mask whilst seated in the massage chair. I thought I would try something a little more hands on so I had a facial with the Healthy kick start add on and also a Thermal hand treatment.
Although at first glance the spa does not look dramatically different, there is definitely an improvement. The rooms look much smarter and more like a proper salon.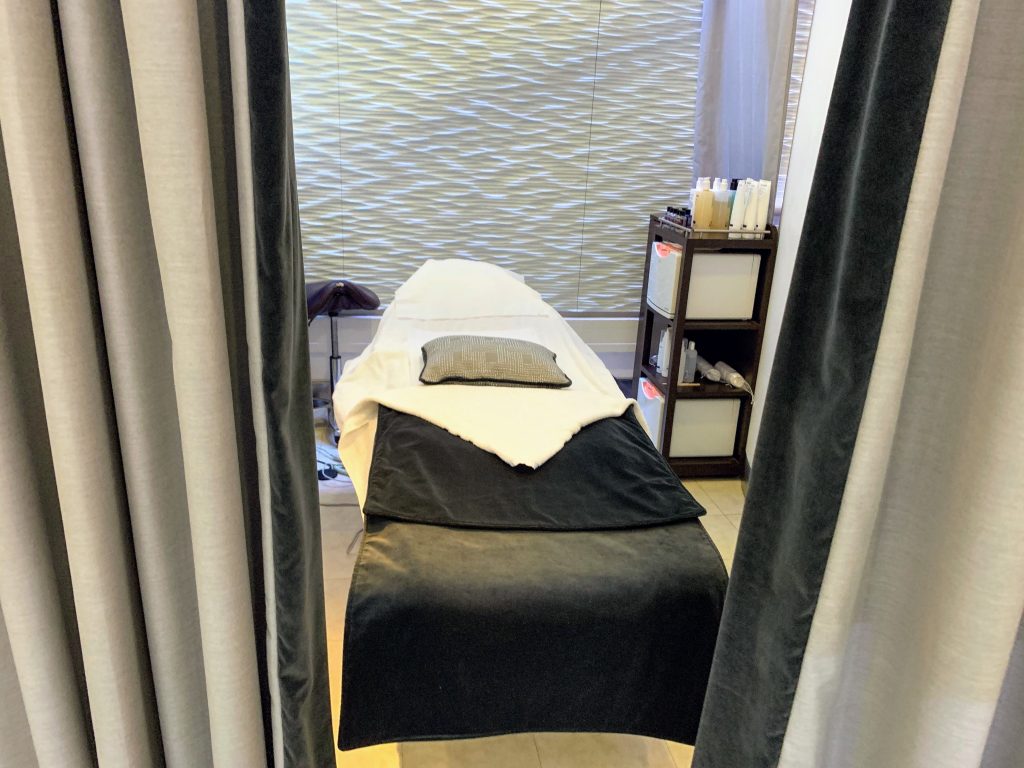 They are now equipped with the latest Elemis Biotec machines which deliver the £10 add-on treatments for facials.
I also noticed that there are now two massive chairs at the end where the shaving stations used to be. Other than that the set up was largely the same.
One of the most striking things was the number of therapists. I was there as the spa opened and I saw at least three. My therapist explained that they were recruiting more staff and in the meantime, they were paying overtime for more staff. This is a massive improvement compared with the usual lack of staff.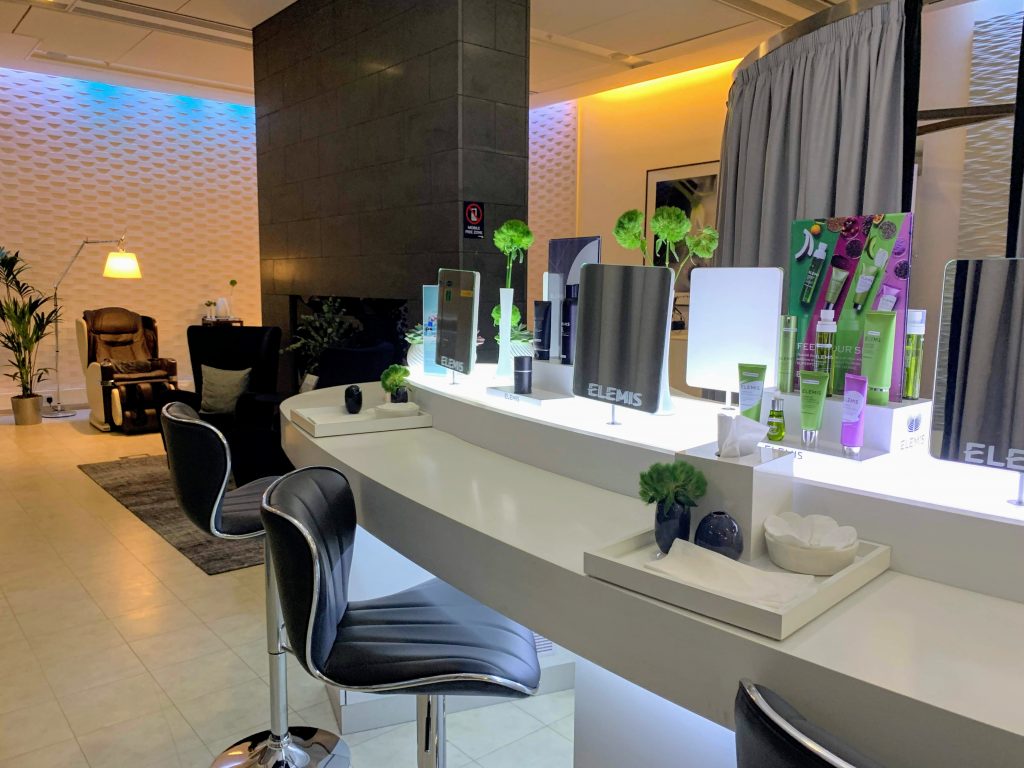 The tester area looked a lot smarter with some greenery and nicely laid out trays of tissues and cotton wool to use the products with. Don't forget to ask if they don't offer you complimentary sachets at the end of your treatment. They are very handy when travelling hand baggage only!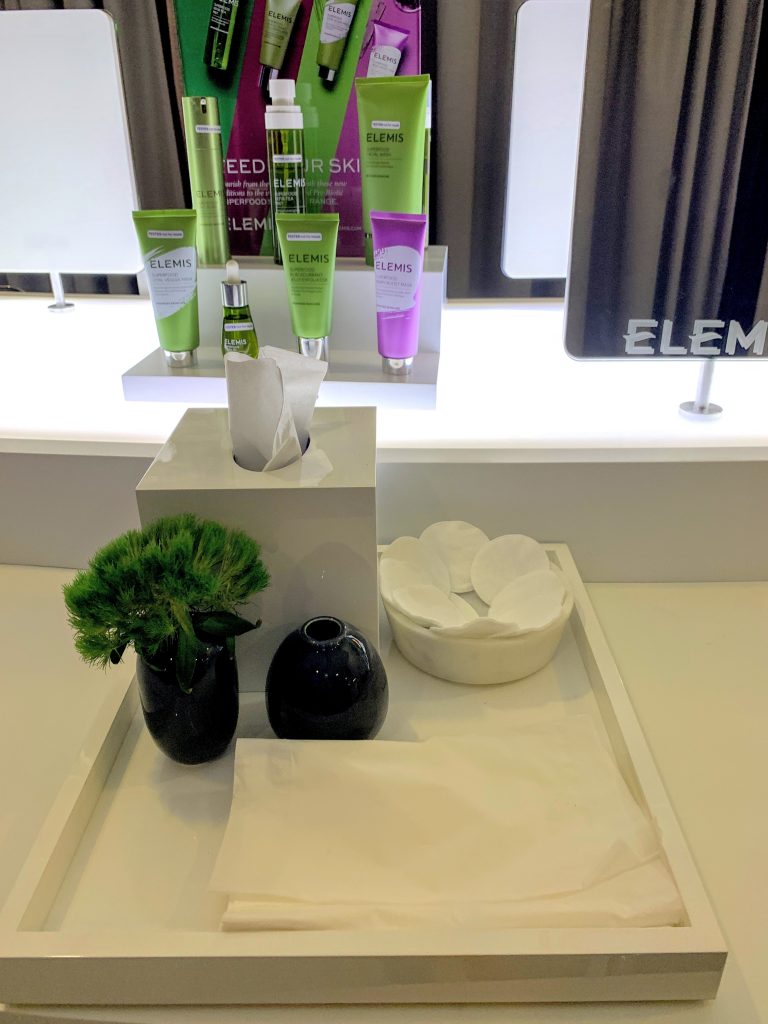 The treatment started a choice of the Elemis Life elixirs to inhale. A warm towel was put under my neck too. It then started properly with oil being massaged into my hands and then warm mitts applied. Next, my face was cleansed before the Biotec machine was used. There are 5 different options with the Biotec machine. I had the Ultrasonic ceramic plate that vibrates 2700 times per second to lift dead skin and stimulate the production of collagen. This along with the Superfood range of products was included with the Healthy Kick start add-on. There are two settings for the machine so you can still have it with sensitive skin.
Once my face was thoroughly cleansed, the Elemis Superfood mask was applied along with the Pro-Collagen eye masks. A quick massage on the neck and shoulders with the Quiet Mind balm was done whilst the mask did its work. Finally, once the mask was removed, the Superfood oil was applied.
I was impressed with the facial, it felt like a quick version of a proper salon facial. I actually thought that the add-on was worth it, particularly the Biotec machine. These are pretty pricey to have in a salon and I definitely noticed the difference in my skin afterwards – it felt soft for the next couple of days.
Have you used the spa in the last couple of weeks? Have you noticed an improvement in the treatments or availability? Let us know in the comments below or on social media. 
British Airways to the Middle East from £1380 in Club World
If you are after some winter sun with not much jet lag and a shortish flight, then the Middle East can be a good option. I have been to Dubai and Abu Dhabi for winter sun breaks. You generally get far better value from hotels in Abu Dhabi than Dubai but there is less to do. This for me is an advantage as the pace (and traffic) in Abu Dhabi is a lot less frenetic. I particularly like the Shangri-la in Abu Dhabi as well as the Fairmont. Deputy Editor Paul is a fan of Muscat and the Shangri-la there. In Dubai, I enjoyed the Park Hyatt hotel which was an oasis amongst the busy city. Most of these hotels are available with our partners Propeller Travel which offers extra benefits such as free breakfast, hotel credits and upgrades.
There are a couple of good deals on BA from Amsterdam to the Middle East available over the winter.
Amsterdam – Muscat £1429
Amsterdam – Abu Dhabi £1380
The rules are:
Book by: 27 June 2019
Travel: For departures 20 Oct 19 through 10 Dec 19
Minimum stay: nights or a Saturday night
Maximum stay: 1 month
Transfers: Unlimited
Stopovers: No
Refundable: No
Changeable: For a fee
You can book direct with British Airways here or find the cheapest online travel agent price with Skyscanner.
Collect Heathrow Rewards On Club Aspire
Heathrow Rewards members are now able to collect loyalty points when they purchase entry to Club Aspire lounges in Heathrow Terminals 3 and 5. Heathrow Rewards and Aspire Rewards members will also be able to collect points for both loyalty programmes. For the first four weeks until 1st July, Heathrow Rewards will also be offering its members double points when buying entry to the Club Aspire lounges.
Heathrow Rewards members can collect points online when pre-booking lounge entry or in person when presenting their membership card or mobile app on arrival. Additionally, groups purchasing entry at the lounge can split the points between them, even if they are signing up to the loyalty programme for the first time.
Points can be exchanged for vouchers that can be used at outlets throughout the airport, such as Ted Baker, Jo Malone and MAC. They can also be put towards parking and travel on the Heathrow Express as well as transferred into miles such as Avios. You can read more about Heathrow Rewards in this article.
At Heathrow, Aspire Rewards points can be collected when checking in at the Club Aspire lounge in T3 only, with points able to be redeemed for free lounge entry, retail vouchers and more. The Club Aspire lounge in T5 is not included in the Aspire Rewards programme, however, all other Aspire, Club Aspire and Aspire Plus lounges in the UK and Ireland are included in the scheme.