As we get excited for an ever-growing 'green' list, who isn't planning their next summer holiday?
The Balearics are an ideal destination for a summer break – plenty of gorgeous beaches, cheap drinks and beautiful resorts to attempt a tan. However, you may not know that there is plenty more to see, and do than visiting the beaches and bars!
Here is a list of some of the best things to see and do, as well as some of the coolest places to stay in these beautiful islands – now green* listed for your pleasure! Which one are you going to first?
To visit Spain you either need a PCR or LAMP test 48 hours before arrival or to be at least 14 days after your full vaccination. They do accept the NHS app.
The majority of the hotels below can be booked through Debonair, our partners, with extra benefits. These include $100 hotel credit, upgrades and late checkout. Most rates are fully refundable and do not need to be pre-paid. If you have hotel status, you still get your points and perks.
*The Balearics are on the green watch list which means there is a chance of returning to amber. However, it is expected that quarantine will be removed for those fully vaccinated from 26 July.
Mallorca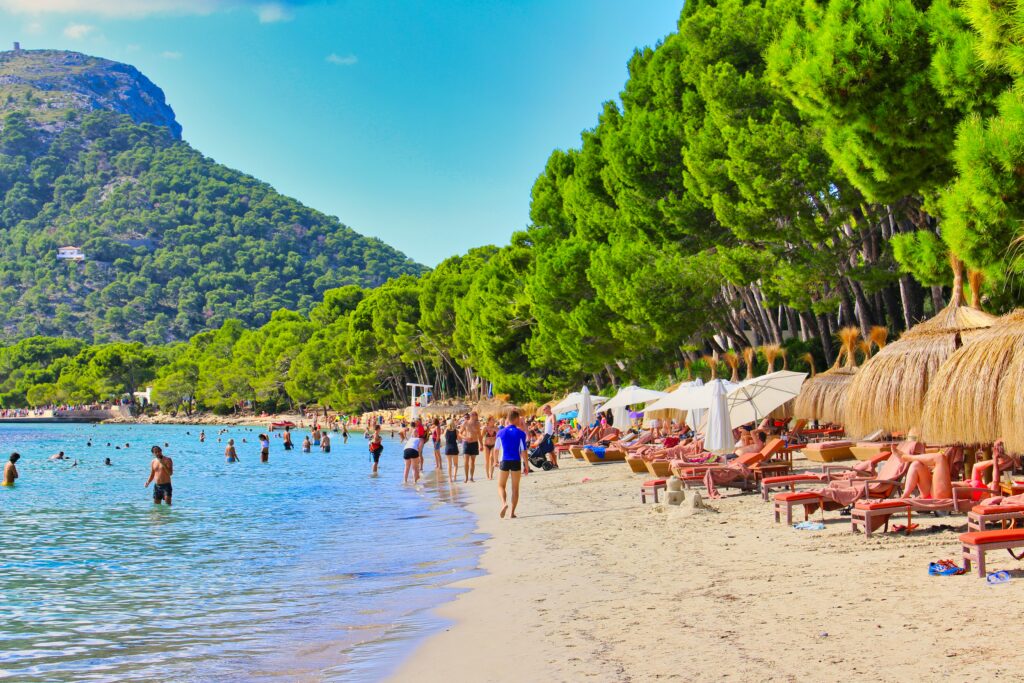 Mallorca, otherwise written as Majorca, is the largest of the Balearic Islands and a popular tourist destination (particularly for Brits!).
Not only does it offer beautiful beaches – of course – but also incredible architecture and history, great food, culture, shopping and things for those nature lovers.
Palma de Mallorca, the capital, is often named one the most beautiful cities in Europe, with it's old European charm, winding streets and beautiful architecture. That being said, if you want charm minus the crowds, explore a little further afield – there are plenty of amazing villages outside of the capital. Cala Deià in particular is often named as one of the most enchanting and authentic villages to visit, and a great place to start.
You can also hop on the vintage tram through orange groves from Palma to Port de Sóller.
In Palma, explore the gorgeous variety of neighbourhoods, all which boast a slightly different vibe. Don't miss the beautiful Catedral de Mallorca, where you can do tours, and wander the beautiful gardens and studio of infamous Spanish artist Joan Miro.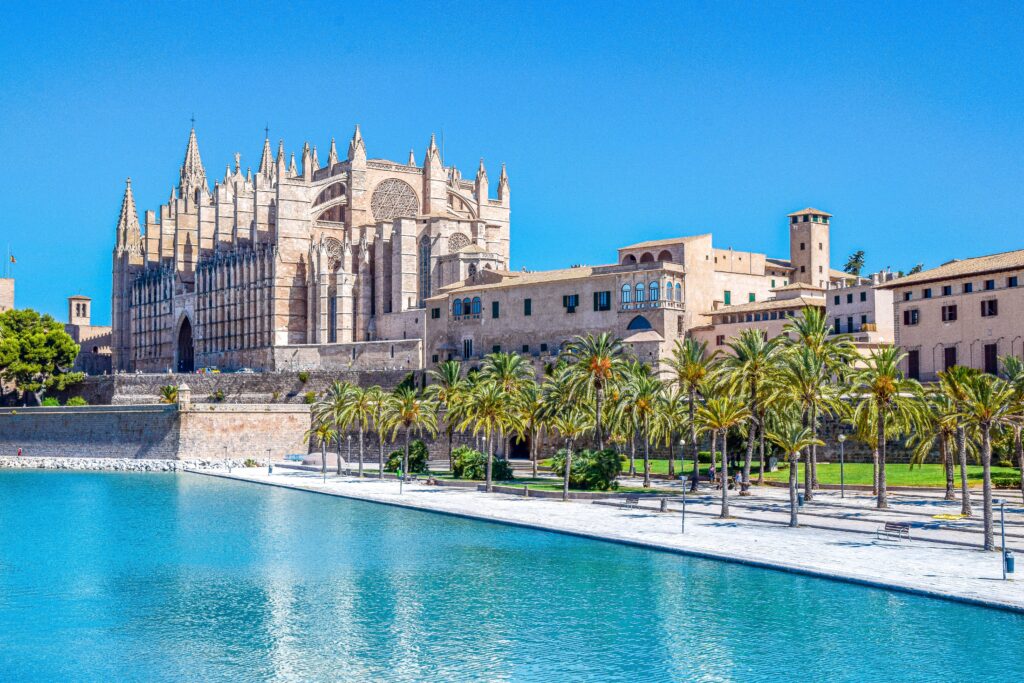 If you find yourself getting thirsty, you're in luck! Not only home to beautiful beaches, but over 70 vineyards, each producing different delightful blends for you to enjoy. Hop on a wine tour and spend a day in the sun, wine in hand – perfection.
For those who prefer a bit of an active lifestyle, you're spoilt for choice. Choose from paddle boarding, snorkelling, diving or go all out on a luxury catamaran trip and find your very own private beaches.
Majorca is also an outstanding hiking destination, full of superb trails; in particular, check out the gorgeous Tramuntana mountain range which has plenty of trails for all different hiking levels. The Mondrago National Park is also worth a visit, with enormous sand dunes and unique beach-side pine forests. There are also the dramatically-named Caves of Drach, where visitors can also find a beautiful underground lake.
If you are determined to visit a beach or two, Es Trenc is one of the most beautiful (though it can also be very popular; plan ahead). Classic crystal-clear water and white sands set amidst a nature reserve means the area remains pristine and less commercial than many others.
If you don't like the sand between your toes, spend your days at one of the many beach clubs instead. The oldest (and best) is the Puro Beach Club; a perfect spot to watch the sunset (and enjoy a sundowner, or two).
Hotels in Majorca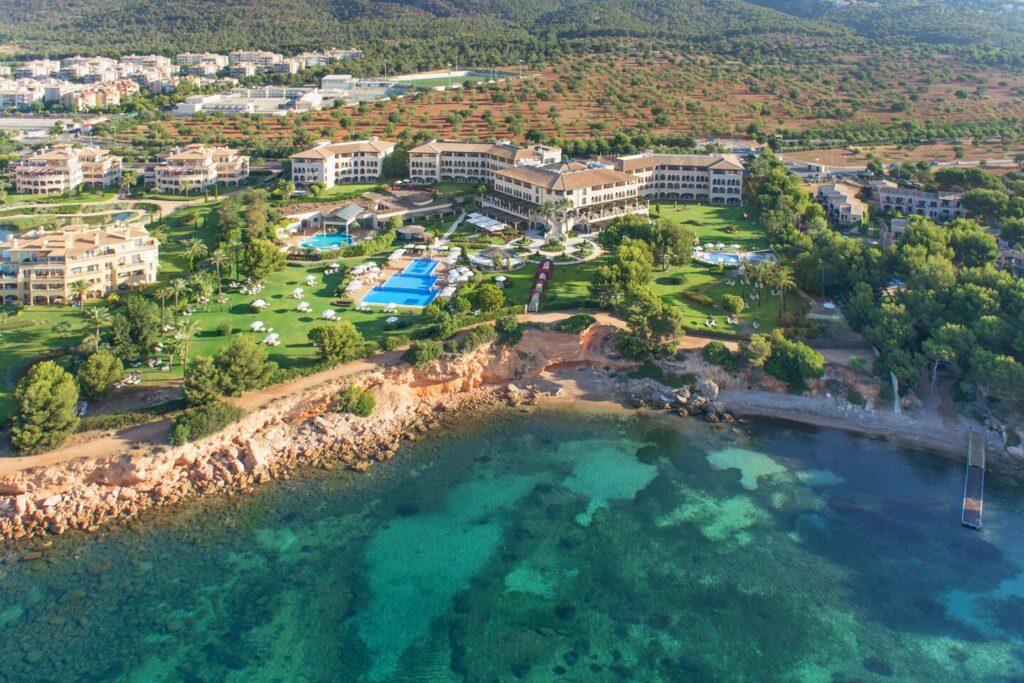 Hotel Name: The St Regis Mardavall Mallorca Resort
Location: Mallorca, Spain
Details: Located on the southwest coast of Mallorca, the property offers 125 guestrooms and suites. Featuring prime views of the sea and surrounding nature, guests can also take advantage of a Michelin-starred on-site restaurant, bar and the Arabella Spa, a 'premier sensory destination'.
The bespoke St. Regis Butler Service is included in all room categories, each featuring a private terrace or balcony overlooking the sea or gardens. Rooms are airy and reflect the rich and colourful Mallorcan culture, with state of the art amenities and luxurious custom furnishings.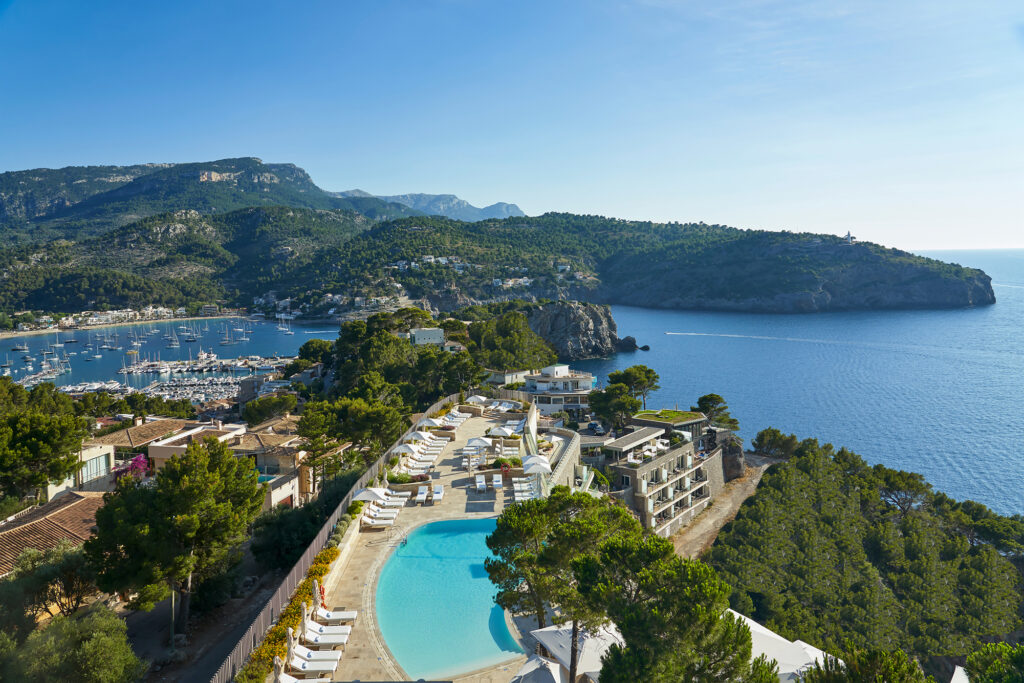 Hotel Name: Jumeirah Port Soller
Location: Mallorca, Spain
Details: Situated on the north-west of the island, the property features stunning views overlooking the sea and the Tramuntana mountains. The luxurious five-star Jumeirah Port Soller hotel also offers three on-site restaurants, several bars and lounges, three heated pools and a sumptuous Hammam-style spa.
The 121 rooms and suites offer cosy yet with warm tones and plush furnishings. All feature either a balcony or terrace with stunning sea or mountain views, as well as a thoughtful selection of local gifts, well-stocked minibars and large marble bathrooms complete with Natura Bissé amenities and walk-in rain showers.
*Michele will be visiting this week and bring a full report.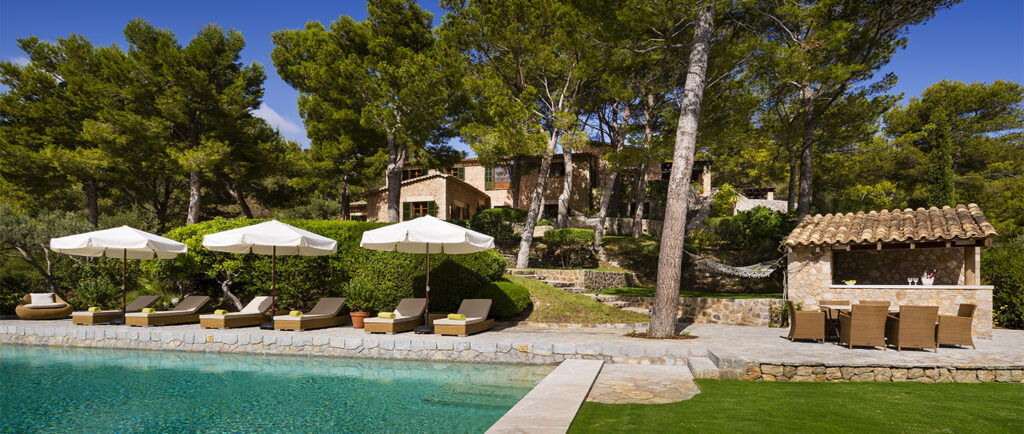 Hotel Name: Son Bunyola (Virgin Limited Edition)
Location: Mallorca, Spain
Details: This vast estate on the island's northwest coast includes three luxury villas set amidst 680 acres of stunning landscape. Sir Richard Branson's favourite Mallorcan retreat, the property is ideal for families or groups looking for a unique and private getaway. The estate is part of a World Heritage site and features olive groves and grape vines.
Each villa is all-inclusive, including chef-prepared meals and drinks, and feature 4 or 5 bedrooms, heated pools, incredible views and all the mod-cons. Luxuriously appointed yet still cosy, some of the buildings date back as far as the 13th century.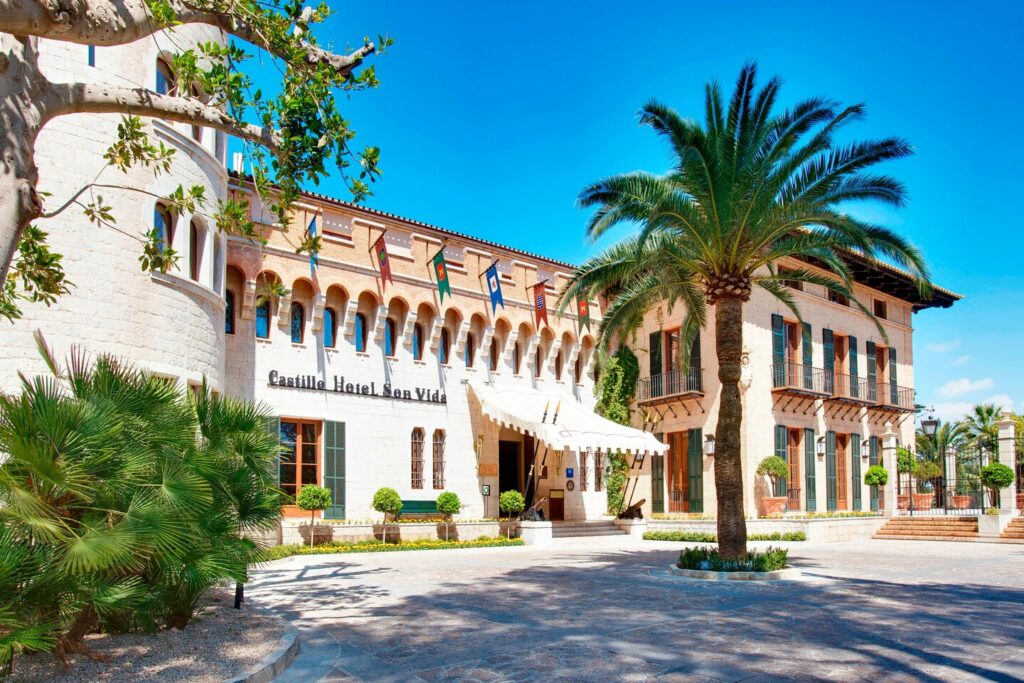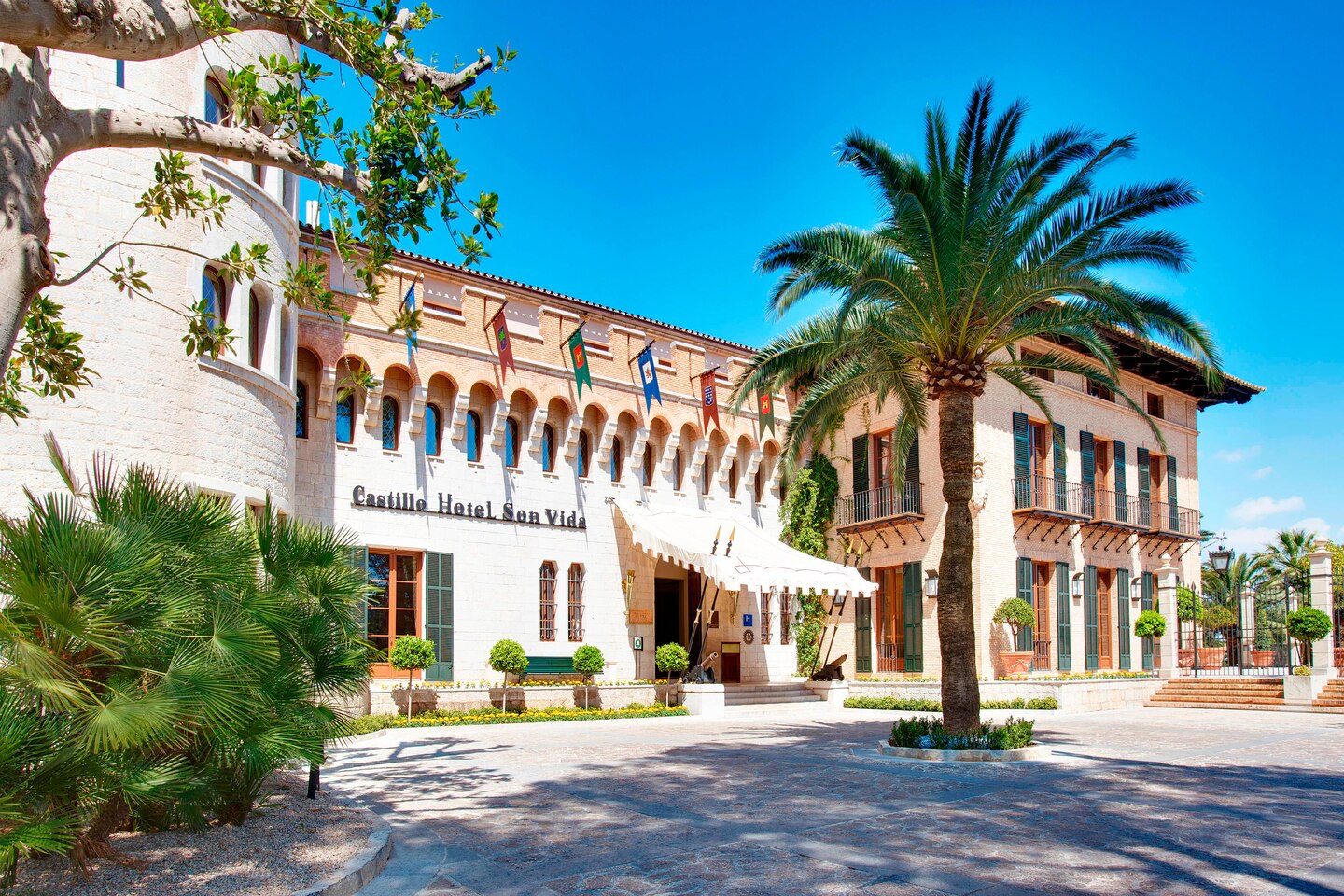 Hotel Name: The Castillo Hotel Son Vida by Luxury Collection (Marriott)
Location: Mallorca, Spain
Details: This 13th century castle-hotel features 164 rooms and suites, where the elegantly appointed rooms pay homage to the surrounding grandeur, without compromising comfort. Hidden amongst the finery are all the essential mod-cons, including flat-screen TV's and wi-fi, and all rooms also feature a balcony or terrace. Surrounded by subtropical lush gardens and incomparable views of the Bay of Palma, a stay here provides guests with a unique and unforgettable experience.
Guests can enjoy direct access to the championship golf course 'Arabella Golf Son Vida', several pools, a hot tub, on-site fitness centre and a spa. The property also features an extensive art collection.
There are two on-site restaurants, several bars and lounges and even a salon for afternoon tea.
*Michele is currently staying here and will report back soon!
Ibiza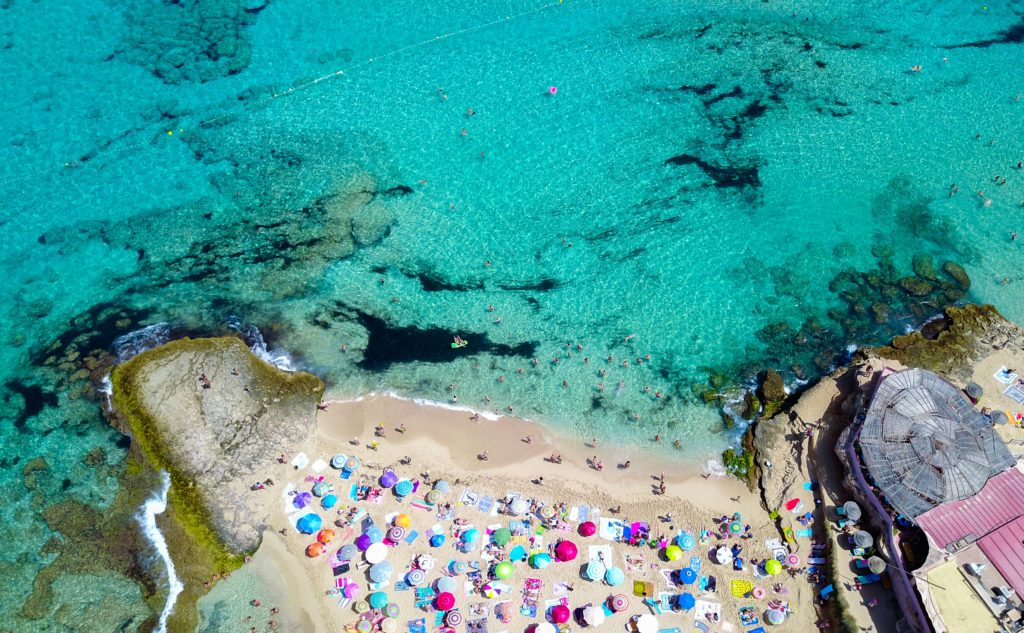 An island known worldwide for it's world-class nightlife, Ibiza has been the launch pad for many a now-famous DJ. Although only the third-largest of the Balearic Islands, Ibiza is the most popular of the islands and attracts hundreds of thousands of tourists every year (well, we're not counting 2020 are we).
Beyond the infamous nightlife and club scene, the island also offers incredible scenery, ancient history, culture, delicious local produce, boutique shopping and yes – beautiful beaches.
The two main areas are Ibiza town and San Antonio, or Sant Antoni. Plenty of hotels, shops, restaurants and bars in each, and the main areas of the island are quite well connected.
Make sure to visit the beautiful Dalt Vila area – the oldest and highest part of the island. The 2000-year-old walled town is classified as a UNESCO heritage site. Wander the medieval streets or the ancient walls, or visit one of the many museums, galleries or shops.
For history buffs, a visit to the beautiful Gothic Ibiza Cathedral is also a must-do, and the Old Castle.
Don't miss one of the many markets held weekly on the island; for something a bit unusual, head to the hippie market based in Punta Arabia.
Like Mallorca, hiking is very popular here and there are a range of gorgeous trails around and over the island (note: do not attempt if hungover). Try starting in the area around Portinatx, or towards Es Portixol for some amazing views. If you're really keen, head up Sa Talaia – the highest point of Ibiza. With 2.4km worth of steps, we can promise you, the view is worth it. Just keep telling yourself that while your legs are burning.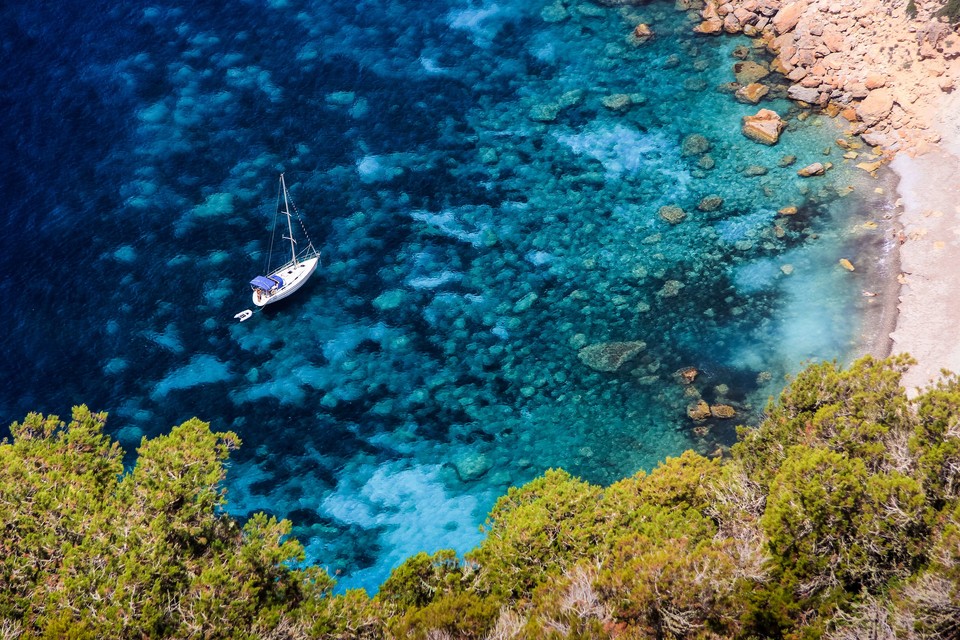 For views without the stress, Platja de Comte provides visitors with gorgeous sunset views (and the occasional chilled DJ sesh, of course).
As with any island, the beaches and water are a big drawcard. Some popular beaches to check out include Calla Mastella, Platja de Comte, Portinatx and Cala d'Hort Beach.
If you want to find your own, charter your own yacht or jump on a sailing trip. Stop at all the beautiful hidden coves or try some world-class scuba diving in the underwater caves. Or if you want to get away from the crowds, pop over to the nearby island of Formentera for a day trip.
All the big resorts offer activities like stand-up paddleboarding, tube rides, snorkelling and jet-skis, which is a great way to spend the day after a big night of dancing. There is also plenty of cabana's, beachside bars and sunbeds for hire.
And, amongst all that gorgeous sand, sea and sun, don't forget to try some locally-caught and fresh-as-it-gets seafood. You will find plenty of amazing restaurants dotted across the island, amidst the bars and late night kebab shops (which are also delicious).
Hotels in Ibiza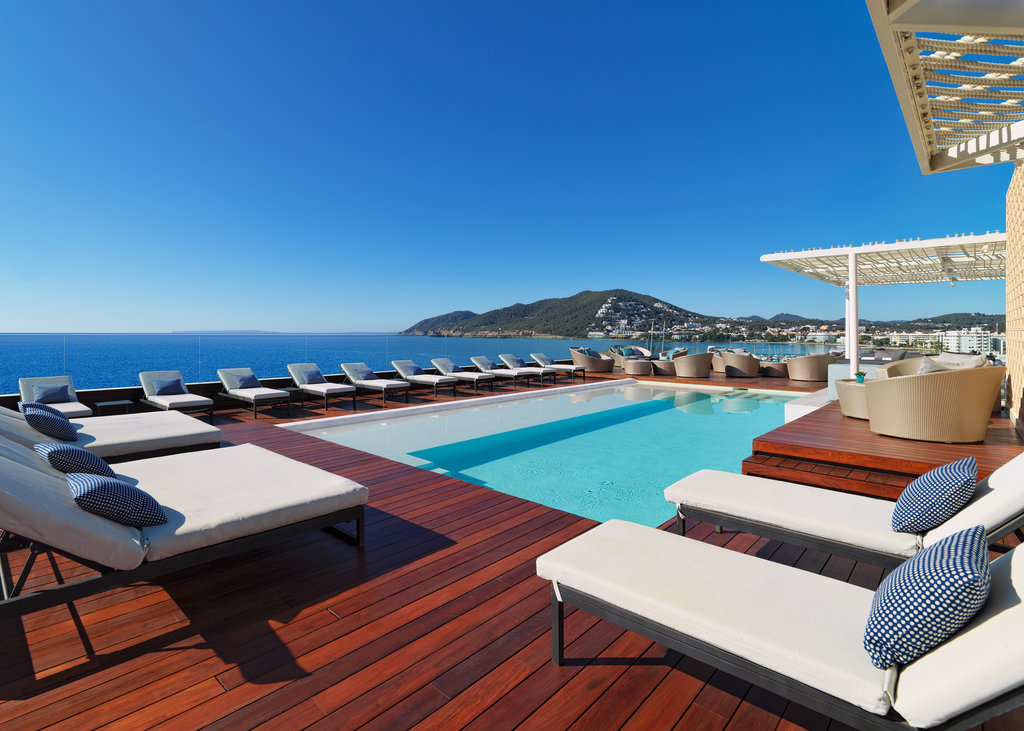 Hotel Name: Aguas de Ibiza Grand Luxe Hotel
Location: Ibiza, Spain
Details: A sustainable spa hotel with uninterrupted views of the sea: a stay at the Aguas de Ibiza Grand Luxe Hotel is one you can feel good about. Only a short distance from Ibiza's famous beaches and the bustling town of Santa Eulalia, the property provides a luxurious escape right in the heard of all the action.
Guests can enjoy a dip in three different pools, grab a cocktail at the rooftop bar, enjoy a meal at the on-site restaurant or indulge in a treatment at the Clarins spa, the largest on the island. Rooms are modern and bright, featuring King beds and designed under Feng Shui principles.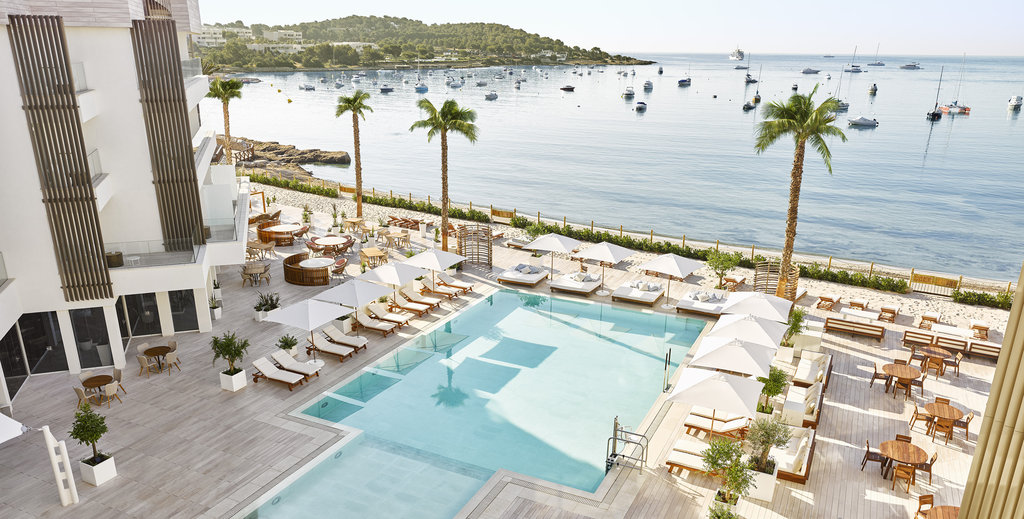 Hotel Name: Nobu Hotel Ibiza Bay
Location: Ibiza, Spain
Details: Nobu Hotel Ibiza Bay is a boutique beach retreat featuring 152 guest rooms and suites, three on-site restaurants (including one by the famous Japanese chef Nobu Matsuhisa), a bar, gym and spa. With direct beach access, the resort encourages a relaxed approach to the island.
Just 3km from the Old Town, guests can organise day-trips and guided tours, or simply relax by the pool with on-call cocktail waiters on standby.
Rooms are bright and airy, with a nautical style that reflects the nearby ocean and marina.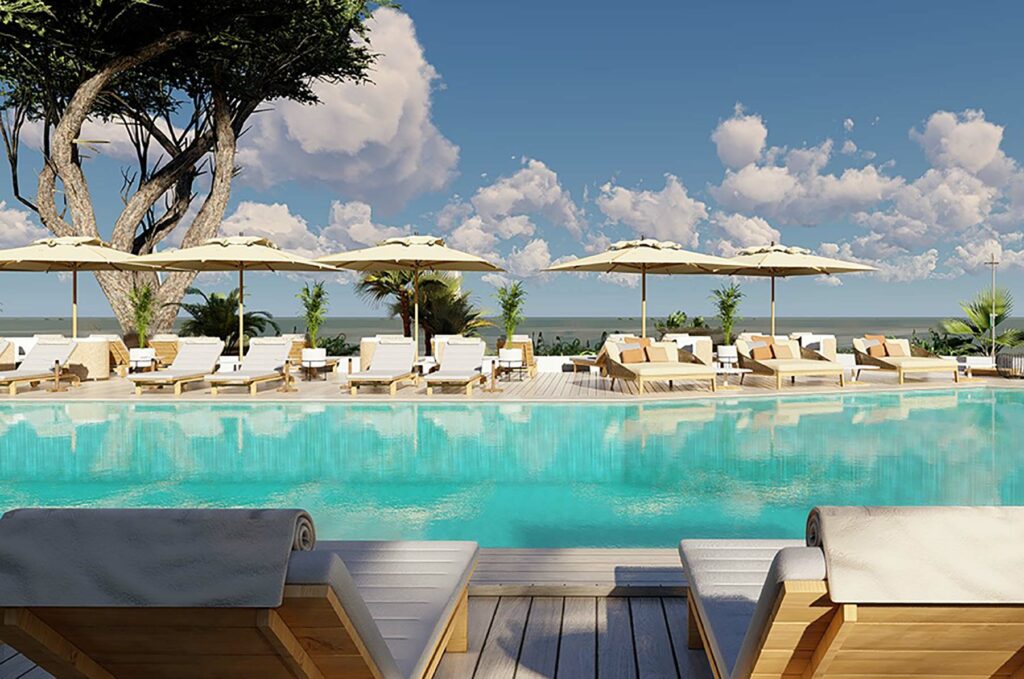 Hotel Name: Hotel Riomar, Ibiza, a Tribute Portfolio Hotel (Marriott)
Location: Ibiza, Spain
Details: Situated on the beach of Santa Eulalia Bay, the Hotel Riomar claims to be 'a place of balance, of ideas, people and inspiring experiences'. Featuring daily activities with a focus on mindfulness, as well as weekly acoustic sunset sessions, a secret 'tribal garden' and fitness classes including beach yoga and meditation – a stay here is ideal if you're looking for a wellness escape amongst stunning surrounds.
The 116 rooms and suites are bright and modern, each with a private balcony or terrace, and include a range of eco-amenities designed for your self-care, large format TV, luxury bedding, free WiFi and 24 hour room service.
Guests can also enjoy several on-site dining and drinks options, including a seafood restaurant and French-riviera inspired breakfast bar. There is also a pool deck with gorgeous views, as well as a fitness centre.