You will be pleased to know that normal service has been resumed on TLFL today. That's the last time I lend my laptop to Paul in a bar! Today we have a review from Claudio which is British Airways Club Europe E190 flight review. You can read my previous review of a similar flight from London City here.
This is a review of a very short flight between Linate Airport in Milan and City Airport in London in business class or Club Europe of British Airways flying an Embraer EMB190. The flight was very special for me as I was with my parents returning to London after a short tour of northern Italy.
Flight details
Route: Milan (Linate) – London (City Airport)
Aircraft: Embraer EMB190
Seat: 2D
Departure Time: 5:55 p.m.
Arrival Time: 6:55 p.m.
Duration: 02:00
As you can see, the "official" travel time is two hours taking into account the time difference between Italy and the UK. But the actual flight time is around 01:30.
Check-in and Security

We had a bit of a surprise upon arriving at the airport, but it was largely my fault for not checking the situation in advance. As the airport is small, airlines do not have room to store checked in luggage. Unfortunately, this meant that check-in can only be done two hours before the flight.
Since we had arrived at the airport earlier … much earlier … we had to wait an hour before could check in our bags. Of course, if you are travelling with only hand luggage this is not a problem. You can check in on the British Airways app and go straight to the Lounge.
When check in for our flight opened, the process was super fast and in a matter of minutes, we already had our boarding passes in hand. The check-in agent who answered us was very nice and even had a quick chat with my parents (I was the translator, of course).
Boarding British Airways Club Europe E190
British Airways uses a group-based boarding system from one to five, with group one being business class passengers, holders of Executive Club Gold Cards and Emerald in other Oneworld airlines. The process is a lottery, because in certain airports it is impeccable – as in São Paulo, for example – and in other cases a disaster!
This particular flight worked relatively well. The people were in the right queues, and the only issue was that as soon as they called the passengers for boarding, a girl who was at the end of the group one queue simply passed us all by to board first!
But revenge came quickly! The aircraft was on a remote stand and we were taken by bus to the aircraft. This makes a mockery of the whole group boarding system, but that is subject for another time. Anyway, with the queue jumper ended up at the back of the bus and was one of the last to board! I loved it!
British Airways Club Europe E190 Cabin and seats
The EMB190 cabin has a 2-2 configuration. The aircraft do not have the 1C and 1D seats, so if you're looking for plenty of leg room you should reserve the 2C and/or 2D seats. It is quite easy to identify this in the seating map – see the image below.
As for the cleaning of the cabin, I have nothing to complain about. Everything was up to scratch, including the washbasin! I know that for a lot of people it sounds strange, but lately, people have complained a lot about the cleaning of some British Airways aircraft.
Our cabin crew member, an Italian who also spoke Portuguese (from Brazil like me) was very attentive to my parents. And of course, they loved being able to talk to her, asking for what they wanted without me having to translate anything.
Aside from the main course, there was a starter, cheeses and dessert. In addition, they passed through the cabin with the basket of bread.
Recently I took a flight with Swiss between London City and Zurich (see here) on a small aircraft (A220) and for the meal British Airways is offering an infinitely better service.
Entertainment
BA are equipping most of their fleet with Wi-Fi by the end of this year but this aircraft did not have any. So as far as entertainment went, on a short flight like this your options are your phone, tablet, some reading material that BA provides or bring on board or the "window". This is undoubtedly my favorite! BA does provide free access to press reader which you can find more information about here.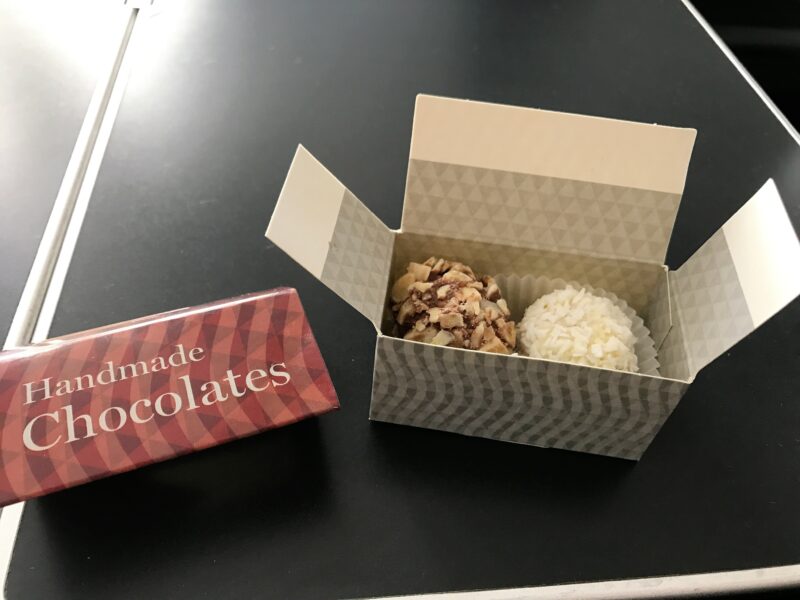 Conclusion
The flight was excellent in all aspects. My parents were happy, so I was happy too! And once again I'll talk about the flight attendant who looked after us. She provided a great service and was very helpful to us all. Incidentally, I always leave with good impressions of British Airways crews every time I fly to or from London City Airport.
There is only one aspect of the flight that could be better. Do you know what it is? The champagne, as always, was warm. I do not know why but it is very common for champagne to be served warm on British Airways flights.