Cathay Pacific to offer free COVID-19 travel insurance with any flights booked
Cathay Pacific have announced that, like Emirates, they will be providing free COVID-19 travel insurance to all travellers, as of the 7th December.
In a bid to reinstate consumer confidence, the Hong-Kong based airline are footing the bill for any COVID-related health, hospital, quarantine, repatriation or other expenses incurred by anyone with a Cathay Pacific ticket, travelling up until the 28th February 2021. Children are also automatically covered.
The policy covers any necessary PCR tests, unexpected quarantine periods, hospital stays or medical expenses incurred as a result of COVID-19 while travelling. The insurance does not cover tests or quarantine within your home country.
The coverage is automatically applied, and valid for any trips departing your home country (whether you are a resident, citizen, permanent visa holder etc), regardless of whether the ticket is one-way, return or multi-city. It also applied to tickets with multiple airlines or code-share partners as long as the ticket is issued by Cathay Pacific.
The insurance lasts for 30 days, or until passengers return to their home country (whichever is earlier) and cannot be extended.
However, if you are diagnosed or run into trouble (ie unexpected quarantine), you will be covered for the duration of your treatment or quarantine period until you return home, even if that date is beyond the 30 days specified.
As mentioned, the insurance does not extend to any costs incurred in your home country, nor does it cover compulsory quarantine in the country or region you are travelling to, if the requirement is already in place prior to travelling.
The airline has also urged customers not to let this insurance replace regular travel insurance. Other things not covered are cancellations etc not related to COVID-19.
Nothing extra needs to be done by passengers to qualify, but if you do not want to take part or have your details shared with the third-party insurance company, you can opt out by contacting the airline.
Virgin Atlantic and JAL are now also offering free COVID insurance too.
UK Foreign Office (FCDO) is maintaining its Canary Islands travel advice exemption, even as it is removed from travel corridor
The travel corridor between the UK and the Canary Islands was removed over the weekend (on Saturday the 12th December), after the weekly update by the transport secretary Grant Shapps. However, it seems the Foreign Office didn't get the memo, as their advice has not changed.
Over the past few months, any changes to the travel corridor have been almost immediately followed by changes in FCDO advice. However, this time, it seems that the points of view has differed.
The FCDO confirmed that it would not be removing the Canaries' exclusion from the advice against all but essential travel to the rest of Spain. The decision, according to a statement, draws on PHE's (Public Health England) country assessments to judge the risks to British people of exposure to Covid-19 in each country/territory. This means that if you decide to travel, your insurance will still be valid despite the country not being on the travel corridor list.
This is separate to decisions on travel corridors, which consider the overall risk to UK public health of inbound travel from a particular country.
That being said, the information and advice is under constant review, taking into account the frequently changing information and conditions experienced across Europe.
The decision has created significant confusion for the tourism trade and consumers. easyJet have made the decision to allow passengers due to visit the Canary Islands in December the opportunity to 'cancel for credit', allowing them to cancel their trips and save it as credit to be used in future with the airline.
Mandatory quarantine for returned travellers reduced from 14 days to 10, with the ability to shorten isolation further with voluntary testing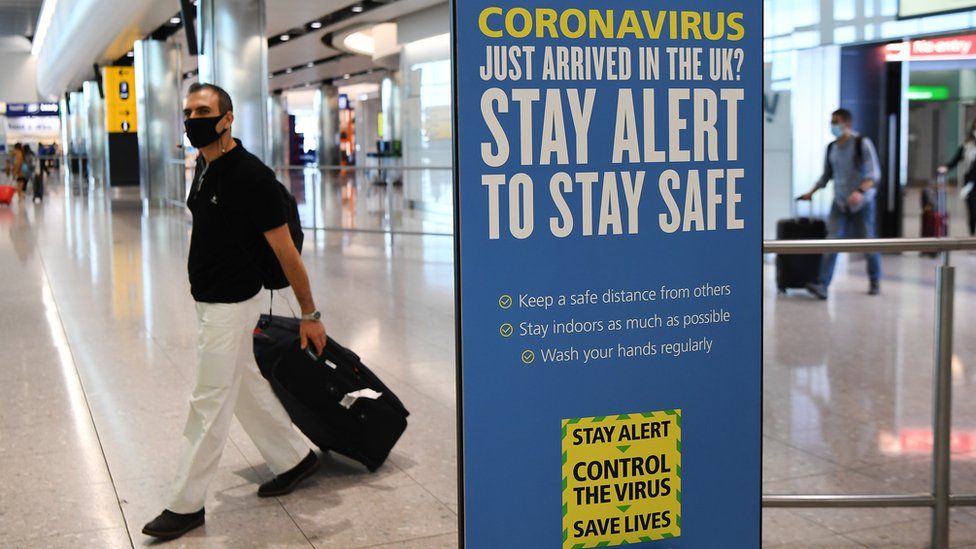 Authorities have announced that self-isolation requirements for returning travellers have been reduced from the standard 14-day period to just 10 days. There is also an option for those undergoing mandatory quarantine to pay for a test on day 5, and if that comes back negative, then the quarantine period no longer applies.
The majority of those travelling to the UK, including returning British nationals, must self-isolate when entering the country, whether they fly, drive, sail or arrive by public transport.
The announcement of a reduced quarantine period comes as data shows Covid cases falling in most of England and Northern Ireland, and coincides with the first doses of the vaccine being rolled out among those most at risk.
The change in self-isolation rules was announced in a statement from the four UK chief medical officers (CMOs) said:
"After reviewing the evidence, we are now confident that we can reduce the number of days that contacts self-isolate from 14 days to 10. People who return from countries which are not on the travel corridor list should also self-isolate for 10 days instead of 14 days."
People are most infectious around the time they first develop symptoms and, 10 days into an infection, only about 2% will still be capable of passing on the virus to others.
Deputy Chief Medical Officer for England Dr Jenny Harries said the science was based on 'a continuous accumulation of evidence through the pandemic'.
From yesterday (Tuesday 15th Dec), people arriving in England from a non-exempt country could cut their quarantine period if they choose to pay for a Covid test.
Any travellers opting to use the voluntary scheme must pre-book their test before leaving for England (through a list of verified private providers), and list the test on their passenger locator form.
The test must be taken no earlier than your fifth full day of self-isolation, either through a home kit or at a testing site. Those undergoing self-isolation are allowed to leave the house to visit the testing site or post back the test.
The tests cost between £65 and £120 and the results will normally come back within 24 to 48 hours. This means people could stop self-isolating six days after arrival if they test negative. Those who test positive will have to quarantine for a further 10 days from the day they took the test.
According to Grant Shapps, Secretary of State for Transport:
"Our new testing strategy will allow us to travel more freely, see loved ones and drive international business. By giving people the choice to test on day five, we are also supporting the travel industry as it continues to rebuild out of the pandemic."
Those who are arriving from 'common areas' (including the Republic of Ireland, Channel Islands, or the Isle of Man) or countries within the travel corridors do not need to quarantine.
Interestingly, the stance has also been relaxed for certain business travellers, and performing arts professionals, TV production staff, journalists and recently signed sports professionals will also be exempt from undergoing mandatory quarantine.
Hopefully all of this – relaxed quarantine, the ability to opt-in for tests and the rollout of the vaccine – will help the travel industry survive until a 'new normal' is reached across the globe.