The Corinthia Hotel in London is my favourite UK hotel, and it's in my top 10 worldwide. Favoured by celebrities, this was confirmed by Rihanna staying there the first time I visited. Hugh Jackman and Bradley Cooper are also known to stay there but despite my repeated efforts I am yet to bump into them in the lift!
It is not a cheap hotel by any stretch of the imagination with rooms normally starting at £370 upwards but it is well worth the splurge as a treat.
So why do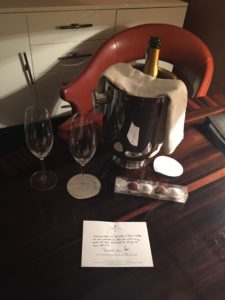 I love it so much? Well apart from the beautiful building, luxurious rooms and stunning spa, it is the customer service and recognition that set it apart. I have been visiting for a number of years but normally only 3-4 times a year. When I have visited on a special occasion such as anniversary or birthday, they have made a note and the next year sent a cake without promoting when I stay near that time. On my last visit I was personally welcomed by the Duty Manager, upgraded to a Junior Suite and given champagne and chocolates. I normally only book the lowest category of room so that was quite a welcome just to thank me for returning!
History
The building was originally a hotel,the Metropole, but was used as emergency government offices during World Wars One and  Two.
After WWII it was owned by the Ministry of Defence and remained as government offices until 2004. One of the things I love about the hotel is the sympathetic restoration which adopts a classic but modern style. They have respected the original features but ensured that every modern luxury is catered for.
Rooms
Rooms are all slightly different in size and layout due to the building layout. The entertainment system include Loewe's TV and a connectivity
panel to connect your your laptap or iPOD with HDMI, VGA, USB, AUX, and Bluetooth connectivity If you fancy a coffee there's  Nespresso coffee machine too.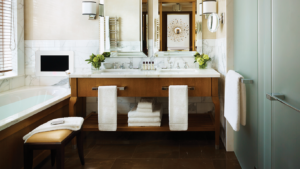 Bathrooms include TVs by the bath complete with waterproof remote, ESPA toiletries and underfloor heating.
The bed is one of the most comfortable I have ever slept in and prompted me to buy a Hypnos bed for  my home.
Food and Drink
Massimo's
This is the hotel's fine dining Italian restaurant. I have only eaten here once a long time ago as part of London Restaurant week so I can't really comment on what is like now.
The Northall
The Northall serves Modern British cuisine and also has a large bar area. The menu focuses on seasonality, sustainability, and traceability. If you are at the hotel on a Sunday I highly recommend their Sunday brunch at £90pp. It includes 3 courses and unlimited Laurent-Perrier Champagne which as I know from experience can be dangerous! There is also a cheaper version at £55pp minus the champagne.
The hotel also has a further bar as well as the beautiful lobby lounge in the atrium which serves afternoon tea.
Spa
In my opinion the Spa is the best London hotel spa and makes visiting the hotel worthwhile alone given that just to use the spa as a day guest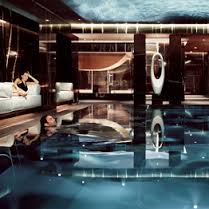 costs from £225 including treatments. The spa is stunning designed in cream and black marble with numerous modern fire places adding to the ambiance. If you think you would book treatments it is worth looking at the hotels Stay Sunday Spa Monday promotion which includes breakfast and 2 ESPA facials or massages. The spa spans four floors and features a nail studio, indoor swimming pool, vitality pool, amphitheatre sauna, steam room, ice fountain, marble heated loungers and private sleep pods.
The Offer
The Cyber Week Sale begins on Monday 28 th November 2016 until 2nd December 2016. Stays must be between 28 th November 2016 to 28th February 2017. The discount is 30% off the best available rate. Rates can vary wildly so its is worth looking at a variety of dates if you have flexibility.