Etihad sale gets better
I wrote a few days ago about Etihad's current sale and the good news that they have now dropped some of the prices with a new January sale. The fares must be booked by 13 January 2018, for travel until September 2018.
I regard some of these prices as excellent value from the UK for the quality of the product. I recently flew Etihad A380 Business Studio and loved the seat, lounge, food and drink. There were some issues with the service which seems to have become variable recently. However, this wouldn't stop me flying them again at these prices. You can read my review here.
Prices are return in business class between London, Manchester and Edinburgh so I have just included the cheapest option in each case. The Perth fare is as cheap as I have seen it on an airline of Etihad's quality. For the Edinburgh flights, it could be worth a positioning flight on Avios to take advantage of the cheaper prices.
Abu Dhabi from £1,500 (London)
Bangkok from £1,643 (Edinburgh)
Colombo £1,689 (Edinburgh)
Dubai from £1,500 (London)
Hanoi/Ho Chi Minh City from £1,945 (London)
Kuala Lumpur from £1,640 (Edinburgh)
Mumbai from £1,673 (London)
Muscat from £1,671 (Edinburgh)
Perth from £2,454 (Edinburgh)
Phuket £1,822
Seoul £1,863 (Edinburgh)
Singapore from £1,594 (Edinburgh)
Tokyo £1,953 (Edinburgh)
All business class seats provide:
mood lighting providing a relaxed ambience throughout the flight
in-seat massage function and personal lighting, controlled at the touch of a button
a turn-down service including a mattress, luxury loungewear and slippers on ultra long-haul flights
noise-cancelling headsets.
range of connection ports and mobile or Wi-Fi connectivity on board for selected flights.
18.5-inch touch-screen TV (Business Studio)
15.4-inch touch-screen TV (Business Flatbed)
Norwegian Premium Cabin changes
Norwegian Premium Cabin is on my list to try as is it somewhere between Premium Economy and business class with prices at premium economy level. It has more legroom (46″ vs 38″) than BA or Virgin Premium Economy and you get lounge access too. Unfortunately, it is about to get slightly worse but it will still worth considering and this may make the price cheaper with more capacity available.
With Premium Cabin you get:
Comfortable seat in the Premium cabin with 140 centimetres (55 inches) legroom
3-course Premium dinner
Complimentary drinks throughout the flight
A Premium breakfast or light evening meal
State-of-the-art touch screen entertainment system – choose from hundreds of hours of movies, documentaries, news and games
Seat reservation
2 checked bags x 20 kg included
USB charger and power outlet by your seat
Fast Track where available
Lounge access at selected airports
Seats in a 2-3-2 configuration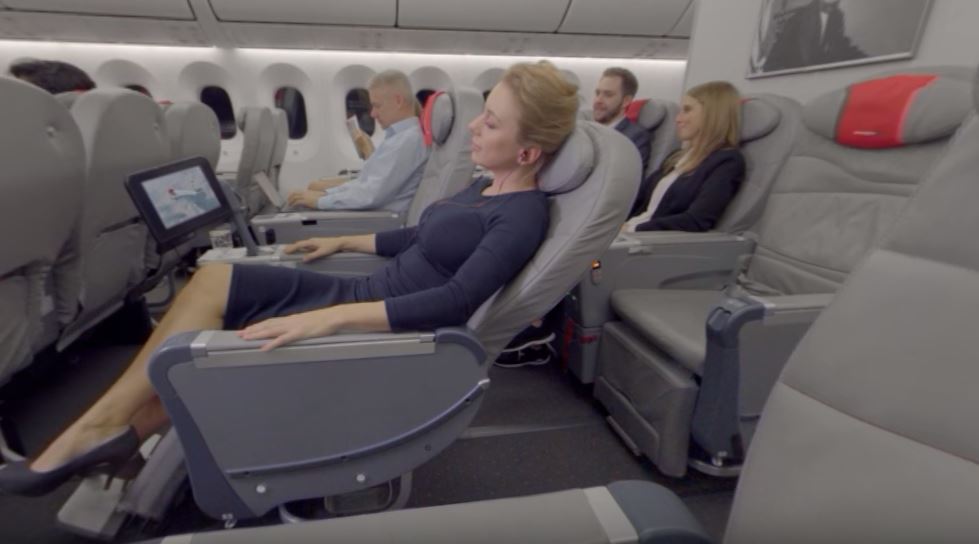 Norwegian have decided to increase the size of the cabins on their new B787-9 and will now have 56 seats. This means that legroom will reduce to 43″. Given that this is still substantially more than BA or Virgin I wouldn't it put you off. The only thing to consider is that Norwegian have expanded very rapidly and fly to some smaller airports. This can mean when things go wrong they don't always get resolved as quickly as you may like. This is the chance you take with low costs airlines in my view – when things go wrong you won't necessarily get the same service as from a premium airline.
You can see a 360° video of the Premium Cabin here:
You can find more information about Norwegian Premium Economy here.
HT: The Points Guy