EDIT: This fare is now unavailable.
It's back. Finally.
Iberia have filed a very nice fare out of Norway to the "other" Sunshine State! No, not Florida – Hawaii!
Its also very flexible in terms of routes and possible aircraft.
Let's go over the boring stuff first.
Fare Rules
Travel dates are the usual, so the outbound transatlantic must be flown –
12th April to 22 April
27th June to 4th September
24th November to 30th November
A Saturday night stay is required, and the fare must be ticketed by the end of January. Remember though book now and worry later!
The last and most important fare rule is the Transatlantic flight (Europe to the USA) must be on Iberia. Iberia flight codes that is.
Possible Routes
So where and how?
Lets start with the quickest route –
This would net you a nice 640TP.
Lets add in a few more hops…..
A very tasty 920TP!
Now…. lets go over 1000!
1080TP!
EDIT – Have managed to go higher! 1200TP on this one!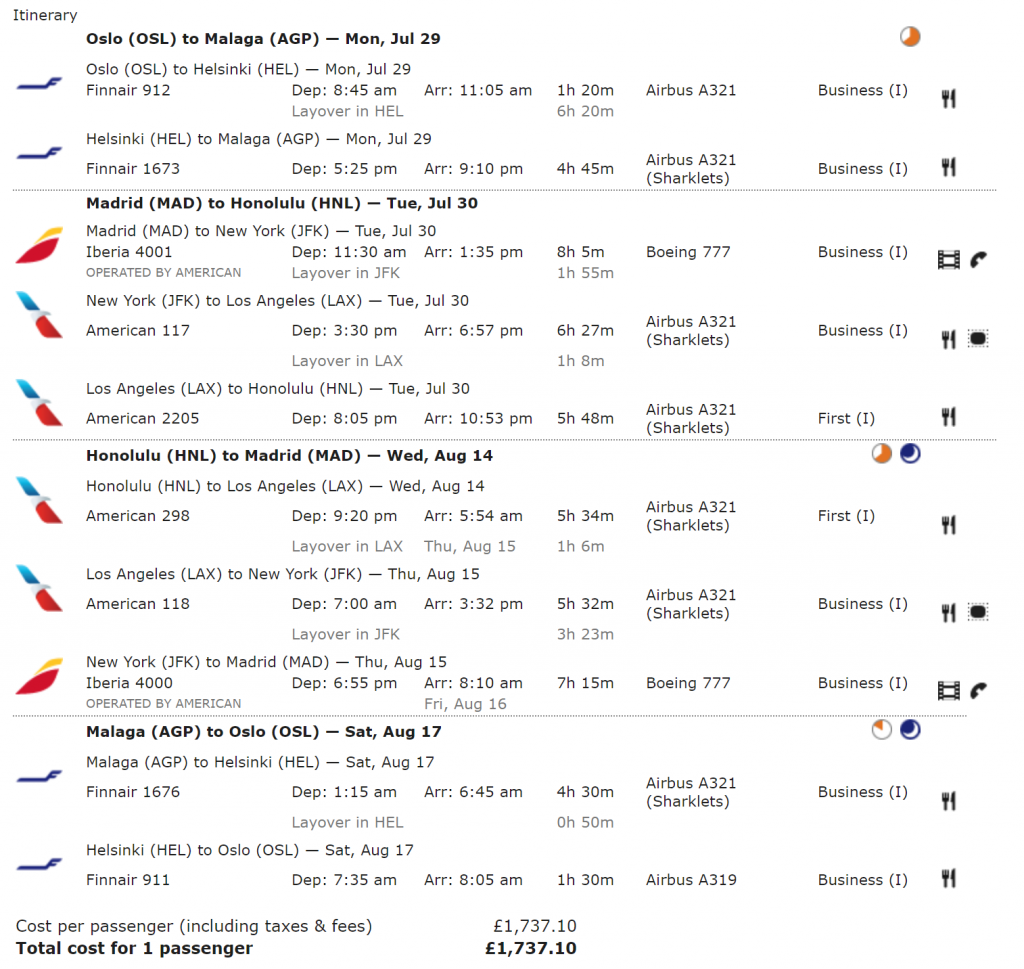 Now how about some different planes and routes?
Finnair Long Haul on the beautiful A350?
Or Iberia?
Don't fancy the Domestic F seats on the Pacific leg?
As you can see – very flexible!
Check out my ITA guides to do some magic yourself –
Upgrading
Put simply – You can't! The only way it may be possible would be to book and hope for a schedule change allowing you to possibly swap a BA coded flight in – not recommended.
Booking
This one is complex – it's bookable online via Priceline but my first point of contact would be the team at Propeller Travel – check out our dedicated booking form here. Propeller can also price this from the US in USD which is likely even cheaper still! If quoting "routes from TLFL" please use the route number under each image.
Happy booking!