Finnair has launched a UK and Ireland flight sale to Asia, bookable until the 9th January 2017. You can travel from London, Manchester or Birmingham.
Is Finnair the best business class choice to Asia?
Finnair is probably not your first thought when selecting an airline to fly to Asia in business class. So why is Finnair worth considering for business class travel? If you are looking for the cheapest prices or are collecting Avios or BAEC status then you would generally think of British Airways or Qatar. However Finnair offers a good alternative to both of these airlines depending on what your priorities are. In this article I discussed the Finnair A350 product.
If your priority is a direct flight your best bet is British Airways from Heathrow but it is likely to be the most expensive plus the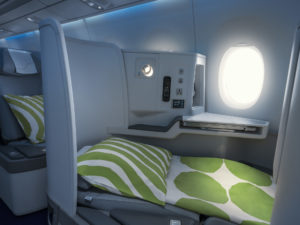 seats are a bit dated and not all have direct aisle access. You will also earn fewer tier points and Avios but get there quicker.
Assuming that you don't mind a connecting flight and are trying to get extra Avios and/or tier points then either Qatar or Finnair are good options. See below for the tier point and miles comparison. Pricing is usually fairly similar so which would I chose? If there was no difference in aircraft type or price then I would probably go for Qatar for the Doha lounge and on board food. However if Qatar were using a B777 on the route I wanted and Finnair had the A350, I would choose Finnair. Qatar has fully flat beds on B777 but they are quite old now and in a 2-2-2 configuration so window seats do not have direct aisle access. Middle seats are also not very private for solo travellers.
Tier point and Avios Comparison
The comparison takes London-Singapore return in business class as an example and assumes you do not have any more than blue status in the BAEC:
Qatar
Tier points 140 x 4 = 560
Miles = 17778
BA
Tier points 140+140 = 280
Miles – 14402
Finnair
Tier points 80+140+140+80= 440
Miles = 17238
560 tier points is nearly enough for Silver status (600 points) which gives you lounge access even in economy.
Finnair sale prices
The Finnair sale pricing is good, although even better if you start in Dublin. Personally I would not bother starting in Dublin if you live in the UK unless you desperately need the tier points or it is a more convenient starting point. The saving is very minimal when you factor in the costs of getting to Dublin.
A sample of the most interesting sale prices are below. All London flights to Helsinki have the A350 aircraft currently. The routes in bold have the A350 from Helsinki:
Bangkok – £1,305 or €1395 from Dublin (£1178*) for travel 16 January–22 June 2017.
Beijing – £1,335 for travel 16 January–22 June 2017.
Delhi – £1,310 for travel 16 January–22 June 2017.
Guangzhou – £1,339 for travel 26 April–28 October 2017.
Hong Kong – £1,420 for travel 16 January–22 June 2017.
Ho Chi Minh City – £1,379 for travel 16 January–22 March 2017.
Krabi – £1,375 for travel 16 January – 19 April 2017.
Phuket – £1,379 for travel 16 January–23 March 2017.
Seoul – £1,375 for travel 16 January–22 June 2017.
Singapore – £1,459 or €1599 from Dublin (£1351*) for travel 8 January–22 June 2017.
The minimum stay is 6 days or a Saturday night and stopovers in Helsinki for up to 5 days are allowed.
You can find further details on Finnair here.
*Prices based on current bank exchange rate at time of going to press