Long haul aircraft on short haul – Iberia & Finnair
I always enjoy getting the chance to try an airline's long-haul aircraft on a short route and there are plenty of opportunities to do so. Iberia and Finnair are great for offering this with the Finnair A350 or A330 usually on the Heathrow to Helsinki route and Iberia using an A340 from Madrid to Heathrow. You can read more about the airlines that offer long haul aircraft on short routes in this article.
Iberia
Iberia recently took delivery of a new A350 aircraft which was very impressive. Both Paul and I have flown on the A350 and were very impressed. You can read the reviews here. I will also be doing a long haul A350 review next month to New York. If you fancy trying it out on short haul, Iberia have filed some new dates to use the A350 from Madrid to London between 8 -31 March 2019 on the IB3166/3167 which leaves Heathrow at 18.45.
Finnair
Finnair will be using an A330 on several short-haul routes this winter if you fancy trying it out. It could also make an interesting tier point run although not always a cheap one. The routes are:
Helsinki – Brussels AY1541/1542 A330-300 operates Wed and Sat from 31 Oct 18 (Except 22 Dec 18 and 23 Mar 19, by A350-900XWB)
Helsinki – London Heathrow AY1331/1332 A330-300 replaces A350-900XWB
19 Nov 18 – 23 Nov 18 Monday and Fridays 15
30 Nov 18 – 15 Mar 19 Fridays
Helsinki – Malaga AY1671/1672 A330 operates Friday and Sunday from 14 Dec 18 –   29 Mar 19, replacing A321
There are a couple of things to note about these routes for tier points. London – Helsinki is 160 tier points return but more interestingly Helsinki – Malaga is 280 tier points return. There are fares as cheap as £438 but these are on the short haul A321 but you can get the A330 starting from £483 return in business class on Finnair.com. Currently, the cheapest business class fare between London and Helsinki is £396 return in Club Europe with British Airways. You can bring this down by booking it as a holiday where with 2 people sharing a room for two nights (or not if you don't want to use it) you could get the same flights for £284 in March. You can find the deals most easily using BA's holiday finder page. 
This would make a total of £879 for 440 tier points with the flight only on the A330 or £722 if you went for the BA holidays fare and the A321 cheaper fare. This would not be viewed as particularly cheap in terms of a tier point run but if you want to do something fairly low hassle and not too time-consuming this could be a good option. With Black Friday less than a month away it could be that there are some cheaper options for Helsinki flights in the sale.
Tomorrow I will be looking at how you can use the Helsinki-Malaga as part of an almost round the world oneworld business class fare.
BA route changes
BA have announced a number of changes of origin for flights from next spring and changes in frequency as follows:
New routes:
London Gatwick – Almeria from 1 Apr 19 x 3 weekly A319 (4 weekly 2 Jun19 – 29 Sep 19)
London Gatwick – Bilbao  from 1 Apr 19 x 11 weekly A319 (12 weekly 1 Jun 19 – 30 Sep 19)
London Heathrow – Valencia from 31 Mar 19 x 9 weekly A320
Frequency Increase:
London Gatwick – Mahon from 22 May 19 Increase from 5 to 6 weekly
London Heathrow – Barcelona from 31 Mar 19 Increase from 7 to 9 daily
London Heathrow – Pisa from 31 Mar 19 Increase from 14 to 17 weekly
Discontinued routes:
London Gatwick – Barcelona
London Gatwick – Pisa
London Gatwick – Valencia
London Heathrow – Almeria
London Heathrow – Bilbao
London Heathrow – Mahon
The new routes are available for booking on ba.com and there should be plenty of Avios availability on the new and increased frequency routes.
Necker Island available to book with miles
One of the most unique ways to spend your Virgin miles must be a trip to Richard Branson's private island, Necker Island, in the Caribbean. The redemption to stay there with your Virgin Flying Club miles has not been available for a while due to hurricane damage to the island but it has all been repaired and is available for booking again.
Availability is very, very limited but then there are probably not that many people that have a whopping 1.2 million Virgin miles to drop on staying there. Though personally if I did I would be very tempted to use them for what has to be a once in a lifetime experience. As well as needing the 1.2 million miles you also need to have Virgin Atlantic Silver or Gold status to book the week. However, I initially got my gold status through matching against my BA status with Virgin so it could well a possibility to do that.   Richard Branson actually lives and works on the island so you are likely to be able to meet him if you go.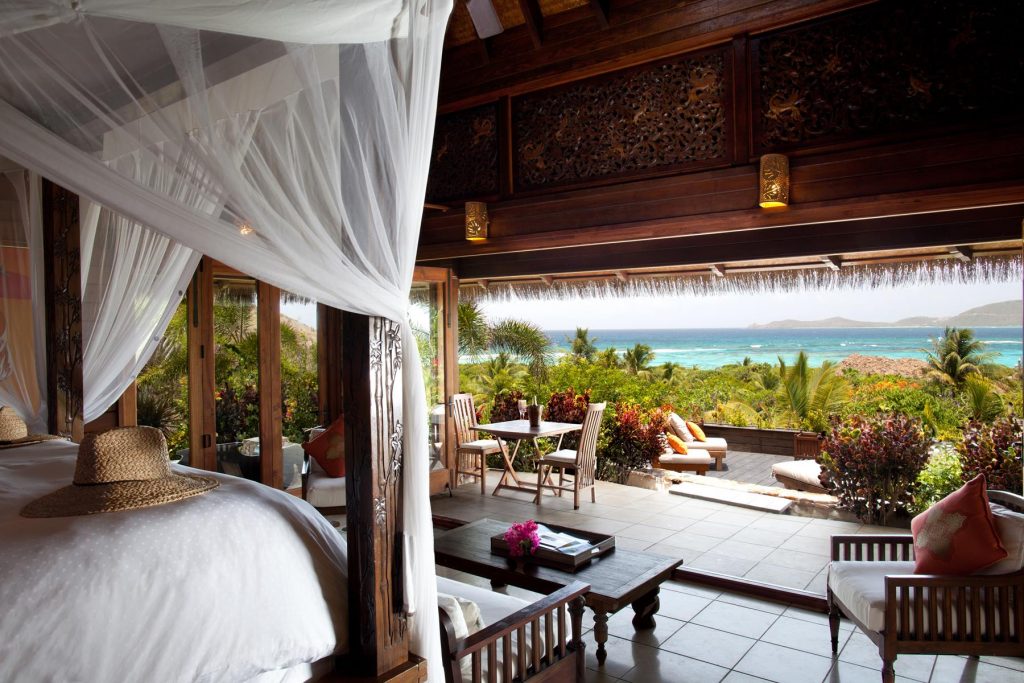 At the moment, there is only one week in 2019 available which is the week beginning 6 January.  The cost in miles may seem high but it does at least include pretty much everything so it will be a cheap holiday once you are there! The cost includes:
Accommodation
All meals and drinks (including all alcoholic beverages)
Return launch transfer from Virgin Gorda or Beef Island airports
Two floodlit tennis courts
Water sports equipment such as windsurfing, kite-surfing, water-skiing, sailing, snorkelling and SCUBA diving
DJ included on one night