It can feel like a minefield trying to find out what restrictions are in place for a country. Once you know that you need a test, the best way to find one is a comparison site rather than the endless and confusing government list. Covid Testing Network's website allows you to narrow down your search by lots of criteria such as what type of test, where the company is, home testing and whether they are government approved and recommended.
You can search for the most suitable tests for you with Covid Testing Network. Read more about them in this article.
Here are some suggestions to make it easier to find what tests or restrictions apply to countries.
British Airways new interactive map
British Airways customers can now check the travel restrictions and entry requirements of any destination the airline flies to on a new interactive map on ba.com.
The new page is in partnership with global tech company Sherpa, which has developed an online tool that provides travellers with the latest travel rules for inbound and outbound destinations. This tool brings together the latest information for over 100 countries, providing thousands of sources, and using millions of data points to stay up to date. The map, that the airline plans to further integrate into ba.com, will also help customers understand what is needed for their return to the UK.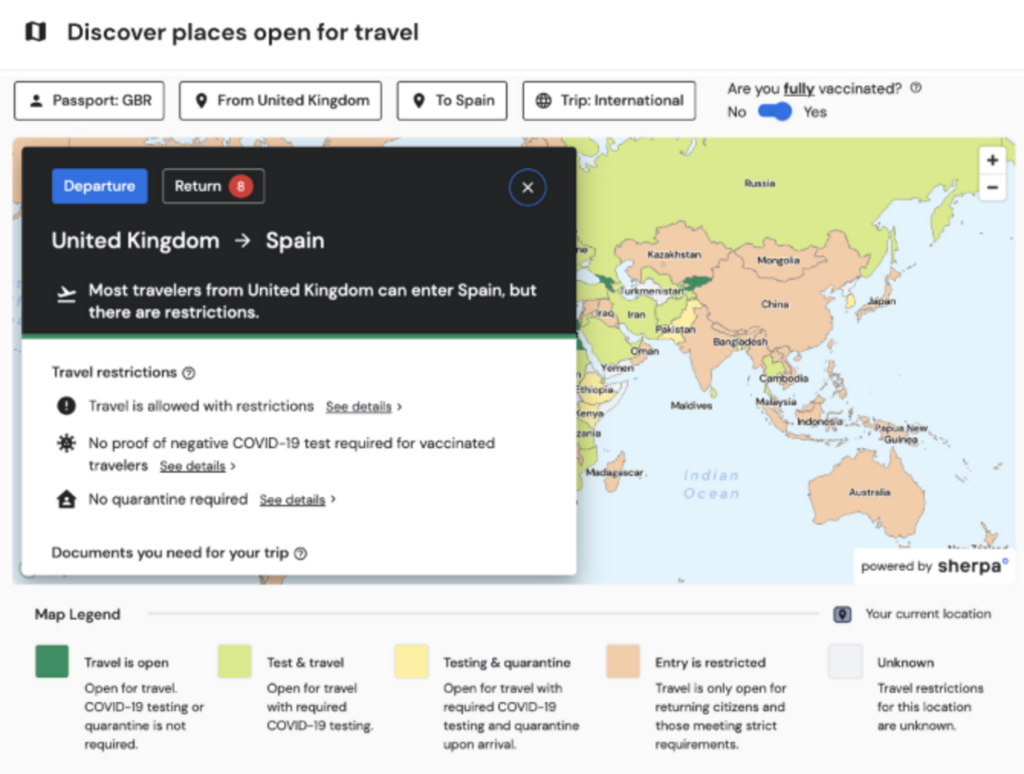 Visitors to the page will be able to explore a map of the world to see what travel restrictions each country has in place before booking a trip, searching visually by traffic light colour or by typing in their choice of destination. There is also a tab that allows customers to indicate whether or not they are vaccinated, which will adjust the results.
I had a play with it for a planned trip to Switzerland and found it very simple to use, although you would then need further information to actually make the trip. Links are provided to websites with more information. This is an excellent planning tool, particularly if you are not sure where to go and want to see what looks easiest based on restrictions.
Jack Smith, British Airways' Head of Digital said: "We know that travel in this new Covid era can feel overwhelming for our customers, and our job is to make their lives as straightforward as possible. This new tool, which has been tried and is trusted by our joint business partner, American Airlines, will help people navigate the differing entry requirements, to allow for a smooth booking and travel experience."

On announcing the partnership, Max Tremaine, CEO Sherpa said, "Supporting the return to travel, we're honoured to be working with the team at British Airways. Together, we are providing their customers with the information they need to make informed booking decisions and travel confidently again."
British Airways' existing online Covid hub includes information on flexible bookings, testing, how to use a voucher and what the British Airways flying experience looks like for those that haven't travelled for some time.
Other sources of information
The FCDO countries page is one of the most comprehensive sources but it usually only shows current restrictions, not what is changing. For that the country's official tourism page is best. These usually are called "visitxxxx".
Here are some of the most popular tourist destinations Covid pages:
IATA has a website that is based on Timatic, the system used by airlines. It has comprehensive information about entry rules.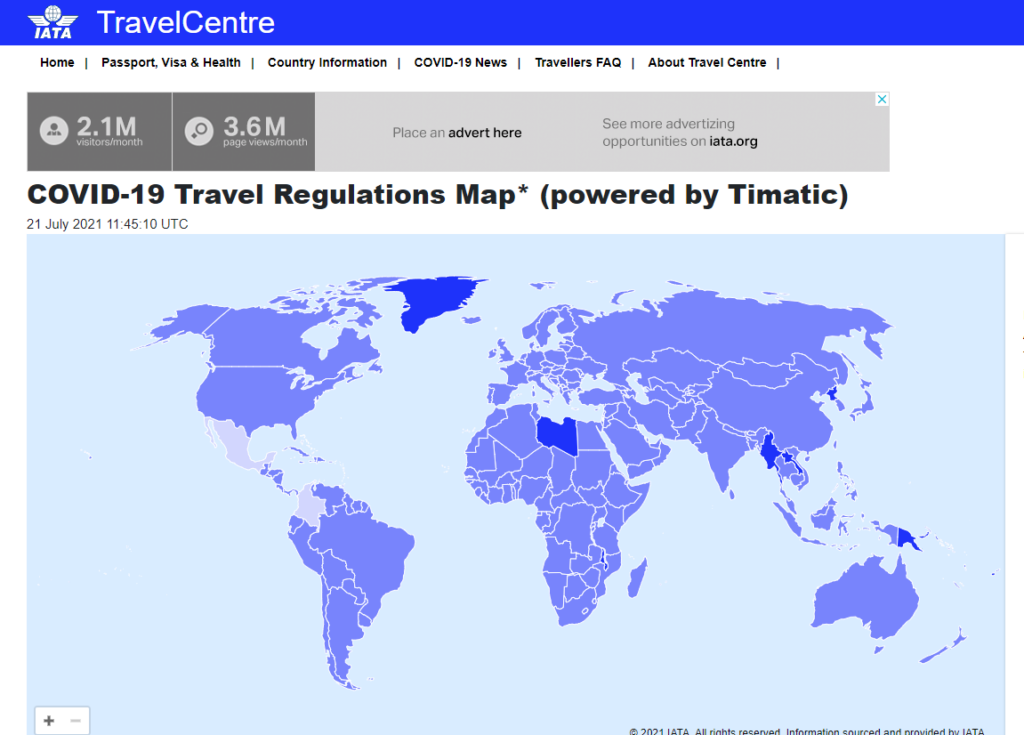 For EU specific regulations and the Covid situation, I recommend Reopen-EU. This has huge amounts of information from the rate of Covid in regions of each country to entry requirements and regulations within the country such as mask-wearing or curfews. It is also available as an app for Android or IOS.