Malta will be added to the green list from 4am on Wednesday 30 June with low cases and a high vaccination rate.
I will cover the hotels in depth in further articles along with a review of my flights on a "long" short-haul sector with BA. British Airways fly daily to Malta from July and it gets 160 tier points return in Club Europe. Flight time is around 3 hours.
Amber list rules
Before you travel to England you must:
On arrival in England you must:
quarantine at home or in the place you are staying for 10 days
take a COVID-19 test on or before day 2 and on or after day 8
You can also take a day 5 'Test to Release' test which allows youto leave quarantine once you get a negative result. You still need to do the day 8 test.
Entering Malta
Malta is fairly simple to enter. All passengers, aged 5 and above need a PCR test within 72 hours of arrival and to fill in a form. I got my test done with Express Test for £80 which usually gives results in around 24 hours, but officially it is next day by 10pm. You need to have a physical copy of the test certificate, not just something on your phone. It was not checked at check-in by BA and I was able to do online check in.
The forms that you need to fill in are meant to be given out on board. However, on my flight and at least one subsequent one, British Airways a) only gave out part of the form and b) gave it out after we landed. It's quite a long-form so I recommend that you print it out yourself from here and then you can fill it in at your leisure, particularly if you need extra information like the hotel's address that you may not have access to onboard.
Once we landed, it was a quick walk down the steps to the terminal as there are no air bridges at Malta. Immigration was very quick with little queue. Then you entered a large queue for having your documents checked. They were strict on masks – one couple who were clearly just trying it on tried to protest that they both had an exemption for asthma but the police were having none of it without proof. Miraculously they both instantly produced masks and put them on. As the policeman said "You are in Malta now. Here you wear a mask".
After around 10-15 minutes wait we had our documents inspected. This was the most thorough check I have ever seen of a Covid test with each required element circled on the certificate and retained. They were not so bothered about the form.
What's Malta like now?
Masks and what's open
Currently, you have to wear a mask everywhere including outdoors. The only exception is on the beach and by the pool. There was no real enforcement of this. Being honest, I found it difficult as most of St Julian's is hilly and climbing hills in the heat with a mask is not my idea of fun. People who are fully vaccinated should not have to wear a mask outdoors from 1 July if cases remain low. Most bars and restaurants were open but a few of the tourist tours were closed and due to resume in July. The hop on hop off bus was working on a very reduced schedule.
Transport
Fortunately, there is Bolt everywhere which is like Uber and pretty cheap. (It works in his country too – get £10 off your first ride with promo code MICHELERHQ). So I used this more than I usually would to get around rather than walk in the heat with a mask. There is also a bus service. From the airport, it is easier and slightly cheaper to get a taxi than Bolt. It cost €20 to t Julians. You need to go to the booth in the airport to pay for it and get a voucher before you go to the taxi rank.
What to do and see
The hop on hop off bus goes from Silema and does an abridged version of the South route covering Valetta, the Blue Lagoon and various harbours and fishing villages.
Here are some suggestions of what to do:
Explore Valetta's old town
Take a boat to the Blue Lagoon
Visit Gozo
Visit the market and fishing port of Marsaxlokk
See Popeye's village where the film was set
Visit Golden Beach for one of the best beachs on the island
Wander round the harbour at Birgu
Diving and snorkelling
Rent a boat for the day
Food and drink
I was really impressed with the variety of restaurants and bars. Not only was there a wide range of types of cuisine, there were some very high end restaurants that were still reasonably priced.
My favourites were:
SUSURRUS, a South American themed restaurant with a beautiful terrace overlooking the bay. Get the tasting menu for just €65 and you can also do wine pairings. The cocktail list was also impressive. More information here.
Ali Baba is a Middle Eastern restaurant that is high-end with a great cocktail list (they are strong!). I recommend getting the chef's selection with a bottle of Lebanese wine.
Seed, part of the Hyatt Regency is a fine dining restaurant with a twist on the classics. Sit outside on the terrace overlooking the old Priory.
GIN-ger is the Hyatt's rooftop restaurant and bar with Asian sharing plates and bowls. Portions are large, so I recommend sharing.
Cafe Del Mar is the sister bar to the famous Ibiza beach club and bar and worth a visit for the spectacular sunsets and tasty sushi. Or you can just lounge around with a cocktail.
La Maltija is close to the Westin. It's on a fairly busy road and outside it's not the most scenic place. Inside is an aunthentic dining room. However, it serves great Maltese food in enormous portions!
Hotels
I stayed in the Hyatt Regency and the Westin, friends stayed in the InterContinental and Corinthia. All have their own advantages and disadvantages. I'll be doing more in-depth reviews of the ones we stayed in shortly.
Hyatt Regency

Brand new and on a smaller scale than the other major chains, this is the perfect choice for an adults-only break, off season or those that prefer a more boutique style with a personal touch.
The hotel is right in the centre of St Julian's and has two great dining choices. A rooftop bar and restaurant specialising in Asian cuisine and a fine dining restaurant with an outdoor terrace by the priory. The rooms are currently great value with a suite starting at around £200. The rooftop pool is heated and there is also an indoor pool and spa. I loved all the touches in the suite such as the Nespresso machine, large size Acqua di Parma toiletries and the enormous TV screen.
If you book through Debonair you get the following benefits:
Daily full breakfast for two in the hotel's restaurant
A one-category room upgrade
Hotel Credit per room per stay
Early check-in subject to availability
A welcome gift and letter
The Westin Dragonara

This is set directly on the sea although it does not have a beach as such. It does have two unheated swimming pools and direct sea access. The resort is huge with several restaurants and definitely would appeal more to families judging by the clientele. The rooms are newly remodelled, very large, and comfortable with balconies.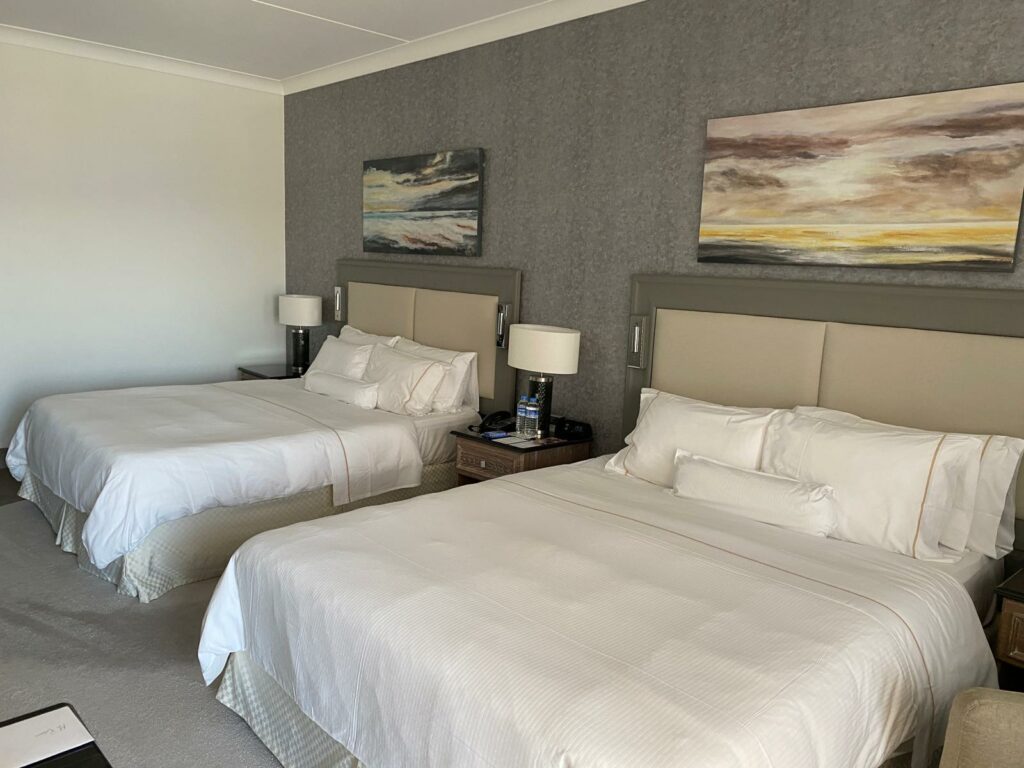 The public areas felt quite grand but I found service a little hit and miss and the overall feel rather bland. The Executive Lounge is shut and no drinks vouchers or alternative at all is offered. It's up a bit of a hill which is a pain in the heat, although it is on the bus route. There are a few local restaurants within a 2 minute walk and the centre of St Julians is about 5 minutes walk.
I booked through Debonair as you get:
free breakfast
upgrade on arrival
Early check -in and late check out on availability
and you still get your Marriott benefits and status too.
The InterContinental Malta

The Intercontinental is not set on the water, but it does have its own beach club on a nice sandy spot right in the centre of St Julian's. Rooms are modern and they were generous with upgrades for IHG status holders. They are a bit "corporate looking" and dull in my opinion.
It's a huge hotel with nearly 500 rooms, so you won't get the personal touch here. It has indoor and outdoor pools, a spa and is set in the centre of St Julian's, a few minutes walk from the beach.
There's currently an offer on the InterContinental Malta here.
The Corinthia St George's

Paul stayed at the Corinthia which is part of the same group as the London Corinthia, although not in quite the same league. It's set directly on the water with several well-mainiated pools with plenty of loungers. There's an adults only pool and access to the sea, but no beach. There's also an indoor pool for the winter months.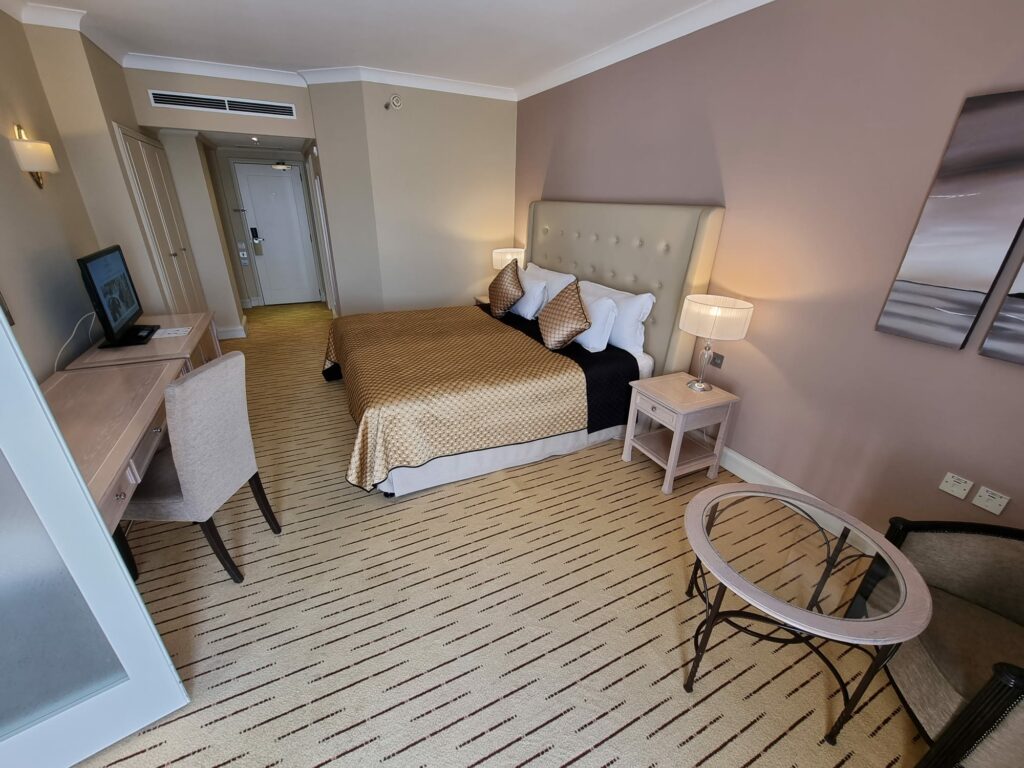 Paul had some issues with a refusal of an included upgrade despite the hotel being relatively empty, but this was resolved with a spectacular suite upgrade.
If you book with Debonair you get:
100 USD resort credit
Complimentary buffet breakfast for two daily
Property will offer early check-in and late check-out upon availability
Property will offer upgrade at time of check-in – subject to availability
High-Speed/Enhanced Wi-Fi