BA Club Europe hot meal
Last week I published the first pictures of the new "old" Club Europe cold meals being served on shorter flights. Reader H kindly sent in pictures of their food from Heathrow to Gibraltar. The hot meal was Yellow coconut chicken curry, jasmine rice, and courgette. The only discernible difference from pre-Covid days was that bread rolls arrived warmed in cellophane, rather than from a basket.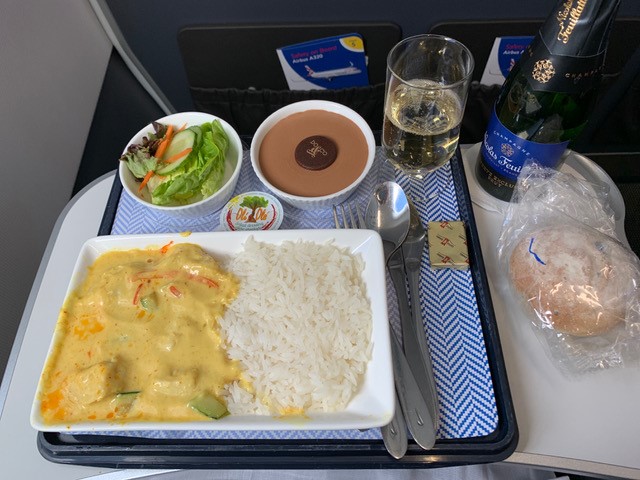 More countries ban travel, while some show signs of hope
With the UK government meeting today to discuss further travel measures including quarantine, hopefully they will come up with a proper strategy for the coming months. Both on how to deal with the new variants, but also how to support the travel industry and what would be the criteria for easing travel restrictions and in what order. Last week we also extended our travel bans to Tanzania and the Democratic Republic of Congo due to the prevalence of the new South African strain. I would predict that we will see hotel quarantine announced for high-risk destinations only, which I think is the most reasonable step to take.
With new strains emerging that may defy vaccines, it does feel like there is little hope at the moment, for even doing normal day-to-day activities let alone travel! However, an interview with Virologist Christian Drosten in Der Spiegel suggested that it may not be as bleak as it feels. He said "Antibodies are just one component of immune protection, another is T-cell immunity. That protects much more strongly against a serious progression of the illness. If the virus mutates, it doesn't have an effect on T-cell immunity. As such, I don't think that we have to fear that our vaccines will be ineffective." As we know even scientists disagree with each other, but it is nice to have some hope against all the gloom.
I will take an in-depth look later this week about which countries we are likely to be able to visit first. For now, I will look at the latest countries announcing changes for better or worse.
The bad news….
The Netherlands
Meanwhile, other European countries have taken action leading to massive cancellations. In The Netherlands, KLM reacted to Boris's statement about the new Kent strain potentially being more deadly by cancelling all flights to and from the UK until 27 January. Flights are now banned from yesterday from the UK and many other countries to The Netherlands. The Dutch government told citizens not to book any international travel until at least mid-March. People are advised that should only travel if it is absolutely necessary such as a family emergency.
In terms of testing, they have a policy that I think is better than going for hotel quarantine as we are contemplating. You test 72 hours before flying to Holland and then have a rapid test up to 4 hours prior to departure. Then the quarantine for arrivals is the same as here.
Earlier KLM had threatened to cancel all its 270 weekly long-haul flights as a result of new COVID-19 rules, requiring crew to show evidence of a negative rapid coronavirus test taken just before departure. A compromise has now been reached with the Dutch government and long haul flights will continue.
Canada
Canada is now also considering imposing hotel quarantine for all arrivals.
USA

It's not exactly clear what will happen in the US other than Biden will reverse Trump's revoking of the European travel ban. Biden is proposing quarantine for all arrivals, however, this is tricky to mandate nationwide with a federal order. He is also mandating masks on aircraft. Hopefully, this makes cabin crew's jobs a little easier.
Hopefully, there will be more clarity in the next week on what exactly the rules are. I can't understand why Biden would allow flights from places such as South America and South Africa that have potentially worse new Covid variants than the UK, but ban the UK and Europe.
The good news….
Finland restart flights to UK

Despite all the moves in Europe banning the UK, Finnair will re-start passenger flights from the UK and Ireland to Finland as of 25 January 2021, following the decision by the Finnish traffic authority, Traficom, to allow passenger flights from these countries.
In line with the recommendation by the Finnish Institute of Health and Welfare, Finnair will also from 28 January onwards require that passengers present a certificate of a negative covid-19 test result, or a certificate of a previous covid-19 infection if they travel on any Finnair flight to Finland. This requirement does not apply to customers transferring at Helsinki Airport for their international connecting flights. The certificate requirement is in force until further notice.
"This requirement complements our other comprehensive measures both onboard and at airports to ensure safe travel during the pandemic", says Jaakko Schildt, Chief Operating Officer, Finnair. "This is also in line with the increasing trend of countries requiring a negative test result for entry."
The new test certificate requirement by Finnair does not change the procedures by the local health authorities upon arrival in Finland. All passengers arriving at Helsinki Airport from abroad are directed to covid-19 testing.
Spain hopes for late-spring restart to international tourism
Hawaii
While travel to the US itself is looking uncertain, there is at least news about Hawaii when we can return to the US. Hawaii has announced that the plan is to allow travelers to visit the state without obtaining a negative COVID-19 test or observing the mandatory 14-day quarantine period. According to the governor, they are waiting for more conclusive proof that those who are vaccinated are not likely to be able to spread COVID. Once they are satisfied, travellers who have had both doses, should be able to enter the state freely.
Once there is more evidence that people fully vaccinated can't spread COVID, I would expect many more countries to follow with these types of policies. There are likely to be two tiers for many destinations – those that are vaccinated that may have no restrictions or just require a test and those that are not that may face quarantine and testing to be allowed entry. The new variants also raise concerns about this type of policy of course.