British Airways partner with Dettol

When we think back to BA's centenary year and the great partnerships they did with UK companies such as Hattingley Valley Sparkling Wine and Marmite, I don't think any of us would have expected a partnership with Dettol on the cards! However, anything that keeps us safe when travelling is now of utmost importance!
British Airways has today announced it will be partnering with hygiene brand Dettol, the UK's no. 1 disinfection brand. From March 2021, British Airways' customers will have access to a range of Dettol products, that are proven to kill 99.9% of bacteria and Coronavirus (SARS-COV-2)2, in the air and on the ground. The airline's updated cleaning protocols using Dettol products, have been supported by the London School of Hygiene and Tropical Medicine.
At Heathrow Terminal 5 Dettol hand sanitiser stations will be positioned at all check-in desks, self-service bag drop, lounges and at departure gates, replacing the current sanitisation stations with Dettol products. The airline will also use Dettol antibacterial wipes, cleaners and sprays to keep surfaces clean at the airport and in its lounges. Hand santisers vary wildly in my experience to some that have a very strange quality that are so slippery you can't seem to get it dry and others that are like water. The Dettol ones may not be quite as nice as my favourite Aesop one, but they are reliable in terms of a good consistency and a trusted ability to kill viruses.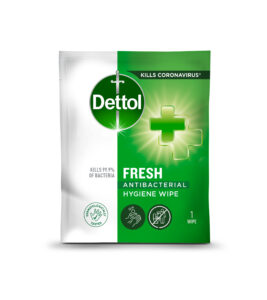 In the air, British Airways will be introducing a Dettol antibacterial hygiene wipe. Each customer will be handed a packet containing the wipe as they board the aircraft. Up to now you were handed an unbranded one.
Carolina Martinoli, British Airways' Director of Brand and Customer, said: "As we look forward to welcoming our customers back on board, we are proud to announce our partnership with Dettol, a trusted and well-known disinfection brand. At the start of the pandemic, we introduced a number of protective measures at each step of the customer journey, and we think our partnership with Dettol is a great addition."

Rahul Kadyan Executive Vice President of Global Business Solutions for Reckitt Benckiser (RB) said: "Our collaboration with British Airways is exciting, since we both share the same objective to help protect travellers. This is an ideal partnership for RB, and Dettol, to help drive high standards in hygiene and reassure consumers they can enjoy the British Airways experience. Our brand is built on trust, scientific efficacy and our desire to educate consumers around the world to help break the chain of infection."

Professor James Logan, a member of the London School of Hygiene & Tropical Medicine, said: "Health based cleaning protocols and additional personal safety measures are one of the critical tools as we all work to re-open business and travel around the globe. We are proud to bring our expertise and knowledge to the COVID-19 response on a national and global scale. At the London School of Hygiene & Tropical Medicine we are pleased to work with British Airways and RB employees to advise them on the programme."
Opinion: The big loophole in Scotland's quarantine rules & Scots told not to book for Easter

The rules of travel are getting ever more complex with Scotland and England going separate ways. I don't really see the point of Scotland's policy of quarantine for all international arrivals, since very few arrive directly in Scotland anyway – most go via London which then absolves you of doing hotel quarantine unless you have come from a red list country. If so you will have to quarantine at your arrival airport before continuing to Scotland. If you fly to Scotland from any country in the Common Travel area such as Ireland or the Channel Islands, you only have to hotel quarantine if you are from a red list country.
The official guidance says
You must also book and pay for managed isolation if you travel to Scotland from the Republic of Ireland, and have been in an acute risk country (a "red list" country) in the 10 days before your arrival.
"If you arrive in Scotland from within the Common Travel Area, but have been in a country not on the acute risk list in the 10 days before your arrival, you must self-isolate.
If these rules are here for safety – how can you possibly say that someone flying direct into Scotland from the US must pay £1750 for hotel quarantine, whereas someone on one ticket from the US who connects in the UK or Dublin, can self-isolate? From a virus point of view, I'm not sure Covid knows the difference! The point scoring between nations and ill-thought-out policies need to stop. Either protect the country properly or fall in the line with the English rules to make travel less confusing.
Nicola Sturgeon also hinted today that travel restrictions are not likely to be eased by Easter in the UK or for travel abroad. She said that it's "highly unlikely" that hotels or self-catering accommodation will be open at the start of April.
The news got worse when she said that it was unlikely that overseas holidays would be possible in the summer. I find it hard to believe that they will make travel illegal for the next 6 months. Hopefully, it just refers to unrestricted travel, though 3 tests and a minimum of 5-10 quarantine is enough to put most people off. Otherwise, if we can't travel even after we have been vaccinated to countries with a low risk of covid, then how will we ever get out of this situation, as Covid and new variants are always going to be here?
However, she said "staycations" might be possible although it would depend on the Covid data nearer the time. I have to say this seems way over the top given that summer lasts until the end of August – over 6 months away. By which time the entire adult population should be vaccinated according to current calculations. If pubs and bars are open, I can't see how you could not allow hotels to also open – after all, how is it any more risky to stay in a hotel than go to a hotel restaurant or bar? Hotels generally have very strict protocols for Covid prevention judging by the ones I have stayed in.
With many scientists believing that data will prove the current vaccines do protect against new variants in terms of serious illness, this seems an incredibly pessimistic outlook. To say we "may" be lucky to be able to stay away from home overnight in Scotland by August, but then again we might all be still stuck at home seems far too gloomy. Let's hope that the picture for travel changes as more people get vaccinated both here and abroad.
What do you think? Will the government try to stop us having staycations in summer 2021? And should they if cases have fallen and all the vulnerable are vaccinated? Let us know in the comments below.
£1200 for testing positive in quarantine

I feel sorry for anyone that has to travel abroad right now. Sadly there are still situations where people have to fly and are legally allowed to do so, or are still trying to return home from red list countries after all direct flights were cancelled. As well as facing a huge hotel bill of £1,750 for 10 nights potentially in an Ibis, the government has now revealed what will happen if you test positive.
You are tested on day 2 and 8 of the quarantine. If you test positive on day 8, then you have to pay an extra £304 for two extra nights on top of the 11 nights (10 days) that you have to do. If you are unlucky enough to test positive on day 2, then you are going to face another whopping bill for £1,216 for an extra 8 nights. This works out at £156 a night.
Again, this feels like people unlucky to be ill, are being further gouged. The hotel rooms on average cost around £60 a night although some of the higher-end ones such as the Renaissance and Radisson Blu are more like £100. But let's be honest, unless the government has negotiated a terrible deal, they will not be paying the standard rates given the number of hotel rooms they are booking. You get three meals a day included and there's security, but it still feels like people are paying way more than they should have. People could now end up stranded abroad as they simply can't afford to risk coming home to a potentially ~£3000 bill for quarantine.