BA's online chat feature
If you have been struggling to get through to BA on the phone, you may like to try their on line chat feature. It's only in a beta trial currently, so there may not always been an agent available, but it's worth try. Although I have a dedicated phone line as a BA Gold Guest list member, I hate having to get through to BA Holidays. So in trying to work out exactly what vouchers I had left to use, I thought I would try the online chat function.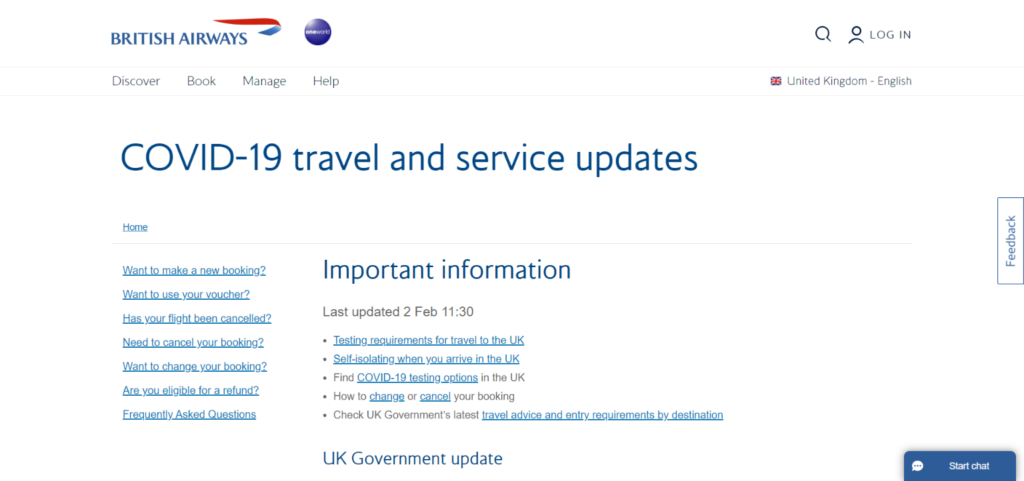 It's not immediately obvious, but if you go to the Covid-19 travel information page here, you should see it in the bottom right of the screen.
Once you click on it, you originally get a chatbot that can answer simple questions.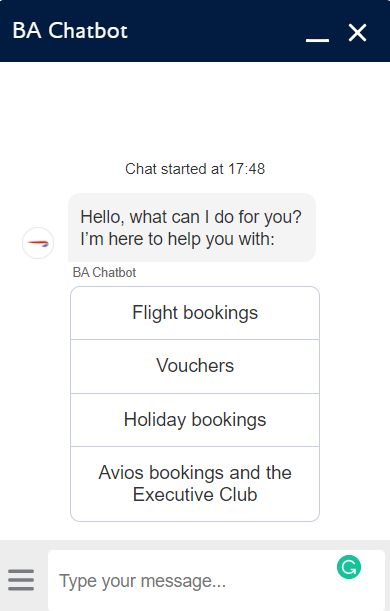 If you can't find an answer to the question, if you type "agent" you will get put through to an actual person. There is still likely to be a bit of a wait. I was number 4 and waited about 20 minutes but at least I didn't have to listen to the usual hold music!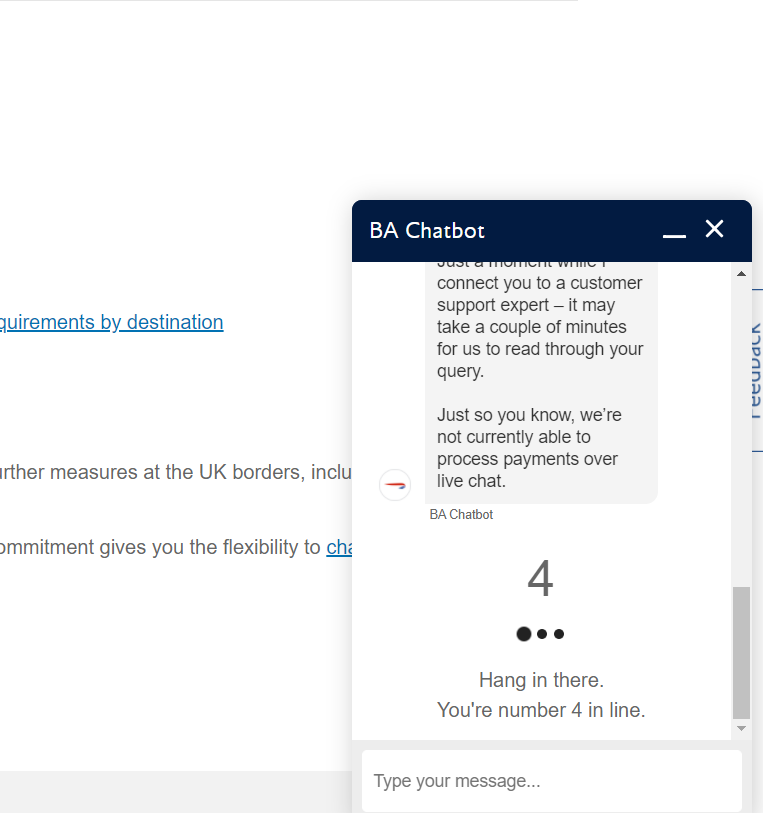 The agents are a bit limited on what they can do as they can't take payments. They were able to look up all the vouchers I had by my email which was useful and then transferred me over to a BA holidays agent with almost no wait. The people I chatted to were extremely helpful and I would definitely use it again for contacting BA Holidays rather than ringing.
Caribbean islands change protocols
One of the areas of the world where U.K. visitors are still welcome is the Caribbean, but several countries are tightening up entry requirements and protocols.
Barbados
Barbados was doing incredibly well and had virtually no community transmission until a relatively small outbreak in mid-December. Sadly this was probably caused by tourists, though it's unclear if someone broke the protocols or they were just unlucky. Since then they have been fighting to get back down to zero cases again which has resulted in a lockdown between 3 and 17 February, including a 'stay-at-home' order, a 7pm to 6am curfew, exercise allowed from 6am-9am, non-essential shops, bars and restaurants closed and masks mandatory in all public areas.
Hopefully, this will help them to eliminate the cases. As well as the lockdown they have also introduced a number of measures that I suspect will cause most people to cancel their holiday trips if they don't change protocols again as things reopen. You still need to have a PCR test 3 days before departure for entry into Barbados. You now need to quarantine for 5 days (120 hour) in government-approved accommodation before you get your second test. This then takes from 48 hours to get the results back but is currently taking longer. So the minimum that you are looking at is 7 days in quarantine.
You also have to download the BIM safe app which is linked to a bracelet that you were during quarantine to monitor your location (amazing how Barbados managed to develop this at short notice but the UK government are finding it too difficult, you'd think they could just buy it from Barbados!).
Finally, if you need a test to return home, they are offering rapid testing for the UK which takes around 90 minutes.
Previously they had different risk categories of countries and the protocols were updated every couple of weeks. So my advice would be if you are considering Barbados make sure your holiday/flights/hotels are refundable or changeable and keep an eye on the protocols as they get updated.
You can find all the details here.
St Lucia
St Lucia has some fairly strict protocols in place already but it's testing before arrival requirements were previously rather relaxed. The negative PCR test before travel will now have to be done 5 days before arrival instead of 7 from the 10 February onwards. The new rule applies to all travellers over five-years-of-age. You will also have your temperature taken on arrival.
In addition, you have to complete a pre-arrival registration form and carry a copy with you. Most importantly you need to book with a COVID-certified hotel before as you are not allowed to stay with family members or friends in St. Lucia at the moment. You also can't leave your resort at all except for official hotel tours. This obviously isn't everyone's cup of tea, although if I have to be stuck somewhere, a hotel sunny St Lucia does not sound too bad!
The St Lucia tourism minister said: "In order to co-exist with Covid-19, we must constantly evaluate our safety and travel protocols. In due consideration of all factors affecting the health of Saint Lucian citizens and international visitors, we are tightening testing protocols based on our current conditions."
You can find more information on the St Lucia Covid-19 travel advisory page here.
More luxury Hilton hotels for Seychelles
It's a great shame that the Seychelles is currently on the UK's red list as it is one of the countries that will accept vaccinated UK visitors without them having to quarantine and there have been some good flight prices recently. As the Seychelles seem keen to welcome back tourists, it's likely as cases reduce, other visitors from the UK will face less stringent quarantine as we hopefully come out of the high-risk category.
Meanwhile, Hilton has announced some more hotels for the Seychelles for us to save our points towards including a new Waldorf Astoria. These are in addition to the LXR Mango House which I wrote about here.
Hilton has announced the signing of agreements to bring its iconic luxury brand, Waldorf Astoria Hotels & Resorts, as well as lifestyle brand, Canopy by Hilton, to the Seychelles. The properties are scheduled to open in 2023, so we will have time to save our points up!!
Carlos Khneisser, vice president, development, Middle East & Africa, Hilton said: "The Seychelles remains unquestionably one of the world's most desirable destinations for the discerning traveller. We are proud of the role our teams have played in the sustainable development of the Seychelles, and these new additions, coupled with Mango House Seychelles, LXR Hotels & Resorts, will give our guests an unprecedented range of world-class experiential options to choose from when planning what is sure to be an unforgettable visit."
Waldorf Astoria Platte Island

A truly exclusive luxury experience, the resort will offer a collection of 59 seafront villas all equipped with private pools. Guests will have access to six restaurants and bars, a spa, kids' club, outdoor observatory, tennis courts and a marine conservation discovery center – all within the sanctuary of Platte Island.
The island itself lies just over 130 km south of Mahé and is renowned as a nature lover's paradise, covered with palm forest and surrounded by a coral reef and lagoon. A small airstrip allows for access to the island from the main airport of Mahé. In an effort to create and use renewable energy as part of the resort's operation, many buildings throughout the grounds will be equipped with solar-paneled roofing.
Canopy by Hilton Mahé
Located on Mahé's Anse à la Mouche beach, famed for its calm and shallow waters, this resort is set to bring a new sense of vibrancy to the oceanfront community. Significant investment is going into developing the facilities of the surrounding beach, including a boutique shopping village. The resort will offer 120 locally inspired guestrooms.