Jersey relaxes entry rules
Jersey is a great place for a short break, especially since you are treated as a domestic arrival when you come back to the UK – no immigration queues and no day 2 tests. Jersey has had some odd rules in place during the pandemic which have often been complicated. Over the summer things improved when vaccinated travellers were able to take a free test on arrival with no quarantine required. From 2 November things will get even easier. You will now no longer need to take a PCR test on arrival or self-isolate if you meet any of these criteria:
you are fully vaccinated
you can demonstrate they have recovered from a Covid infection within the past 90 days or
you have taken a pre-departure PCR test (note it still must be a UKAS accredited lab or which are they are not many – Boots and Collinson are)
If you don't meet one of those criteria you will still have to take a PCR test on arrival in Jersey and isolate until you receive a negative test result.
BA VeriFLY Covid pass trial extended

British Airways has announced that following the successful trial of mobile health pass, VeriFLY by Daon, and its subsequent rollout across its network, it has signed a long-term agreement with Daon. VeriFLY could be a great app but it's not exactly user-friendly until you understand what you are doing. BA need to make it more intuitive. BA say that they are working closely with Daon to make the customer experience easier. Most recently it has extended the capability to read QR codes that appear on documentation such as a vaccination certificate or the UK passenger locator form, making document submission simpler.
Plus the vast majority of people are not using it in my experience in check-in queues. If every single person that had a mobile used it, it would solve the majority of the check-in queues that are happening in most outstations. People somehow make it to check-in without the right documents and then hold everyone else up. If you had to have Verifly with the green tick before you can enter the queue, it would weed out people before they got into the queue. Many people are not even aware of VeriFLY.
You can upload any Covid-19 related documentation required for their destination, including vaccination records, negative Covid-19 results and government documents, straight into the VeriFLY mobile app so that they are verified before travel. This lets customers know if they have met the appropriate Covid-19 entry requirements for their destination before leaving for the airport, avoiding any uncertainty.
In my experience, it makes check-in much easier if you have VeriFLY. I'd hope that most places understand what it is as earlier on in the summer some countries did not really seem to understand it and were still asking for paper documents as well as Verifly!
As well as ensuring a customer has the correct documentation for their journey, British Airways has further developed the technology to allow customers using VeriFLY to check in online on BA.com. Boarding passes can be downloaded ahead of arriving at the airport and customers travelling with hand luggage can head straight through security without the need to visit a desk once they arrive at the airport, further increasing the capability for contactless travel.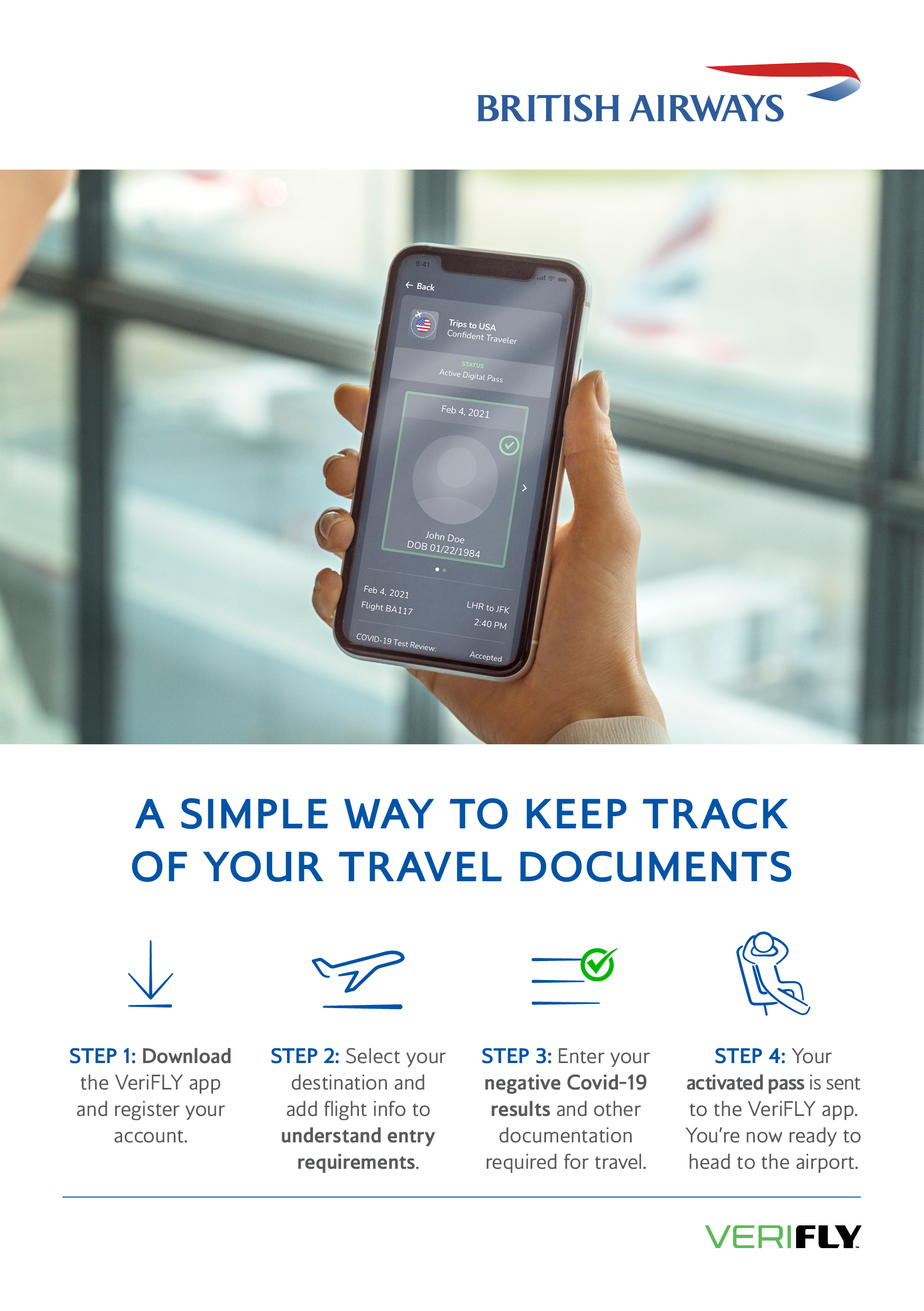 The airline initially started trialling VeriFLY in February 2021 on selected routes and has seen over 500,000 customers successfully verified before travel. VeriFLY is now available on all flights to North, South and Central America the Caribbean, Middle East, South Africa, Cayman Islands, Egypt and European destinations including Bulgaria, France, Croatia, Ireland and Switzerland, as well as on the majority of flights into the UK.
For multiple customers travelling on one booking reference, they can use one smartphone to upload all documentation. The airline is also working closely with other airlines on the role that VeriFLY plays in multi-sector journeys.
All data uploaded to VeriFLY or through www.ba.com is not retained by either organisation and is purged post travel, unless a government requires specific information to be temporary kept for attestation or contact tracing, in which case it will be safeguarded for a limited time strictly in line with GDPR laws.
For all other countries that British Airways flies to, customers can verify their COVID-19 documents through 'Manage My Booking' on ba.com and once verified they will be able to check-in online. Destinations include Hong Kong, Nigeria, Ghana, Singapore, India, Maldives and Pakistan, as well as a handful of European destinations.
Israel to open to the UK
Israeli Prime Minister Naftali Bennett formally announced a plan last week to allow vaccinated tourists to enter the country starting from 1 November. The Israeli border has been closed to tourists since the start of the pandemic although they have been allowing small groups into the country.
The new plan still needs official government approval but assuming that happens, tourists who have been fully vaccinated with most internationally recognized vaccines, as well as those who have recovered from Covid-19 within the last six months, will be allowed to enter the country. However, there is a red list of countries that this will not apply to. The UK is not currently one of them.
You will need a digital Green Pass while there, allowing you to enter restaurants, cafes, bars and other indoor places in Israel. This will be available for tourists that are allowed to enter the country.