U.S. will now require negative virus tests from all international air passengers
New federal policy in the U.S will require all international arrivals heading to the country to provide proof of a negative COVID-19 test. The policy comes into effect as of the 26th Jan and has been headlined by the Centers for Disease Control and Prevention.
Dr. Robert R. Redfield, the director of the CDC, said of the new policy:
"Testing does not eliminate all risk, but when combined with a period of staying at home and everyday precautions like wearing masks and social distancing, it can make travel safer, healthier, and more responsible by reducing spread on planes, in airports, and at destinations."
Dr. Redfield is expected to sign the order detailing the new rules on Tuesday.
The policy will require all air passengers, regardless of vaccination status, to get a test for current infection within the three days before their flight to the United States departs, and to provide written documentation of their test results or, interestingly, proof of having recovered from Covid-19.
Authorities will not require any further testing in the three months immediately following a positive test result, as long as the passenger is not experiencing any symptoms. In these cases, providing documentation of a positive result as well as a letter from a health official or doctor clearing that passenger for travel will be accepted.
It is interesting that the policy will be accepting previously positive passengers, but not immunised ones.
Jason McDonald, a spokesman for the C.D.C, said that 'vaccines have only been shown to prevent serious illness, and vaccinated people may still become infected, in theory, and transmit the virus on a flight'.
If a passenger cannot provide proof of a negative test or recovery, or chooses not to take a test, the airline must deny boarding to the passenger. Airlines must confirm all negative test results, or 'documentation of recovery' prior to every passenger being able to board. It has not yet been announced how exactly airlines will require documentation to be submitted.
In late December, an earlier version of the policy was implemented as the 'UK strain' of the virus began to spread across the Atlantic. The highly virulent strain was found in several U.S cities, and as such any British visitors to the U.S were required to test negative to COVID-19 prior to departure.
The C.D.C. currently recommends that all air travellers, including those flying within the United States, get tested one to three days before travel, and again three to five days after the trip is complete.
Several U.S airlines have been offering pre-flight testing for passengers, however, it is only enforced when the destination requires arrivals to provide rapid test results.
Recently, the A4A (American Airline Association) called on the government to come up with a blanket policy for pre-flight testing, allow passengers to travel safely and the industry to start recovering.
The new travel policy may also have been influenced by worrying reports by the Japanese government on Tuesday, which stated that four travellers from Brazil had imported another new variant of the virus into Japan. Two other so-called 'mutant strains' are said to be circulating in South Africa and in Brazil.
British holidaymakers may end up trapped abroad in their hotel rooms under new rules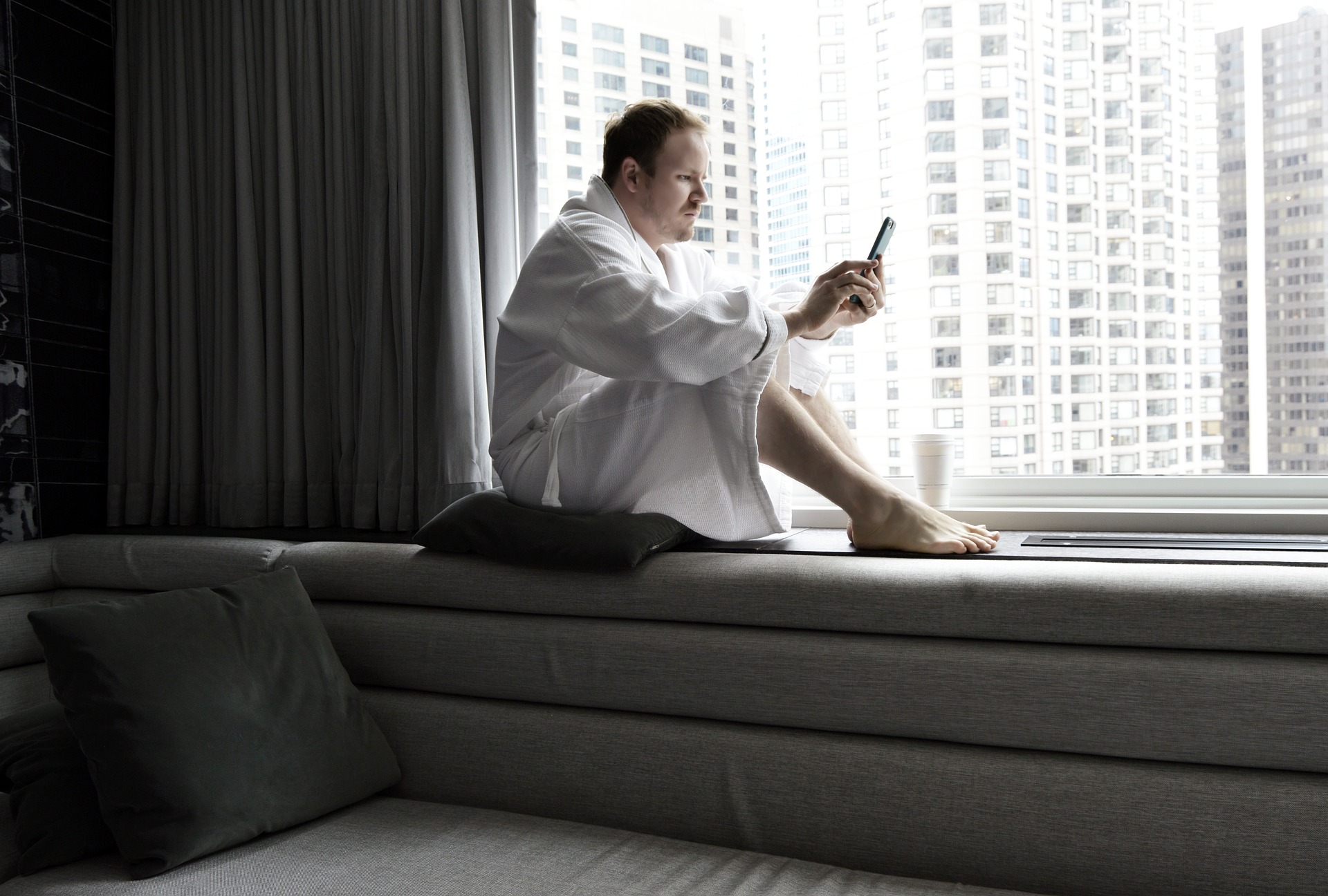 Those lucky enough to make it on holiday may end up being trapped in their hotels abroad for up to two weeks, as new rules come in to play which may prevent British tourists coming home if they test positive for the virus before departure.
Transport Secretary Grant Shapps has announced that new laws will be introduced this week, now delayed until Monday 18rh, which will force all travellers currently abroad to be tested for and produce a COVID-19 test result from within 72 hours prior to boarding a flight, boat or train back to the UK.
If any holidaymakers do test positive, they will be forced to undergo the quarantine policy of whatever country they are in before being allowed to return home, which may mean up to two weeks of hotel quarantine in countries like Spain, Italy or Dubai.
As of Monday, all travellers will be required to provide a negative test result before arriving in the UK. Those who do not do so may be subject to a £500 fine.
Although the rules are designed to keep residents safe, there are fears that the strict border controls could have a significant impact on tourism, meaning that if testing and/or quarantine is required, many may no longer be able to afford holidays.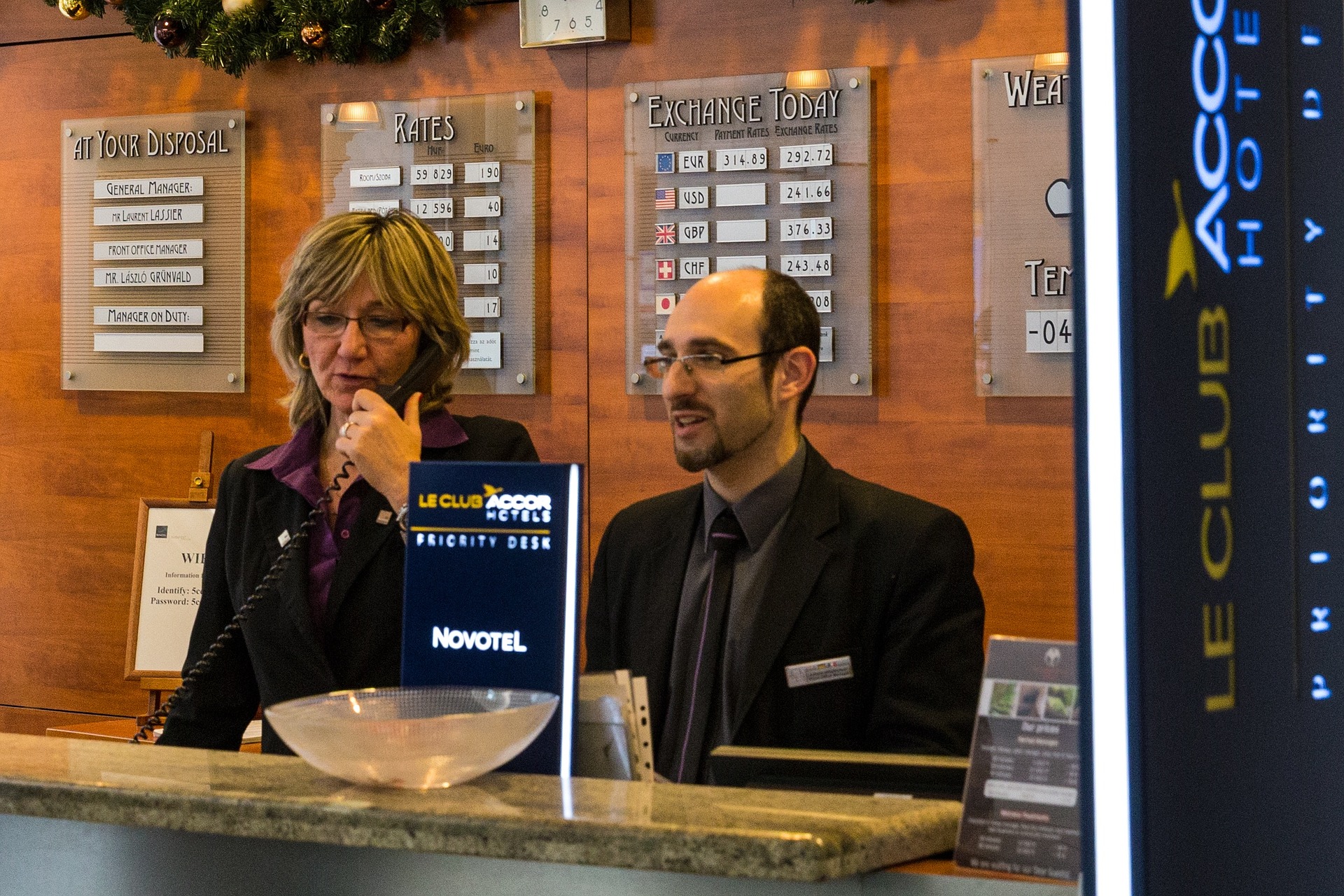 Some travel companies and airlines have been considering adding in COVID-19 tests to their packages and flights. A hotel in London offers pre-flight rapid testing as part of a package for those departing Heathrow.
Generally, rapid private tests can be bought online for as little as £30, while the more widely accepted PCR swab tests cost from around £80 to as much as £300 for same-day results.
Chief airline and industry execs – including those from British Airways, easyJet, Virgin Atlantic, and Heathrow airport – have begged the government to urgently introduce pre-departure testing as a standard, in an echo of their U.S counterparts who have just introduced a similar policy.
Pre-flight testing, they argue, would mean travellers can fly safely, and should not need to undergo any quarantine upon arrival.
Currently, any international travellers arriving in the UK will still need to self-isolate for ten days, though quarantine can be halved for those who test negative after five days.
New Marriott Autograph Tuscan Grand Universe Lucca from only 18,000 points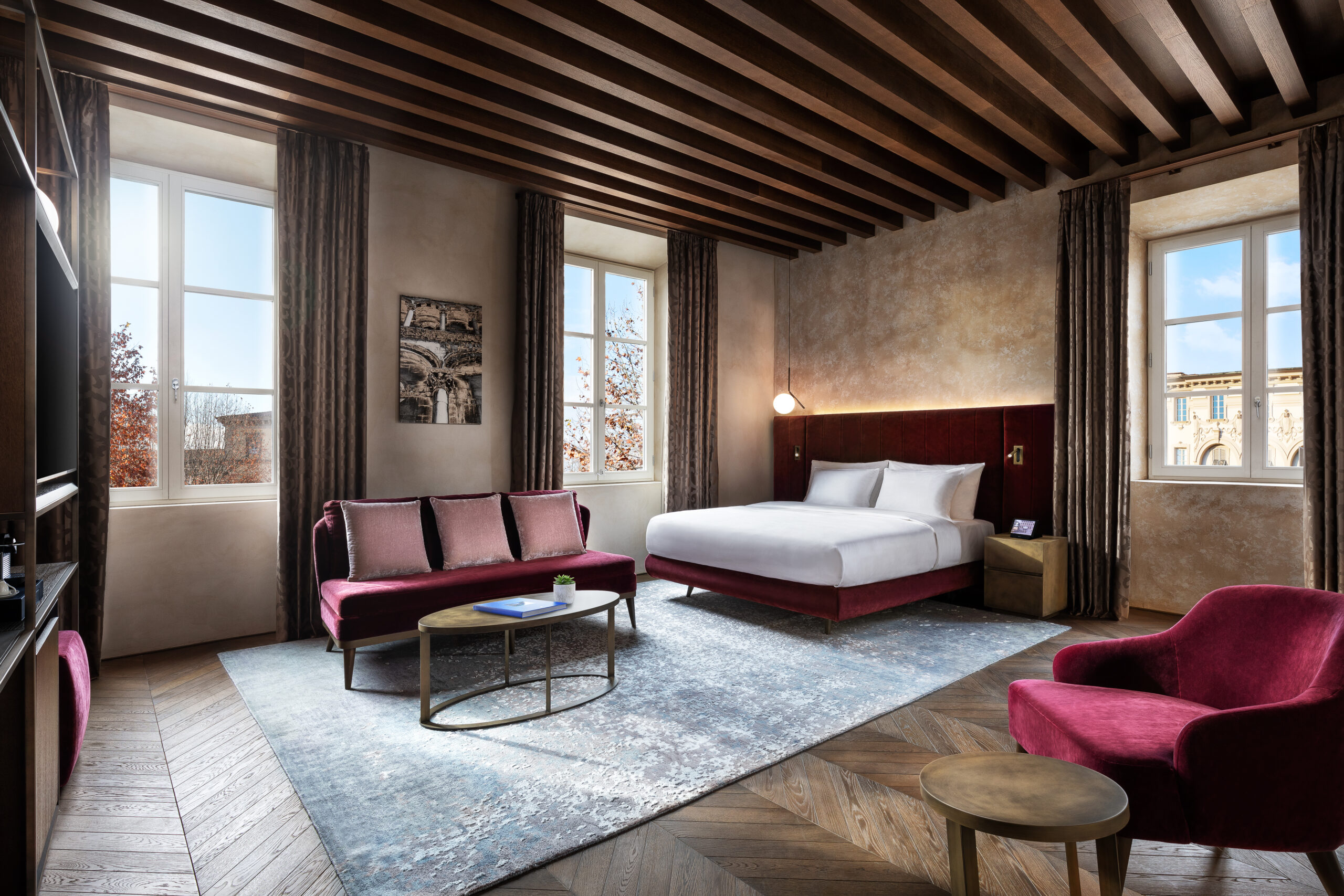 Autograph Collection Hotels, part of Marriott International, have just announced the opening of the Grand Universe Lucca, Autograph Collection. This looks like it could be a good use of points as prices per night are over £500 a night during the peak summer period. Shoulder season is more reasonable at around £230 a night. The hotel is in category 4 for rewards which makes prices very reasonable at between 18,000 to 30,000 points per night. The 55-guestroom boutique hotel, a former 16th Century Palazzo, features nine unique suites and sits in the heart of beautiful Tuscany.
Lucca is known as the city of a hundred and one churches, less than half an hour drive from the Versilia coast and located at the base of the Apuan Alps. The hotel's location is ideal for discovering not only the quaint city, but the stunning natural surrounding area.
The site was a Palazzo of the Paoli family during the Renaissance, and first became a hotel during 1857. Hosting poets, artists and philosophers from across the globe, the hotel will reopen its doors after a multi-million euro renovation led by Archea Associati S.r.l.
The hotel has been designed to reflect the properties extensive history, featuring existing wall foundations, historical artefacts and even the ancient glassblower's fountain remnants in the cellar.
Luxuriously appointed guestrooms showcase the surrounding area, with silk and velvet textiles a nod to the city's silk production heritage, wall tapestries that pay reverence to the region's vineyards and earthy shades used throughout reflect the local area.
Music, another aspect of the property and the region, has not been forgotten, and guests can opt to stay in a range of music-themed rooms, from the 'Piccolo Room' to the 'Puccini Suite' after opera composer Giacomo Puccini, who was born in Lucca and a frequently visited the property.
In addition, the property will offer a traditional Italian restaurant, serving local cuisine and wine. A rooftop bar will allow guests to enjoy a drink while admiring the panoramic views of Cattedrale di San Martino and the city beyond.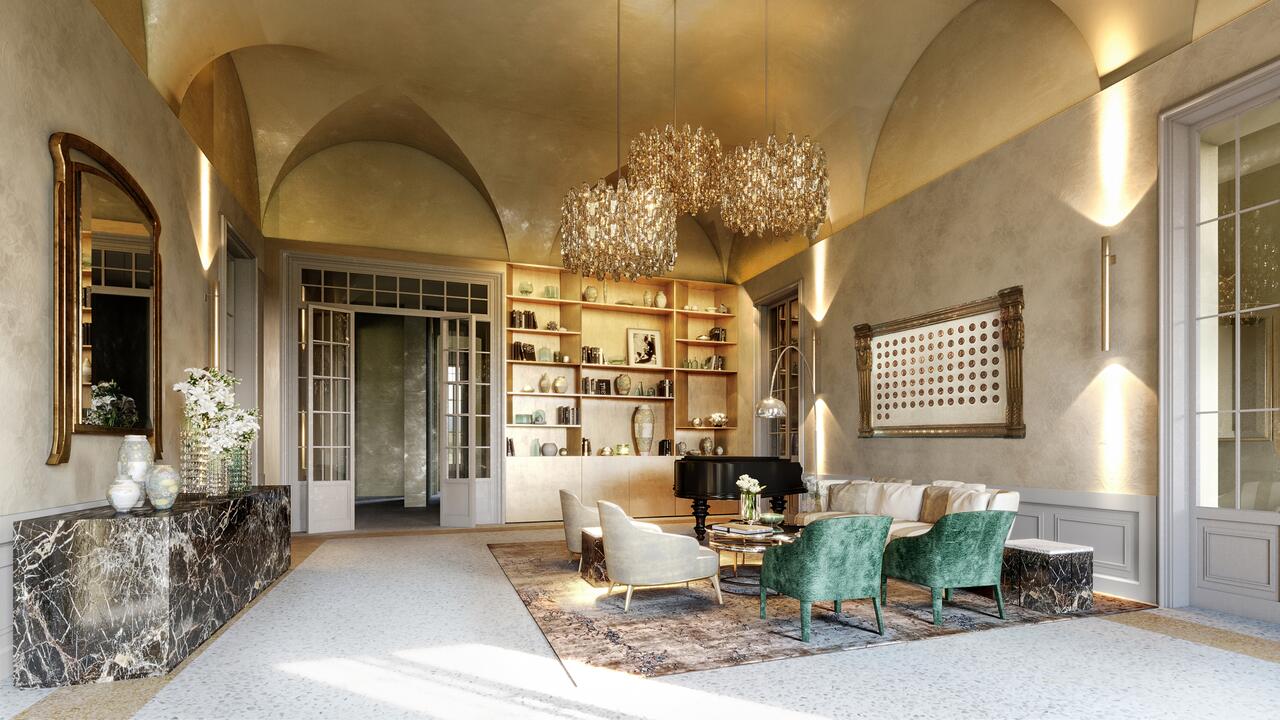 Grand Universe Lucca will also introduce several signature offerings, including private cocktail classes, wine tastings and even in-depth musical experiences.
"We are delighted to expand our offering of one-of-a-kind hotels in Italy and our debut in the charming city of Lucca," said Jenni Benzaquen, Vice President, Brand, EMEA, Marriott International. "Grand Universe Lucca is a unique jewel in the stunning city and Autograph Collection Hotels' independent spirit is the perfect fit for the hotel's next chapter."