British Airways B777 Club Suites bookable & reduced first cabin
A couple of days ago we revealed the potential destinations of the refurbished B777-200s. It now appears that these are bookable, although as always don't rely on getting these seats as it could easily change! The seat maps are now available and showing something rather interesting….
This is the seat map for First on a B777-200. Currently, there are 14 seats, as we predicted it is now showing only 8 seats in First. Given the change in the number of seats, it would support our belief that BA will put the new First seats on these aircraft at the same time as the Club Suites. Obviously, at this point, it is still speculation. The new First seats are based on those on the B787 with some improvements. I am also pretty sure they will have to make it have a door given the new Club Suites have one.
Here is the Club Suites seat map for the B777-200: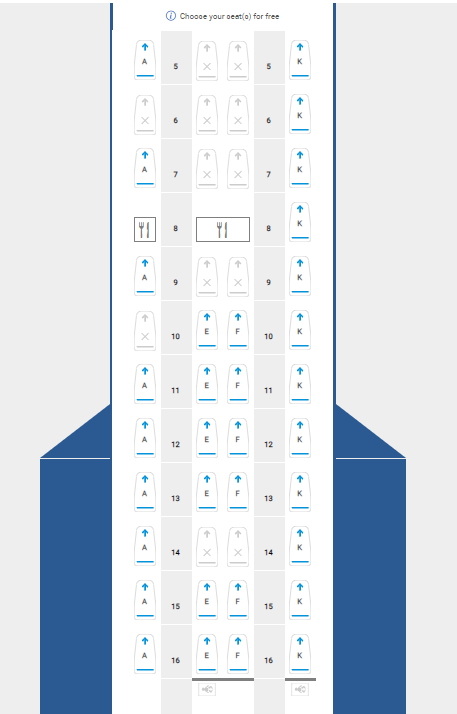 This video gives a good idea of how the cabins will look – this is the A350 version of the Club Suites:
The two B777s registration numbers, G-RAES and G-VIIA due to have the new Club Suites, are currently fly to the following destinations:
Seattle (SEA)
Dallas (DFW)
Boston (BOS)
Kuwait City (KWI)
New York (JFK)
Atlanta (ATL)
Dubai (DXB)
Abuja (ABV)
Nassau (NAS)
Tel Aviv (TLV)
So far the seats have appeared to JFK in late December, Tel Aviv in January and Nairobi in mid-February. New York is scheduled from 27 October. The flights with the new seats are showing as
BA177 London to New York departing 1:00PM arriving 5:10PM

BA174 New York to London departing 7:50PM arriving 6:50AM (+1 day)
There will be a second B777 with Club Suites towards the end of the year Egypt is showing a second flight per day to JFK with the new seats. You are best to check the seat map at the time of booking as the flight numbers vary.
You can look at the seat maps as part of the booking process on ba.com to see if you have the new Club Suite layout.
BA A350 long haul start date brought forward
BA were due to start long haul services with their A350-1000 on 1 October to Toronto and then Dubai shortly afterwards on the 8 October.
London Air Travel revealed last night that the start date has been brought forward to 2 September 2019 on the Dubai route. The A350-1000 is due to operate flights BA106 & 107 on the Dubai route.
UK to Asia business class fares from £1347
For once, there are some well-priced fares from the UK to Asia rather than having to trek over to Scandinavia.
London to Beijing £1347 (China Southern)
London to Shanghai £1357 (China Southern)
London to Seoul £1286 (Lufthansa)
You may be somewhat reluctant to book China Southern if you don't know much about them. However, they are part of Sky Team (until the end of this year) and our reviewer was very impressed with them. You can read her review here.
The China Southern flights either route via Amsterdam or with a connection in China. There only appears to be availability until the end of September currently. You can book direct with China Southern or find the cheapest prices for online travel agents using Skyscanner.
The Lufthansa fare rules are:
Travel: From mid-October 2019
Minimum stay: 6 nights
Maximum stay: 12 months
Transfers: Unlimited
Stopovers: 1 in each direction for £75 each
Refundable: No
Changeable: For a fee
You can book direct with Lufthansa here or find the cheapest online travel agent price with Skyscanner.
Avios changes
A few days ago we talked about the new option for BA short-haul Avios flights to pay as little as £1 in fees in exchange for spending more Avios. Now it seems that there have been some unintended (hopefully) consequences from the change. Up until now, if you book a long-haul flight with a domestic connection on Avios, you have always paid the same as flying direct from London. Since the recent change, this appears to have gone and now it is costing 10,000 extra versus direct from London in business class and without any reduction in taxes. It only affects people who qualify for RFS – Reward flights savers – you need to have collected at least 1 Avios in the last 12 months to qualify.
Hopefully, this is just a mistake that will get corrected.
HT: Head for Points
London loses direct flights from Bali
Garuda Indonesia had fairly recently launched a direct flight to London from Bali which was very useful. It only went one way as you had to stop in Jakatart when outbound from London. Sadly this option to fly back direct has disappeared. I have never known an airline make so many changes! One minute they were flying from London, then they stopped flying from the UK, then they were back in the UK, then flying direct from Bali. The moral of the story is don't book Garuda if you don't have a degree of flexibility on your routeing! You can read our reader review of Garuda Indonesia business class here.
The existing 3 weekly 777-300ER Jakarta – London Heathrow – Denpasar is being revised to Denpasar – Medan Kuala Namu – London Heathrow. The first flight of the revised routing on 16 July 19 will be operated by A330-200, switching to B777-300ER from 18 July 19, and switches back to A330-200 from 8 August 19 (except selected dates).