BA launches new route to Durban
Getting Avios redemptions to South Africa are amongst some of the trickiest but with the launch of a new route to Durban, it gives another option to get to Cape Town via internal flights. It takes about 2 hours to fly to Cape Town from Durban and you can even do so on BA (operated by Kulula) and earn Tier Points and Avios if you bought a cash ticket!
From October 29 BA will have three direct flights a week from Heathrow to Durban. The service will be the only non-stop link between Europe and Durban and flights will be operated with the Boeing 787-8. The timetable will have a morning arrival into Durban and an evening arrival into Heathrow.
As I am writing this availability had not been loaded into the BA system for Avios redemptions so it will be worth having a look as soon as possible if you are looking for Avios redemptions to South Africa from the end of October onwards. When a new route launches full Avios availability is normally loaded up and takes a while to go.
The timetable is as follows:
 Winter 2018
Flight number
Sector
Dep Time Local
Arr Time Local
Days Of Week
Aircraft Type
New route
BA 41

BA 40

LHR-DUR

DUR-LHR

15:45

07:35

05:35*

17:45

1..4.6.

.2..5.7

787-8
 Summer 2019
Flight number
Sector
Dep Time Local
Arr Time Local
Days Of Week
Aircraft Type
New route
BA 41

BA 40

LHR-DUR

DUR-LHR

16:45

07:35

05:35*

18:45

1..4.6.

.2..5.7

787-8
Seats and Avios redemptions can be booked through ba.com
Pay for BA seat selection with Avios
BA's policy of having to pay for seats in business class has never been popular and the prices are frankly, pretty extortionate. From today, however, British Airways is offering customers the opportunity to use Avios to select their seats. You can use Avios either to reduce the cost of seat selection or to cover the cost in full.
Customers who do not have access to free seat selection, and do not wish to pay, will continue to be able to select their seat for free when check-in opens 24-hours before departure except on Hand Baggage Only (Basic) fares.
You will still get free seat selection if you are a Gold and Silver member of the British Airways Executive Club from the time you book, and for Bronze members, seven days before the flight departs.
You can book your seats using Avios on all British Airways operated flights through Manage My Booking on ba.com or through the contact centre. The Avios payable will depend on the cabin class, the route selected and the number of people on the booking, this will be clearly displayed on the booking page.
As an example seats for 2 people one way from Gatwick to Naples would be: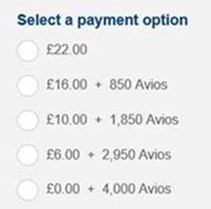 Fairmont 20% offer – today only 7-10pm
For today only, 9 May, between 7-10pm Fairmont are offering a 20% bonus when you purchase Fairmont or Willow Stream (Fairmont's spas) gift e-cards. You can use the Fairmont e-gift cards to pay for your room, any charges made to the room, spa treatments or even dining or spa treatments when you are not staying at the hotel. The bonus is only available on e-gift cards which is what you would want to buy in the UK anyway. You should buy in US dollars unless you are staying at a Canadian hotel as you can also buy them in Canadian dollars. The minimum purchase is $25 and the maximum is $5000. Only one purchase can be made per person.
There are a few things worth noting:
You can use these at the hotel or online.
Some hotels have been pre-charging a credit card for your hotel deposit and then refunding the credit card once they have the gift certificate when you check-in
Fairmont Gift Cards are not accepted at Fairmont Heritage Place properties, with the exception of Franz Klammer Lodge and Ghirardelli Square.
Fairmont Hotels & Resorts gift cards can also be redeemed at Fairmont Stores (retail locations and online), Fairmont owned and operated golf courses, Fairmont owned and operated food & beverage outlets, Fairmont owned and operated spas and any other outlet pertaining to Fairmont Hotels & Resorts.
Gift cards are available in Canadian and U.S. Dollars. If redeemed at a hotel or resort where the local currency is other than Canadian or U.S. dollars, the gift card terminal will seek the current exchange rate powered by Oanda to calculate the credit.
If you register your gift card with Fairmont, you will get protection if it is lost or stolen. When notified that a gift card has been lost or stolen the existing balance will be frozen and a replacement card will be issued for that amount.
I had a quick look at the Fairmont the Palm for some dates in October if I paid using the e-gift cards. Even taking into account the conversion from US$ to AED (using Oanda's current online rates) the room would work out 17% cheaper per night.
The page you need on Fairmont's website to buy the vouchers is here.
HT: LoyaltyLobby
Sandals 2 for 1 Sale
BA are offering up to 50% off on the hotel portion of a BA holiday to a Sandals or Beaches resort. Sandals are the couples only luxury all-inclusive resorts and Beaches are the family orientated resorts. You need to book by 22 May 18 for travel until 26 December 2018 and then 1 January – 26 December 2019. Savings are up to 50% and vary depending on resort, room type and travel date with a minimum stay of 5 nights. The saving is already included in the price shown on BA Holidays online. The discount is applicable to the hotel portion of the booking only asndis based on 2 adults sharing.
You must book on ba.com to get the discount here. The special BA Sandals page is here.