One way from £494 return £954 from US fares
One way fares are normally ridiculously expensive but can be handy if you can only get the flights you want on miles one way. TAP has some very useful one-way fares to the US which are available from September onwards from just £494 in business class. You can also book these as return for equally good prices. The routes below are the best prices but there are a few other US routes that are around £1300 return. At that price, if you want a return,  I would be looking at what I could get direct from the UK, particularly if it is 6 months or more in advance with the BA advance purchase fares that are around that price.
Oslo – New York £494 one way or £954 return
Oslo – Boston £494 one way or £958
Copenhagen – Miami £539 one way or £1031 return
TAP are part of  Star Alliance so you can credit miles to any airline within that group. One useful option could be Air New Zealand who allow you to redeem on Etihad, Cathay Pacific, Jet Airways, and Virgin Atlantic as well as all the usual Star Alliance partners. You could also look at Singapore Airlines who are an Amex Membership Rewards partner so you could use those to top up your miles plus they also are a Virgin Atlantic partner.
TAP has a mixture of seats on their A330 but you can select seats during the booking process to make sure you are getting the new ones which appear as this layout: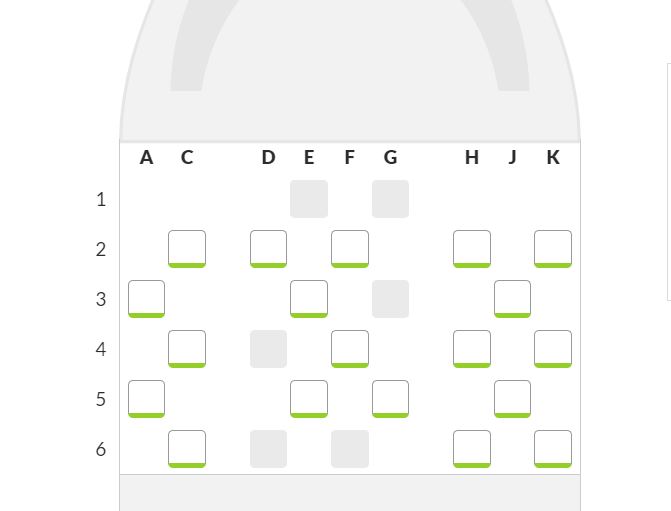 These seats are the same as many other airlines such as Aer Lingus and Virgin's A330-200 seats. There are only 3 seats that don't have direct aisle access from the window seats. You can add in a free stopover which I would recommend in Lisbon as it is a great city to visit plus it breaks up the journey. Some of the connection times mean that you would need to spend the night in Lisbon anyway. Flights are changeable and cancellable for a fee.
You can book either direct with TAP Norway or TAP Denmark or on Expedia which also usually allow you to look at seat maps before booking.
Hat tip: God save the points
Emirates to close MBNA credit card
Last year thanks to the EU cap on charges MBNA closed all their airline credit cards to new applications. They recently announced the closure of the Virgin credit card but fortunately, Virgin Money has come up with a good replacement. MBNA have now announced that they will be closing the Emirates card completely on 20 July. The Skywards Miles you've earned so far will not be affected and obviously, you can continue to earn them with Emirates flights and partners. If you have qualified for the £150 discount on an Emirates ticket and/or the Companion Reward benefit before 20 July 2018, the vouchers will be valid for 12 months from the date of issue.
So what are the other options to look at now? Any American Express card that has Membership Rewards such as the Preferred Rewards Gold, Platinum or The Rewards Credit Card are options as they all allow you to convert the membership rewards points into Emirates miles at a 1:1 conversion rate. The other option would be the SPG card which also allows you to transfer points to Emirates although with the joining of SPG and Marriott Rewards in August it remains to be seen what happens to the card. The transfer ratio is due to be 2.4 SPG points to 1 Skyward mile from August. If you transfer 20,000 points at once you get a 5,000 point bonus currently.
Thanks to reader Richard for the information on MBNA.
Revolut review – 0% foreign currency fees and great exchange rates
Following on from last week's look at the Curve card, today I will look at Revolut as another option to save foreign exchange fees when paying by card abroad. The Curve card allows you to carry one card and link all your existing Visa and Mastercards (to get your miles and points) and only charges 1% foreign exchange fee versus 3% for most cards.
Revolut works very differently to Curve and is a way to have a VISA or MasterCard card to spend on abroad with 0% fees. Revolut is basically like a prepaid card with an app and physical plastic card but it does work out more cost-effective and have some extra features via the app than most others. You can spend in 130 different currencies fee free plus hold and exchange 25 currencies in the app. The advantage of being able to hold currencies is that if the exchange rate was good now, for a country you are planning to visit later, you could buy some of the currency now to spend later at the current rate. 
The big advantage of Revolut versus other pre-paid cards, cash or 0% MasterCard or Visa credit cards is that their exchange rate uses real-time inter-bank rates without fees (except at the weekend). You can also make £200 or €200 per month in free ATM withdrawals. There is enhanced security which is also useful when travelling as you can enable/disable contactless payments, swipe payments etc from the app instantly. You can top up your Revolut account by bank transfer, debit or credit card. Some credit card companies have been treating top-ups as a purchase which obviously means you would get miles or points. However, I would test this first with a small top up as other are treating it as a cash advance which could incur a fee. 
One feature I like in the app is the ability to send or receive money instantly to people such as splitting the bill without them needing to have a Revolut account. You can also send fast ( 2 minutes), free money transfers to bank accounts in 120 countries, which is a plus point when you look at how much your bank charges you to do it! To get the card you need to open what they call a current account.
TLFL has a special offer for you to get the Revolut plastic card for free rather than paying the usual £4.99 delivery fee. Simply follow these steps to get your free card:
Go to the Revolut website using this link
Insert your mobile number
Follow text message URL to download Revolut on the Google Play or Apple App Stores via the link
Open an account (takes 30 seconds)
Top up £10/€10
Select and order Free Card [Standard Delivery]
Verify your identity (Tap more -> Profile -> Verify identity)
Note this is only for those that do not currently have a Revolut account.
The Economist Avios offer 1050 Avios for £12
If you saw the Economist offer a while ago, there is now a second offer for fewer Avios but with a much lower commitment. The offer is to collect 1,050 Avios when you subscribe to The Economist for £12 for 12 weeks, regardless of what type of subscription; Print + Digital, Print only or Digital only. You must buy a 12-week subscription with The Economist and be a member of the British Airways Executive Club. The offer is available from until 12 August 2018. You must a be a resident in the UK, Channel Islands or Isle of Man. Avios will be awarded to your account within 28 days. To buy 1000 Avios would normally cost £31 or during the last promotion, you would have got 1500 for £31 which in effect is £20 for 1000.
You must maintain the subscription for at least 12 weeks. This subscription is non-refundable, except in the EU, in which case you can cancel the subscription in the first 14 days and get a refund for any part of your subscription that has not already been delivered (for the print element) or published (for any digital element) before it is cancelled. Once Avios have been awarded the subscription can be cancelled, but will not be refunded.
The downside is that the subscription will auto-renew every 12 weeks at £53 so set a reminder to cancel it if you don't want to continue it!
The original offer for 13,200 Avios that I previously talked about is also still available.
This is the special Economist sign up page to get the Avios.