US routes in Club World from 40,000 Avios + £564 return
A new Premium Economy deal with British Airways from Dublin has been launched which is upgradeable with Avios. The offer covers most US cities and if you don't fancy sitting in Premium Economy you can upgrade the booking with Avios to Club for a small amount, subject to availability of course. You can work out the upgrade Avios price by subtracting the price of a Premium Economy Avios ticket from a Club World one. You can work out the price using this BA tool.
Rather strangely they work out cheaper during peak periods. An example would be London to San Francisco in Club which costs 150,000 Avios peak return whilst a Premium Economy ticket would be 100,000. That means you can upgrade for 50,000 return versus paying 150,000 Avios for a Club ticket + around £550 in taxes and charges! Off-peak, you would pay 60,000 Avios. Normally I would recommend booking online and upgrading at the same time. However, unless you want to upgrade the Dublin to London portion as well which costs extra, you would be better off upgrading by phone or booking and upgrading by phone at the same time. The good news is that you will still earn the Avios and Tier Points for a Premium Economy booking so will get a good proportion of your Avios outlay back!
The fares have to be booked by 30 September and you can travel 1 November to 17 December or 25 December to 22 March for the outbound legs. The tickets must be issued on BA or Iberia.  The ticket is non-refundable but you can change them for €180.00 plus any fare difference. There is also a discount code of STILLPROUD for Executive Club members off long-haul flights if you book before midnight on 14 June and spend at least £300. There are various terms and conditions but I can't see anything that says it can't be used on an ex Dublin flight. You can see the BA special page here.
The fares from Dublin in Premium Economy start from:
Los Angeles £631
San Francisco £681
Phoenix £670
Las Vegas £790
Miami £629
New York £564
Seattle £651
Boston £577
Orlando £615
You can read my ex EU Dublin guide here. To find the latest fares and available dates head to the British Airways Ireland site.
HT: Loyalty Lobby
Get 20,000 Avios with a hotel booking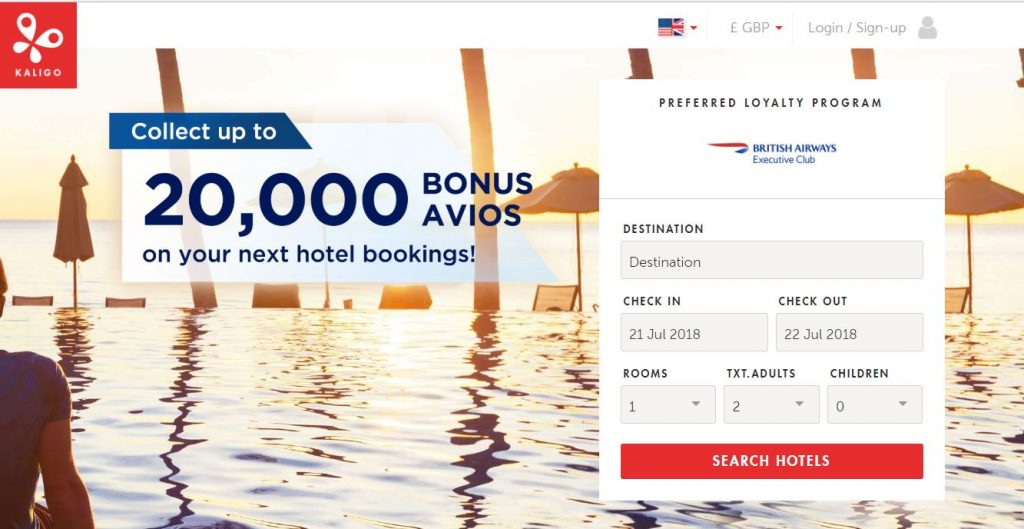 If you haven't already tried one of the hotel booking sites that gives miles as part of the booking process, now may be the time to try it out. You can read about the various companies that do this in this article. Companies such as Rocketmiles and Kaligo offer airline points instead of taking part in cashback or affiliate programs and pass on the cash to you the customer as miles. Most major airline schemes are included such as British Airways Executive Club.
The best time to try them out is when a special offer is on which can offset any potential difference in price. Generally prices are comparable but as usual it pays to compare with other sites before booking.
If you hold a British Airways American Express card there is a special offer on for purchases made until the 31 August 2018. There are three levels of bonus:
5,000 bonus Avios when you spend at least £300
OR
10,000 bonus Avios when you spend at least £500
OR
20,000 bonus Avios when you spend at least £1,000
The stay period is very generous being 1 July, 2018 – 28 February 2019. The other advantage is that any spend during the booking period counts, it doesn't have to be all in one transaction. You don't need to be a new customer so I will definitely be trying to take advantage of this offer.
As an example, if we take the Gran Melia Palacio de los Duques (you can read the review here) in Madrid, you could earn 8500 Avios for one night. Then on top of that, you would then get 5,000 bonus as prices are around £320 per night for a deluxe room. On the dates I looked at the room was £40 more expensive on Kaligo which is not always the case. However, for 13500 Avios I think it would be worth the extra money. I have previously used Kaligo and my rates were very similar to the other online rates so it does vary.
You can find the Kaligo/BA Amex offer page here. 
IHG 30% discount and up to 20% on InterContinental hotels

There is a special offer for Avis Preferred customer to get 30% off at European Holiday Inn®, Crowne Plaza® Hotels & Resorts, Hotel Indigo®, Holiday Inn Express® and Staybridge Suites® and up to 20% off including breakfast at InterContinental® Hotels & Resorts and Kimpton® Hotels & Restaurants. It is free to join Avios Preferred and worth joining anyway if you are likely to get a car through Avis at any point. Avis Preferred has 3 main benefits:
Priority service to jump the queue with pre-prepared paperwork and your car ready.
Make 2 rentals and get a €15 voucher to spend on your next booking. After your 3rd rental you receive a voucher for a free weekend rental.
In some locations, they even have your keys and paperwork ready and waiting for you in your car or van.
You can join Avis Preferred free here and take advantage of the offer.
Hotels need to be booked 21 days in advance. The T&C say you must have proof of membership or download and print a form on the offer page and present it at check-in. The offer is valid for stays on Friday, Saturday and Sunday nights with some limited midweek availability too. It is available for reservations made between 1st January 2018 and 31st March 2019 for stays between 22nd January 2018 to 31st December 2019. The price discounts are off the Best Flexible rates so they may not be 20-30% off the cheapest rate but you will get additional flexibility.
You can find the IHG offer page here.
Thanks to regular reader Andy for sending in the offer.