Portugal to reopen from 17 May
A very last-minute reprieve was given by Portugal today to allow Brits to enter from 17 May. The delay was due to the fact that the UK is still banned by the EU as a third country. This had been due to be overturned this week but was delayed. Being the president of the EU this year, this put Portugal in a difficult position. Fortunately, they made the sensible decision to reopen from Monday, but they have gone back on their initial statements that would allow vaccinated travellers to enter without a test.
Here is the official statement: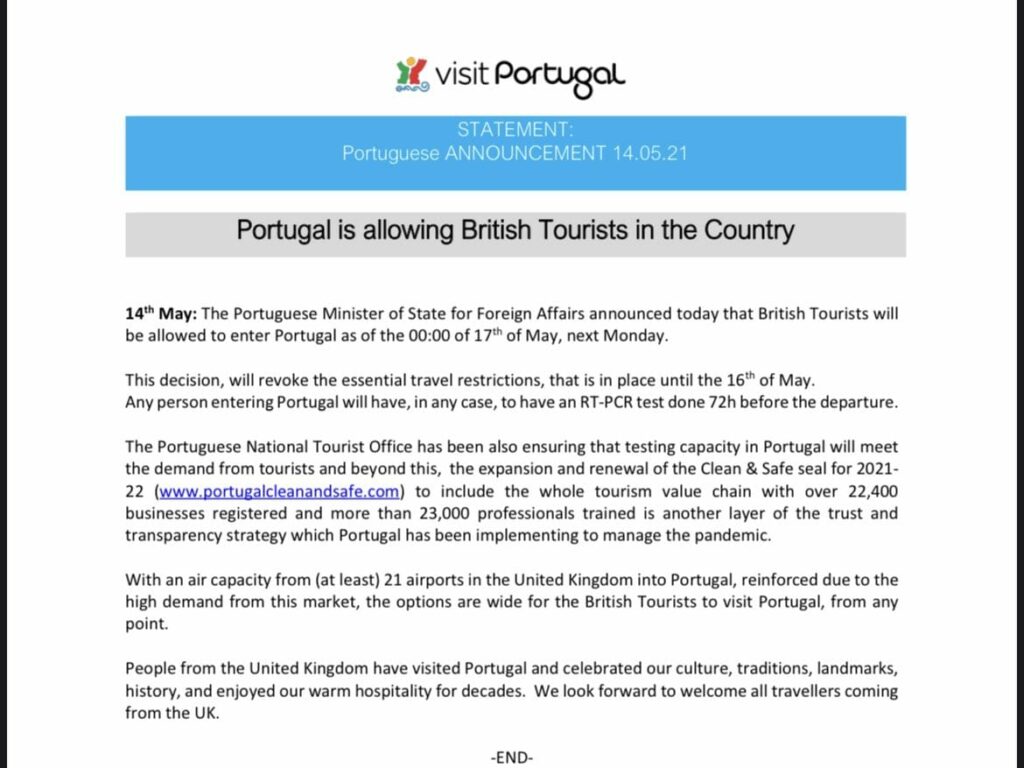 Champions League in Porto
It is still not totally clear of the situation for football fans when they visit Porto on 29 May. However, both TAP and British Airways have laid on extra flights to Porto. BA has added a total of 25 extra flights including from Manchester. You can find out prices and schedules here.
TAP Air Portugal has also added extra flights from London and Manchester to Porto.
TAP Extra Flights:
26 May, London-Porto
28 May, London-Porto, TP3255
28 May, Porto-London, TP3254
28 May, Manchester-Porto, TP3251
30 May, London-Porto, TP3255
30 May, Porto-Manchester, TP3252
29 May, flights operated with A321 equipment
31 May, flights operated with A321 equipment
There is a special TAP page here.
NHS now working as Vaccine Passport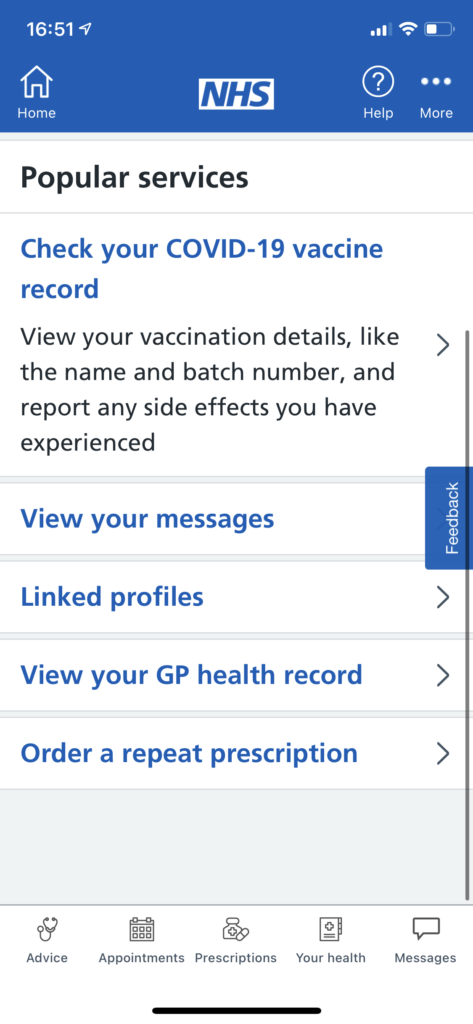 You can now check to see if your NHS app is showing your vaccinations to enable you to use it as a vaccine passport. This is not the same as the NHS Covid-19 app and you will need to register. For some people, you may also need to contact your GP if it is not working properly.
When you first log in, you should see the screen above with an arrow to click to show the full details of your vaccines with batch numbers etc. I had a look and mine are all showing correctly. Hopefully, this will suffice to travel to Malta next month. I have to say I had my doubts if the government could do it, but to be fair to them they have done it in time with a couple of days to spare!
Earn Virgin miles on trains

Virgin Flying Club Miles are now called Virgin points and there is also a new scheme called Virgin Red which allows you to collect and spend Virgin points on a wider range of items. You do need to join both separately.
Virgin are now offering a new way to buy train tickets called Virgin Trains Ticketing – on the Virgin Red app, giving members a way to book travel on any train within England, Scotland and Wales. For Virgin Red members, they will be able to earn Virgin Points whenever they book train travel on the Virgin Red app with three Virgin Points for every £1 spent. Booking train travel via Virgin Red is quick and easy to use, with no booking fees on e-tickets and members will be able to view their e-tickets instantly within the app.
Here are some examples of what you could earn.
An off-peak return from London Euston to Manchester Piccadilly over a weekend (£94.50) will accrue 282 Virgin Points.
An off-peak return from London Victoria to Brighton over a weekend (£36) will secure 108 Virgin Points.
An off-peak return from Manchester Piccadilly to Edinburgh Waverley over a weekend (£116) will collect 348 Virgin Points.