Flights to Antigua and Grenada restart with Virgin Atlantic on Monday 26 October, with two flights a week planned for each island, joining the four weekly flights to Barbados and twice-weekly flights to Montego Bay, Jamaica. Both Antigua and Grenada are currently included in the FCO's travel corridor list, allowing quarantine free travel for customers. Jamaica's rate of infection has fallen to below the normal cut off point so I would expect it to be added back to the list soon.
Virgin Atlantic plans to expand its network further, with services from London Heathrow to Boston launching on 21st November and Lahore, Islamabad and Cape Town routes scheduled to commence in December 2020. More routes will be added in 2021 in line with customer demand.
For travellers hoping to catch some sun this winter, Antigua is the ideal getaway. Home to 365 beaches and crystal Caribbean waters, Antigua is a naturally designed socially-distanced haven. For those who fancy upgrading their 'work from home' situation, Antigua and Barbuda have got the answer with the newly launched Nomad Digital Residence (NDR) Programme. The new NDR programme is designed for those who can meet the requirements of their employers, clients and colleagues while working abroad. Those who take advantage of the NDR, can live, and move freely through Antigua and benefit from the islands' no personal income tax status stay for up to two years.
Grenada, known locally as the Island of Spice, has everything you could want from winter getaway. The picturesque island has lots to offer, from swimming in the crystal clear waters of Grand Anse Beach to trekking through the rainforest of Seven Sisters Waterfalls, all within a day.
Virgin Atlantic has recently expanded its onboard offering to increase its food and drink choice for customers whilst continuing to ensure the services are designed to limit interaction, with food prepared in a Covid-safe, monitored environment. In premium and economy customers can enjoy a choice of three hot meals as part of the "Fly safe Eat Well" meal box, which also incorporates cheese and biscuits and a dessert pot. Upper Class customers will receive a choice of three hot meals, dessert, cheese plate & crackers and a ciabatta roll, all delivered to their seat on a tray. Customers can also enjoy an expanded alcohol service to include champagne, miniature liquors and mixers as well as beer and wine in Upper Class and a choice of beer, wine and miniature liquors & mixers in Economy and Premium. A second meal service which, on day flights from the UK, includes the delicious Mile High Tea in collaboration with celebrity pâtissier Eric Lanlard in all cabins.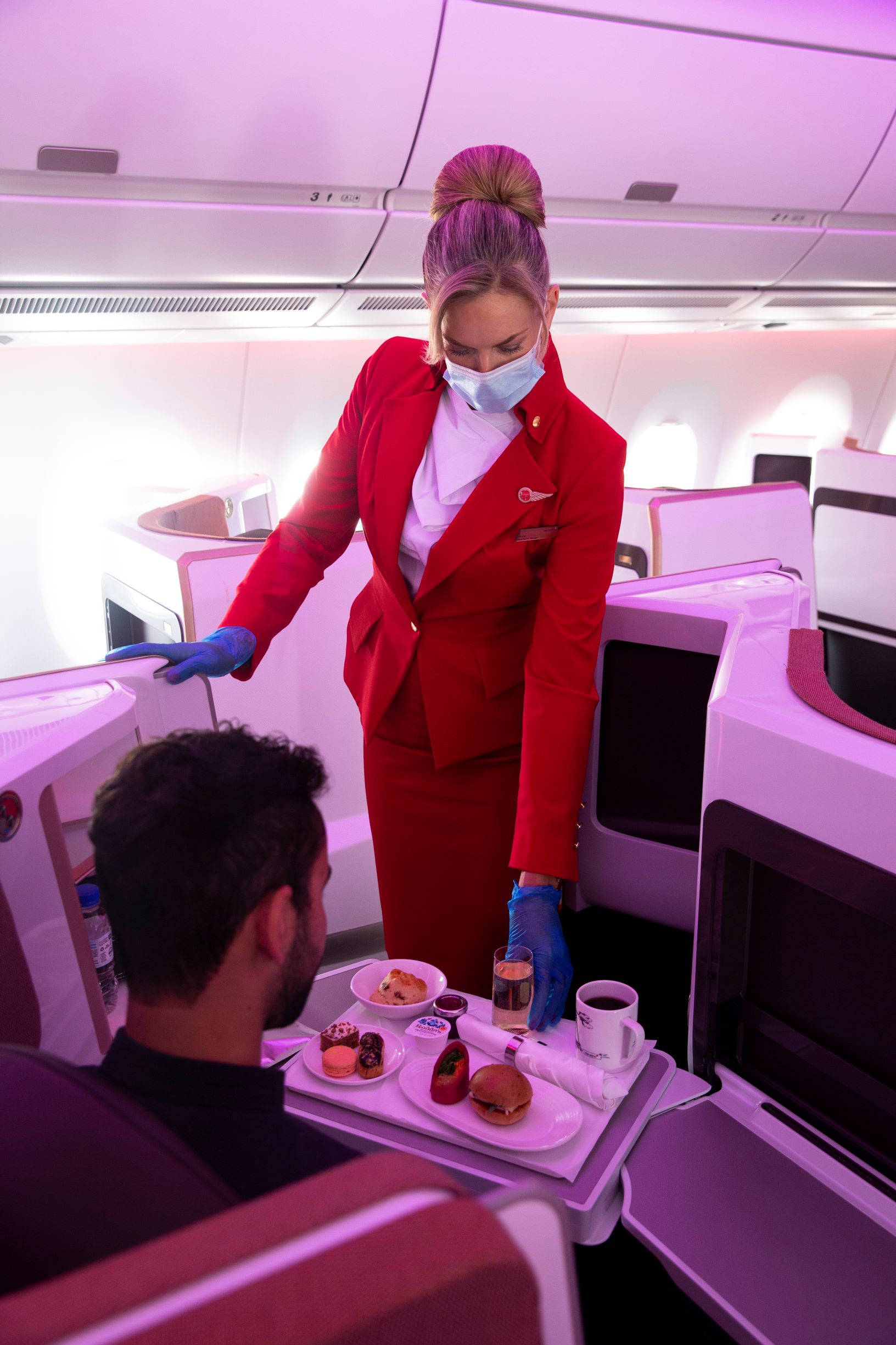 I will be flying back from Barbados with Virgin Atlantic in Upper Class so keep an eye out for my review!
The fares and travelling on miles
Here is a summary of the cheapest return fares I could find in Upper Class for these routes:
Jamaica – Montego Bay £1221
Antigua £1449
Barbados £1358
You can search for the cheapest fares on Virgin Atlantic here.
If you fancy using miles there is good availability for Barbados and Jamaica and limited seats for the others. I use SeatSpy so I can see a whole year at a time for a destination. You will need 115,000 miles return off peak and 135,000 peak plus around £550 in taxes and charges.
Entry requirements
Antigua:
On arrival in Antigua, customers must show a negative PCR test taken in the past 7 days. After a health screening, holiday makers staying at a government approved hotel can enjoy the island freely, whilst adhering to social distancing and local guidance. Click here for the latest guidance for Antigua and Barbuda. Customers do not need to self-isolate if travelling to England from Antigua.
Grenada:
For customers travelling to Grenada, they will also need a negative PCR test taken in the past 7 days before their flight. Once in Grenada, customers will receive a health check at the airport before travelling to their hotel. Of customers wish to explore the island, they can take a second PCR test on day 4 of their stay. Click here for the latest guidance for Grenada. Customers do not need to self-isolate if travelling to England from Grenada.
Barbados:
For those travelling to Barbados, customers will need to complete and submit an online immigration/customs form 24 hours prior to travel. Travellers from the UK must arrive must arrive with a negative PCR test taken by a certified or accredited laboratory within 72 hours of arrival. For customers wanting to explore the island, there is also the option to undertake a second PCR test 4-5 days after your first test. I arrived Sunday having had my test on the UK on Thursday. My second test was Monday with results back Tuesday morning. Customers do not need to self-isolate if travelling to England from Barbados.
Jamaica:
Jamaica is not currently on the travel corridors list and customers will need to self-isolate for two weeks when travelling to England from Jamaica. Prior to checking in for a flight to Jamaica, customers must get authorisation to enter from the Visit Jamaica website
For further information please visit the FCDO travel advice website.