5000 miles with one hotel booking
There are several hotel booking sites that offer the opportunity to earn good chunks of miles on even a single night. These include Pointshound, Kaligo and Rocketmiles. If you haven't used one before, it is always worth waiting for a good sign up offer or bonus. The drawbacks are that prices on the sites may not be the cheapest you can get and as with any online agent, you won't get your hotel status perks or points usually. However, with 5000 miles for your first booking via Rocketmiles, you may well decide that it is worth paying slightly extra. There is no minimum spend but some hotels are excluded from the promotion.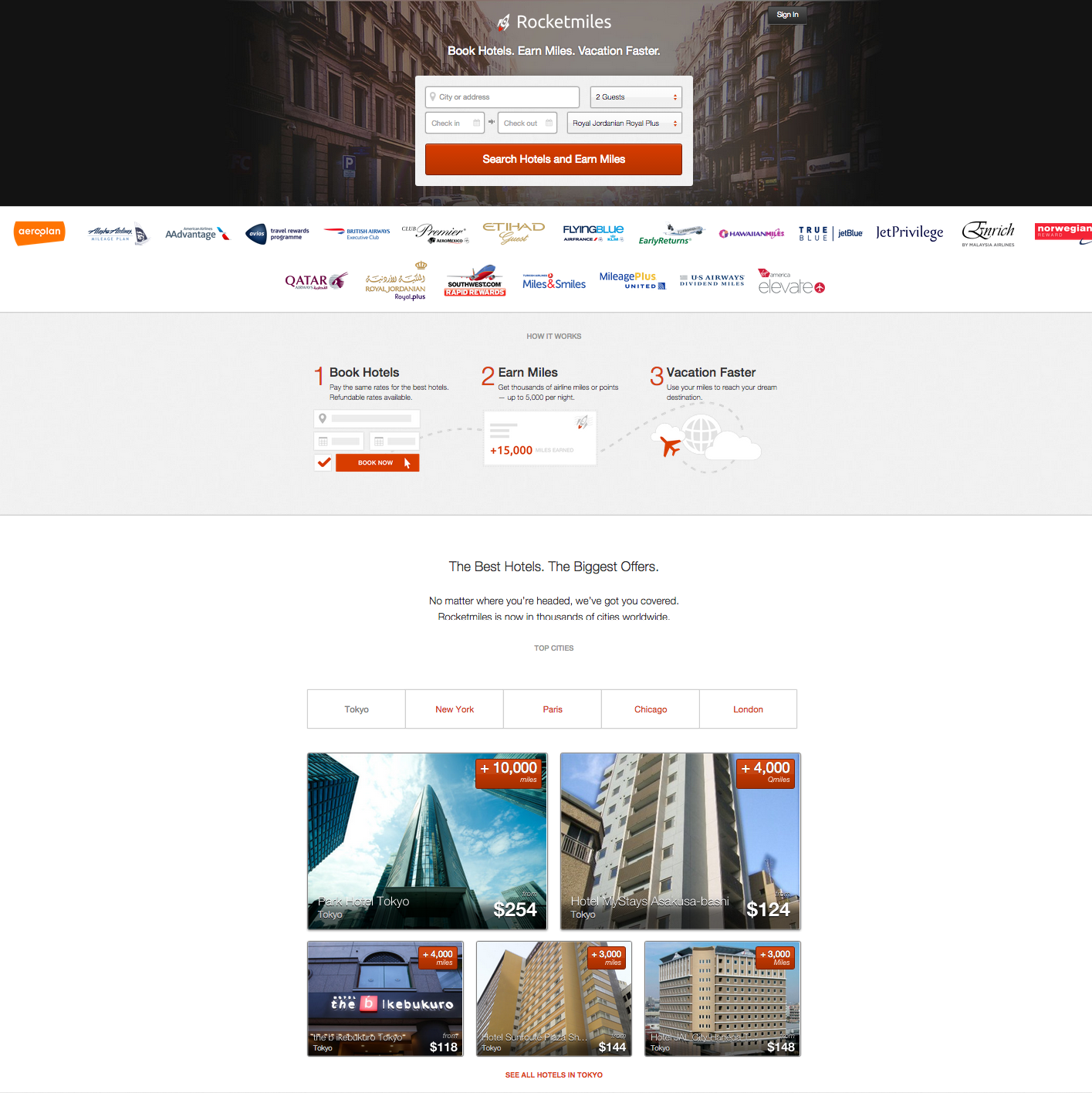 There is a long list of airlines that you can earn miles with but for this promotion, BA and in fact, all the main Avios partners are not included. There are a few that may be of interest though:
Emirates Skywards
Etihad Guest
Flying Blue
Heathrow Rewards
Singapore Airlines KrisFlyer
Virgin Atlantic Flying Club
If you are only interested in Avios then you can still earn them in a slightly roundabout way. You would need to credit to Heathrow Rewards and then transfer to Avios. There are also other Heathrow Rewards options for transfer as well as shopping vouchers or money off Heathrow parking,
To qualify you must be a new customer and sign up by 31 December 2019 using the link below.
The special Rocketmiles page is here.
UK business class from £1,117
Just for a change (!), there is a KLM/Air France sale on. If you are a Virgin miles collector, it could be of interest in terms of earning miles as well as those that collect Skyteam miles. There is a merger going on between Air France/KLM and Virgin which has now been approved and we are expecting both schemes to be able to earn and redeem miles on each other. Both KLM and Air France are a members of Skyteam alliance so you can credit the miles to any Skyteam partner. You could consider Delta, as that lets you redeem on Virgin Atlantic at the moment as well as Sky Team. There are a couple of partner airlines of interest too, Malaysia Airlines and Alaska (can redeem both on BA).
With KLM and Air France, it is worth doing your research as both airlines have quite a variety of seats – some very old fashioned and some good new, all-aisle access seats.
KLM's best offering is currently the B787 with the reverse herringbone seats. Next, are the B747s that have been fitted with the new seats which do have some single window seats. Finally, there is the A330 in a 2-2-2 configuration. The A330s have a 206cm fully flat beds and an HD quality entertainment with an 18″ screen.
For Air France long-haul business class you also need to be a bit wary. Air France's old seats are angled lie flat with 2-2-2 or 2-3-2 configuration (B777). Most of their B777s and A330s now have the new seats. They do also have B787s that all have the new seats. You can tell which seats an aircraft has by the configuration. The new seats have a 1-2-1 configuration. You can view the seat map as part of the booking process on the Air France website.
Unusually, the fares vary between KLM and Air France, so it worth looking at both sites to get the cheapest prices.
The best fares are:
Abu Dhabi £1,117
Aruba £1,697 (Caribbean)
Beijing £1,419
Boston £ 1,608
Cape Town £1,902
Chicago £1,544
Delhi £1,379
Dubai £1,217
Havan £1,729
Ho Chi Minh £1479
Houston £1,601
Johannesburg £1,828
New York £1,237
Punta Cana £1,448
Quito £ 1,649
Rio de Janeiro £1,679
Saint Martin £ 2,050
San Francisco £1,583
Seattle £1,544
Seychelles £1,918
Seoul £1,489
Toronto £1,439
Vancouver £1,664
Washington £1,489