Now for something different….
If you have done all the usual destinations and want to try something different, but still relatively safe and with decent accommodation, why not try Namibia? If you love wildlife and stunning scenery, then this is the place for you. I visited a few years ago and would love to go back. Formerly a German colony, there is still a degree of German influence.

Safaris here are much cheaper than other more well-known destinations and feature most of the big 5. (lion, leopard, rhinoceros, elephant, and Cape buffalo). On my trip, I saw giraffe, lions, elephants, zebras and many more.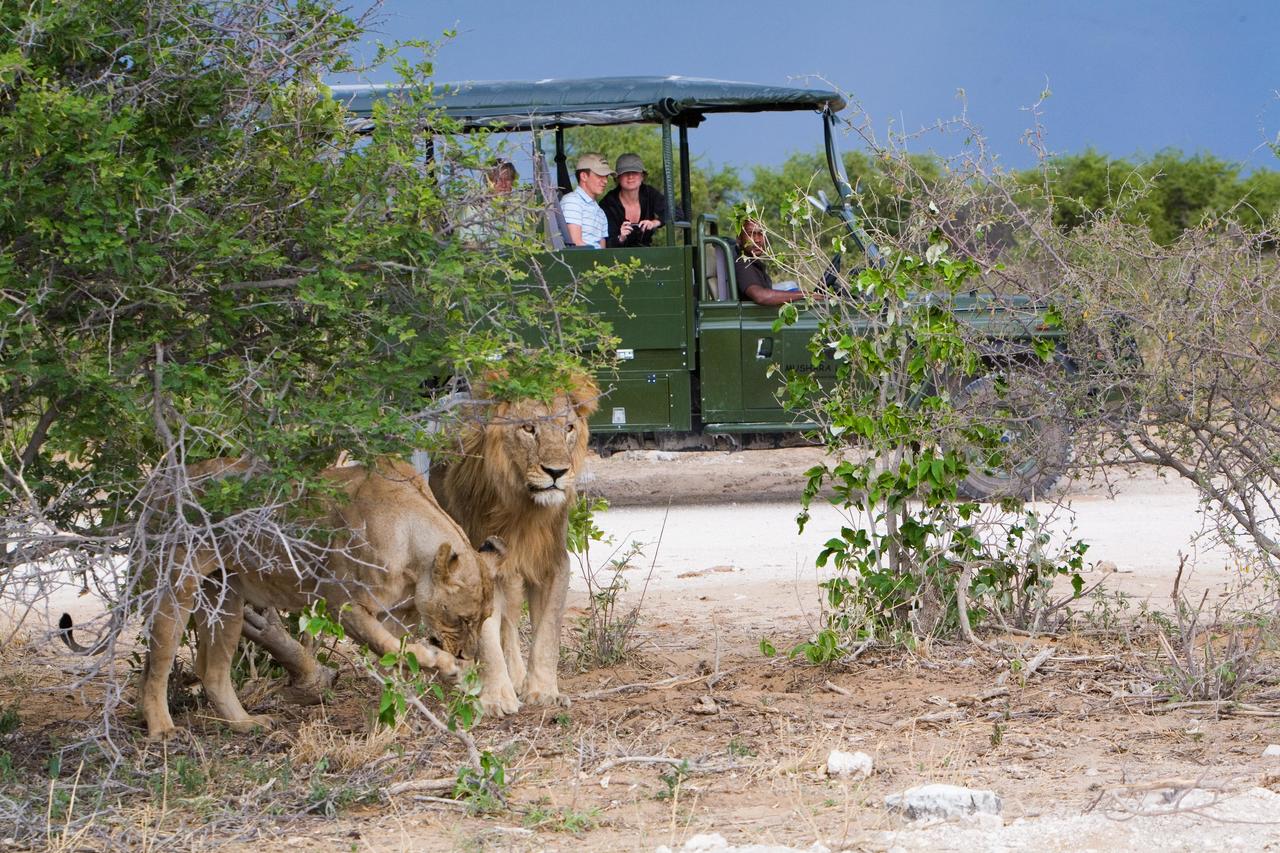 The main wildlife area is Etosha National Park where I stayed at The Mushara Outpost. This is the only time I stayed in a "tent" in my entire life. My highlight of the stay was the game drive in the late afternoon where we stopped to watch a pride of lions. Our driver produced a gin & tonic in a proper glass even with ice and lemon as we watched the lions in complete silence.
There are also coastal resorts where you can see whales, dolphins, seals, leather-back turtles and sunfish. Flamingos are also by the coast near Walvis Bay.
Another fun thing to do at a much cheaper price than elsewhere is the luxury train to the coast. We loved the experience which included sundowners in the middle of the desert!
How to get there
Windhoek, the capital, is normally well over £2000 for flights from the UK but there are a couple of fares currently to consider. Another option is that you could fly to Johannesburg or Cape Town and get a short flight with South African to Windhoek as we did. We combined Namibia with Cape Town on our holiday. Flights between the two cities cost around £200 return and take 2 hours.
Current best flight fares:
Oslo to Cape Town with Qatar from £1369
Oslo to Cape Town with KLM/Air France £1303
Sofia to Windhoek with Qatar from £1748
London to Windhoek with Ethiopian £2018
Frankfurt to Windhoek with Air France £1678
Berlin to Windhoek with Qatar from £1929
You can find all the cheapest prices for these flights by using Skyscanner.
Collect 8000 Avios with broadband
It's amazing what you can collect Avios on through BA. There is now a slightly better deal for Avios than the Sky broadband deal we talked about a few weeks ago. You can now collect 8,000 Avios when you switch to SSE Broadband & Phone. Simply:
Sign up to one of their Broadband & Phone packages
They will email your Avios voucher code
Redeem your Avios at www.aviosvouchers.com
Collect Avios on wine offer

BA Avios are available on wine through Laithwaites now called The Wine Flyer on BA. The latest offer is for a case of wines from Australia to Portugal. There is a mix of crisp whites, classic reds and a fresh Provence Rose for £5.83 a bottle, saving £57.89. I was a bit sceptical of the Laithwaites offers, but actually given the price I was pleasantly surprised in general. You can read my review here.
You'll also get free delivery, a pair of complimentary wine glasses and 2,000 Avios for all first-time orders before 30 September 2019. Existing customers will receive 250 Avios with their order.
The main rules are:
New customers will receive 2,000 Avios on the initial purchase of a 12 bottle case of wine. Existing customers will receive 250 Avios on the purchase of a 12 bottle case of wine.
One case only per household while stocks last. No further discount or voucher can be applied.
Free delivery (usually £7.99).
Offer ends 30 September 2019.
Collect bonus Avios on hotels offer
One of the ways I get most of my Avios other than flying and credit cards is through booking hotels via the BA Estore and Avios.com shopping portals. There are some bonus Avios available which could prove very lucrative if you have a long stay to book. The offers end soon, on 18 August 2019, so don't hang around. You just click on the link in the BA EStore and book as normal
Booking.com – 8 Avios per £1

The main drawback is that your Avios will be awarded 90 – 120 days after you have completed your stay. Also, multiple bookings for the same hotel stay will not be rewarded nor when bookings are deemed to be not genuine personal customers' bookings.
Hotels.com – 12 Avios per £1
You can find details of all the Avios offers mentioned on this page.