BA's best ever buy Avios offer – 75% bonus for some
In an unsurprising move, BA have launched the highest ever bonus to buy miles that I can remember seeing. The offer is for up to a 75% bonus when you buy any amount of Avios before midnight on 18 May 2020.
The maximum amount of Avios you can buy has also been increased to 200,000 meaning that with the maximum bonus you can buy 350,000 for £3215.
The bad news is that the offer is targetted and is only available to certain Amex holders. The offer is meant to be for BA Amex cardholders only but there appear to be some glitches in the IT (how unusual!) that are in our favour. If you have held a BA Amex recently or even a Lloyds Amex that gives Avios, it is worth checking as it appears that some people have been wrongly given the bonus. If you don't qualify, then you get the standard 50% bonus. I would definitely not buy at this rate unless you have to.
When you first go to the BA Avios offer page you will see the standard 50% bonus offer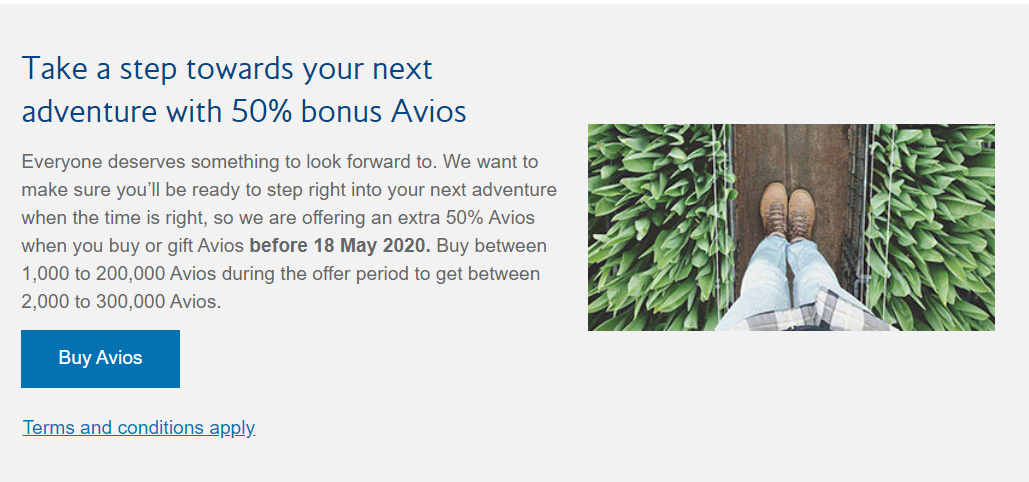 Once you log in and go to the page, you will see whether you have been offered the 75% bonus:

The terms and conditions also state that you must pay with a BA Amex, similar to when you buy flights with a companion voucher. Again, the system does not seem to be able to tell the difference which type of Amex you pay with.
Should you buy?
Obviously one of the concerns with buying miles or Avios at the moment is whether the airline is likely to survive. I think we can all see that BA are unlikely to not be able to survive the crisis given the ruthless tactic they are taking with staff. More of a concern would be whether there may be a better offer in the future or whether there could be a devaluation. Either scenario is a possibility, but I think a devaluation is unlikely short term as that is likely to decrease cash flow if people can no longer use their Avios to book flights.
The Avios are good value with the 75% bonus but I would still advice against buying them unless you have something specific in mind to use them. One good thing is that availability is much higher than usual for redemptions, so you have more chance of being able to use the Avios. Why not have a look on SeatSpy to see the entire year's worth of Avios availability? You can see the special SeatSpy offer in this article.
It makes far more sense to buy the Avios if you can use a BA Amex companion voucher. If as an example you were to buy 125,000 Avios with a 93,750 Avios bonus it would cost you £2015. This would be enough for two First returns to Cape Town (204,000 return) with the voucher, although you would still have to pay the taxes of around £600 each. This brings the total to around £1615 per person. This is not exactly a bargain, but given that a BA First flight would usually be around £4000 to Cape Town, it seems better value. Cape Town is a good example where I would not buy unless I could see dates available or was prepared to fight to get the flights when booking opens 355 days before. In even current times, there are very, very few seats available in First on Avios.