If you read a lot of the miles and points blogs, you may already be aware of Club 1 Hotels as they are well known in frequent flyer circles. Both Paul and I have been a member for some time. We wrote about Club 1 Hotels last year but since there is a new special offer for TLFL readers and some improvements to the service, we thought it was worth an update. Club 1 Hotels feature many of my favourite luxury hotel brands such as Four Seasons, Peninsula, Mandarin Oriental, and Langham hotels. In addition, they have many other areas of travel with discounts such as flights and cruises.
So who are Club 1 Hotels?
Club 1 Hotels is a US-based private global travel club that provides wholesale rates at over 1 million hotels, 14 cruise lines, 12 car rental partners, 200+ airlines, and more. Unlike websites such as Last Minute Secret Hotels that do not disclose the exact hotel until you have already paid for the hotel, Club 1 Hotels Members shop by city, airport, brand and/or hotel name to get exactly what they want.
How do they get such big savings? It's because of the companies that Club 1 Hotels partner with, they pre-purchase over $1 billion in room nights annually at global hotels and resorts. Even better – many of these rates are refundable and they actually guarantee you will save money! See below for how the guarantee works.
How much can I save?
Here is a comparison I did for Las Vegas for the last article. At the moment prices are all over the place so I'm not sure it is a fair comparison! The first hotel is my perennial favourite, the Four Seasons Las Vegas.
NOTE: Taxes, charges and resort fees are not included in the initial price on EITHER Club 1 Hotels or the comparison site. This is normal when booking US hotels. If we look at the average price comparison via TripAdvisor: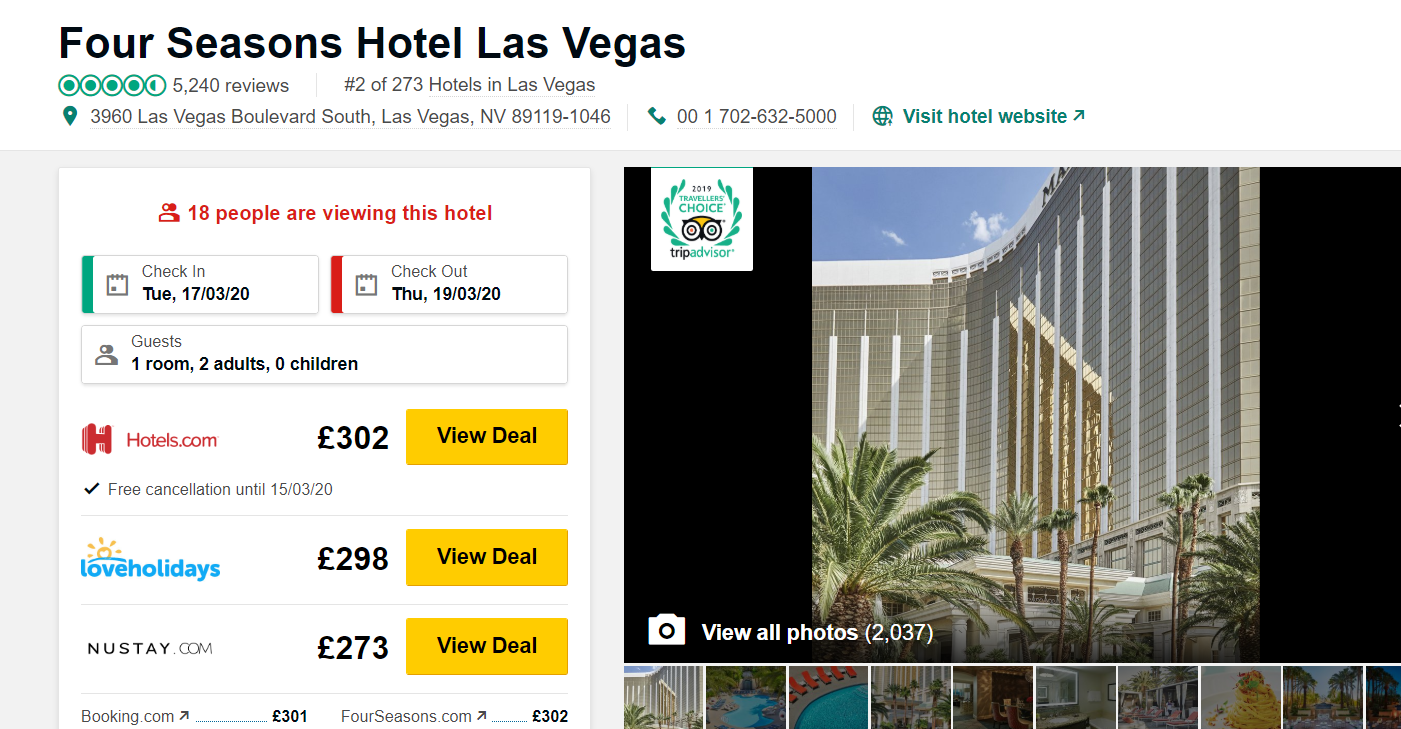 Then if we compare that to the offers on Club 1: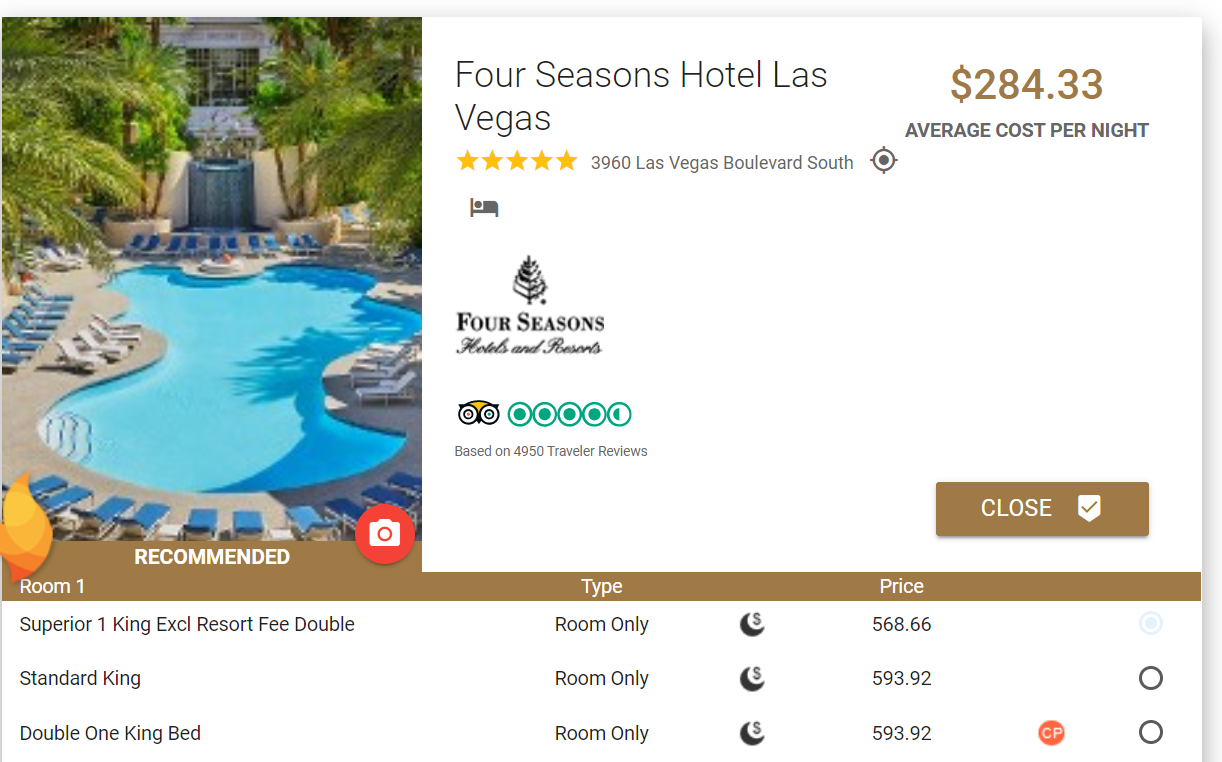 If we take Club 1 Hotels this works out around £219 per night when you convert the price from dollars. If I look at the cheapest company on TripAdvisor, NUSTAY (who I have never heard of), the cheapest room available is £273 which is a saving of £54 a night. Over my 2 night stay, I would be saving nearly £108 for no effort at all.
If you went with a better know company such as Booking.com that offer refundable rates, then the difference is much bigger at £302 vs £219 per night.
I also looked at the Bellagio. On TripAdvisor the cheapest option again is NUSTAY at £329: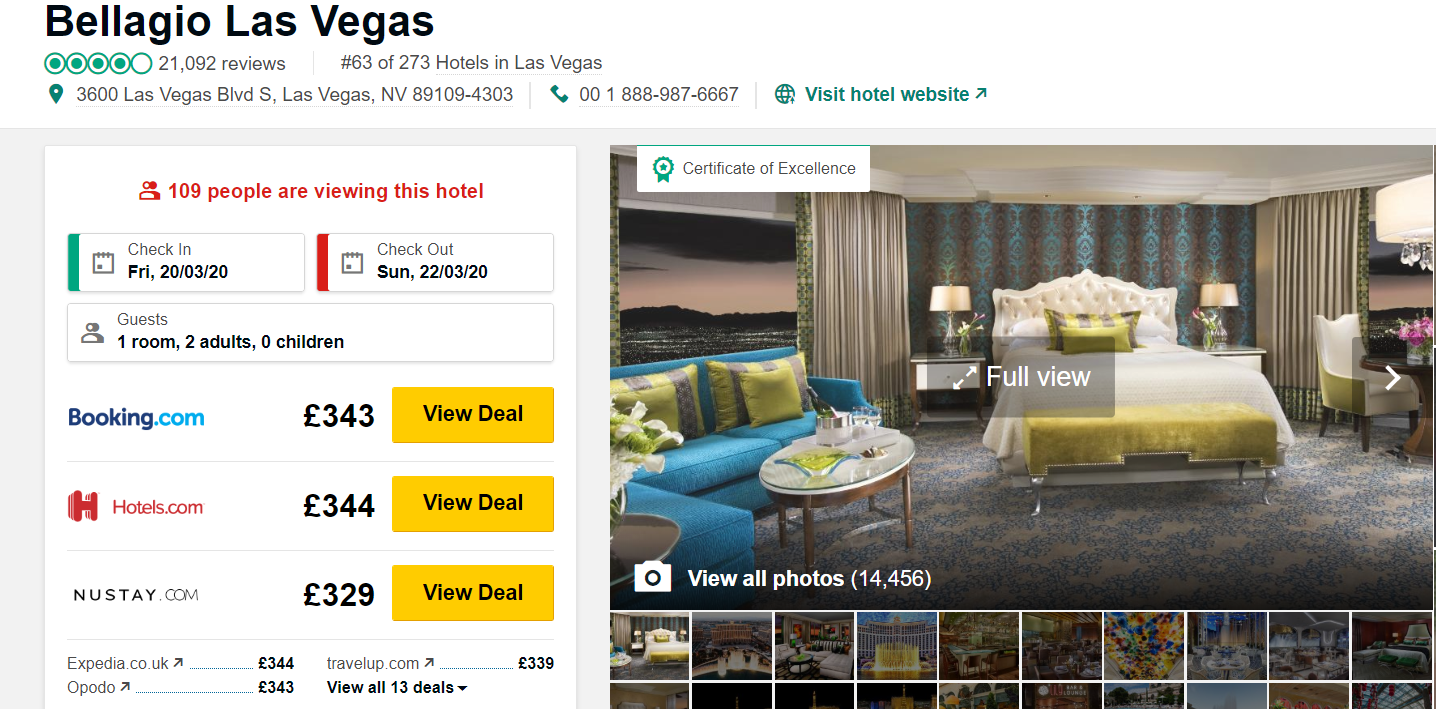 When we look at Club 1 Hotels there is a substantial saving at £258 per night after converting into pounds. Even if there wasn't a price guarantee, it would still mean you save money.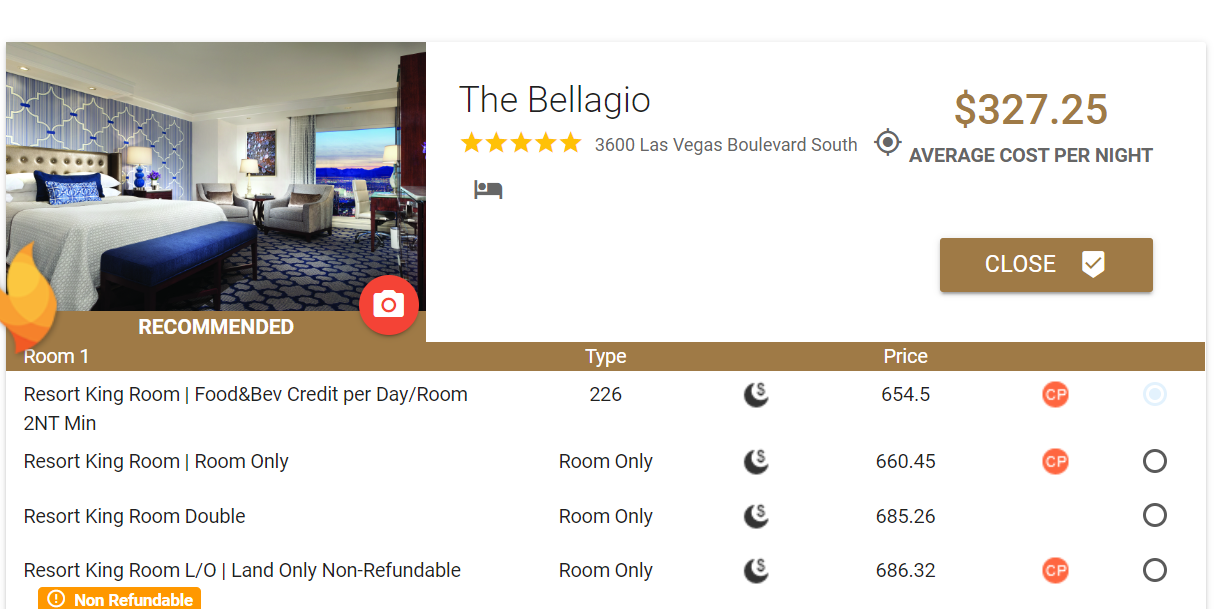 Obviously, it will depend on the individual hotels and what offers are on, so it is always worth comparing with other sites before you book. With the price guarantee, they will not only match the price but actually beat it by a set amount depending on the class of the hotel. For example, a 5-star hotel would get you $20 per night off the best price you found. See more details below.
What has been improved with Club 1 Hotels since we last wrote about them?
The book now and pay later is particularly useful for the current situation where we never quite know what will happen with our travels!
"Book-Now, Pay-Later" option with every booking.
Added an additional 300,000 exclusive wholesale rates and direct contacts for a total of 1.5 million hotels and resorts
Added even lower rates at over 500 car rental agencies and improved search filters
Added over 175,000 serviced apartments, homes, villas & other one-of-a-kind residences in the world's top destinations, offering professional hospitality and a unique sense of place.
Special Discount on the Concierge Membership where members save an additional 5% Off our wholesale hotel rates all year plus receive Personalized Concierge Services and the Best Rate Guarantee on every hotel reservation for only $99 (reg $149).
What do I get with my free silver membership?
We are offering a special free membership for TLFL readers which usually costs $149. The offer is for a Complimentary Ongoing Silver Rewards Membership where you can earn 2% back in ClubONE Points for every $1USD to use towards future bookings.
Unlike so many of these types of offers, there is no catch. You don't need a credit card to sign up as there is no annoying auto-renew! If you joined Club 1 from TLFL previously, you have already been upgraded to this new membership, so you do not need to re-register.
Here is what you get for free:
1-Year Club 1 Hotels Membership with

Guaranteed Savings

*

up to 60% Off

at over 1 Million hotels & resorts worldwide including discounts on flights, car rentals, cruise lines, golf tee-times and more.

2% back in ClubONE Points for every $1USD to use towards future bookings. 1,000 ClubONE points = $10. Points never expire.
No Blackout Dates

embers receive Guaranteed Savings on every hotel booking made 5-days prior to arrival.

If you find a better rate for the same hotel, room and rate type (refundable or non-refundable), we want to beat that rate by:
$10 per night guaranteed savings at 3-star hotels up to $20
$15 per night guaranteed savings at 4-star hotels up to $45
$20 per night guaranteed savings at 5-star hotels up to $60 up to $100 on reservations $900 or more

No credit card required to join

1-year membership does not auto-renew or auto-bill

*Please note: all hotel rates are shown in USD and charged in USD with taxes and recovery fees added to the hotel rate at checkout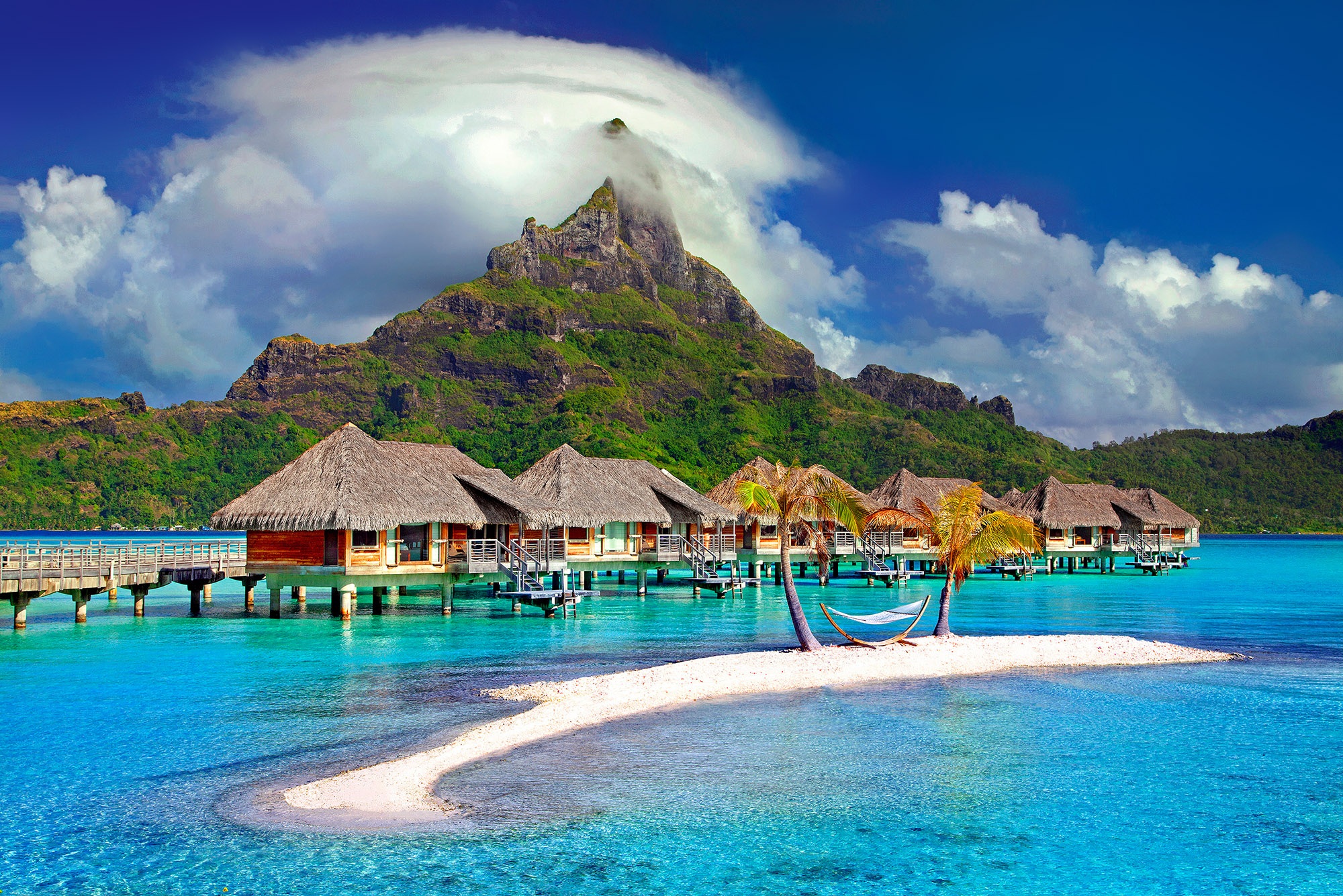 There is also a higher level of membership, the ClubONE rewards package which offers:
1-Year Club 1 Hotels Membership with

savings up to 60% Off

at over 1 Million hotels & resorts worldwide including discounts on flights, car rentals, cruise lines, golf tee-times and more.

An Additional 5% Off wholesale hotel rates

No Blackout Dates

Largest selection of room types

Personalized concierge services

1-year membership does not auto-renew or auto-bill.
This is available for a special price of $99 to upgrade from the silver package. This would usually cost an additional $149.
You can join with a free membership or buy the Concierge membership at the special TLFL page here.