Malaysia Airlines luxury for less sale
Malaysia have yet another sale which offers 15% off business class. You need to book by 26 August for travel until 30 June 2020. Some fares may be cheaper as a companion fare so it is worth searching for 2 as well to see if it lowers the price.
Malaysia Airlines are part of oneworld and therefore you earn tier points and Avios like on BA. They have a good business class product out of Heathrow with a dedicated lounge, A350 aircraft and good seats. Whilst the fares are nowhere near the current ex EU Qatar sale fares, they are hassle-free in terms of positioning if you live in reach of Heathrow.
The business class fares from London are:
Adelaide £3519
Auckland £3669
Bangkok £2769
Brisbane £3559
Denpasar-Bali £2949
Hanoi £2829
Ho Chi Minh City £2829
Kota Kinabalu (Borneo) £2979
Kuala Lumpur £2799
Langkawi £2959
Malaysia previously had First class but like many airlines, they got rid of this not long ago. However, they still have the seats on the aircraft and are now calling it a Business Suite. You can read Paul's review of Malaysia First class here since it is not really much different to Business Suite. The product is basically identical in terms of onboard service, food and amenities to the old First class. Lounges have been rebranded as Business Suites Golden Lounges in Kuala Lumpur and London.
You could, of course, buy business class and bid to upgrade to the Business Suite Here is how to do that:
If you are eligible you will receive an offer email, just click on the link provided. If you have not received an offer email, you may check your eligibility by entering:
Airline Booking Reference and
Last Name/Surname in the Check Your Eligibility box.
You then chose your offer price from a preset range and enter your credit card details to enable payment upon successful upgrade. No charges will be applied unless the upgrade offer is successful. You will be notified by Malaysia Airlines whether your upgrade offer is accepted 48 hours before your flight departure. You will be provided with a new ticket and your offer price will be charged to your credit card.
The prices for the business suites in the sale are:
Adelaide £5009
Auckland £5179
Brisbane £5149
Kota Kinabalu (Borneo) £4519
Kuala Lumpur £4219
You can find the Malaysia Airlines UK offers page here.
Kaligo double Avios offer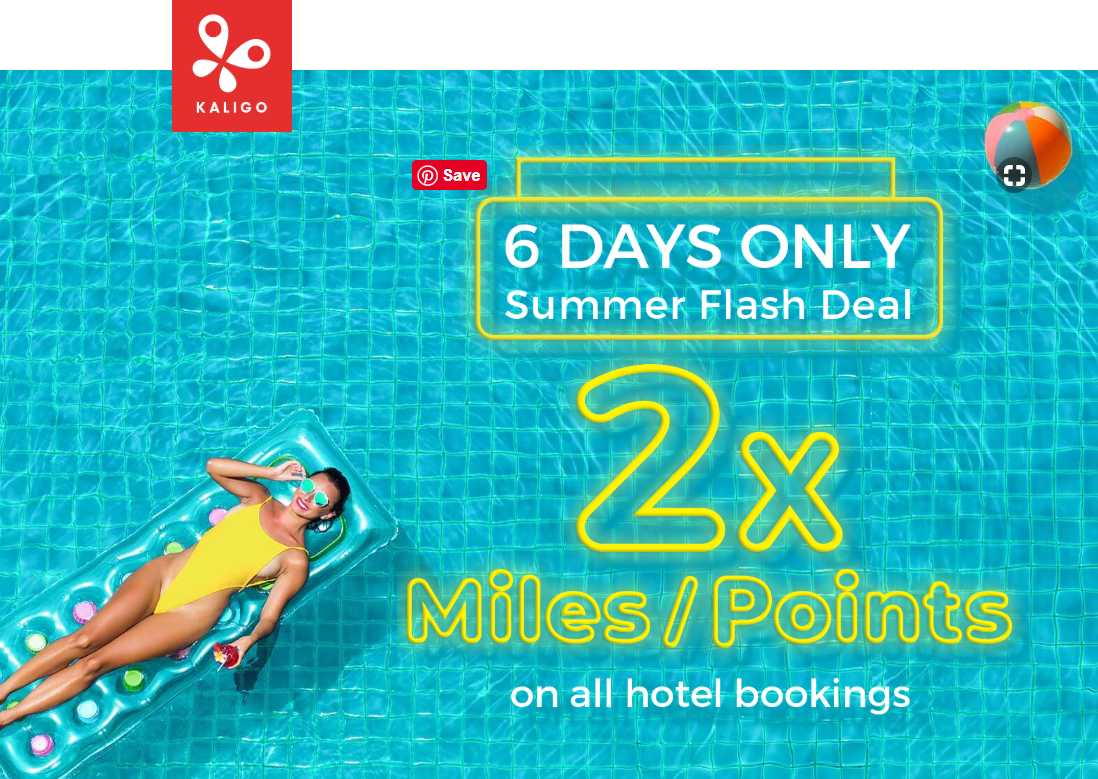 Kaligo.com offer the same large selection and similar rates for hotels you get elsewhere on the web. In addition, you earn miles or points for a range of airline programs including British Airways, Avios, Qatar, Singapore Airlines, Flying Blue and Virgin Atlantic.
It's completely free to create an account. When you search for hotels, you choose your preferred loyalty program for earning rewards. The website then shows you exactly how many points or miles each booking earns. The miles or points are automatically credited into the program you've chosen after your purchase, but it can take up to 6 weeks. Read the terms of the hotels carefully before booking, as most are non-refundable.
They also have a useful feature which shows you the price on a couple of the major websites so you can see if you are getting a good deal. Personally, I will sometimes be willing to pay slightly more if there is a big bonus on offer. For example, on the promotion below, you could easily earn 20,000 Avios for a 3-night stay.
Kaligo has a flash sale on to get double Avios for 6 days:
Promotion Period: 14 – 19 August 2019

Stay Period: 14 August 2019 – 31 March 2020
You can find the offer page here.
Expedia voucher – Bi-Annual Sale 10% Coupon
You can claim 10% off select hotels with Expedia using the coupon below. This is on top of their current hotel deals of 30% off or more! The drawback is that it excludes many major chains.
Booking Date: 14th August 9:00am – 18th August
Travel Dates: 14th August 9:00am – 31st October
Code: EXPLORE10
You can find all the terms and conditions and book on this special page.