Today BA has launched a new sale. I have now had a chance to look at the fares and the best deals are listed below. Most of the sale prices are available until May 2022. There are few prices that are worth rushing to buy in the sale, although as I always say, if you see a price that seems reasonable, there's no harm in booking if its within the Book with Confidence policy.
However, there are better deals to be had with the BA Holidays offers. This has the advantage of only needing a small deposit and the bonus of extra Avios. You only have to pay the balance 3 weeks before and if it's covered by the Holidays guarantee, you can cancel and get a voucher for the deposit if you need to. It doesn't apply to the special offers for double tier points or lounge access, but for anything else, you can just book one night in a hotel or a days car hire to turn it into a holiday. You need to use the complex booking form for this.
Running from 3 June – 22 June 2021 inclusive, the sale includes current green-list destinations such as Portugal and Gibraltar, plus the Caribbean, US, and European beach destinations to also allow people to book travel at a later date or next year. All bookings will fall under British Airways' and British Airways Holidays' ongoing flexible booking policy, allowing you to rearrange your trip free of charge before 30 April 2022* giving customers the confidence and security they need.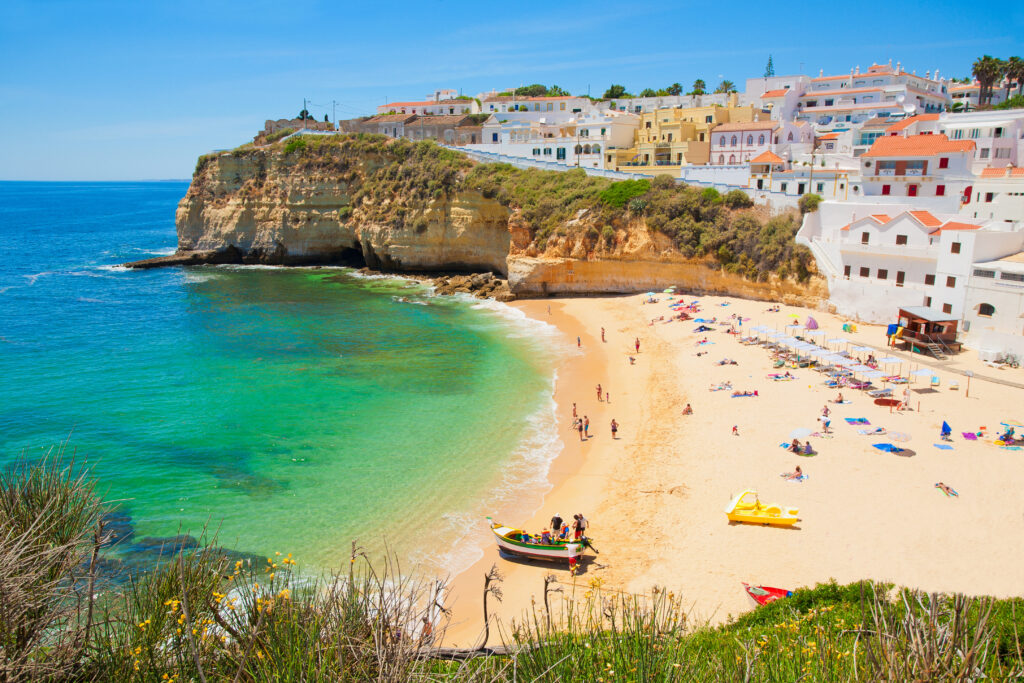 As part of the sale, there are also a number of Avios part payment deals on offer for Executive Club Members to make trips very cheap if you have Avios to burn. These include New York World Traveller return flights for £179 plus 29,900 Avios, or Barbados for £215 plus 41,600 Avios.
The good news is that Cash tickets with Avios part payment still give you the normal Avios earned and tier points. It also means you don't need to worry about finding Avios availability.
The bad news is that they are not as flexible as an Avios + cash booking that you can cancel up to 24 hours before and get a full refund.
In Club Europe, there are return flights to Malaga for £53 plus 27,300 Avios, Faro for £75 plus 27,300 Avios or Nice for £97 plus 38,900 Avios.
There are some very cheap Euro Traveller holidays such as the Algarve with seven-night holidays from £189pp plus Mallorca, Corfu and Malta from £199pp. If you are looking for an All-Inclusive holiday, prices start from Corfu at£339pp and Mallorca from £339pp.
Claire Bentley, Managing Director of British Airways Holidays, said: "We know that our customers are eager to get back to travel – whether it's to be reunited with loved ones or indulge in a well-deserved holiday. We know that people have some important choices to make around their breaks, so we are offering our customers as much choice, flexibility and value as possible, whether they are travelling this summer or would prefer to wait until next year.

"The sale is in addition to our exclusive airport offer, which will help British Airways Holidays customers start their 2021 summer holidays in style. Those spending a minimum of £1,500pp on holiday packages for two people or more, for a minimum of five nights, will automatically qualify for Galleries Club Lounge access, premium check-in, Fast Track Security and priority boarding. It's a great way to raise a glass to those much-needed summer escapes and celebrate the joy of travel."
Club World Flights and Holidays
Flight only
Nashville £1385
New York £1267
San Francisco £1467
Los Angeles £1467
Seattle £1486
Cancun £1446
Kingston, Jamaica £1395
Punta Cana £1403
Cape Town £2197
Dubai £1590
Tel Aviv £985
Bangkok £1990
Hong Kong £1790
Singapore £1791
Club World Holidays – with minimum of 4* hotel
New York flights + 4 nights hotel from £1299 pp
Los Angeles flights + 5 nights hotel from £1549 pp
San Francisco flights + 5 nights hotel from £1569 pp
Miami flights + 4 nights hotel from £1719 pp
Hong Kong flights + 4 nights hotel from £1779 pp
Dubai flights + 3 nights hotel from £1539 pp
Club Europe Flights
Places that are on the green list or within the Common Travel Area are in bold.
Porto £188
Alicante £194
Amsterdam £182
Athens £290
Belfast £170
Budapest £230
Dublin £178
Funchal £318
Gibraltar £258
Innsbruck £228
Jersey £198
Malaga £200
Malta £294
Oslo £222
Porto £188
Prague £180
Reykjavik £294
Rome £238
Sofia £180
You can find the sale page here.