Sydney business class flights from £1999

This is an exclusive deal to Trailfinders, a travel agency I have personally used and rate highly for customer service. They have a separate department for business and first class travel which ensures you always get a personal service. The offer is with Asiana Airlines for flights during November 2017 and must be booked by 30 August 2017.
Asiana airlines are part of Star Alliance and are rated 5* by Sky Trax. You can obviously credit miles to any Star Alliance airline but you may wish to choose Singapore Airlines if you want to have the added benefit of being able to redeem on Virgin Atlantic.
Asiana uses a B777 on the London to Sydney route with a connection via Seoul, their home base. This features their latest business class, Smartinium. These are fully flat and are configured in 1-2-1 in a slightly staggered layout. This gives more privacy except in the middle 'honeymoon seats'. The layout alternates so you would be OK on the middle seats that are further apart if you are not travelling as a couple. Food, drink and service are good but nowhere near the levels of the likes of Qatar etc.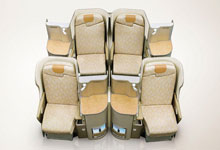 Verdict: A good offer with a decent airline and virtually no catches apart from the short time frame of the offer. The cheapest I could find was £2466 online apart from Trailfinders.
There are more details on the deal here.
20% cashback on London, Amsterdam & Barcelona hotels

TopCashback has an excellent deal on some hotel booking sites for the next 4 days. The first is for Expedia which is 10% off any hotel booking or 20% off London, Amsterdam or Barcelona hotels. There is also an Expedia 72 hour sale until 17th August, so now is a great time to have a look at some hotels. If you are looking for a hotel, not in the 20% cashback destinations, you would be better using Ebookers who are offering 13% cashback on hotels during the same time frame.
TopCashback is very simple to use. Once you have joined, you simply go to the TopCashback site before you buy anything on the internet. If the website you are planning on buying through is listed, just click through from TopCashback and buy as usual. You can learn about using TopCashback in this article.
If you haven't joined Top Cashback, then now is the time. There is currently a new member bonus of £10. To get the bonus, you need to click through this link and sign up. Once you have spent £10 on any website through Top Cashback you will get the bonus. It is pretty much free money! Currently, if you converted the £10 into Avios you would get 1050 Avios. Not bad for a few minutes buying something you would have bought anyway!