How to buy Emirates status
Emirates have a new buy miles offer but with a very interesting twist that allows you to buy status. When you buy miles until 3 October 2020 you get You can earn one tier mile for every four awards miles you purchase. You have to Buy or Gift a minimum of 5,000 Skywards Miles to participate in the offer. The maximum you are allowed to buy is 100,000 if you currently have no status. To get silver you need 25,000 Tier Miles which means you need to buy 100,000 Award Miles. This costs you £2350. Gold takes 50,000 Tier Miles so if you purchased the maximum you would be halfway there.
Personally I don't think that lounge access, extra baggage and the ability to buy instant upgrades with miles at check-in is worth the money, even for the most regular economy traveller.
So is it worth it? Here is what you get for Silver and the other tiers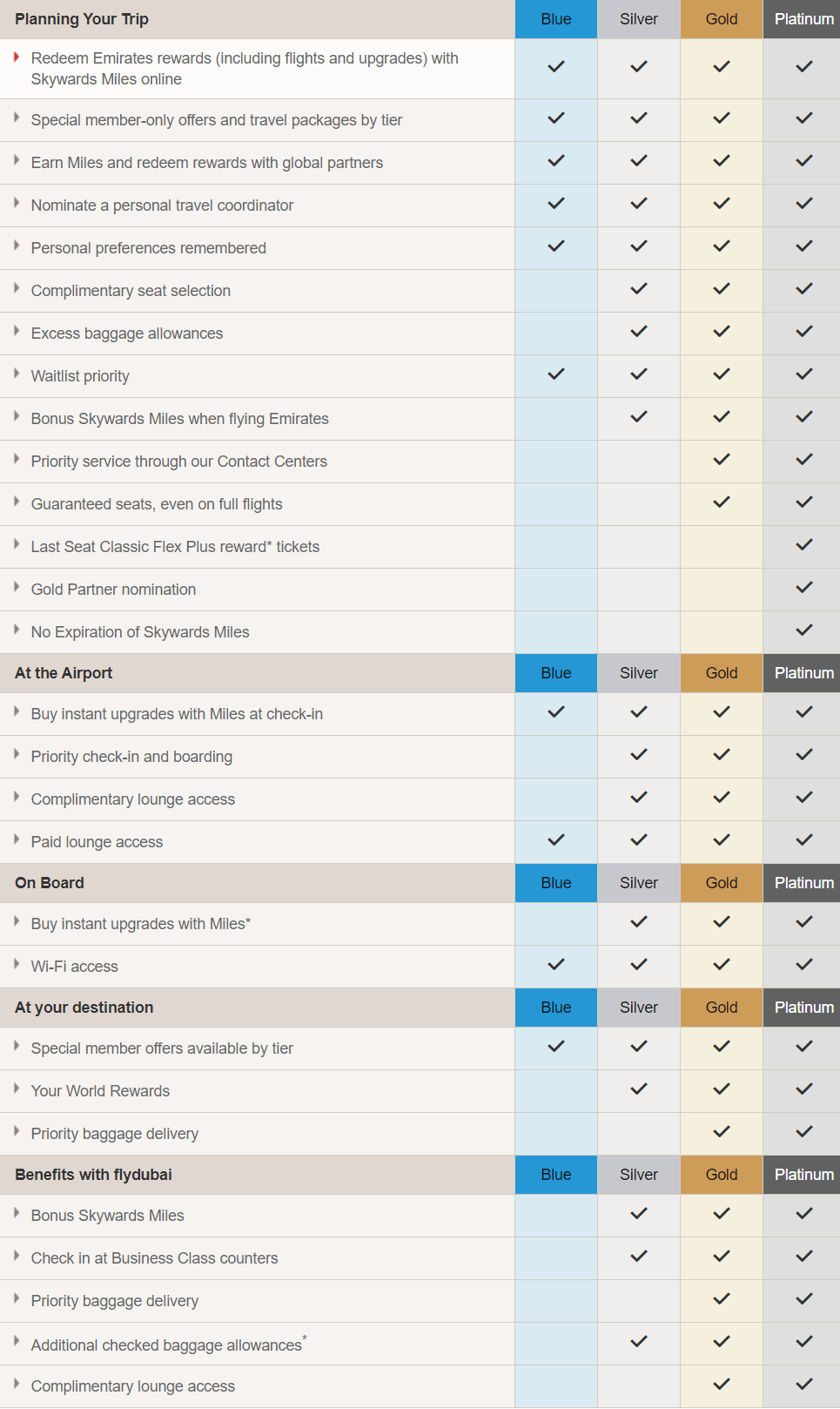 You find all the details here.
Free high speed Wifi on Qatar

Sadly for the moment, there are not any destinations that we can travel to on Qatar without quarantine on the way back. But if you don't mind the quarantine, or we are lucky enough to be able to travel somewhere with them before the end of the offer, this may be of interest.
Qatar Airways is now offering 100 days of free on-board Super Wi-Fi connectivity to all passengers, in celebration of the airline equipping more than 100 of its state-of-the-art aircraft with high-speed broadband.
From 25 September 2020 for the next 100 days until 2 January 2021, passengers can stay connected with family, friends and colleagues free-of-charge using the Wi-Fi connectivity on board. Qatar Airways now offers the largest number of aircraft equipped with high-speed broadband connectivity in Asia, the Middle East and North Africa.
Qatar Airways Group Chief Executive, His Excellency Mr. Akbar Al Baker, said: "During these challenging times Qatar Airways continues to lead and innovate, providing our passengers with the five-star experience they have come to expect from the World's Best Airline. We are delighted to bring high-speed broadband connectivity to all our loyal passengers for the duration of their flights, from departure to arrival.

"Not only does this showcase the exceptional five-star Qatar Airways service at a time when other airlines are using the current market challenges as a reason to reduce their Wi-Fi offerings.

"It also proves that our mission to connect people around the world does not start and end with just travel. We understand the importance, especially in recent months, of enabling people to be connected at all times, whether on-the-ground or 35,000ft in-the-air."
More than 100 Qatar Airways aircraft have been fitted with the high-speed Super Wi-Fi service, using the award-winning GX Aviation technology from global mobile satellite communications provider, Inmarsat, since the launch of the service in 2018.
Qatar Airways passengers on flights fitted with GX Aviation usually receive up to one-hour free access to the Super Wi-Fi service, with the ability to purchase full-flight access if more online time is needed. I have always found the super Wi-Fi fast and very affordable if you need more than the free hour.
IHG flash sale
IHG, which includes, Kimpton, Intercontinental, and Crowne Plaza, has an Advance Saver Flash Sale that is not really flash as it goes on until 14 October! However, if you are looking for a hotel stay it's worth a look as it is for stays until 30 April 2021 and even better you can amend or cancel until 14 days before. The drawback is that you have to pay in full when you book which may not be ideal. The other stipulation is that you book a minimum of 3 days in advance.
If you are a member of IHG rewards you can get a better discount but even for non-members, you can get at least 30% off the Best Flexible Rate.
You can find the full details here.
Alternatively, you can use their new "Book Now, Pay Later" if you don't want to repay. There is no deposit required and full cancellations are allowed up to one day before your stay if you book direct or two days with an agent. This gives you a minimum 5% Off Best Flexible Rate plus an extra 2% for Reward members. The offer is valid for bookings and stays by 30 December 2020.
You can find the full details here.
IHG Buy points offer
As well as the two cash offers, there is also a buy points offer. If you have a particular hotel in mind, it is always worth comparing the cash cost with buying points as occasionally it can work out cheaper. The offer is for a 75% bonus if you buy before 11 October. However, unless your need is urgent to buy points, it is probably better to wait since we have seen better offers before. You have to buy a minimum of 3,000 points and can buy a maximum of 150,000 at $13.50 per 1000 points.
The purchase page is here