Flights to Australia from £1837
Garuda have yet another great offer for business class to Australia. It's not as good as some of their previous Black Friday offers but it is still worth snapping up if the dates suit you. The prices start from £1837 to Melbourne and £1978 for Sydney. One interesting thing to note is that I could find single tickets for around £1000. The cheapest price appears to be on Expedia but if you can't find availability to is worth trying Trailfinders and Garuda too.
Despite Garuda's previous bad reputation, in recent years the airline has been completely transformed. Garuda are now rated 5* by SKYTRAX and have won World's best cabin crew for the past 3 years. Garuda fly from Heathrow Terminal 3 to Jakarta, 5 times weekly, every Sunday, Tuesday, Wednesday, Thursday and Saturday. They use a B777-300 ER aircraft from Heathrow. Wi-Fi is available on B777-300ERs and selected A330.
Business class has 38 staggered seats in a 1-2-1 configuration with direct aisle access
43″ pitch & 21.2″ width seat that reclines into a flat bed
Hypoallergenic pillow in cotton cover and a duvet
L'Occitane amenity kit
Food prepared by a qualified chef from 5 star establishments
The middle seats alternate between 'honeymoon' seats which are very close together or seats that are far apart with side tables separating them, so choose carefully depending on your preference.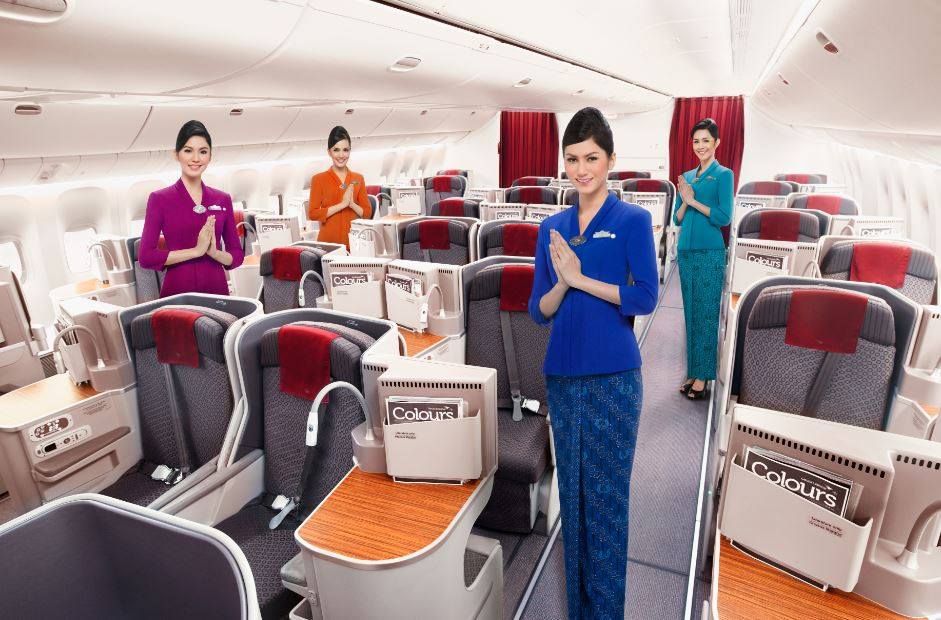 The fares are available for travel on selected flights until 30 September 2018. You need to book by 31 March 2018.
Garuda have their own scheme called Garuda Miles but they are also part of Skyteam. This means you may wish to join one of the other Skyteam schemes such as Air France or Delta and credit the miles earned on Garuda to that. For example, if you earned miles in Delta SkyMiles you could then use them on Virgin Atlantic. Alternatively, you can also redeem Garuda Miles on Etihad or join Etihad Guest and earn on Garuda.
You can book with Expedia here or Trailfinders.
Air France business class sale
So what can you expect from their business class?
Business class London to Paris is very similar to BA seat wise. You can read my review here. I was impressed with the food and service although no champagne was served on morning flights which I thought was a little odd for a French airline.
For long-haul business class, you need to be a bit wary. Air France's old seats are angled lie flat with 2-2-2 or 2-3-2 configuration (B777). Most of their B777s now have the new seats and some of the A330s too. You can tell which seats it has by the configuration. The new seats have a 1-2-1 configuration. You can view the seat map as part of the booking process on the AF website.
The new seats are similar to the B787 seats that I reviewed here. They are the reverse herringbone style seats at nearly 2m long. Some reports suggest they are a bit narrow but I didn't notice that on the B787. You can read my Air France B787 review here. You get all the usual business class amenities in long haul even on the older aircraft, noise cancelling headphones, power sockets, Clarins amenity kit, on-demand entertainment etc. You get an XXL feather down pillow and a soft duvet too. You can also order your meal in advance from Asian cuisine to fresh seafood with their "A la Carte" meals.
Overall if you are not bothered about Avios and can get a route with the new business class, Air France are well worth a try at some of these prices. Havana and Ho Chi Minh City are particularly of interest since there are not that many options to fly there from the UK and they are a very good price.
The best sale fares are:
Abu Dhabi from £1,372
Buenos Aires from £2,000
Brazil from £2,002
Bangkok from £1,593
Cairo from £923
Delhi from £1,233
Havana from £1,456
Ho Chi Minh City from £1,583
Johannesburg from £2,024
Mumbai from £1,340
Dubai from £1,332
Singapore from £1,907
Hong Kong from £1,555
Shanghai from £1,754
Beijing from £1,971
You can find the Air France sale page here.