Air France business class sale
Air France has launched a business class sale which has a few decent deals. Air France has decent seats on their aircraft now in a 1-2-1 configuration and of course decent food and drink generally. You need to book by 24/01/2022.
Flights are available from Manchester and Birmingham as well.
From London:
Havana from £ 1674
Lima from £ 1785
Bangkok from £ 1859
Bogota from £ 1447
Seoul from £ 1599
Singapore from £ 2029
Nairobi from £ 1655
Saint-Denis (Réunion) from £ 2014
Seychelles from £ 1995
Panama City from £ 1814
Rio de Janeiro from £ 1462
San Jose from £ 1831
Santiago de Chile from £ 1806*
Sao Paulo from £ 1365
Beirut from £ 1066
Dubai from £ 1419
Tel Aviv from £ 1119
Saint Martin from £ 1686
Punta Cana from £ 1472
You can find the sale page here.
KLM also has a similar sale with a few additional destinations and more UK departure points:
Barbados £1602
Curacao £1821
Aruba £1718
Cancun £1838
Muscat £1898
New York £1700
Quito £1585
Zanzibar £1805
You can find the KLM sale page here.
Singapore inter Europe flights – fly long haul on short haul route
I personally love flying Singapore Airlines. From the beautiful uniforms, the Singapore Slings and satay to the extra-wide business seats, it's always a pleasure. At the moment not many of us are brave enough to venture to Singapore or Asia with all the constantly changing restrictions. So if you fancy a non-long haul way to experience Singapore Airlines, there's now a chance. A new fifth freedom route in Europe is being launched by Singapore Airlines later this month between Barcelona and Milan Malpensa.
Until now, the airline has operated its Singapore to Barcelona flights via Milan but was not allowed to sell tickets between the two European cities. Flights between two other countries other than the airline's home base are referred to as fifth freedom flights.
The first Barcelona-Milan flight will now be operated on 17 January 2022 with flights three times a week on Mondays, Wednesdays and Fridays. The aircraft is shown as an A350
Currently, I can see flights for sale at £193 return in economy or £497 in business. One way it's around £220 in either direction business class. This could work really well as a two-centre holiday with an open-jaw ticket on BA in Club Europe for example. Fly into Barcelona, enjoy the city before then flying with Singapore to Milan to continue your break before flying home with BA. You can book the open jaw using the multi city part of the booking page.
Further £300 off BA holidays bookings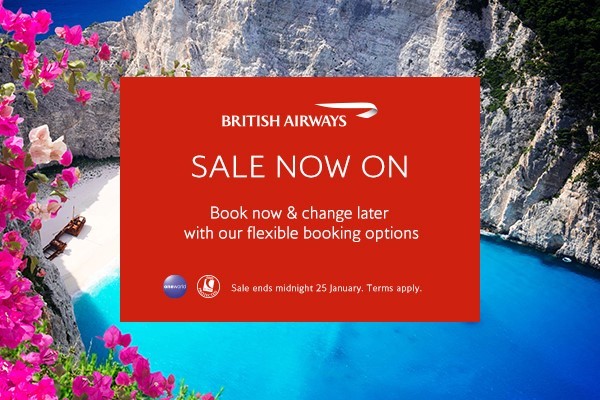 The BA sale was pretty underwhelming although there were a few reasonable holidays deals, particularly for Europe. They are now offering extra savings. Plus of course, there is still the double tier points offer to bear in mind when you travel before 31 October 2022.
Customers booking a flight + hotel or flight + car holiday package, between Thursday 6th – Tuesday 11th January 2022, can make the following additional savings in the British Airways Sale:
£300 extra discount with a minimum spend of £10,000 per booking (Flight + Hotel only)
£200 extra discount with a minimum spend of £5,000 per booking (Flight + Hotel only)
£100 extra discount with a minimum spend of £2,500 per booking
£50 extra discount with a minimum spend of £1,250 per booking
£25 extra discount with a min spend of £650 per booking (Flight + Car only)
These savings are available on top of the existing sale prices and apply to holidays taken this year.