Shangri La Hotels Golden Circle Promo: 50% bonus on purchased points, up to 60% off redemption's!
The Shangri La 'Golden Circle' loyalty program allows members to earn points whilst staying, dining or visiting the spa at any of their hotels, and members can also purchase points outright. These points can then be used on future free nights at a range of Shangri-La properties worldwide, as well as redeemed for vouchers to use at hotel bars, restaurants and spas.
Currently, the program is running a special where members can buy points and receive 50% of the amount purchased as a bonus (for example, members purchasing 5,000 points will actually receive 7,500). This is one of the largest bonuses ever offered by the program, and points must be bought by July 31st. The offer begins at just $6.50 for 75 points, and allows members to buy up to a maximum of 10,000 points.
On top of this, Golden Circle also have the "Less is More" promotion running for hotels across Asia (except mainland China) and Oceania, including Australia, Fiji, Thailand, Sri Lanka, Malaysia and the Philippines. This means travellers can get up to 60% off the 'points cost' of free nights.
For example, a stay at the Shangri-La Boracay Resort and Spa in the Philippines would now only cost 4,800 points, rather than the usual 12,000. A favourite of ours, the Shangri-La Hotel in Bangkok (which you can see our review of here) now only costs 3,600 points for a free night in the Executive Suite, instead of a usual 9,000. The same goes for the Shangri La Sydney; a suite which usually costs 9,000 points now only costs 3,600.
A great feature of the Golden Circle program is that you can redeem your points for a standard room, club room, a suite, or even upgrades. It also allows you, as mentioned previously, to redeem points (as vouchers) in the hotels bars, restaurants and spas, even if you are not a guest. This offer must be booked by July 31st, but is valid for stays up until December 31st, 2020.
Unfortunately, many of these countries currently have closed or restricted borders; however, many have hinted that they may be reopening for tourism soon, some even as early as August. There should – hopefully – be plenty of time to make a booking and salvage some of 2021.
MeliáRewards Bonus Offer: Get a 50% bonus on purchased points.
The MeliáRewards loyalty program, run by Meliá Hotels International, is also offering a 50% bonus points promotion to members. Travellers can purchase up to 300,000 points and get up to 150,000 bonus points as part of the offer. Points can be redeemed for hotel stays, purchases at hotel restaurants and bars, spa treatments and with MeliaRewards partners.
Members must purchase the points in one transaction before the 31st July, for use on bookings up until 31st December 2020. The bonus points must be used in one transaction, and any unused bonus points will not roll over after 31st December.
The benefit of this is that points can be used to book any of the properties across the range, so it may be easier to take advantage of the offer somewhere closer to home, with over 220 properties in Europe alone. There is also a sale running, with up to 45% off hotel stays.
The Melia chain incorporates Gran Melia Hotels & Resorts, Me by Melia, Paradisus by Melia, Sol by Melia and more. Check out the review of the stunning Gran Melia Palacio de los Duques in Madrid here.
Double Miles and Double XP earned with Flying Blue!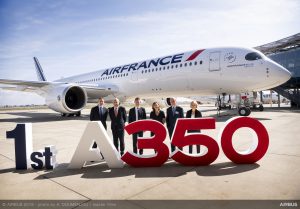 Need a flight to go with your snazzy new hotel booking? Keen travellers can also take advantage of double miles and double XP earned with Flying Blue. Any Air France or KLM marketed flight flown between 13 July 2020 and 31 December 2020 will receive both double miles and double XP, automatically credited to your account. This also counts for any KLM or Air France flight operated under another carrier, such as Virgin Atlantic (as long as it has a KLM or Air France flight number), meaning passengers could earn bonus miles on flights across to the US.
Once you've earned all your bonus miles, you can redeem them for upgrades, extra baggage, seat selection or even entire flights – a great way to make the most of your miles and find the best KLM/Air France reward flights is by using Seat Spy, which allows you to find which flights are available and search for multiple segments at a time.