I wrote about my experience visiting the Concorde Room here on my way up to Edinburgh. I won't review the flight as I didn't eat or drink anything apart from a cup of tea on the way up. The food from the way back is further down
Lounge location, eligibility, and hours
The lounge is not particularly easy to find if you turn the wrong way out of security like I did! There were only signs to the other lounges in that area. When you come out of Duty-Free after security, turn left and then walk to gate 4/5 to find the lounge, shown as no 12 on the map above.
There are no separate First and Club lounges here – one size fits all for those of BA silver and above status (plus oneworld equivalents) and those travelling in Club Europe or oneworld business class.
Weekend opening
The lounge and facilities

I was welcomed into the lounge by a cheerful host. It seemed pretty deserted, probably because one flight had just departed. It is quite an unusual lounge decor-wise in the entrance with a rather OTT gold-looking couch and a supersize chess piece as an ornament.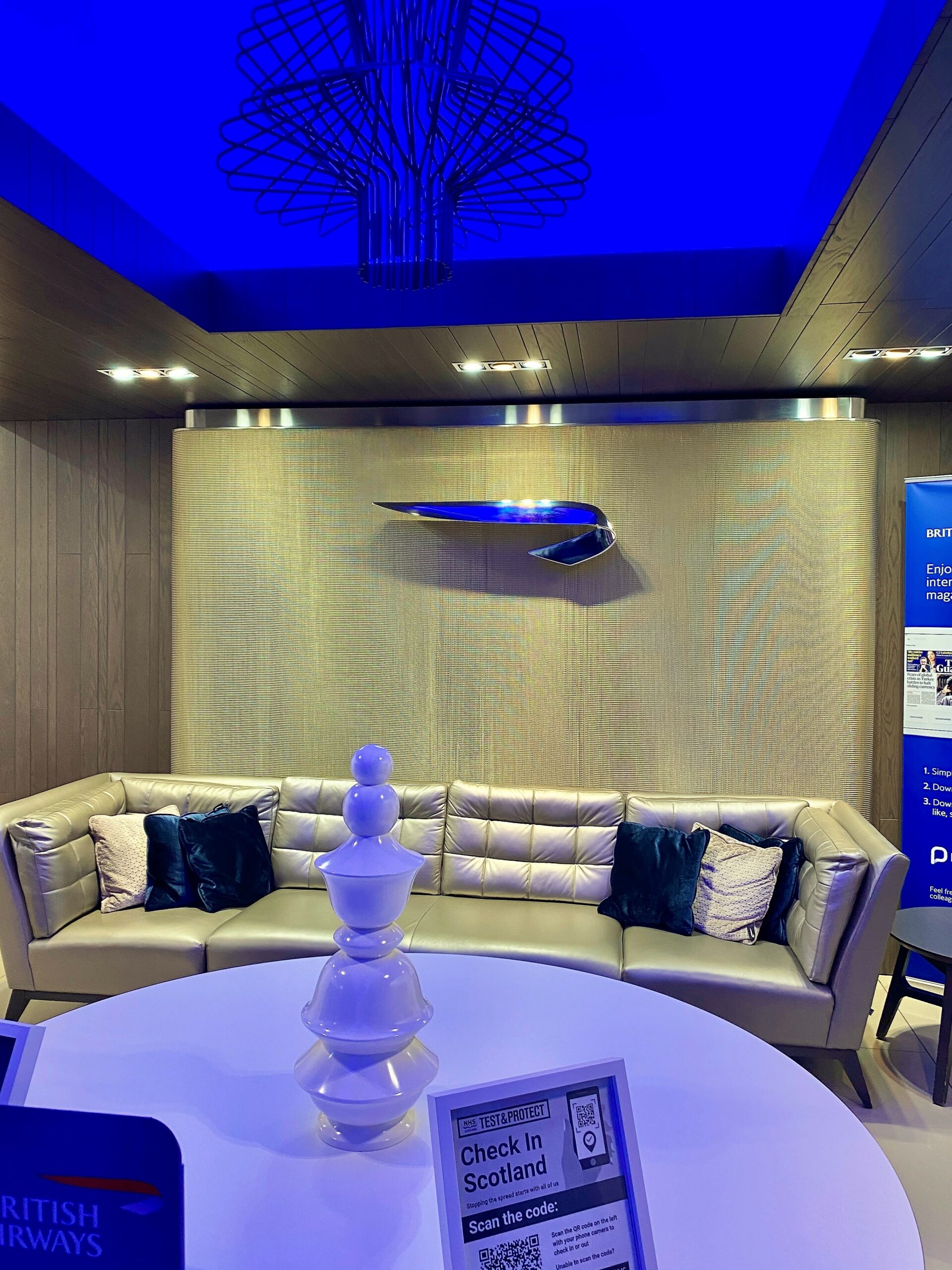 The first thing you are greeted by is the large sign telling you about the PressReader app which has replaced paper magazines. While it is good to have a wider option of reading material, I rarely have my iPad with me so it is not much fun trying to read a magazine on my phone. I'd be surprised if we ever see the return of paper now which is a shame.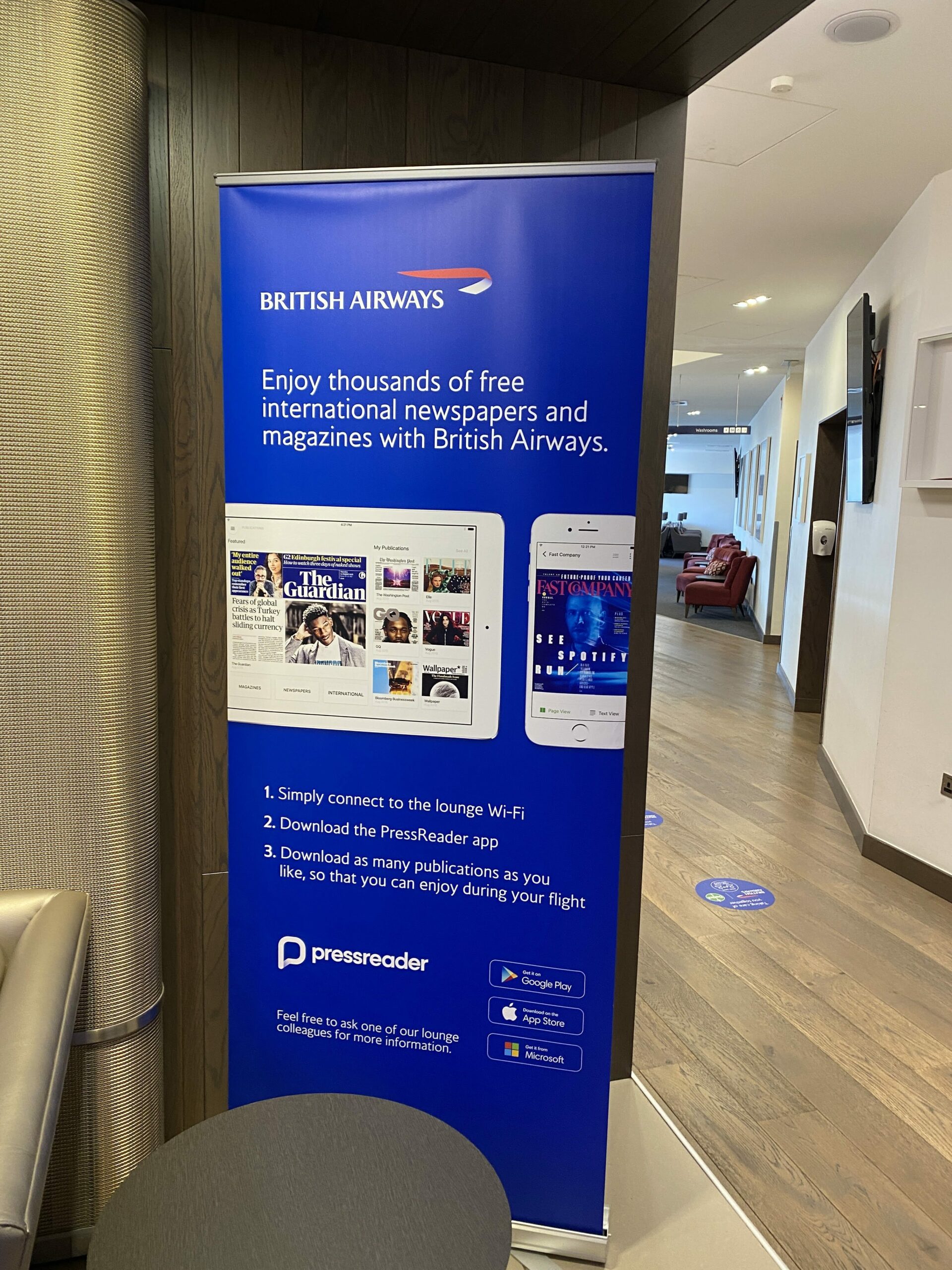 Next, there are some modern toilets to the right with the usual Elemis toiletries.
The lounge felt very spacious when it was empty and there were lots of different seating areas.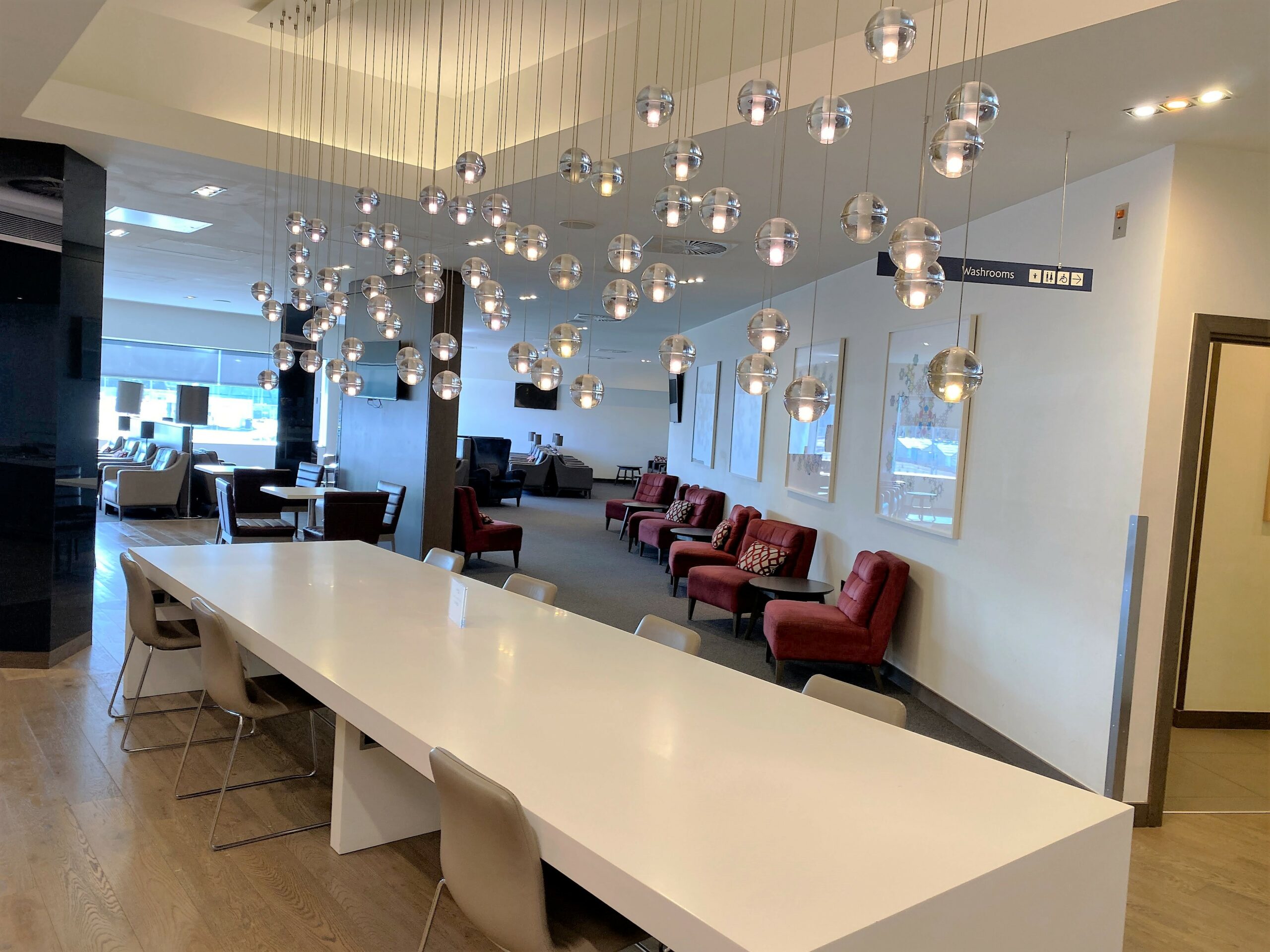 Many of the comfy seats also had sockets in between each pair of chairs which was great to see.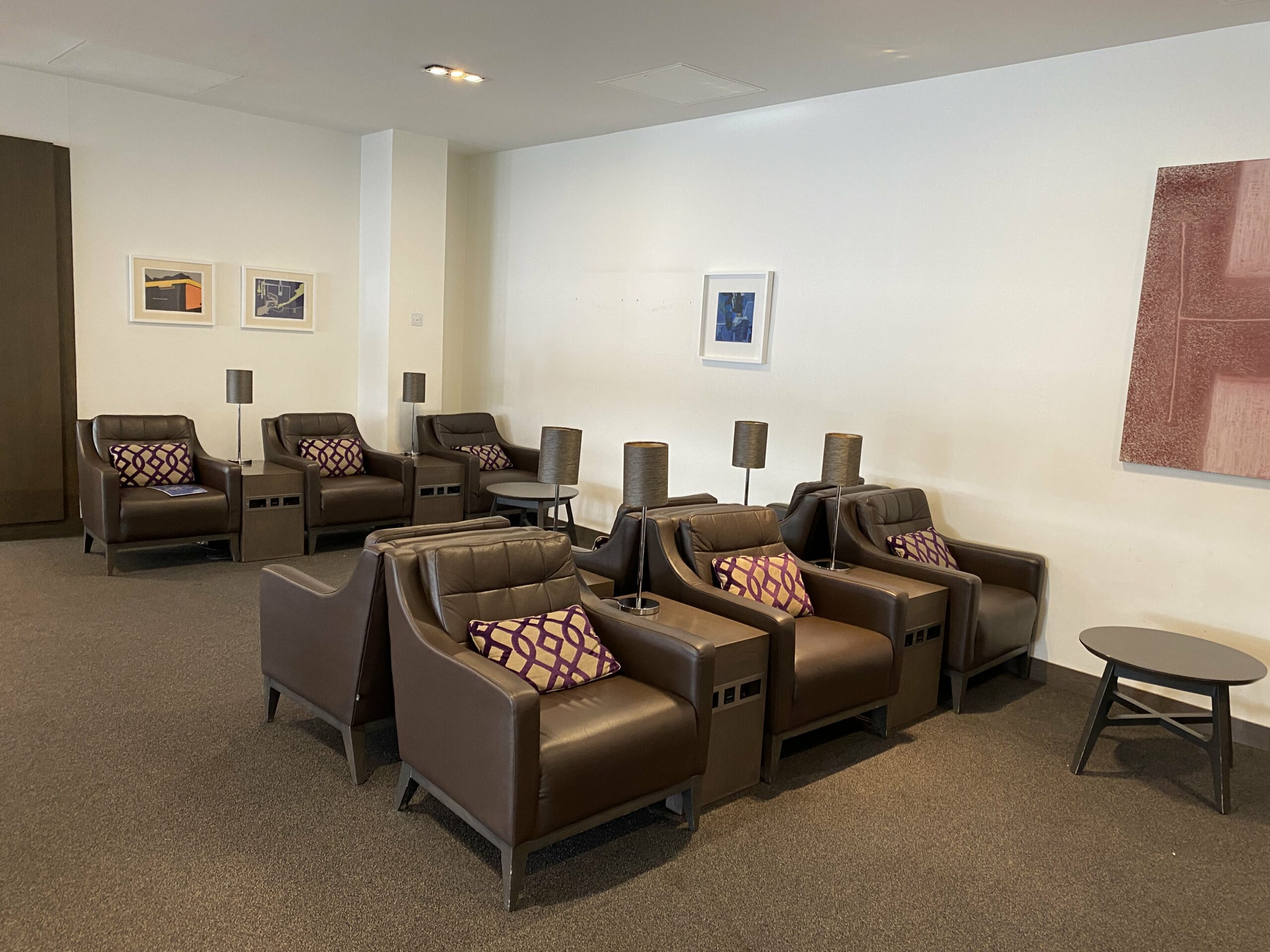 It was great that there is still a BA lounge that has ample space for working, unlike the BA First and Concorde room at Heathrow. It seems ironic that this lounge had about 3 times the size of work area than Heathrow.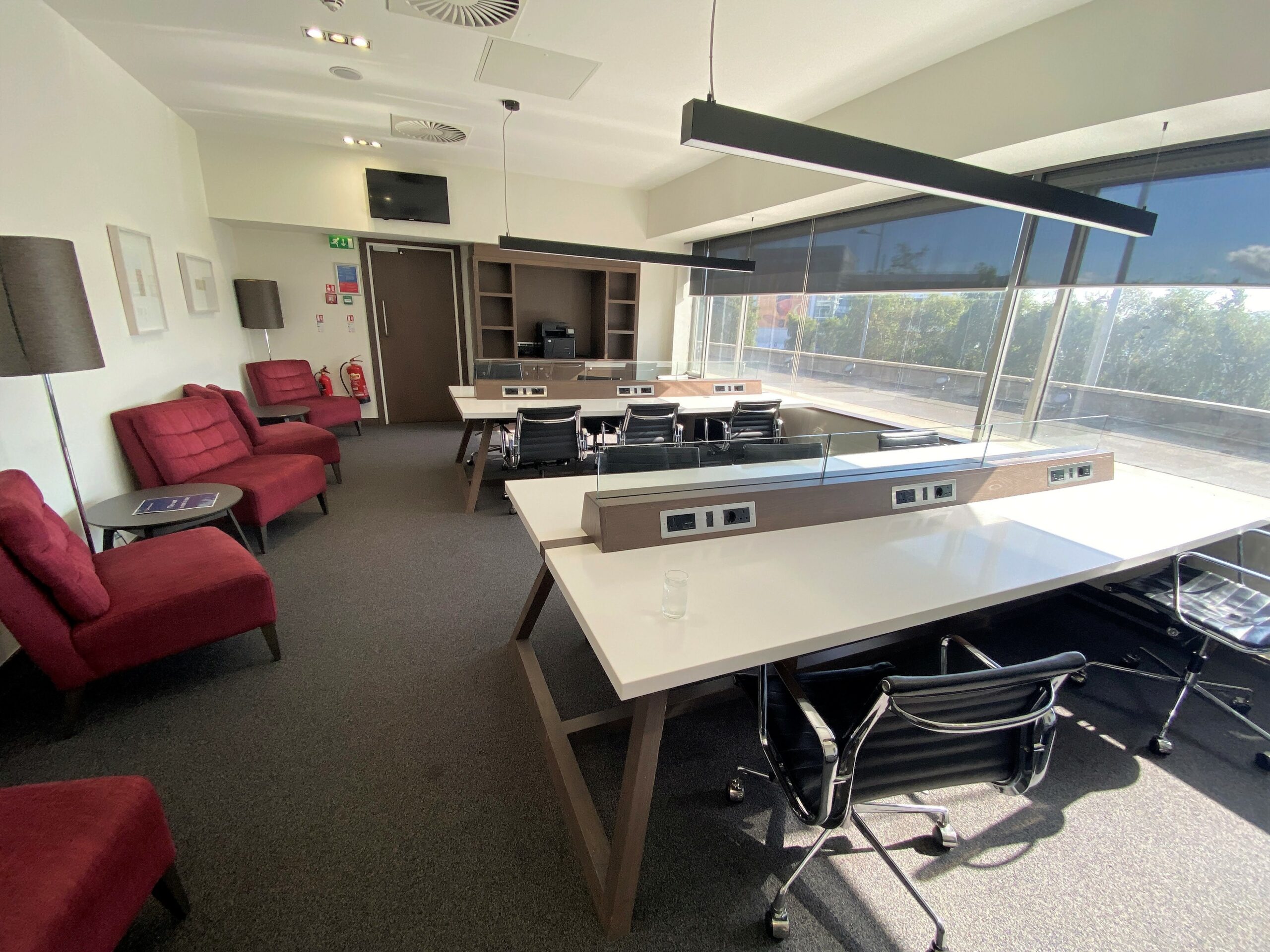 Within the work zone, there was a printer and the sockets provided were suitable for both EU and UK plugs.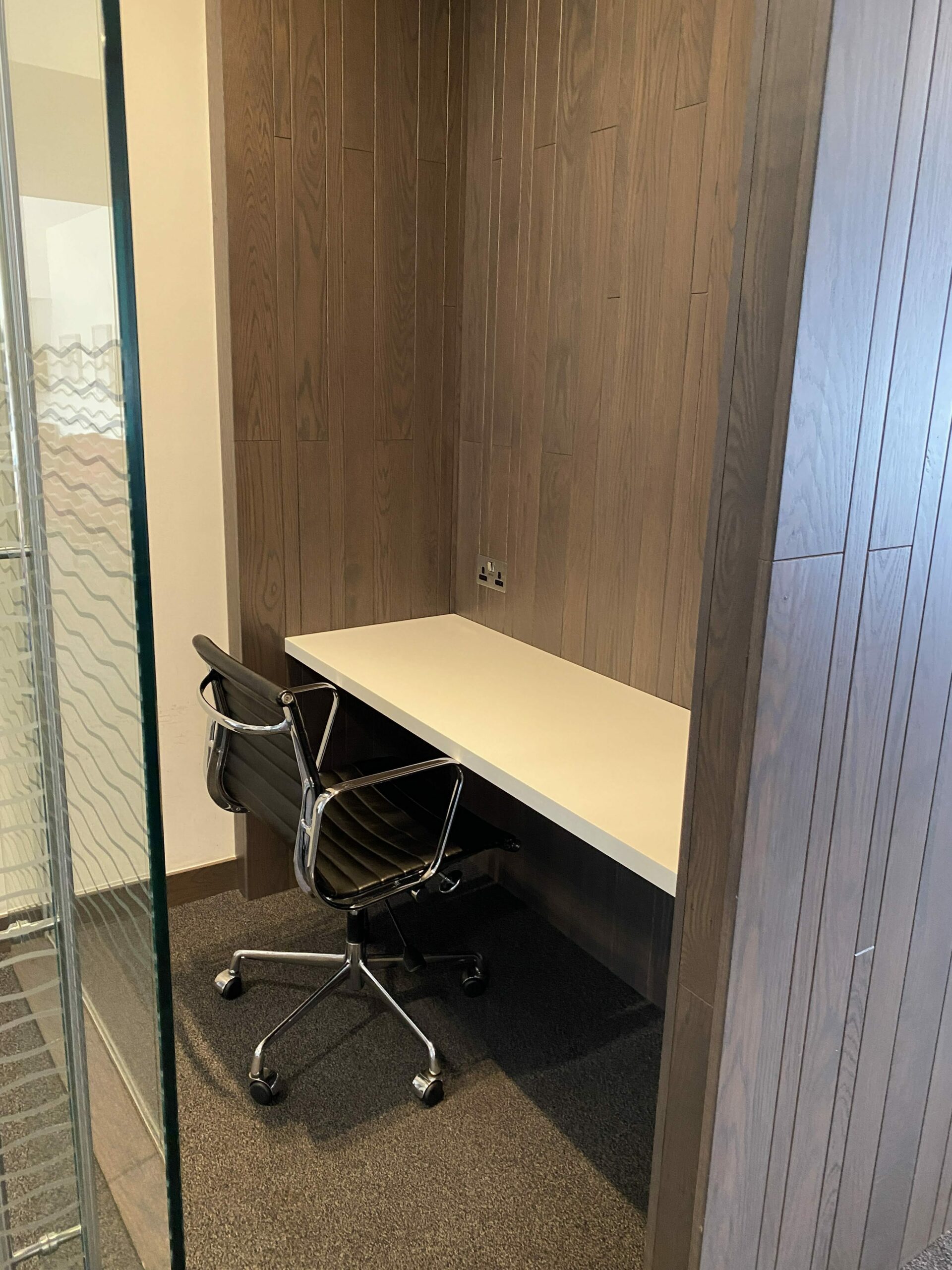 I particularly liked the private booths for working and making phone calls (sadly these sort of things are rarely used by those that are most in need of keeping their phone calls private/quiet!)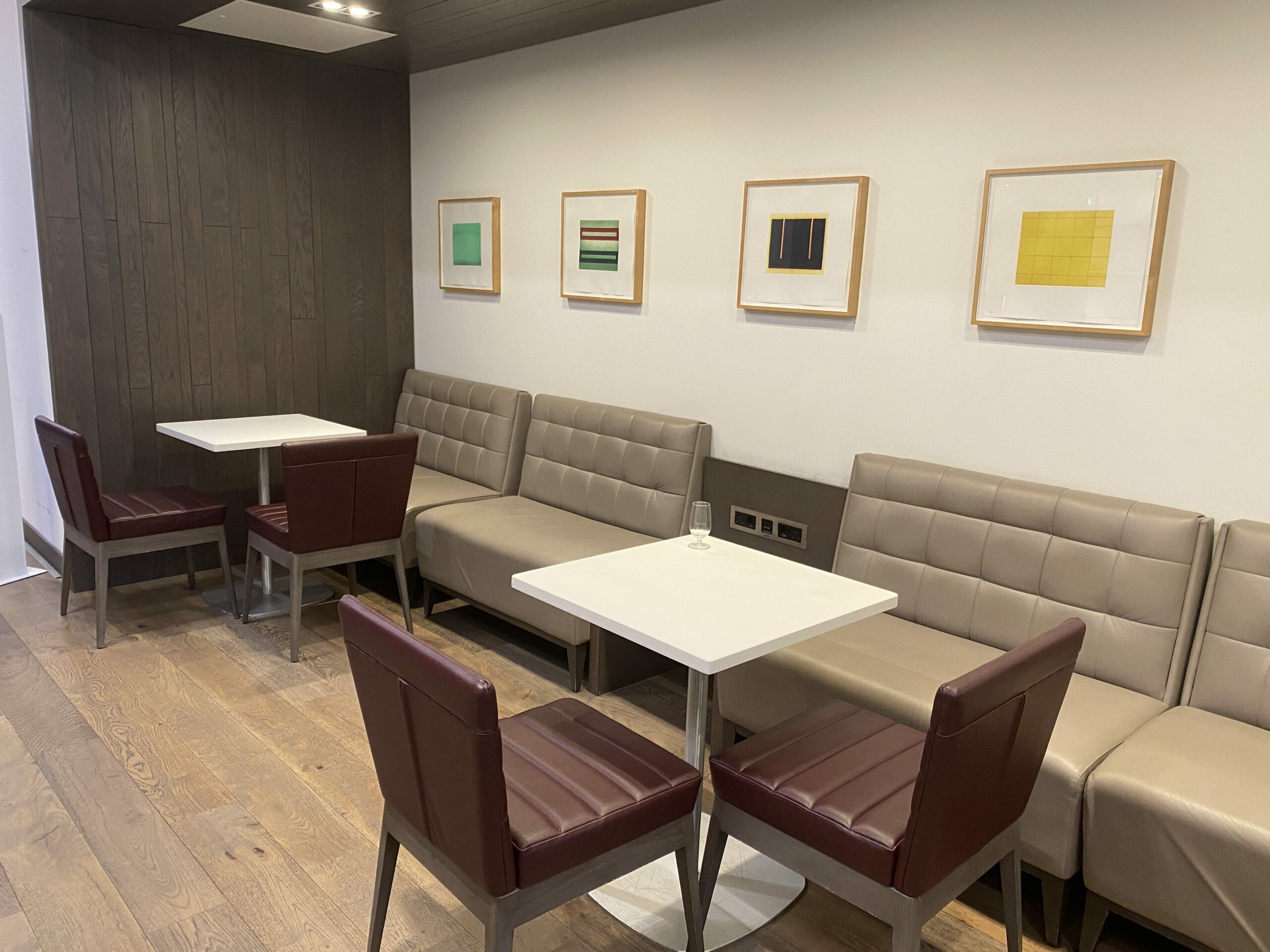 If you were planning to eat there were also a number of dining tables, although some were closed off due to Covid.
Food and drink

There was no app ordering unlike Heathrow, I'd guess as it's not big enough. Instead, they have roped off the self-service area and had 1-2 staff getting things for you. They had a menu on display so at least you didn't have to keep asking what was there.
The drinks selection was really good with some upmarket options such as the Zacapa 23 year old XO rum which is great but lethal!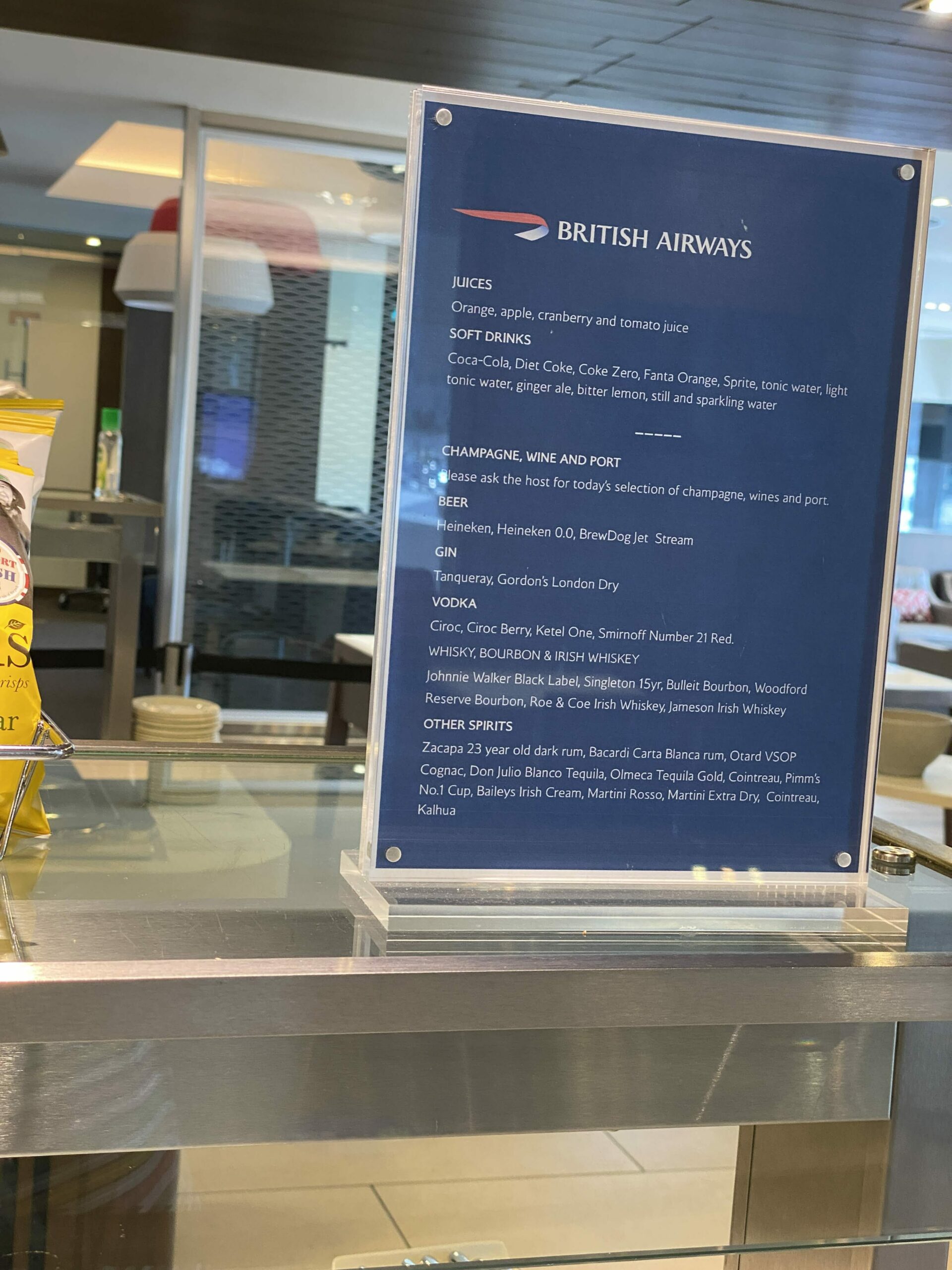 It wasn't the most exciting menu, but I thought it was acceptable for the lounge.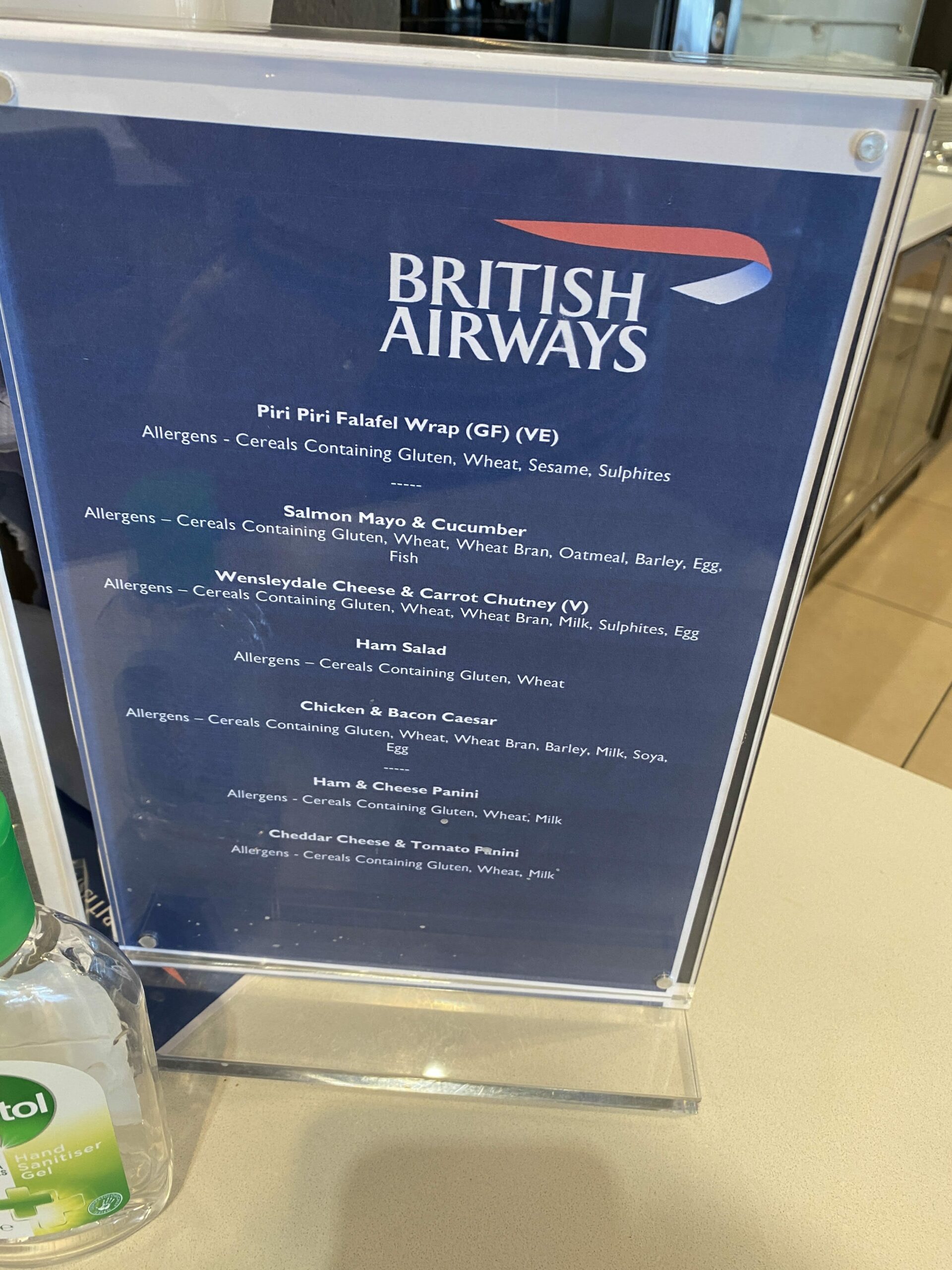 The sandwiches were the usual pre-pandemic quarters plus the paninis to order.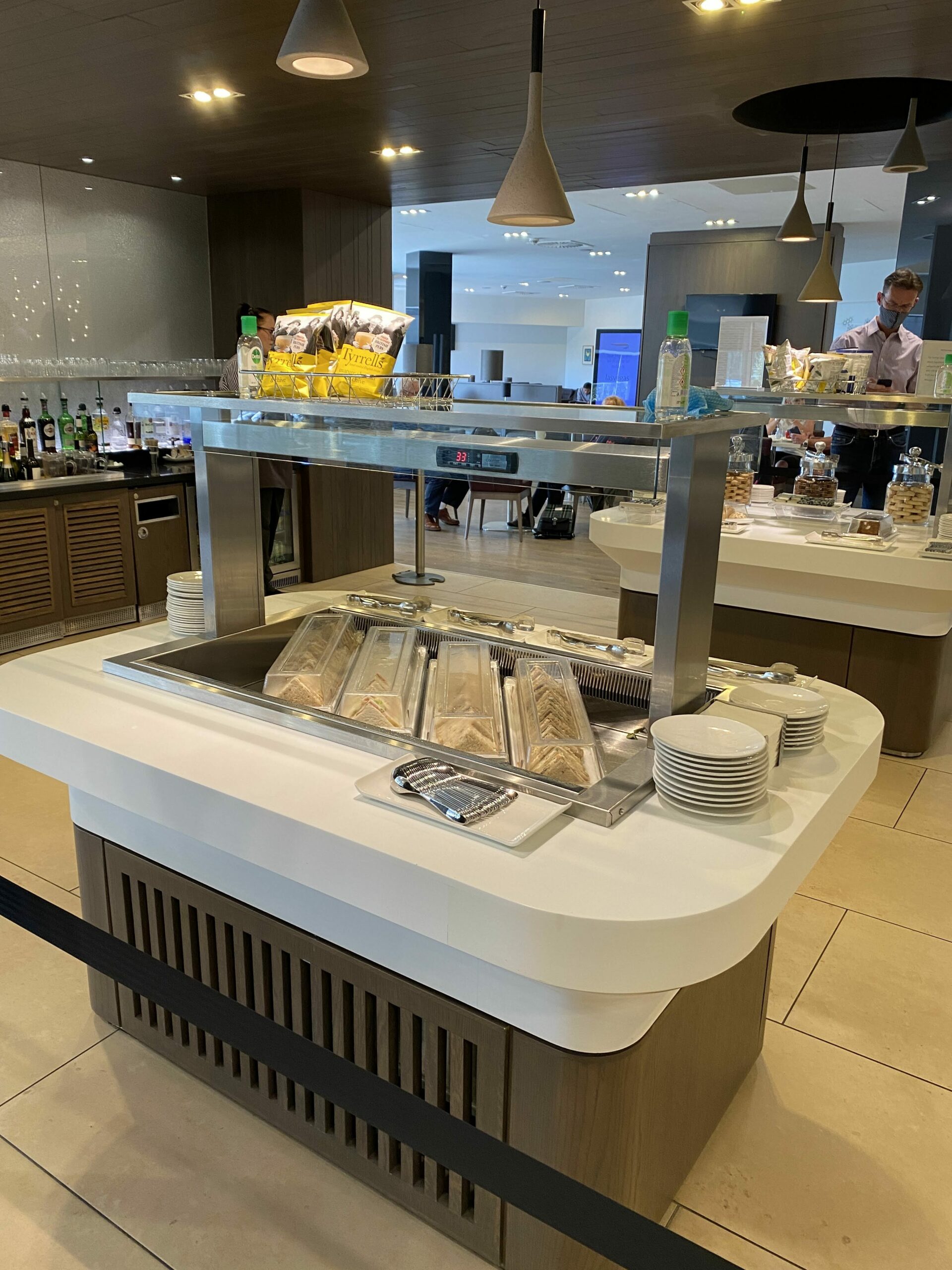 The snack selection was a little pedestrian with custard creams and bourbons displayed artfully – making a purse out of a sow's ear springs to mind…they also have had those biscuits in the Concorde Terrace. But at least they had some traditional Scottish shortbread too! Hidden away were some slices of cake that were not listed on the menu.
It does make you wonder sometimes if they had a meeting to cut catering budgets and asked if anyone had an idea to sell it to the passengers. I know, let's do "British Classics" we can bung a load of school dinners on the menu with a few cheap custard creams… everyone loves those!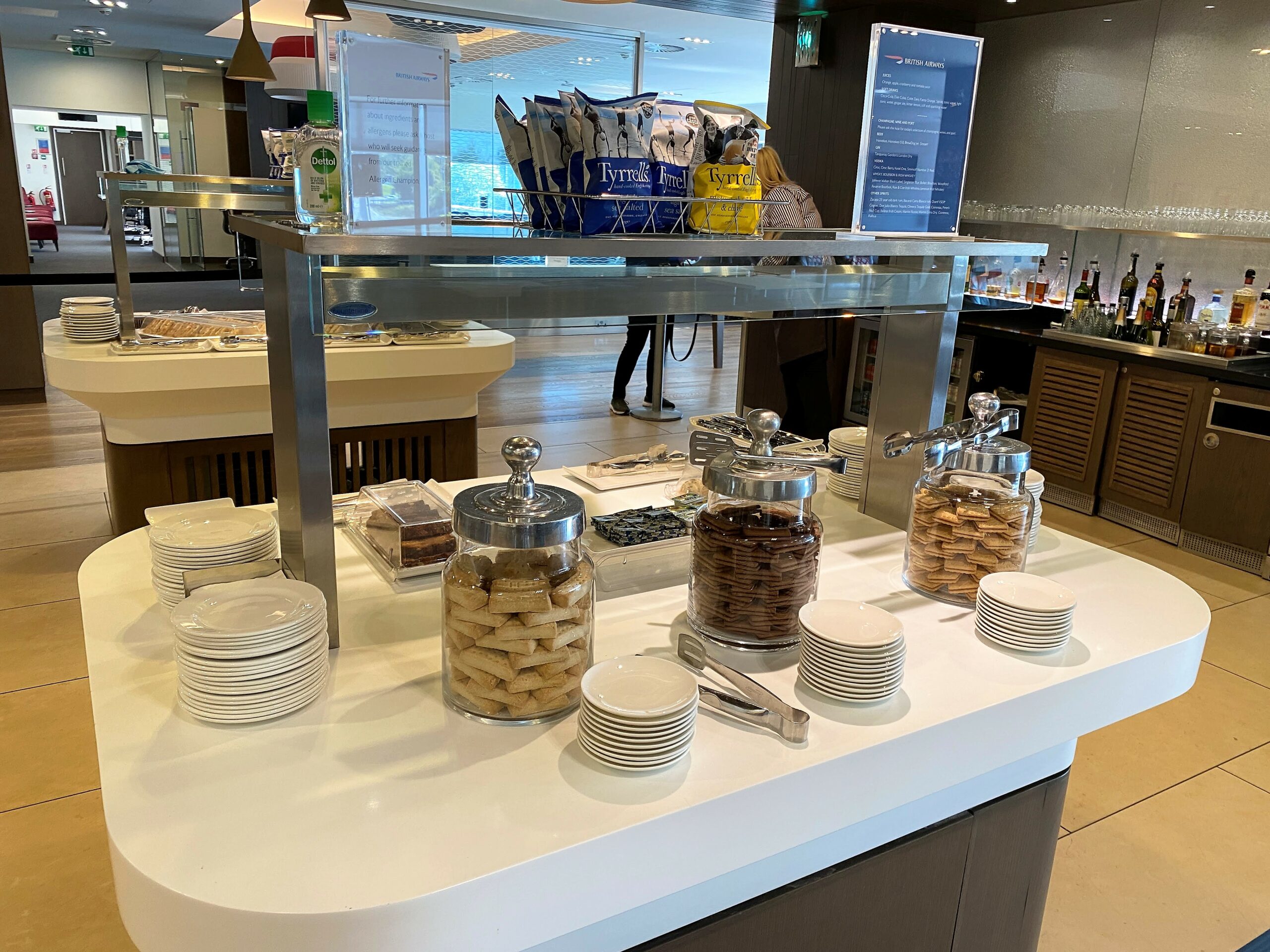 The champagne was the usual Canard-Duchêne which I don't mind.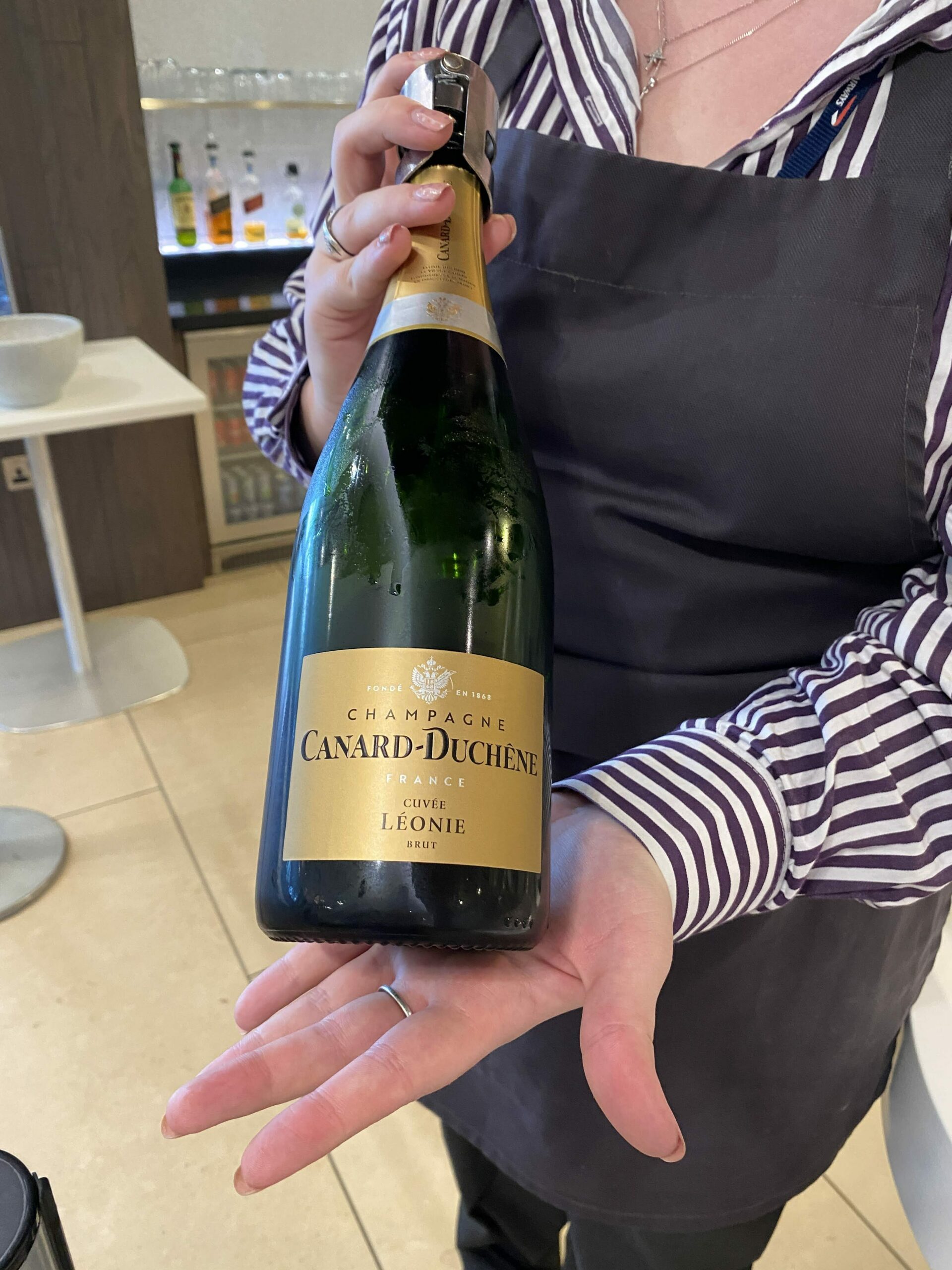 The staff were all happy and friendly as well as pretty efficient.
I actually really enjoyed my visit to the lounge and other than having to wait to be served it felt a bit like the old days. It was a great space to get some work done in peace and quiet. If you wanted to relax there was no shortage of space and plenty of charging points. The only thing that was missing was a great view of the runway.
Flight back to London Heathrow
The flight back was with the same crew who had brought me up the night before. I found them pretty unremarkable. Fairly pleasant, not exactly overexerting themselves but adequate. There was a choice of a chicken salad or vegetarian salad for this lunchtime flight of around an hour.
The crew served in a strange way, not using the trolley but going back to the galley each time. It was annoying if you didn't know what you wanted to drink as you couldn't see what they had and they would have to go and check if they weren't sure. The trolley would have been far easier for the initial service.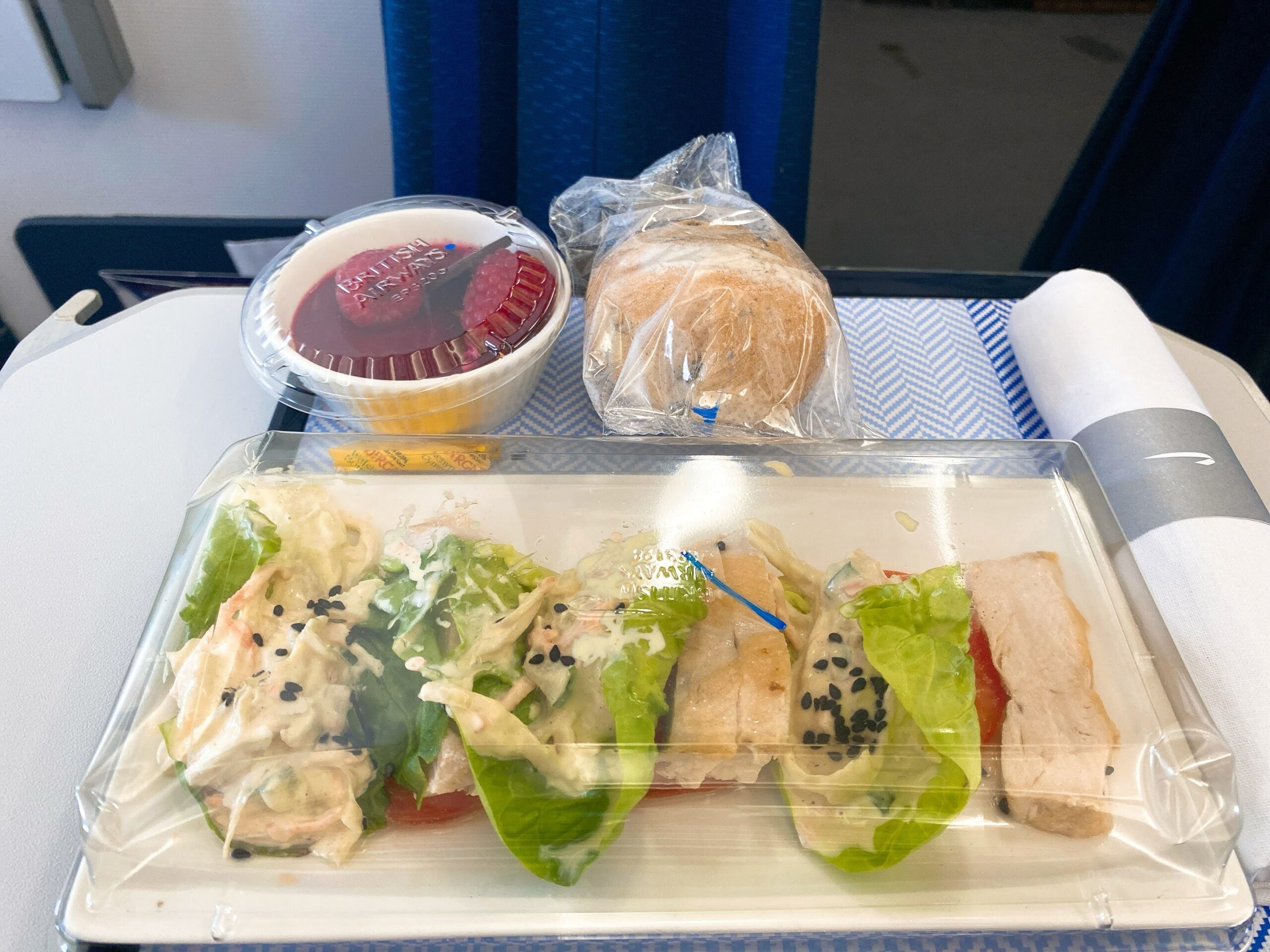 I had the chicken salad which was basically roast chicken with three baby gem lettuce leave with a small dollop of coleslaw on each. Plus 3 slices of tomato. It tasted OK but was pretty dull but at least there was a reasonable amount of chicken and it was good quality meat. There was the usual plastic-wrapped roll which I actually like. The dessert was the highlight for me with a raspberry type of pannacotta.
Adequate – nothing more, nothing less would sum up this flight but I did enjoy the lounge.