I have done quite a few trips away since travel was made legal again and have now tried 3 different rapid antigen tests (lateral flow) tests that you take with you.
These are definitely the easiest tests to use but there have been some very occasional issues in countries with staff not understanding how you can get a test from a UK lab when you are currently not in the UK. This has not been my experience but has happened in a less touristy destination. So if you are going somewhere off the beaten track then either book the test through the airline's discount code or look at getting a test in the country itself.
Don't forget if you are looking for the cheapest or best-rated Covid test providers whether by post or close to you, Covid Testing Network provides a comparison site to let you filter the results.
Take with you pre-departure return tests
Qured with British Airways discount – £33
This is one of the most robust tests in that it is administered by a video link. I have used this on two trips now. I had no issue booking a video slot but I would advise people to book well in advance as demand is likely to rise with school holidays and the relaxation of amber for those vaccinated.
On my first time, there was a short delay of maybe 5 minutes to get a person to supervise the test. The second time there was a long wait (around 40 minutes) so I'd advise allowing lots of time given that the pandemic could lead to staffing issues. On both occasions, the staff member was pleasant and professional. The whole test takes around 20 minutes by the time you have taken the test and then got the result and sent it off to get the certificate. The time to actually get the certificate has also varied a lot between people. Both of mine were pretty quick – around 30 minutes, however, I know people who have waited 1-6 hours, so don't leave it until the last minute.
You can read my full review here.
Pros: Professional, assistance if you aren't sure doing it yourself, good price.
Cons: Having to schedule a video call in a very volatile travel situation is not ideal. Only an email address, no phone number if you have an issue.
You can buy via the BA discount here.
Prenetics with Virgin discount £26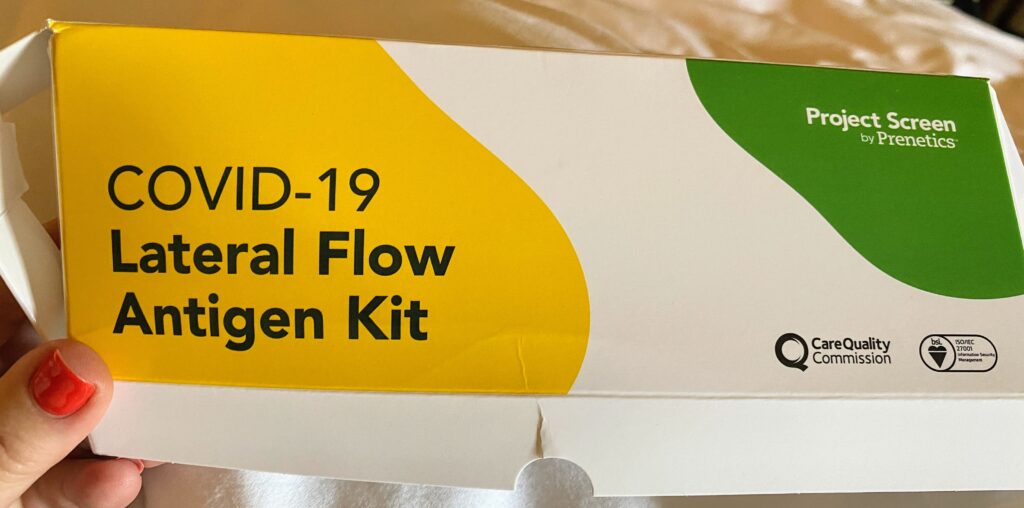 This is one of the cheapest airline-approved test I have found so far, though it does not feel as professional as some of the others. If you are an experienced tester, it should be fine.
First, you have to activate the kit online from the code printed inside the box.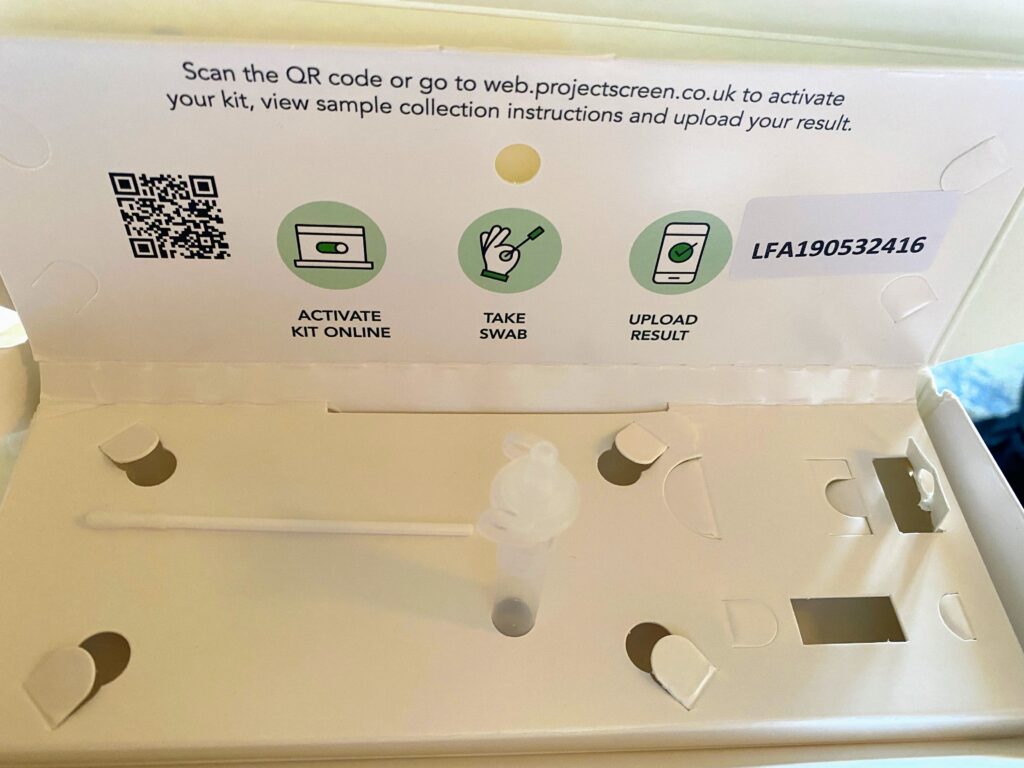 Here is what you have to do next:
Once you have waited for the test to develop you are asked to select what the test looks like from several examples. Then you need to send a picture of the test cartridge. It even has a 15-minute timer you can use which is handy. The final step is to send a picture of the test. I had a slight panic afterward as it said that it can take up to 24 hours to get the certificate back which I had not seen anywhere prior to the test and my flight back was in 26 hours! However, it came back via email in 10 minutes and there was no issue with acceptance at check-in for BA.
You can find the discounted price here.
Pro: Easiest out of the tests, phone number to call for customer service as well as email
Cons: Least professional-looking certificate but it has all the needed information.
Medicspot – £40.50 with my discount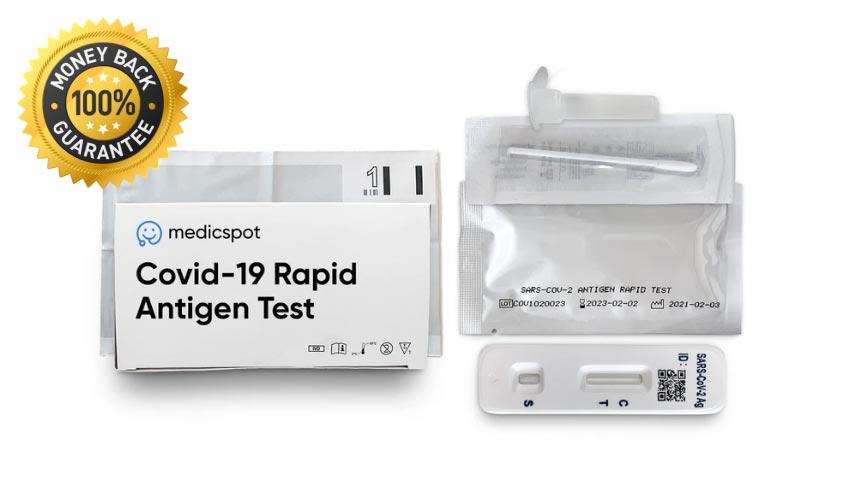 Medicspot is the most expensive but it is somewhere between the other two in terms of being professional. They have a good chat service online where I established that you don't need to use the kit yourself as long as you haven't registered it yet. You can also buy a back-up test for £15 extra which is a good idea in case something goes wrong with the first one such as an inconclusive result.
It works much the same as the Prenetics one with the difference being that you have to send the photo of your test cartridge placed on a supplied template along with your ID such as passport. It took less than an hour to get the results back.
You can get the 10% off using this link.
Pros: Good chat customer service, able to use test for anyone, can get cheap back-up test
Cons: The most expensive. Not guided by video but that is an advantage for some people.
Testing on arrival for day 2
A lot of people are not aware that a day 2 test can be on or up to day 2 meaning you can have it as soon as you land. There are plenty of airports that have on site testing with Express Test and Collinson being the two biggest providers. Some of the sites are on airport and some are drive through.
Collinson have them at Luton, Heathrow, Gatwick, East Midlands, Manchester, London City and Stansted. You can find all locations here. A friend tried T5 this week and got his results back in 19 hours.
Express test have testing centres at or very near Heathrow (multiple locations), Gatwick, Southampton, Edinburgh, Birmingham.
Express Test Day 2 on arrival at Heathrow T5

My go-to testing service for departure testing or test to release is Express Test (don't use them for Jersey!). They have been consistently reliable, quick, cheapish and have good customer service. Having come to their attention as something of a super fan (and having paid for a number of tests myself) they offered me a chance to try their day 2 test. I had been planning to try an on-arrival day 2 test so this was the perfect chance given that Express test has a testing centre in T5.
I have previously mentioned that I had an issue no getting the QR code which you are meant to show on arrival for the test. This happened again as it turns out to be a Hotmail-specific issue where Hotmail does not display some automatically generated emails. Stupidly I forgot to check until I got on the plane so my advice if you have Hotmail is a) create an account when you book as you can generate the QR code from your account and 2) check-in plenty of time before your appointment. You can also request the QR code by phone or online but it takes a few hours.
As it turns out they can find you in the system with the booking reference but obviously, when they are busy this holds the queue up. I was very delayed from my original booking time but this is not an issue. There are two Express Test sites in T5 on the DEpartures level. The one you need for testing is behind BA check-in in zone G. As usual as the staff were very friendly. They found my booking and then I was directed to one of the curtained booths for my sample collection. The assistant was certainly very thorough with the swab but I was in and out within about 3-4 minutes from start to finish so no complaints there.
The results are due by 10pm the next day but can take up to 48 hours in case of a retest which is the same for all companies generally. All my other experiences have been under 24 hours and one taken early morning was back same day. Sadly on this one, it was one of the ones slightly delayed. I had it taken around 4pm on Sunday and got the results on Tuesday at around 09.20 so about 41 hours. In this case, I really couldn't care less since it was a day 2 test and as long as I got it, it didn't matter. I know a lot of people who have used Express Test and this is the first time I have heard of this happening so I'm guessing it's rare.
The normal price of an arrivals test is £69. You can get a discount of £3 by booking through BA here.
So overall if you are going to be busy after you get back you don't want the hassle of getting a test or dropping one-off, this is the ideal solution.
Covid Testing Network provides a comparison site to let you filter the results and find the most appropriate testing for your needs.