LATAM previews new business class
I recently flew LATAM for the first time on its intra European flight which you can read about here. I travelled on their B787 which although the seats were good, they were still in a rather old fashioned 2-2-2 configuration. LATAM has now revealed their new business class seats. It features a fully-flat bed, 18-inch TV screen and a marble-effect granite cocktail table. It will also have more privacy with a screen and plenty of storage. This is the same seat featured on Malaysia Airlines and Delta.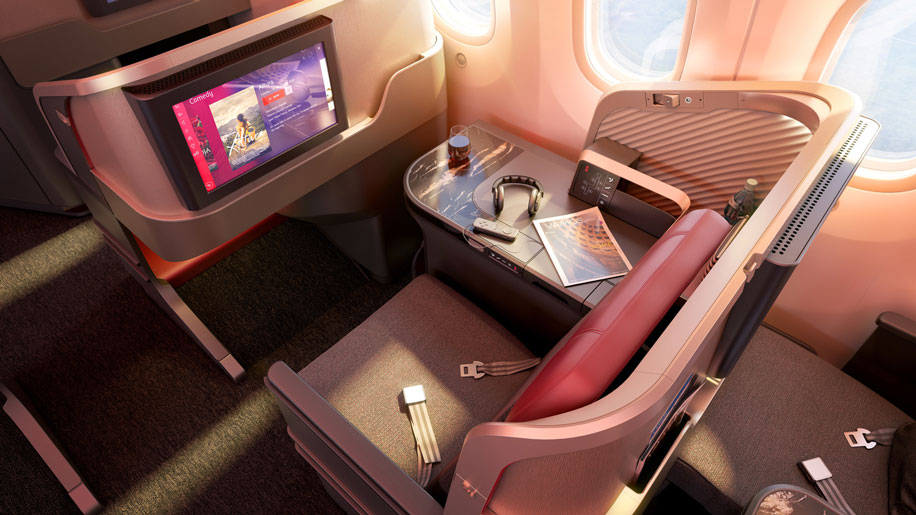 Despite the fact that LATAM says that the new product will be onboard from early this year we still don't know which aircraft will feature the seats.
LATAM says "The Business Class cabin is a sleek and contemporary environment that connects the onboard experience with the passenger's world of high-end product and interior design".
"Materials and finishes are luxurious, with soothing tan and grey tones that provide a mindful space for passengers to relax. Attention is in every detail; the choice of a marble-effect granite for the cocktail table for instance, visually references the beautiful veining seen in aerial photographs of the Andes mountain chain."
Given some of the excellent fares LATAM has offered recently, as low as £1300 to South America, this could be a welcome development. LATAM is part of Oneworld so you can collect Avios and BA tier points.
How to travel (almost) luggage free
I have written about Airporter before here. Given that they have expanded recently, I thought it was worth doing another short article about their services today. You can read my review of their arrival service here. I am yet to try what is their most useful service, baggage check-in. Unfortunately, my last attempt was thwarted by the dreaded SSSS extra security screening. You may see this on your boarding pass when flying to the US. This means that you will have to go through extra security screening, and will not be able to check in online.
Airportr offers luggage services in London and within the M25 area. The arrival service allows you to drop your luggage at their desk at the airport. They will then deliver it to any address (including most hotels) in London. This can be handy if you want to go straight onto somewhere without dragging your luggage. I used it when I was flying out of Heathrow but back into London City and did not want to take my luggage with me.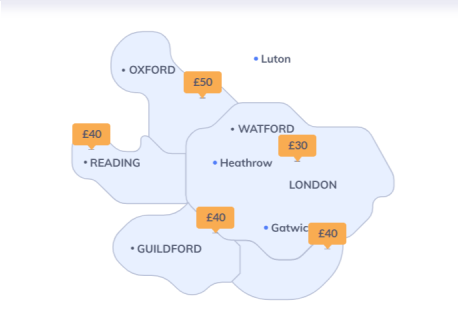 The more interesting service, in my opinion, is the check-in service. This means that they will collect your luggage from London/M25 area (and beyond) and actually check it in for you with the relevant airline. Thus saving a lot of hassle when travelling to the airport and also can save time. It could be useful when doing a back to back onto a long haul flight when you want to take luggage. You could check it in for the long haul part of your journey to save having to leave luggage in left luggage and then go landside to collect it and check it in. However, you must have a mobile boarding pass before the bag is collected. It, therefore, can go wrong if for some reason you can't get one, as I found out!
Airportr covers the following airports:
• London Heathrow
• London Gatwick
They also provide similar service in:
• New York
• Johannesburg
• Geneva
• Singapore
• Nice
You can use Airportr with these airlines:
• British Airways
• Virgin Atlantic
• American Airlines
• Cathay Pacific
• Easyjet
• Finnair
Thailand flight deals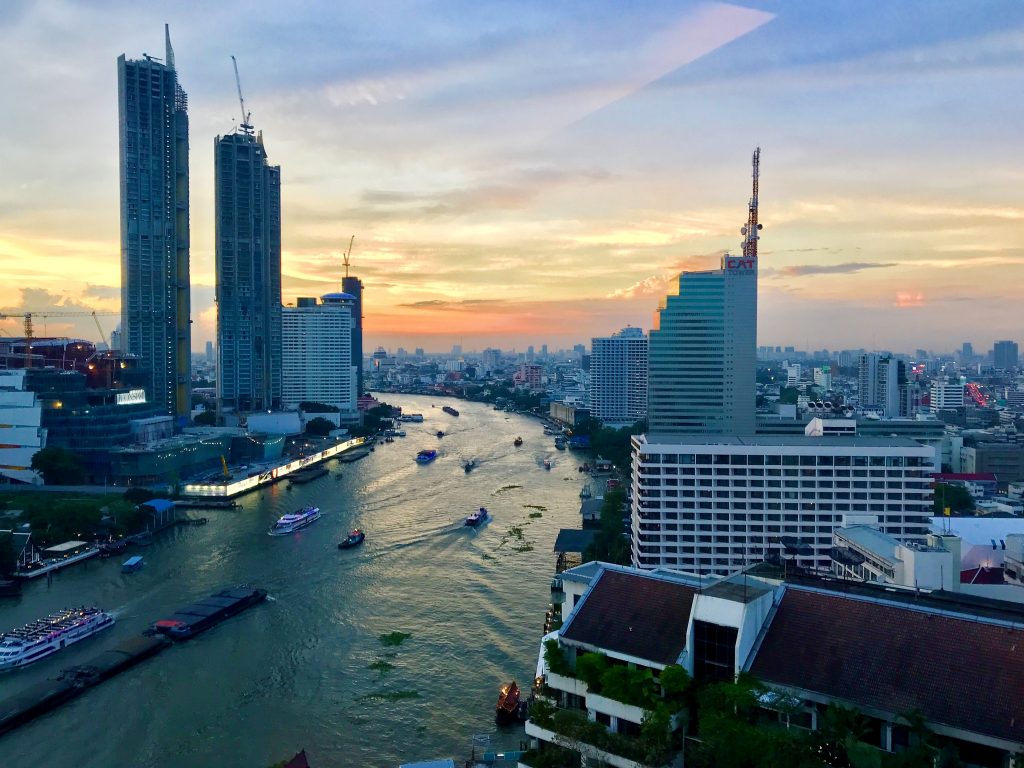 Bangkok is usually the cheapest starting point in Asia, with flights from Europe often starting from £1200 even on BA. There are some new deals that have appeared if you are looking for Bangkok flights.
Finnair, for example, is offering flights from Manchester for a shade over £1,400.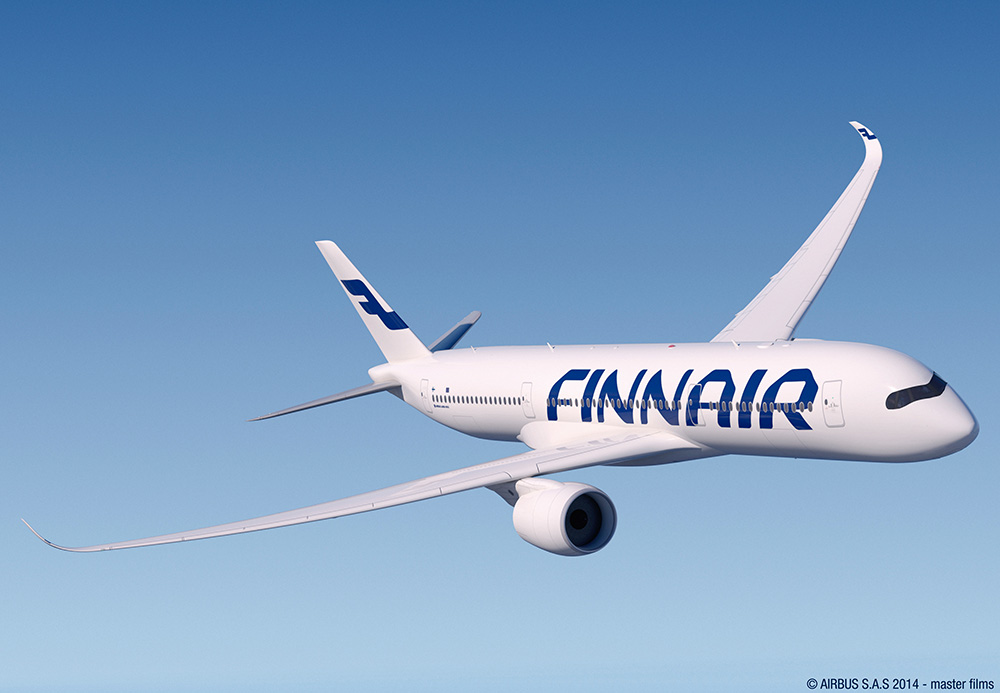 The cheapest fares might have a slightly longer than standard connection in Helsinki, so make sure you check.
Its valid for travel from now until the end of October. Tickets must be purchased by the 17th of January so hurry!
For just over £100 more you can also go direct from London. Both routes would earn you Avios and Tier Points, as Finnair is part of OneWorld. (you can read our review of Finnair's A350 here)
There is also a new ex Amsterdam fare on British Airways. The old iteration allowed you to go via Hong Kong, Singapore and even Kuala Lumpur. The new one ends in Phuket, which might be interesting for some planning a multi-city trip in Thailand.
Here is an example routing –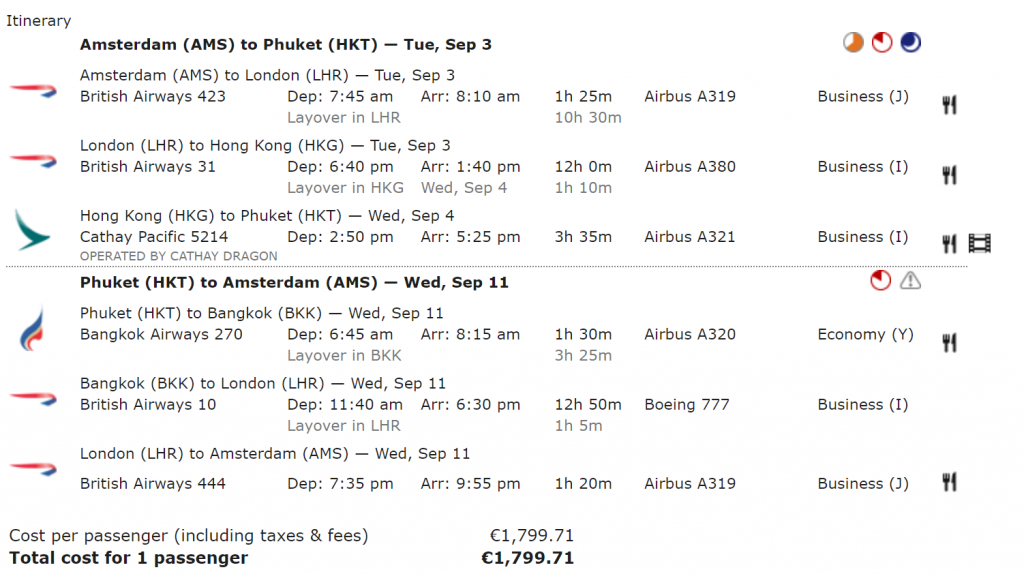 This is a 60-day advance purchase fare so is valid on all dates with availability, 60 days from now.
I must note now, late in the day – you can book to Bangkok from Gothenburg. On most airlines in Business class for under £1,400.
All fares are bookable via our partner, Propeller Travel, here.