In a boost for Virgin Atlantic's Flying Club, from today, members in the UK can sign up to Virgin Red, Virgin's new rewards club. From 8 February 2021, anyone aged 18 or over and with a UK address can join Virgin Red. Through the Virgin Red app and website www.virgin.com/virgin-red, which celebrates its members for living a life more Virgin, Flying Club members will unlock a wealth of new earning and spending options overnight, across a wide range of products and services from the Virgin family and beyond. The good news is that rewards start from just 200 points for a sausage roll and if you want to use some points for a treat, there are plenty of non-travel related options.
New and existing Flying Club members in the UK can now enrol in Virgin Red and seamlessly link their Flying Club account, creating a shared Virgin Points balance that they can use across either programme. At the heart of the bolstered earning and spending opportunities are Virgin Points – the universal Virgin currency that unlike many other loyalty currencies, have no expiry date.
Whilst spending opportunities on travel benefits may be temporarily restricted, by opening its doors to Flying Club members, Virgin Red introduces many new partners for the first time, enabling Flying Club members to access everyday treats and even more extraordinary experiences, some available from as little as 200 points. With rewards being available across most of the Virgin group, I hoping for some amazing experiences – fingers crossed for something with Virgin Galatic!
500 point bonus for new members
To welcome the new members, everyone enrolling in Virgin Red will receive a bonus 500 points upon their first earn completed via the app – as long as the points earned are credited before 31 July 2021 – boosting their points balance and expanding spending capabilities even more.
New members who join Virgin Red from 8 February 2021, will receive an additional 500 bonus points when they do their first earn with Virgin Atlantic, Virgin Limited Edition, Virgin Wines, Octopus Energy, Boots, M&S, John Lewis & Partners, Argos, B&Q, Adidas, Apple UK, ASOS, Currys PC World, TK Maxx, Virgin Balloon Flights, Ebay, Etsy, Lego UK, Virgin Mobile, Just Eat, Fortnum & Mason, AO.com, H&M, Selfridges & Co, Appleyard Flowers, Wayfair, Nike UK, Samsung UK, Very.co.uk, Wickes, Lookfantastic, Dunelm, Made.com & shopDisney.
The app
Once you have downloaded the app, it's very easy to use and clearly set out. I have been having a play with it over the last few weeks. On the home page you can see your balance and can toggle between spend and earn point options. If you click on the box that says "categories" you can choose which specific category you want to see or just see them all by scrolling down.
You can link your Flying Club account by going to the account icon at the bottom of the screen and then clicking on "Link accounts".
Earning and redeeming points
As well as the points you earn from flying Virgin Atlantic and using the Virgin Atlantic shops away portal, there will be a range of ways to earn Virgin Red points. On the app there are a number of simple games and quizzes to try which could earn you points and while away some time if you are bored!
From purchasing a Greggs Sausage Roll or treating a loved one to theatre tickets through London Theatre Direct, Flying Club members will be able to use points earned through the likes of Virgin Atlantic flights, switching their energy to Octopus Energy, Shops Away or the Virgin Atlantic Reward Credit Card in new and exciting ways. They'll also be able to use points gathered from their Marks & Spencer shop or a present bought through Etsy towards that lucrative seat upgrade on their next flight or a case of Prosecco from Virgin Wines for that special occasion.
As things return to normal, there are some unique experiences for those that love flying such as a 30-minute flying lesson or helicopter trip which start from 9,500 points.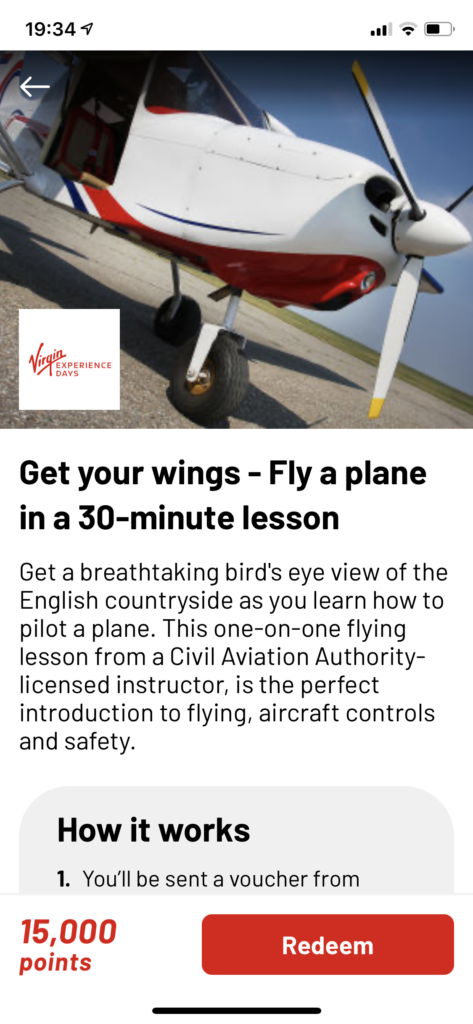 To redeem points simply select the reward you fancy and then it will show you how to claim your reward. To shop and earn points through the app, just click on the selected store and then follow the instructions to click through to the shop's own website and carry on shopping as normal. It will automatically track your purchase.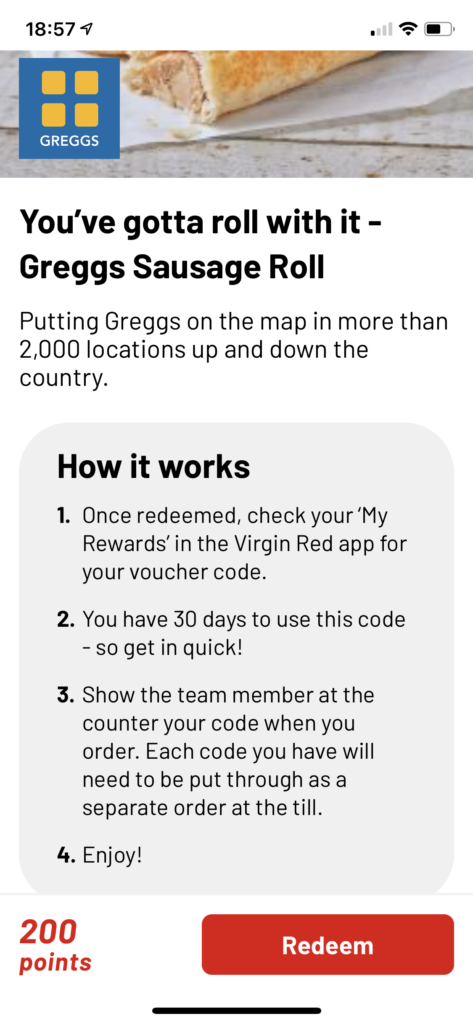 Points can be redeemed in 5 categories –
Everyday Treats, Travel & Adventure, Everyday Living, Extraordinary Experiences and Points for Good.
For the first time, members will also be able to use their points for a selection of small businesses and to support charitable causes, through Virgin Money Giving. Through Virgin Red's Points for Good category, members can choose to support eight national and regional charities and will soon be able to vote for local community groups. Additionally, Virgin Red's partnership with Carbon Engineering will allow members to support the development of Direct Air Capture technology that removes carbon dioxide from the air – a powerful new tool to help the world address climate change. Finally, a range of Virgin StartUp companies will also feature on the app, allowing members to support new businesses by purchasing their products.
Exiting partners will continue to provide both earning and spending opportunities, such as Virgin Limited Edition and Virgin Wines, and of course, Flying Club members will continue to be able to use points towards reward flights, Clubhouse access, and upgrades courtesy of Virgin Atlantic.
There's even a selection of 'lockdown friendly rewards' for those who have the urge to spend their points on a well-deserved treat, including stay at home chocolate truffle making masterclasses or lessons with a Photoshop pro, both available through Virgin Experience Days.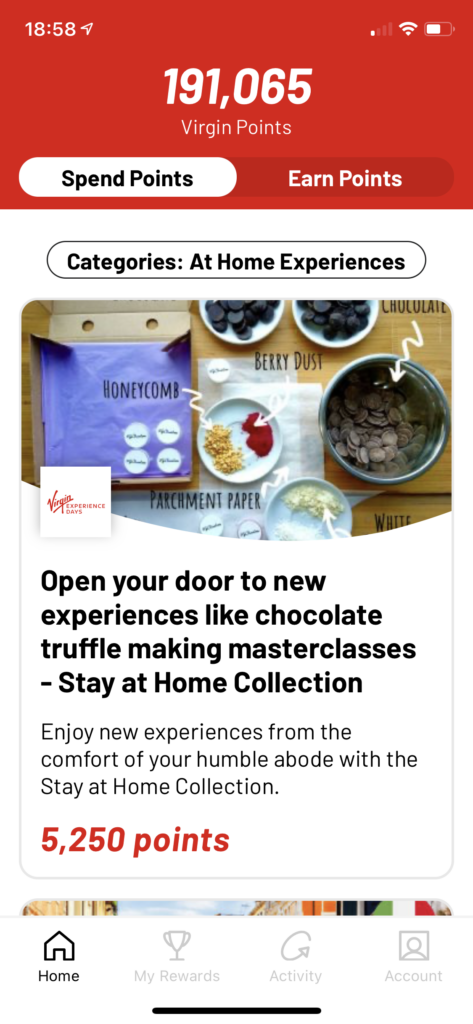 Over the next couple of weeks, Flying Club members in the UK will be contacted with more information about Virgin Red, allowing them to seamlessly unlock a wealth of new rewards at the click of a button. Any new members joining Virgin Atlantic's Flying Club from today will also be automatically enrolled into the Virgin Red rewards club, once they have linked and activated their account so that they can immediately start to maximise their rewards.
Siobhan Fitzpatrick, Chief Digital & Marketing Officer at Virgin Atlantic says:

"We're committed to rewarding those who choose to fly with Virgin Atlantic and we know how important Flying Club is to members old and new, so I'm thrilled to launch such an exciting proposition by adding extra benefits through Virgin Red for our loyal members.

"If you're a frequent flyer or simply looking to join Flying Club, Virgin Red makes it easier to spend on the everyday, whether that's using points from a family holiday for your daily Greggs coffee or collecting points by switching your energy account towards that lucrative cabin upgrade, our new partnership provides even more opportunities for our members to enjoy their hard earned rewards."