This post comes to you sponsored by me! Why?
Well, I am currently in the process of moving from EE to Vodafone. And the reason? Mobile roaming costs.
Who is in the mix?
I'm only going to concentrate on core UK networks here – MVNOs (mobile virtual networks, such as iD and GiffGaff who piggyback the big 4) excluded.
We have –
What's the comparison?
Free included coverage, and how much it costs when you leave the "free" areas. And a little side note about speed and service in general. I have used all 4 extensively.
EE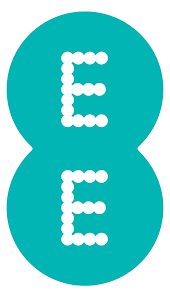 I switched to EE from Three a few years ago down to bandwidth throttling (more on that later).
So what do you get on EE?
EE currently has 2 options currently.
Most of their plans just include the standard EU countries. If you want to add the USA, Canada, NZ, Mexico and Australia it will cost you an extra £10 a month. If you have an existing "MAX" plan you will benefit from this being included – also included in their new 5G contracts.
Frankly EE is behind the curve now. Selling 5G plans with more roaming but limiting data to 60GB on the biggest sim only deal? A 5G connection could blitz that in minutes!
Oh, and the costs outside of included coverage?
I transit through Doha a lot…. and when I land and my phone gets a connection, it can easily chew a few 100mb in seconds!
EE are very good at hiding the actual costs but here's a breakdown –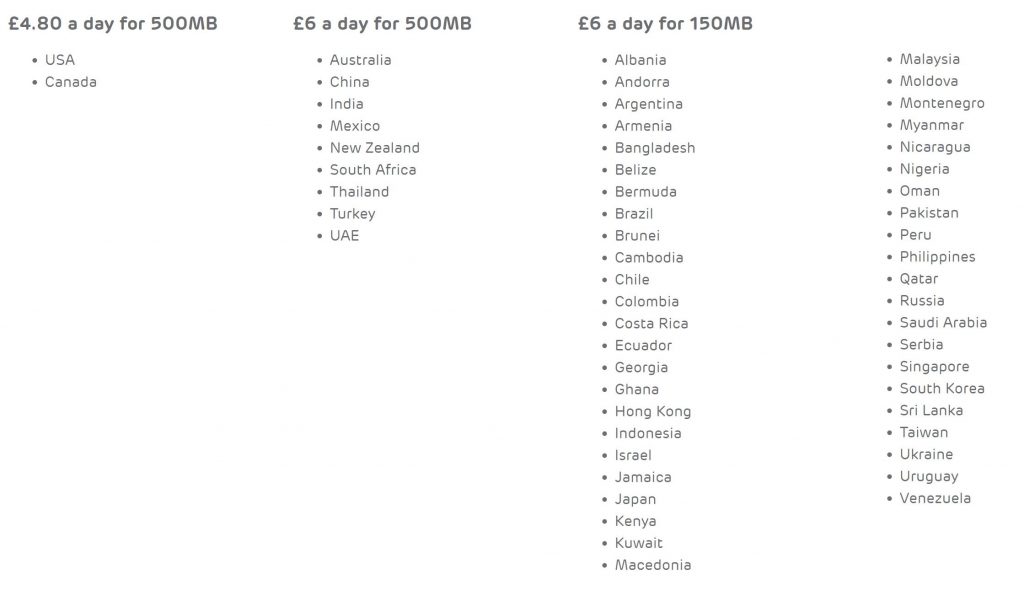 Bot hold on – what happens once I have used my 150mb?
Well, there is little information online, but I can tell you from doing it – 900mb valid for 1 month? £50!! I use my phone as I would at home so it adds up quickly – I have seen bills of several hundred pounds more than once – hence my drive to get off them!
I'm not going to lie, customer services are very good. The best I have experienced on any UK network. And their 4G network is stupidly fast. I have seen 200mb/sec+ in central London.
But with lack of transparency EE gets a 6/10 from me.
Three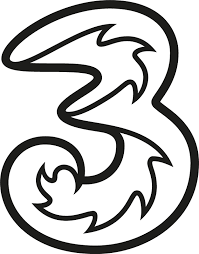 Ah, Three. Everyone's first love. The creators of all you can eat data and roaming for free even before the EU regulations.
So how does Three stack up now?
"Go Roam" now includes 71 countries and comes in two flavours.
Go Roam lets you use your plan or add-on allowances in up to 71 destinations around the world. Go Roam is made up of Go Roam in Europe, which is available automatically on all plans.
Go Roam Around the World, which is available on all plans except Essential Plans.
The full list –
Aland Islands.
Australia.
Austria.
Azores.
Balearic Islands.
Belgium.
Brazil.
Bulgaria.
Canary Islands.
Chile
Colombia
Costa Rica
Croatia.
Cyprus.
Czech Republic.
Denmark.
El Salvador
Estonia.
Finland.
France (Inc. Corsica, Mayotte & Reunion ).
French Guiana.
Germany.
Gibraltar.
Greece (Inc. Crete & Rhodes).
Guadeloupe.
Guatemala.
Guernsey.
Hong Kong.
Hungary.
Iceland.
Indonesia.
Ireland.
Isle of Man.
Israel
Italy (Inc. Sardinia & Sicily).
Jersey
Latvia.
Liechtenstein.
Lithuania.
Luxembourg.
Macau.
Maderia.
Malta.
Marie-Galante
Martinique.
Mayotte.
Netherlands.
New Zealand.
Nicaragua.
Norway.
Panama.
Peru.
Poland.
Portugal.
Puerto Rico.
Republic of Ireland.
Reunion.
Romania.
Saint Barthélemy.
Saint Martin.
San Marino.
Singapore
Slovakia.
Slovenia.
Spain.
Sri Lanka.
Sweden.
Switzerland.
United States (Inc. Florida Keys).
Uruguay.
US Virgin Islands.
Vatican City.
Vietnam.
Sounds great yes?
Hold fire…
Firstly the FUP (fair usage policy).
To quote Three –
In our Go Roam in Europe destinations, you can use up to 19GB of your data allowance (15.1GB if on Pay As You Go) at no extra cost. Use over this fair use limit, is subject to a surcharge. There are no fair use limits for calls made or texts sent within our Go Roam in Europe destinations.

If you're in a Go Roam Around the World destination:

• If you have a data allowance greater than 12GB, you can use up to this amount of data a month at no extra cost. Data use above this will not be allowed.
• If you have unlimited texts you can send up to 5000 texts back to the UK (landline and mobile numbers) per month.
• If you have 3000 or more minutes included in your allowance you can use up to 3000 minutes on calls back to the UK.
Let's talk about "TrafficSense", better known as bandwidth throttling –
Go Roam Around the World

In relation to overseas traffic in Go Roam destinations we provide a choice of plans, some of which include traffic management. We do this to provide customers with choice as to the type of service they may wish to enjoy and to protect our network.

In Go Roam Around the World destinations we provide streaming at standard definition, reduce the speed of P2P and VPN services to ensure we can provide time critical services to all our customers, use of Personal Hotspot is not included. The above measures apply to all plans.

Contract handset and SIM Only contract customers wishing to use unlimited data on our network, without any of the above restrictions in Go Roam Around the World destinations can purchase a Data Passport Add-on.
So what does this mean? Put simply a Three mobile will be noticeably slower abroad compared to the other networks – almost like a 3G experience or worse.
You can get around this by paying for a "Data Passport" –
The Data Passport gives you the freedom to use the mobile internet as you like for £5 a day. You can search, tweet, upload, browse, email and stream audio and video as much as you like until midnight (UK time), and our standard TrafficSense™ policies won't apply.
The Data Passport also adds a few more countries –
Azerbaijan
Canada
French Guiana
Malaysia
Mexico
Moldova
Montenegro
Myanmar
Pakistan
Russian Federation
Saudi Arabia
Serbia
South Korea
Taiwan
Thailand
Tunisia
Turkey
Ukraine
United Arab Emirates
But what about countries not included? Sharp intake of breath…..
£6 per MB!!
Overall a good proposition for the light casual user. I can't comment on the data passport as I have never tried it.
(Note from Michele – I have used the data passport in a couple of countries. You get a text when you first log onto the network in the new country with a link allowing you to do it for £5 for up to 24 hours). The speed was fast but the big drawback is that the time of 24 hours for the passport ends at midnight UK time. This can mean you pay for a full 24 hours but only get a few hours for your money with time differences etc)
You can find more information about Three's products here.
I'd give Three a 4/10.
Vodafone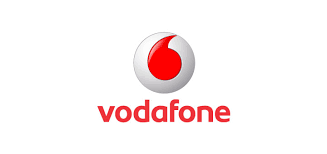 So onto the next one. Vodafone. Vodafone has had the "Data Passport" for a while and its current iteration is very good.
It's simple. All plans apart from Basic ones come with "Global Roaming". This is actually just the EU, but we will let that one slip! Go outside the EU in another 104 countries (all the ones you can roam too) and it's a flat £6/day. Unlimited to the caps of your UK plan.
Then "Red Entertainment" plans benefit from another 28 countries taking the total to a competition beating 77 –
Albania, Anguilla, Antigua, Aruba, Australia, Barbados, Bermuda, Bosnia & Herzegovina, Canada, Cayman Islands, Dominica, Ghana, Grenada, Jamaica, Kenya, Lesotho, Mexico, Montserrat, Mozambique, Netherland Antilles, New Zealand, South Africa, St Kitts and Nevis, St Vincent, St Lucia, Trinidad & Tobago, Turks and Caicos, UK Virgin Islands, USA.
Again, stray from this and it's a flat £6 a day with "Roam Further". WINNING.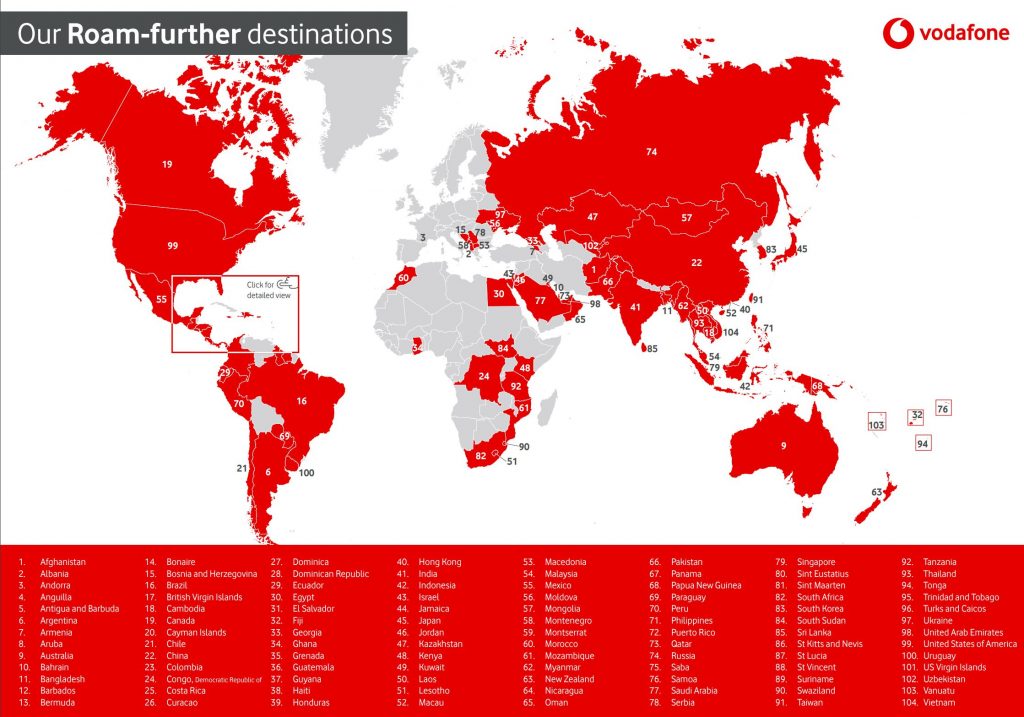 Oh, and from 10 July 2019 Vodafone will offer unlimited data plans including the above.
All this adds up to a 10/10 score from me.
O2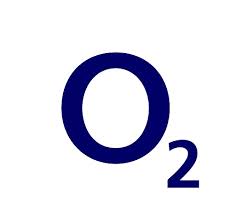 Last but is it least? I moved from O2 to Three a long time ago due to silly data caps. But what's the story now?
It's bleak. They cover the EU as standard but offer nothing included above this without paying daily.
Edit – the below is included in selected tariffs but not all. Over and above it's still £4.99 a day.
£4.99 a day gets you 120 mins, 120 texts and data included in the following locations –
| | |
| --- | --- |
| Argentina | Honduras |
| Australia | Madagascar |
| Botswana | Mexico |
| Canada | Myanmar |
| Chile | New Zealand |
| Colombia | Nicaragua |
| Costa Rica | Panama |
| Ecuador | Paraguay |
| El Salvador | Peru |
| Greenland | Rwanda |
| Guatamala | United States |
| Guinea | Uruguay |
| Guyana | Venezuela |
| Yemen | |
Let's take Qatar as an example for out of bolt-on usage…. ready? Sit tight…
£7.20 per MB.
Wow. Just wow.
Want 200mb included? Sure! just chuck £120 at O2!!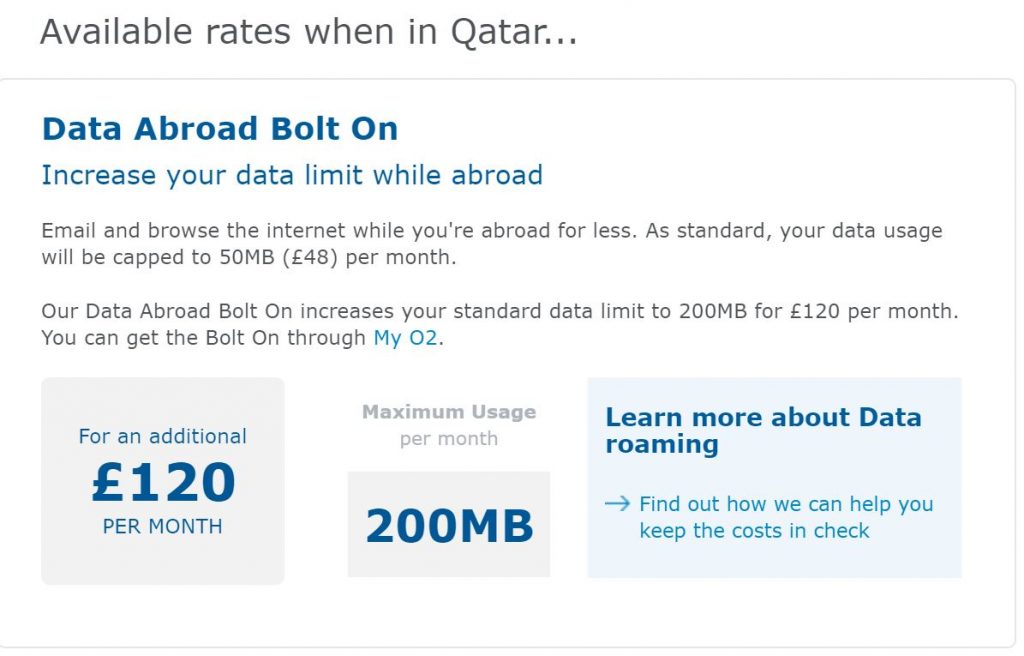 O2…. you get 2/10. Shocking.
Are there any other options?
Well, there is SkyRoam –
£7/day "globally". Worth it? Not if you have a Vodafone contract. You can read Michele's review of the Skyroam here. She uses hers regularly as it is often faster than hotel wi-fi. There is also an option to pay $9 a month for 1GB of data if you will not be a heavy user. You can then buy further data at $9 per 1GB. You can see further details and pricing for the SkyRoam here.