After yesterday's Dublin bargains an even better deal has emerged ex EU from Zurich or Geneva. As usual, there is a catch – two people must fly together. However, some of the West Coast ones make for ideal tier points runs allowing transfers. Las Vegas is a particularly good option. Paul has come up with a sample itinerary: (His next article on tier point planning is coming later this week).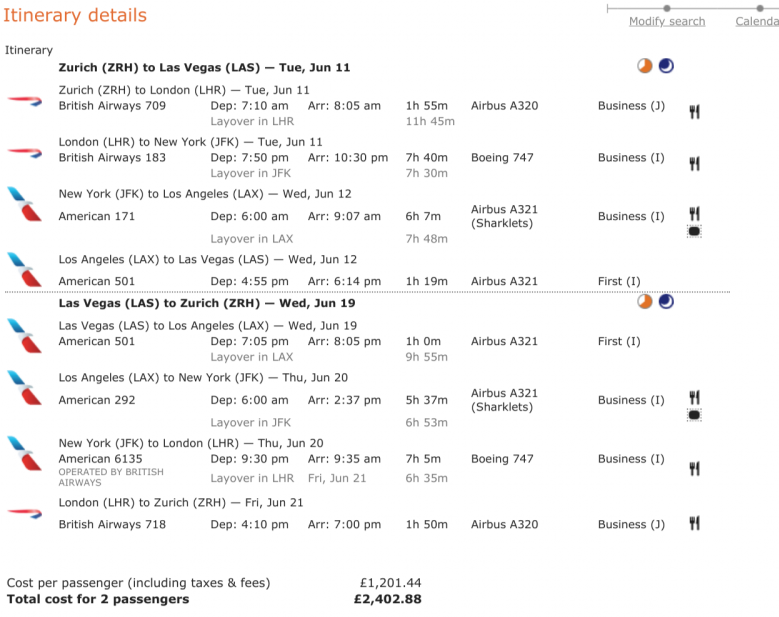 This itinerary would get you 720 tier points, not including any positioning flights, plus of course a visit to Las Vegas. If you wanted to get more tier points you could also put in Helsinki on the way out or for the return as well for another 160 tier points per return to Helsinki. You can read my guide to Las Vegas in luxury for less here.
The rules:
Travel: 1 October 2018 to 30 August 2019
Minimum stay: 6 days or a Saturday night
transfers permitted in each direction free
Book by 14 October 2018
Prices start from:
Los Angeles £1265
Las Vegas £1160
New York £1135
Phoenix £1215
Denver £1135
You can travel on American, Iberia, BA or Finnair but the fares only seem to be bookable via Iberia or American Airlines. The cheapest prices are mainly for next summer.
They should also be available via online travel agents such as Expedia
Virgin's new partnership with Aviation Gin
I am currently in Boston and actually flew here last weekend on Virgin Atlantic. I did actually notice that they had Aviation Gin as well as Bombay Sapphire onboard which I thought was a nice touch. Subsequently, they have now officially announced a partnership with Aviation Gin. As well as being an award-winning gin which I have to love with that name, Aviation American Gin is owned by actor and producer, Ryan Reynolds. If the gin is produced by Ryan Reynolds I am in! I will make sure to sample it on my return flight and let you know my verdict at 35,000 feet.
Virgin Atlantic will be serving the gin in Virgin Atlantic Clubhouses as well as onboard.
To announce the new partnership, Sir Richard Branson and Ryan Reynolds sat down together to discuss what the collaboration means to both in a short video
Ryan Reynolds said: "I've been a huge fan of Sir Richard Branson and Virgin for years. For Aviation to be chosen as the gin of choice for such an iconic and quintessentially British brand is a complete honor. We look forward to serving Virgin Atlantic guests for years to come and, on a personal note, Sir Richard has promised to teach me the difference between revenue and profit, so I am beyond excited."
To celebrate the partnership, a selection of lucky passengers on board Virgin Atlantic flights on the 30th September (typical I am flying on the 29th!) will get a special mixology experience hosted by bartenders from some of the world's best bars, from The Dead Rabbit in New York to Smugglers Cove in San Francisco.
Virgin Atlantic and Aviation Gin will also be bringing their partnership to this year's London Cocktail Week. From October 3rd – 7th, Virgin Atlantic will be serving Aviation Gin cocktails at the Old Truman Brewery from some of the world's best bars, including Employees Only's First Blush or Black Tail's Terminal A.
British Airways reveals designer for their new uniforms
BA had already announced that they will be having new uniforms next year as part of their centenary celebrations. They have now revealed that Savile Row tailoring expert, Ozwald Boateng OBE, is to be the next British designer to develop uniforms for the airline.
Ozwald will be designing a collection for the airline's 32,000 employees who wear a uniform as part of their role. It is interesting though that he only launched a womenswear collection for the first time this year.
Ozwald Boateng OBE, said: "I am really excited about creating this new uniform for British Airways. It is important for me to create something that makes all of British Airways' 32,000 uniform-wearing employees across the world excited, at the same time as enabling me to really demonstrate my skills as a designer. British Airways is investing £4.5 billion over the next five years and the uniform I design will form part of that, so I'm looking forward to taking a uniform and refining it into a collection."
Ozwald was the youngest tailor to open a store in Savile Row and was also the Creative Director at Givenchy Homme from 2002 to 2006. He will be working closely with the airline's employees throughout the development process, from shadowing them to understand their roles and how the uniforms need to perform, to design, testing and final delivery.
British Airways has worked with a number of designers previously to design its uniforms including Paul Costelloe, Roland Klein, and Julien MacDonald, the designer of the current uniform.