Virgin Atlantic is launching a week of Black Friday deals, with each day unlocking a new offer at midnight. Today, Monday 25th November has 20% discounts across Virgin Atlantic Caribbean destinations. You can save 20% on flights to Antigua, Barbados, Grenada, Jamaica, St. Lucia and Tobago New Virgin Atlantic dreamy Black Friday deals will be released every day up until Friday 29th November, with all offers live until Monday 2nd December at 23:59.
You can also get £100 off per new booking for flight + hotel Caribbean bookings using code BF2019. Offer is valid on bookings made from 25th Nov – 2nd Dec '19. Saving applies to new Flight + Hotel bookings for Barbados, Antigua, St Lucia, Cuba, Mexico, Jamaica, Tobago, Grenada only, booked online between 00:01 Monday 25th November and 23:59 Monday 2nd December 2019 (UK time). Use code BF2019 and save £100 on any Caribbean booking (Barbados, Antigua, St Lucia, Cuba, Mexico, Jamaica, Tobago, Grenada) departing between 00:01 26th November 2019 and 23:59 31st October 2020 (UK time).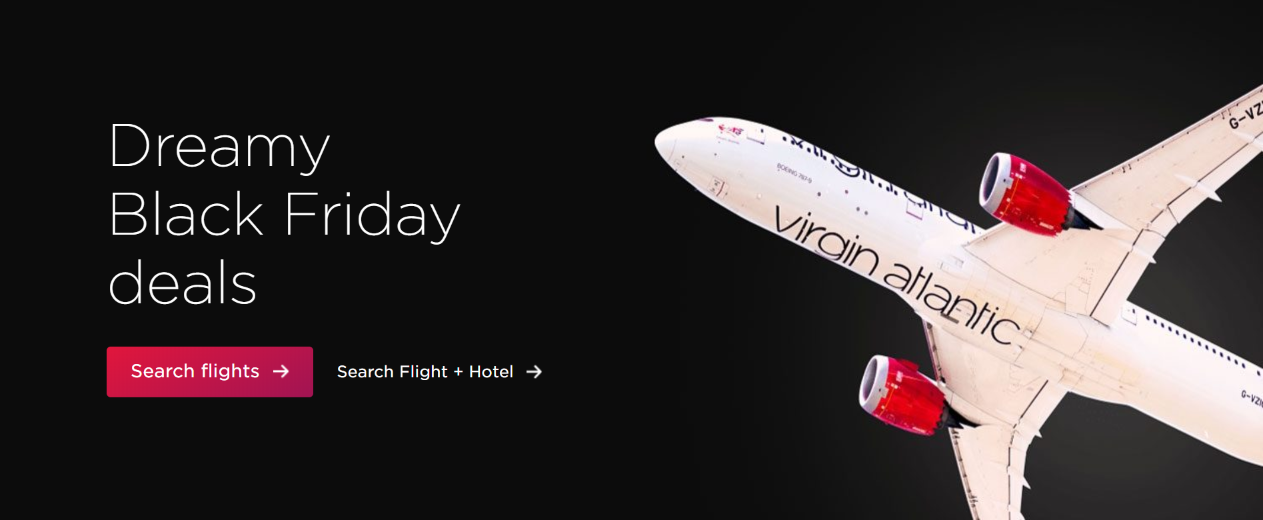 Today's Caribbean deals
The best deals today are:
Premium Economy
London Gatwick (LGW) – Barbados (BGI) £913pp
London Gatwick (LGW) – Montego Bay (MBJ) £931pp
Manchester (MAN) – Barbados (BGI) £989pp
London Gatwick (LGW) – Grenada (GND) £840pp
Upper Class
London Gatwick (LGW) – Barbados (BGI) £1,859
Manchester (MAN) – Barbados (BGI) £1,946
London Gatwick (LGW) – Antigua (ANU) £1,860
London Gatwick – Tobago £1811
London Gatwick – Grenada £1809
LOndon Gatwick – Kingston £1789
You can book direct with Virgin here.
Golden Tickets from £1
The week will end with the return of Virgin Atlantic's Golden Ticket game, giving customers the chance to bag £1 fares on Monday 2nd December. UK travel lovers will have to be quick, with a total of 90 Golden Tickets being hidden across the Virgin Atlantic website on Cyber Monday only. The £1 fares will be hidden on random flights and top secret destinations, so customers will need a speedy eye and love of globetrotting – and who knows where they may end up finding a secret steal to.
To be in the know of when tickets will be released and destination clues, you can follow @virginatlantic on twitter to be ahead of the game or visit the special Black Friday Virgin page here.
Virgin Atlantic Golden Ticket Rules:
A Golden Ticket will entitle the holder to purchase 1 adult Economy Delight return flight for £1+ taxes, fees & charges.
There are a total of 90 Golden Tickets being released in batches across a variety of our destinations throughout the day on 2 December 2019.
The Golden Tickets are for UK originating return flights on selected dates.
The following are not permitted:
a) Round trips where the destination of the outward sector and the departure point of the return sector differ
b) One way trips
c) Trips including sectors on airlines other than Virgin Atlantic including codeshares
d) Stopovers and open-date returns
A minimum stay of 3 nights is required. Maximum stay is 12 months.
Once a booking has been completed:
a) Cancellations are not permitted;
b) No compensation and/or refund will be made available; and
c) Route or name changes are not permitted.
Flying Club miles, bonus miles and tier points are available on selected flights. Please check at the time of booking.
To be in the know when we release tickets & clues, follow us on Twitter – @virginatlantic or keep checking https://www.virginatlantic.com/gb/en/flight-deals/golden-ticket.html