Dubai flights from £1108
Whilst looking at various options to get to the UAE I found quite a number of bargain flights which I thought I would share with you. Most of these are ex EU so you would need to factor in the cost of getting to the starting point as well. For comparison, BA is charging around £2600 for the winter period in Club although you can normally get Dubai in the sale for around £1500 and £1250 for Abu Dhabi.
London Heathrow to Dubai £1306 Air France
Travel dates: Mid week departures but only Tuesday departures at the cheapest price from the end of May until October
Aircraft: B777 for Paris-Dubai. You can read my review of Air France's short-haul business class and new business class seats on B787 which are almost identical to the B777 here. They do have an older seat on some B777s which I would avoid and they occasionally use this on the Dubai route. A great way to find out is to use route happy to research your dates which will show you the type of seat/configuration and whether there is wi-fi etc.
Crediting miles: Flying Blue, Sky Team, Malaysian or JAL for oneworld. There is likely to be an opportunity to use Flying Blue miles on Virgin Atlantic when the sale goes through although this will be a while yet.
Reservations must be made 60 days in advance.
You can book on www.airfrance.co.uk
London Gatwick £1151 Turkish
Travel dates: Tuesday departures from end of May until October
Aircraft: Gatwick to Istanbul is A321 with short-haul seating. Istanbul to Dubai is on a B777 with flat beds in a 2-3-2 configuration (above)
There are also flights from Heathrow for around £1300 which features the A321 or B777 to Istanbul.
Crediting miles: Star Alliance
Offer ends: 30 March
Flights can be booked direct with Turkish Airlines but I found the prices to be cheaper on Expedia flights.
Paris to Dubai from £1108 – Oman Air
Travel dates: Tuesday departures from end of May until October.
Aircraft: A330 Oman air have a great business class seat with good onboard service too.
Crediting miles: Etihad or Oman
Offer ends: 24 March
The offer can be booked on Oman Air's website here. It is also bookable via Expedia for about the same price.
Milan to Dubai £1108 British Airways
Travel dates: Departures from end of May onwards
Rules: reservations for all sectors are required at least 60 days before departure. Minimum stay of a Saturday night. Non-refundable but changeable for a fee. Stopovers allowed for a fee (less than 24 hours should be free).
Aircraft: B777 which is my least favourite aircraft in the fleet for the configuration known as the 'flying dormitory'
Tier Points: 360 not including positioning
Flights can be booked on British Airways.
Atlantis offers – The Palm Dubai and the Bahamas
If you fancy Dubai there are some offers on Atlantis the Palm plus an offer for their sister property in the Bahamas which is now an Autograph hotel and so part of Marriott.
Atlantis the Palm
You can save 10% by simply signing up as a member so you get their special offers by email. You can sign up here. 
There is also a special offer for Emirates Skywards members which is free to join here and you don't need to actually fly on Emirates. The offer is:
15% off Deluxe and Imperial Club rooms, and double Skywards Miles
20% off your Suite stay and triple Skywards Miles
Kids Stay, Dine and Play for FREE. Breakfast, Lunch, and Dinner plus selected activities are all complimentary for children (aged 11 and below) when accompanied for meals by paying adults.
You will also enjoy free and unlimited access to Aquaventure – as well as The Lost Chambers Aquarium, home to 65,000 marine animals.
Booking Dates: Now – 31 May 2018
Staying Dates: Now – 31 October 2018
You can find more information on the Atlantis offers here.
Atlantis the Bahamas
$60 lunch credit for stays 20 April to 30 September at select Restaurants. You also receive up to $300 resort credit when you book by 4 April and stay until 20 December 2018. You can find more information here. 
Virgin sells 'AIR'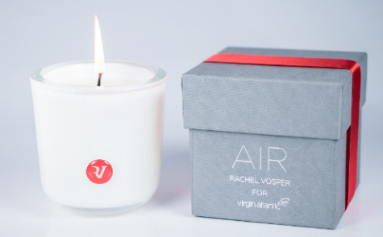 When I first saw this press release I did double check the date to make sure it wasn't 1 April! It is genuine though and Virgin are following in the footsteps of BA's recent signature scent trial and releasing their own called 'AIR'. The airlines seem to be very behind the hotel industry in this regard.
Virgin Atlantic has collaborated with British scent designer Rachel Vosper to design a bespoke scent. With notes of lemon, rose, vanilla, and essential oils such as lavender and eucalyptus, the scent was inspired by the airline's destinations. The fragrance will be present at various points throughout your journey at check-in, airport gates, Clubhouses and boarding all cabins.
You can even buy an AIR candle yourself for £30 to remind you of your flight (!) at the Virgin Atlantic Clubhouses and onboard duty free. You can also pre-order to collect on your flight online at www.retailtherapyshopping.com for £30.