WELL THIS DIDN'T LAST LONG. FARE IS NOW GONE SADLY.
Yes, I said it. Delta!  Those that know me, will know my loyalty to oneworld is solid.  However, the avgeek in me is sorely tempted by this fare!
We had Hawaii for around £1,500 earlier in the year on OneWorld and now Skyteam wants a piece of the action.
So why is the fare so exciting?  Because it offers you the chance to fly two of the best business class seats in the sky.
The Delta One Suite on the new Airbus A350 –
Sexy isn't it!?
And how about the new KLM Dreamliner seat coming home?
The Fare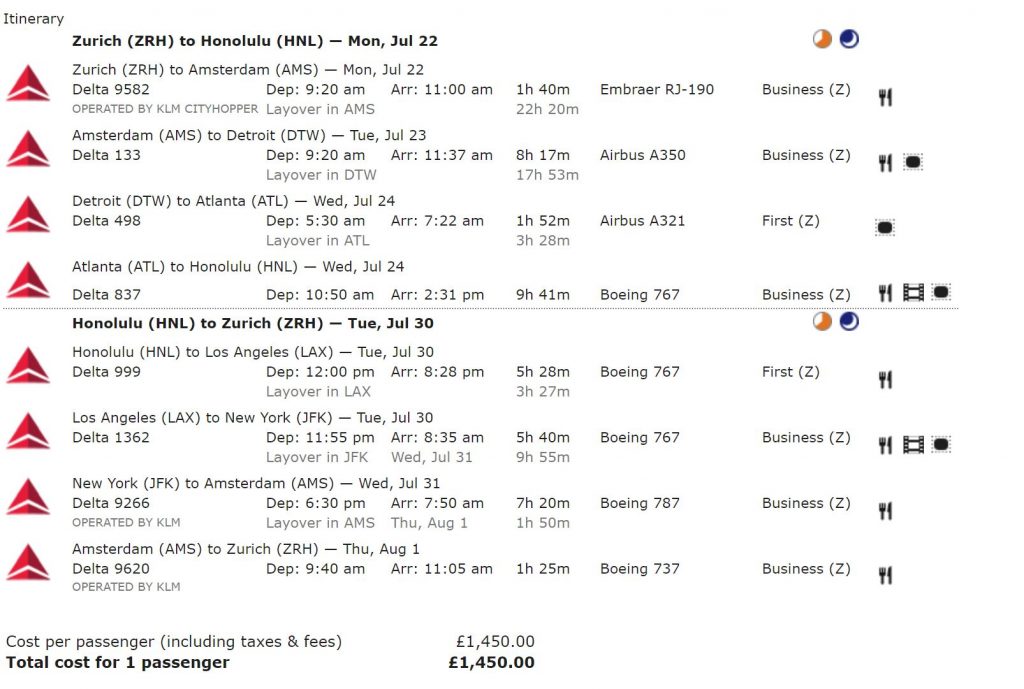 Or slightly cheaper if you don't care about the seat –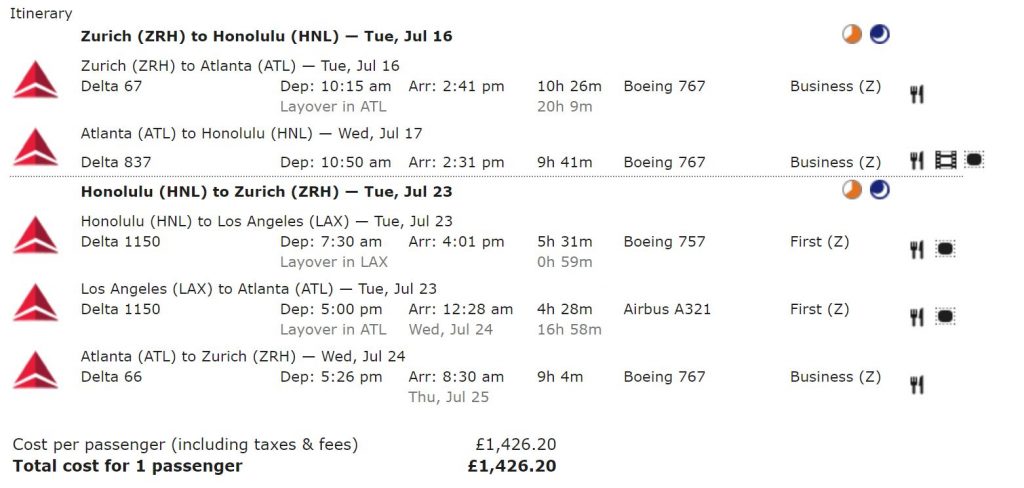 You can also choose Air France too.
The Dates
13th – 21st April 2019
5th July – 25th August 2019
24th – 31st December 2019
Interestingly there is no book by date – but as always, don't hang around on this one!
Status matching to Delta Medallion and miles crediting
This is an interesting one.
A British Airways Gold card holder would match to the Platinum level which affords the following benefits –
Unlimited Domestic and some International Upgrades
Waived Fees for Bags and Ticket Changes
Amenities at the Airport
Priority Wait List
But possibly the most interesting is the choice awards that you can pick –
Four Regional Upgrade Certificates
Gift Silver Medallion Status to a friend or family member
20,000 bonus miles for yourself, someone else, or a SkyWish charity of your choice
A $200 Delta travel voucher
A $200 Tiffany & Co. gift card
Note – some have specific T&C's so read carefully!
But with 20,000 bonus miles, and the miles from the above trip you would have a nice little earner! 🙂
You can credit the miles to any Skyteam airline. If you credit to Delta you can use the miles on Virgin Atlantic or if you go for the Delta flights you can just credit them directly to Virgin. Skyteam miles should be more valuable soon when you will be able to use them on Virgin Atlantic flights and the new version of Flybe too.
Booking
Easy routings are available via a number of ways. You can book direct with KLM here or Delta or even AirFrancee.  You can try Skyscanner to see if you can get it cheaper via an online travel agent or book with Expedia or Ebookers.  Remember adding a hotel can sometimes reduce the price even more with Ebookers and Expedia!