BA status extensions
BA has offered an extra year of status for all Executive Club members with expiry dates from July 2020 to June 2021 . The status updates were done on Monday, so if you look it will show your CARD expiry date with an extra year. Your tier point collection year will still show the same end date. This is shown underneath the "View more account information" drop down on ba.com, or at the bottom of the 'My account' page on the mobile app.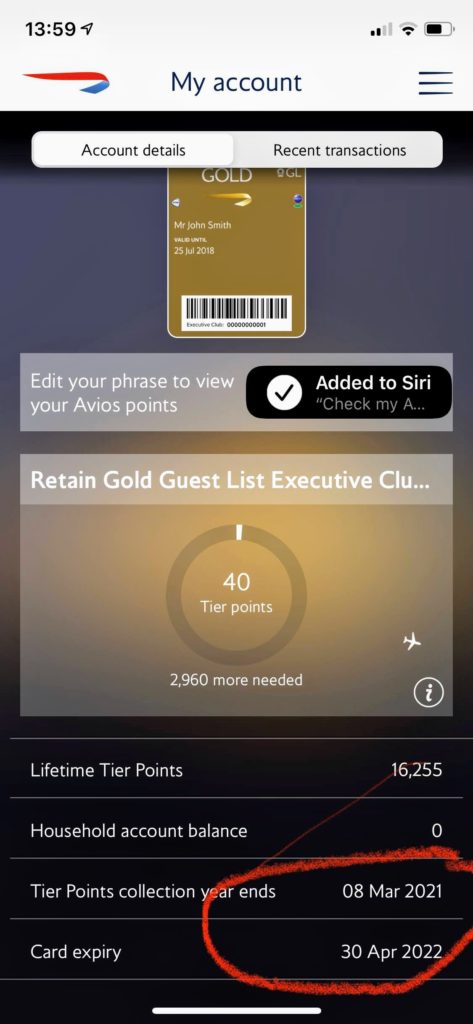 Members whose Tier Point collection end date was in May or June 2020, who did not meet the reduced qualification requirement for their Tier will have the 12-month extension applied to their new Tier once their current card expiry date has passed.
Don't forget that there is also a 25% reduction in the number of tier points to get status, so it could be a good time to consider whether you could make a higher tier than usual. You do still have to do the 4 eligible flights.
You can find all the FAQs regarding the extension on this page.
Malta reopening to UK tourists
Malta had previously announced it was reopening to certain countries from 1 July, but had not indicated when they would reopen to UK tourists.
Tolene Van Der Merwe, director UK & Ireland of Malta Tourism Authority, said: "Malta is very popular destination for British holidaymakers with nearly 650,000 arriving in 2019. We are delighted that we should be able to welcome back travellers from the United Kingdom on July 15th if the Foreign & Commonwealth Office advice has been amended by that date. Our streets have been too quiet recently and the people of Malta are keen to welcome back tourists who have loved our sunshine, culture, food and warm spirit year in, year out."
It is not clear yet whether any COVID tests will be required. Malta is a 160 tier point return destination with BA in Club Europe, though at the moment prices are pretty high.
Don't forget this handy website for assessing requirements for visiting Europe.
Etihad launches COVID risk assessment tool

Etihad Airways is partnering with Austrian-based healthcare technology company Medicus AI to launch a COVID-19 risk-assessment tool that will allow passengers to make informed decisions about travelling.
Powered by Medicus AI's technology, the risk-assessment tool will evaluate the probability of having contracted the COVID-19 coronavirus by responding to a set of 22 questions. The self-administered assessment, which takes less than five minutes to complete, is based on World Health Organisation (WHO) guidelines that are updated daily.
With this risk-assessment tool, guests will understand their individual probability of having contracted the virus alongside advisories and recommendations, allowing them to make informed decisions about travelling.
Frank Meyer, Chief Digital Officer, Etihad Airways, said: "We know that health and wellbeing will be a major factor impacting the travel decisions of our guests and are committed to ensuring their continued safety and peace of mind when they choose to travel with Etihad Airways. As flying operations begin to resume globally, we want to empower our guests to make informed decisions on travel. Partnering with Medicus AI on this innovative new tool is just one of the ways we are adapting our operations and guest experience to meet the new demands placed on the travel industry as a result of COVID-19."

Dr. Baher Al Hakim, Chief Executive Officer, Medicus AI, said: "We are proud to support Etihad Airways in their efforts to ensure the safety of its passengers and crew as the world returns to normalcy. Our initial efforts at the start of the pandemic were to help provide assessment and monitoring tools, and as needs shift, our efforts have evolved to help our partners bring people back to their day-to-day life in a safe manner."
The tool is now available to guests on Etihad.com and soon on the Etihad Airways mobile application on the Apple iOS, Android and Huawei platforms.