British Airways Club Europe new meals
Alex Cruz, BA's CEO, has said that they would be revamping the airline's Club Europe meals again this year after the reaction to the previous changes was very polarised depending on the route you flew. Although those routes that are classified as long routes got a much improved service with a 4 course meal and a choice of mains, the medium band routes got something of a raw deal. The panini would have been OK if the fillings hadn't been so bad and although the salads taste OK, 3 prawns cut in half is not my ideal of a business class meal.
According to Flyertalk the details of the new service are beginning to emerge. I can confirm that Madrid, that had been downgraded to a medium route in the last change, has now been upgraded again to a full 'long' route meal service. The main changes are due to happen in September and it looks likely that the medium routes will likely be the focus of attention with perhaps hot food returning. This could also include a re-assessment of the route band as per Madrid rather than a blanket approach. For the short routes such as Dublin I think if they just improved the quality of the paninis it would be fine as some of the flights are less than an hour. However for medium routes such as Madrid, Pisa and Nice they have more than enough time to offer the full service.
At the moment it is all speculation but it looks like the large bottles of wine and champagne will go from the long routes. I can't say I'm surprised by this and it's actually a change I would welcome. As the glasses are so small (I have been known to take my own Govino ones)  you have to keep waiting for top ups and it takes the crew much longer. I don't find the large bottles of wine any better quality than the small ones (they are all pretty bad) so for me it is a better option.
You can read about which routes are short, medium or long and the meals you currently get in Club Europe in this article.
Lloyds Avios cards
Since Amex withdrew all its licensing agreements for other companies to issue co-branded Amex cards in the UK, it has only been a matter of time until the existing Lloyds product was withdrawn. The current card is currently closed for new applications. It used to give an upgrade voucher after £7000 spent for British Airways, 0% foreign transaction fees plus Avios on purchases. This made it my first choice of card that I use for all my travelling. It looks like an announcement is imminent as the terms and conditions have been changed on line. However, we don't have the answer to everything such as the future of the upgrade voucher, whether the annual charge will stay the same or whether there will be 0% foreign exchange fees.
What we do know according to the online T&Cs (assuming they are correct)  is that the new card will have a different earning rate. The earnings rate for the MasterCard  (or they could switch it to a Visa card) show:
2 Avios for every full £5 spent on Purchases
4 Avios for every full £5 spent on Non-Sterling Transactions
2 Avios for every full £5 of a balance transferred to your Credit Card Account.
You will also get a bonus amount of Avios for having a Lloyds current account for a minimum of 6 months. Overall this doesn't look a great deal although the earnings rate is better than now for the MasterCard. For me I will keep the card unless something better emerges for Avios and 0% foreign exchange fees. I do a lot of spending in foreign currencies so it saves me substantial amount of money per year and if I get some Avios on top then it's a bonus. Once we know the full details then it will be easier to make a full assessment.
HT: HfP
Virgin announces A330-200 Upper Class refurbishment
Earlier this year Virgin announced that they were leasing 4 of Air Berlin's A330s to help out with the issues caused by the B787 engine problems. These lease aircraft had Air Berlin's original Thomson seats which there are variants of on many airlines business class products such as Aer Lingus, Iberia, Malaysian and Garuda. The aircraft operate on the Manchester routes to New York, Boston, San Francisco and Barbados.
Virgin Atlantic has now unveiled new interiors for its A330- 200 aircraft. Until now there has been no Premium Economy on them but they will now be adding this along with a new look for Upper Class and refreshed look for Economy. The refitted aircraft are due to roll out from November 2018. This is a pretty impressive turnaround considering that they only started flying in March this year. Of course, next year sees Virgin's first delivery of an A350-1000 complete with a new seat design which I am very excited about to see what they will go for.
All Upper Class suites on the A330-200 will feature direct aisle access and a larger surface area for additional personal space versus the current Upper Class. The seat fabric will be upholstered with natural and soft Espresso leather in keeping with the current Virgin look. There are various different configurations of seats to choose from depending on whether you are travelling solo or with someone.
The 'Love Suite' is a little like BA's middle Club seats which are unofficially called 'honeymoon seats'. I would strongly recommend avoiding these as a solo traveller (or you are not that keen on your travelling companion!). As you can see from the photo below they are pretty close together with a small head height divider between them.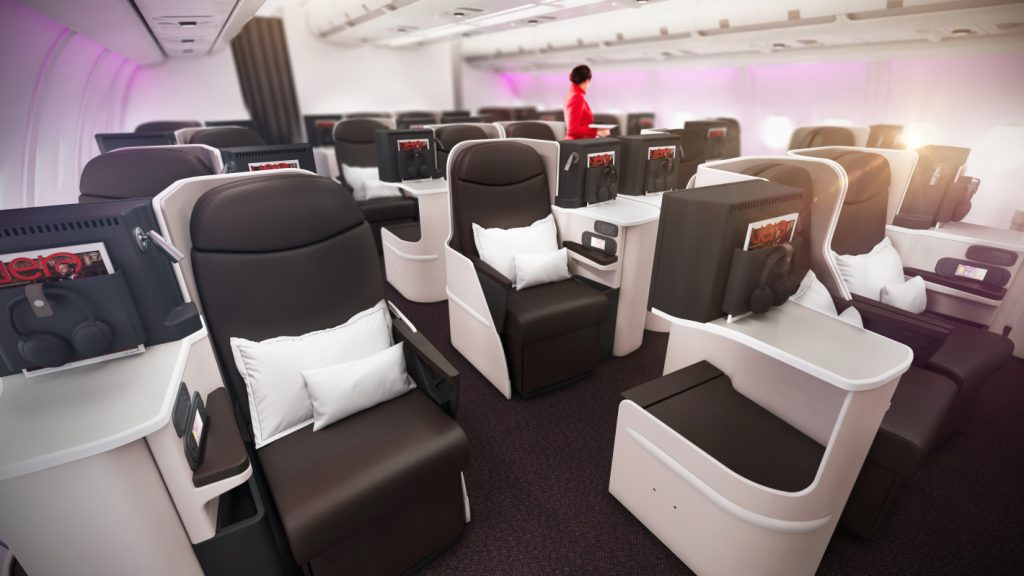 The best choice for solo travelers will be the window seats,  particularly the solo corner suite which is the most private. The Premium economy seats are the latest Virgin Atlantic seats.
You can watch the A332 being painted in Virgin Atlantic's livery:
You can read my reviews of Virgin's Upper Class and Clubhouse lounge here. For more information on Upper Class visit www.virginatlantic.com