I have a written about SeatSpy quite a bit lately as they have introduced new features and a paid subscription model. At the moment signing up for a paid subscription may seem counter-intuitive. However, miles are a great way to book trips given the uncertainty about when and how we will next travel. Most frequent travellers are probably sitting on a hefty chunk of miles due to cancelled trips or postponing booking the next one. For me, although I am still mindful of whether I need to worry about getting status, most of my booking now are either holiday bookings i.e. flight + car or miles/Avios. This limits my exposure to either losing much cash or having to wait a long time to get it back. With miles, the worst I will be out of pocket is the cancellation fee long term and short term I will just need to get back my taxes and charges.
Searching for reward flights can be frustrating on popular routes and SeatSpy solves many of the issues, although sadly it still can't magic up four seats in First to Sydney! It can, however, show you an entire year's worth of availability in all classes in one go for a particular destination as shown in this example looking at November: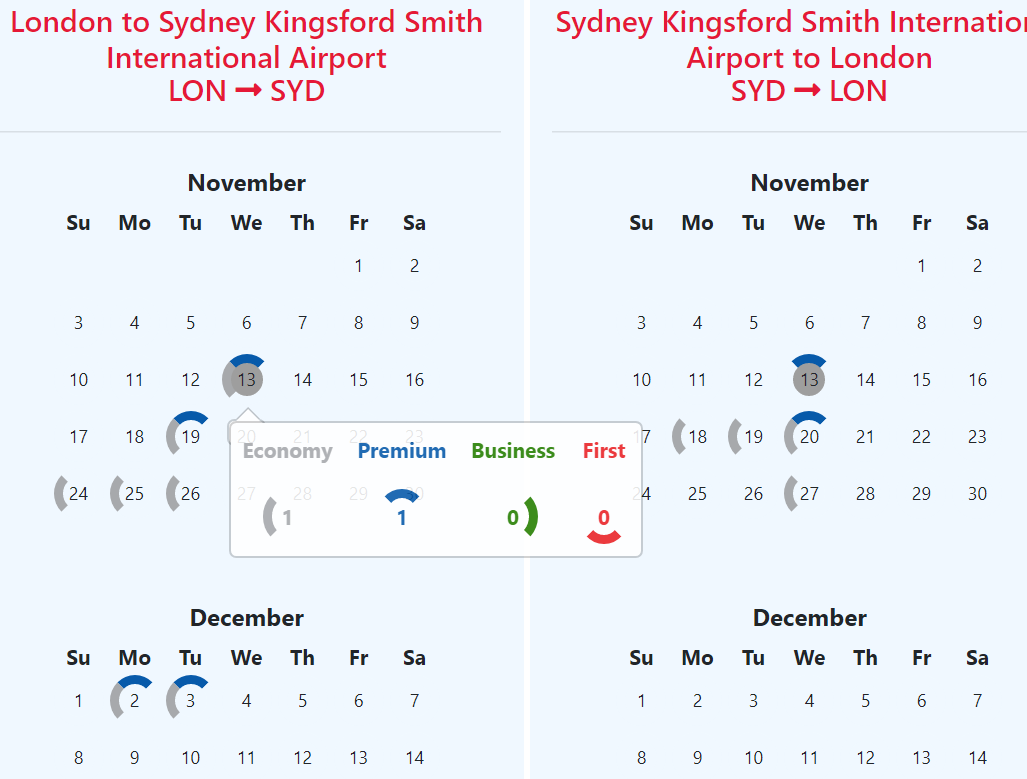 The good news is that all users can search and create unlimited alerts for BA award flights for free. For other airlines and some other features (like priority alerts and SMS alerts) you will need to subscribe in order to access them from now on.
SeatSpy has a limited-time introductory offer that will run until the end of Tuesday 26 May 2020. Anyone who signs-up to a paid membership will receive a lifetime discount as shown in the table above as a Founder Member deal. The first 3 months on the Premium tier will be free and then after that users will only pay £1.99 per month vs the regular rate of £2.99, and the First Class deal will cost only £2.99 per month vs the regular rate of £7.99 – a saving of over 60%.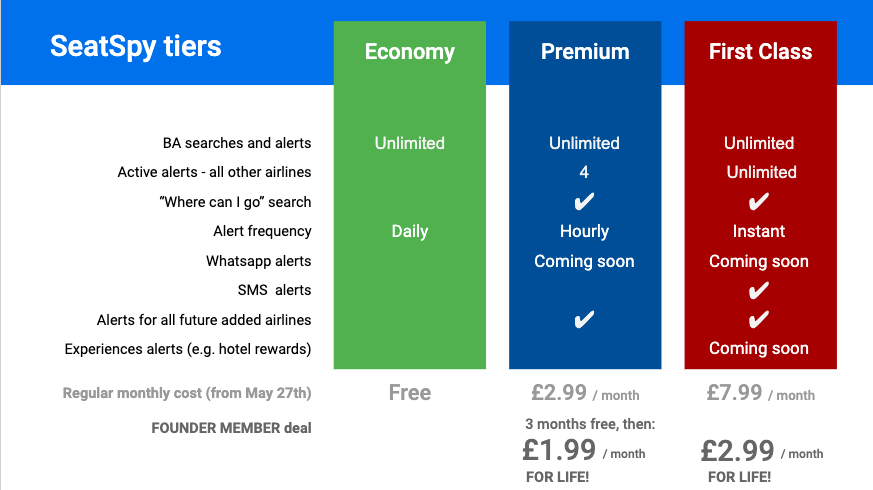 If we compare what you get and the pricing to other websites like Reward Flight Finder, then SeatSpy is a much better deal. I used to pay for Reward Flight Finder but have switched to SeatSpy. With Reward Flight finder it costs £3 a month but only for hourly email alerts and just BA seats, the SeatSpy deal for "First Class" is much better value. You get instant alerts by email or SMS, with What's app coming soon. Plus you can get an unlimited number of alerts which can be handy if you are planning a complex trip or a number of options.
You can find out more about using SeatSpy in this article or have a play with our SeatSpy widget in the sidebar to the right of this article.
SeatSpy plan to add additional features in the coming months including major US airlines. They will also be adding other functionality to the site including WhatsApp alerts and hotel VIP experience alerts, so the value of memberships will continue to grow, while founder users will have locked in the discounted rates.
Win 20,000 Avios with SeatSpy

There is now an even better reason to sign up as SeatSpy are giving you a chance to win 20,000 Avios points to use toward a trip or upgrade.
How do I enter?
Anyone who is on the Premium or First Class plan before midnight on 26th May 2020 will be automatically entered into the prize draw.
What can I win?
1st Prize: 20,000 Avios points
Runners Up Prizes: Five one year First Class subscriptions to SeatSpy
What if I am already signed up?
You will be automatically entered into the draw. All you need to do is cross your fingers!
Read more about the giveaway here.
You can sign up for the special offers and find more details on the SeatSpy website here.