You can read about my outbound journey here and my stay at the Anantara Vilamoura Algarve here.
Returning to the U.K. is more complicated than travelling to the vast majority of countries that are accepting visitors. Even with a green country you still need a negative Covid test less than 3 days before and another day 2 test on or before day 2. The exact wording is "The service on which you will arrive back in the UK must set off for the UK within 3 days of when you took the test."
The first test can be lateral flow or PCR with lateral flow being much cheaper and only taking around 30 minutes to get results. You can get tested at Faro airport but you must pre-book.
Children under 11 do not need a test.
You need to make sure it has the following information on the test results:
Your test result must be in either English, French or Spanish. Translations will not be accepted.

You must provide the original test result notification. It must include the following information:
your name, which should match the name on your travel documents

your date of birth or age

the result of the test

the date the test sample was collected or received by the test provider

the name of the test provider and their contact details

confirmation of the device used for the test, or that the test was a PCR test
You can find the official government page here.
Qured lateral flow test by video

I chose to use Qured which is only £33 if you buy using BA's discount code. You take the test with you. I'd advise doing the test as early as possible in the 3 days before your return in case of any hiccups.
You buy the kit online and book a video appointment for them to supervise your lateral flow test. You just need to remember to pack the kit!
The next piece of advice is to make sure you read the instructions before your appointment and get everything ready. It's all pretty straightforward- it just speeds it up if you have opened and arranged everything.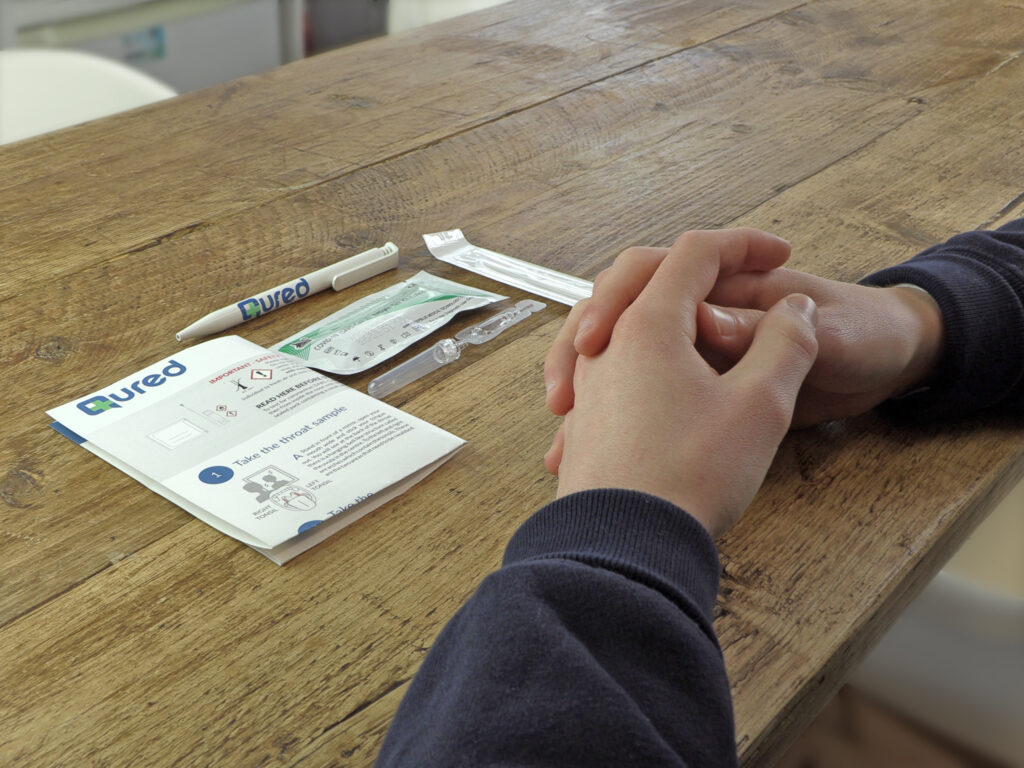 You will get several text reminders about your appointment beforehand. My top tip is to take a pen with you. Many hotels have removed them from rooms and I ended up having to use eyeliner as I couldn't find my pen at the time!
Once you are seen it takes around 10 minutes. You initially sign in to the video call and then are in a queue for a tester for a few minutes. I tried using Chrome and could not get the camera and microphone to work but it was fine on Safari.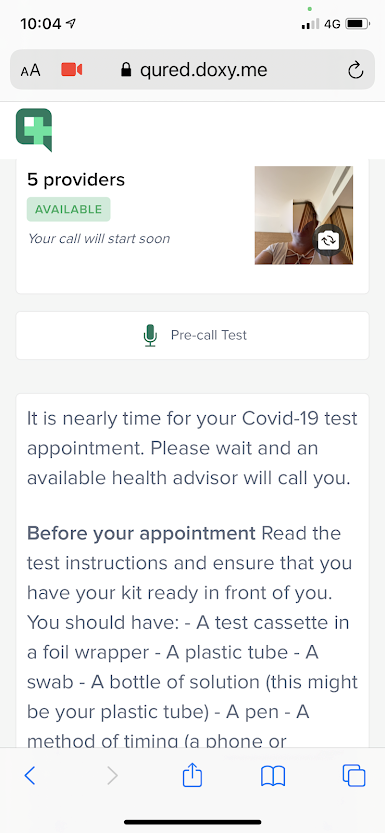 You use the swab to take a sample from your throat and nose with the Qured person watching and instructing via video link.
Then you have to dunk the swab in a tube with some solution and then add a couple of drops of the solution to a cartridge.

To make sure you don't cheat, you have to write the time and date etc on the cartridge and show it to Qured. Then you set a timer for 20 minutes and the appointment ends.
After 20 minutes (there are strict criteria of how long you have to send the email) you need to take a photo of you with the test and your ID and email it off.
Here is a video that shows the whole process:
I received my results 37 minutes later with the certification for travel. This seems about the normal time but it can occasionally take longer.
Conclusion
I had actually bought two of these anyway as they sounded like a great idea. Having done the test I will definitely be using these in the future for any travel. It was a very low hassle way to test before your return and cheap with it. You don't have to waste time finding somewhere to test you, worrying that they won't put the correct information on it or spending money to get to a test centre.
You can find more information and the BA discount code here.