BA new Club World
There has been a lot of discussions over at Flyertalk and on other blogs about the new Club World service which I reviewed here. As I reported a while ago, no sooner had British Airways rolled out the first routes after JFK with the new service than they began cutting back. My pet peeve is the change of the salt and pepper shakers to the old sachets. Surely this has to be one of the few airlines that do this in long haul business class?
Now it has emerged that instead of using premium caterers Do & Co who have provided the JFK catering for the last couple of years, BA will be using Gate Gourmet. Gate Gourmet are the existing BA caterers but it was not clear until now that despite developing the catering, Do & Co will only be delivering it on the JFK flights.
It will be interesting to see how the catering develops as it launches on new routes. Despite the negative reception to the news that Gate Gourmet remains, I personally think it is too early to tell if it will mean worse food. Aside from the beef, I have found most of my Club World meals by Gate Gourmet to be perfectly acceptable even with the old service over the last 6 months in Club World. You can read reviews of all my BA Club World flights here. Even though it will not be Do & Co there will still be the new service with a choice of 2 starters, soup and salad (which technically you can have one of each of), 3 main courses and several desserts and cheese. This along with the new dining ware and bed linen is definitely an improvement, if not at the standard of Qatar.
As BA are launching lots of new routes this month I thought it would be worth a look at which routes have the new bedding and dining.
| | | |
| --- | --- | --- |
| ROLLOUT | NEW DINING | NEW BEDDING |
|  Complete | London City to JFK | Boston |
| | New York JFK | New York JFK |
| | | New York Newark |
| | | London City to JFK |
| February | Baltimore | Atlanta |
| | Chicago | Dubai |
| | Dubai | Hong Kong |
| | Hong Kong | Houston |
| | Houston | Johannesburg |
| | New York Newark | Kuwait |
| | Montreal | Los Angeles |
| | Philadelphia | Mexico City |
| | Toronto | Riyadh |
| | | San Diego |
| | | San Francisco |
| | | San Jose (US) |
| | | Seattle |
| | | Washington |
Group boarding update
After a few false starts and a gradual roll-out since January, group boarding is now live at all airports on mainline BA services. The idea to revamp group boarding was to try to reduce congestion and queuing at the gate which let's face it had become something of a rugby scrum on a regular basis. I had even taken to arriving at the end of Priority boarding except when in an exit row on bulkhead where luggage space was limited.
When you check in you will be given a number on either your paper or mobile boarding pass that gives your number.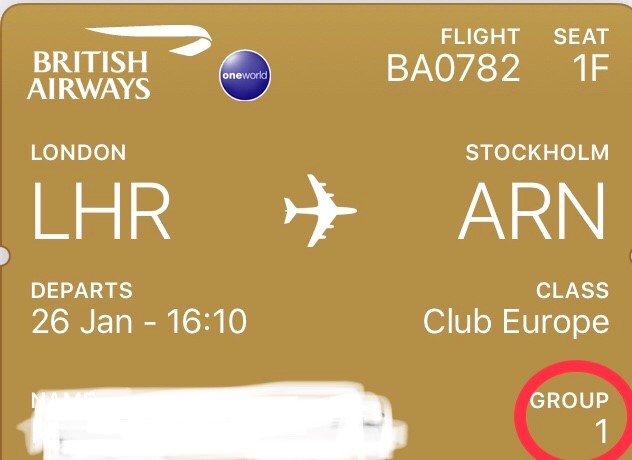 Pre-boarding for families etc will still happen first. At Stockholm, it seemed rather confused this week as the sign said Boarding groups 1,2 and 3 which just ended up in the usual crowd around the gate. They called group 1 first but it didn't stop someone in group 4 trying to get in ahead of me in group 1! After some conferring with his supervisor, the gate agent turned them away. No announcement was made to tell other passengers to remain seated which didn't help either. I will be departing from Heathrow next week so it will be interesting to see how it goes there. My previous flight a couple of weeks ago was a bus gate so I didn't see how they did the groups.
The groups are:
Long Haul Groups:
1 Gold/Emerald/First
2 Silver/Sapphire/Club World
3 Bronze/Ruby/World Traveller Plus
4 and 5 World Traveller
Short Haul Groups:
1 Gold/Emerald/Club Europe
2 Silver/Sapphire.
3 Bronze/Ruby
4 Euro Traveller
5 Euro Traveller customers who have purchased a hand baggage only fare
BA Leased aircraft
BA have put an official statement on their website regarding their leased aircraft for this summer. Interestingly they have not contacted me directly about my bookings which are affected. The statement basically says that they will also be using Germania from Gatwick as well as CityFlyer and Titan which I have previously mentioned. Interestingly it says there will be "complimentary catering provided on all of these flights operated by a third party on behalf of British Airways". So one would assume that this means that economy will get something as at present it looks like no business class will be offered. It would be nice if BA were more open about this in the statement.
All they appear to be offering at present if you are affected is being moved to another BA operated service but since by EU regulations you entitled to 75% of the sector fare if you are downgraded, I would expect more as well as hoping for original routeing credit for the tier points. I plan to contact them shortly and I will let you know the outcome.
The changes can't be made online so you will need to contact British Airways to do this. The official BA statement is here.
Qatar's QSuites
After using the QSuites on the inaugural flight to Canberra (via Sydney), Qatar will now be using the QSuites on this route from later this year. This will start from June 2018 on the QR907/6. This leaves you with a choice to make if you plan to fly to Sydney after June 2018. Do you choose the QSuites on a B777 or do you have the slightly less private but still excellent A380 seats to fly on the upper deck?
Qatar have also confirmed to Australian Business Traveller that the A380s in their fleet will be fitted with revised QSuites in 2020 as the current QSuites can't be fitted to the upper deck of the A380 due to the curvature of the fuselage. They are now developing a new version of the QSuites that will be fitted in a 1-2-1 configuration. This will first be fitted on the B787-9s with the A380s to follow in 2020. The entire fleet of B777s are expected to be fitted with the QSuites by mid-2019. Qatar have also been looking at how they might improve their First Class seats as this is now less private than the QSuites even though the onboard service is superior.
You can find out more about Qatar's QSuite here.
Have you experienced new Club World catering on the Boston route? How did you find the quality? How have you found the group boarding since its introduction? Is it a genuine improvement or just lip service? Let me know below or on social media.