Unless you have been glued to Flyertalk over the last few weeks you may have missed some of the latest British Airways news. There have been 2 forums where British Airways have openly discussed their future plans. The first was the IAG Capital Markets day presentation for investors. Secondly CEO Alex Cruz was interviewed by US blogger The Points Guy. You  can see the interview here.
General changes
WiFi will be fitted to the 777 fleet first with the first aircraft going live in January 2017. It will take about 18 months to complete all the fleets. Pricing has not been decided yet.
They would like to introduce more routes to US cities but will not be adding anymore until the new routes to Orleans, Oakland and Fort Lauderdale have bedded in. They will then assess the success of the new routes before making any further decisions.
Fuel surcharges are here to stay despite the drop in oil prices. They will keep overall prices competitive.
From 14th December credit cards fees on BA.com will change to a flat 1% with a maximum of £20 per ticket.
A new BA app will be launched at the end of 2016.
Club World
British Airways are investigating options for new club world seating but it is not likely to happen anytime soon across all the fleets.  They would like to address the issues with aisle access and also the problem with having to studiously avoid eye contact with a stranger  if you are travelling solo! They do not favour adopting the reverse herringbone seating but realise they need to improve the current seating. Reverse herringbone seating is used on many modern aircraft such American Airlines, Cathay, Qatar and Finnair.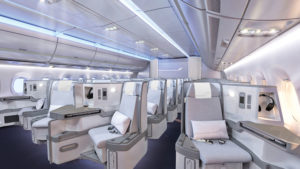 The Club cabin for the A350 has not been decided but yet leaked plans seem to indicate that every seat will have direct aisle access. The A350 is due to be introduced in 2018 and a decision about seating is due to be made in the first half of 2017.
Dynamic pricing for seating in Club which has already been introduced depending on which row you are in. They also plan to introduce the ability to pay for seats with Avios.
BA are investing £400m in improving the Club World product which begs the question why they have been cutting everything over the last year only to change it all again. This investments will include improved food and drink quality and more pre-order choice. However according to a BA staffer on Flyertalk this will mean less choice on board! The number of main courses will reduce to 3 and Champagnes is be reduced to just 1 instead of the current 3. The staffer also said that there would be enough loaded for passengers to have both cheese and dessert unlike at present.
Bedding will also be improved with the current mattress topper trial being made permanent.
Club Europe
BA will introduce Club Europe on Domestic routes from London to Belfast, Manchester, Leeds-Bradford, Glasgow, Edinburgh and Inverness. Timescales have not been confirmed. This could come in very handy if you need to get a few tier points quickly depending non how they decide to set the tier points.
First Class
First class seating capacity overall will be reduced on routes where it is not been filled and even removed totally on a small number of routes. They plan to 'optimize' the first class product but do not plan on an 'extravagant product. Let's hope that doesn't mean enhanced!
Executive Club
Alex Cruz discussed his views on the Executive Club and the future does not sound that positive, unless you have miles to burn. He would like to go with a more revenue based model similar to what some airlines are already adopting. However it would not be a full revenue model but instead 'value based' for earnings and redemption similar to the one he introduced at Vueling. He ruled out any changes for 2017 so we can all rest easy for a while.
He acknowledged that redemptions can be expensive in terms of fees and charges which is something he would like to address. Before you get too excited his solution was to charge a number of Avios based on the value of the ticket. So you may pay more Avios to get the seat that you want if it costs more as a revenue ticket. However this would potentially mean more Avios seats would be available as they wouldbe able to charge more Avios for the expensive ones.