Today's article is by John Roberts, a former BBC radio and TV journalist and presenter. He is passionate about the Cook Islands and has spent a huge amount of time there. He has also written an e-book on the subject as well as running a website dedicated to the Cook Islands.
After nearly 27 hours of flying from the UK, the few and far between lights of tiny Rarotonga blink out of the inky blackness of the vast Pacific Ocean far below. They call it the capital island but there are no cities and just one town on the 15 alluring islands of dreams that make up the Cook Islands. These tiny reef-fringed specks that you'd be hard-pressed even to find on a map are scattered across an area of the South Pacific the size of Europe, slightly larger than Indonesia or Mexico and nearly three times the size of Texas. And their unspoiled beauty is due mostly to their remoteness. First, get to Auckland then fly, Air New Zealand roughly north east for another three and half hours*, or head to LA and take a ten-and-a-half-hour flight south west. Either way, you'll land today at a modest but modern airport which was completely rebuilt in 2013.
Unchanged and unchanging though is the welcome from a straw-hatted islander who stands in a corner of the arrivals hall strumming a banjo and singing Polynesian love songs and popular favourites. 81-year-old Jake Numanga senior – former fire rescue officer, pig and poultry farmer – has been providing his unique entertainment for every arriving and departing international flight since 1980.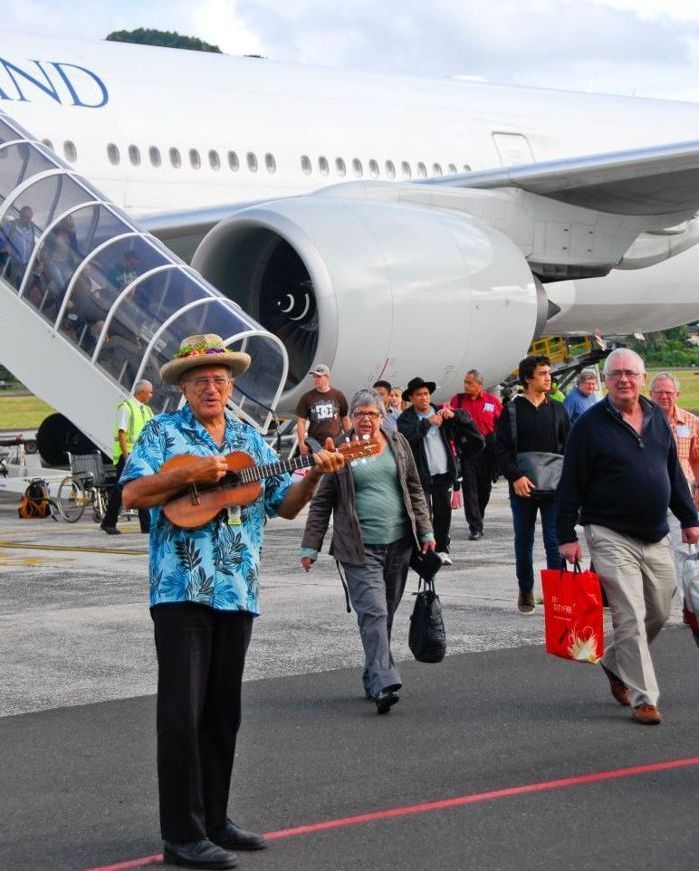 It was dark when I arrived for the first time, but that wasn't going to get in the way of discovery. The main resort area of Muri beach – about 10 minutes' drive from the airport – is deserted and silent apart from the pounding of the Pacific Ocean and the best free show in town is underway. With no light pollution, looking up into the night sky was like seeing the view inside a planetarium. Billions of stars sparkled down as they must have done since the first Polynesians crossed uncharted seas in their canoes to reach these islands more than a thousand years ago. At low tide, you can walk easily across Muri's picturesque lagoon and explore three tree-covered little islets, the largest of which is also the most popular venue for visitors having their 'wedding in paradise'.
Sunrise bathes the sky in a warm glow around six in the morning and the white sandy beach comes alive with walkers, joggers…and resort staff sweeping the sand. A few miles away, Avarua – the administrative and commercial centre, known locally just as "town" – is also waking up. Between July and early October, you can look across from the main street to the azure blue Pacific and see humpback whales on an annual 6,500 km journey through the waters to mate, give birth and rest. They're safe here because all two million square kilometres of territorial waters are the world's largest designated whale and shark sanctuary.
You won't (thankfully) find any fast food chains, or the ubiquitous supermarkets and big-name stores in Avarua, or anywhere in the Islands for that matter. And nothing is high-rise. By law, no building can be higher than the highest palm tree although some of those grow pretty big. Instead there are lots of small shops, and cafes, these days complete with wi-fi for those who can't bear to be away from their phones even here. The closest to a superstore is the Cook Islands Trading Corporation or CITC which has been part of island life since 1891. Its modern looking low rise white building complete with its own car park is the largest and most prominent in town. Once a vital trading post for locals, it boasts today that it stocks furniture, toys, electronics and Polynesian gifts alongside TVs, beds and candle holders. But if you yearn for something from the old seafaring days, other stores in town still stock cabin bread and ship's biscuits that will break your teeth!
Wander over towards the harbour between 6 am and 1 pm on a Saturday or 5 and 9 pm on a Thursday evening, or just follow your nose and prepare for it and all your other the senses to be assaulted at the busy Punanga Nui open air market. It's packed with as many locals as tourists. Rich and tempting smells of barbequing chicken, fish and pork are carried on the smoky air. The freshest of fresh colourful fruit and vegetables are on sale, some just stacked on the back of pick-up trucks and most likely harvested by hand earlier that day.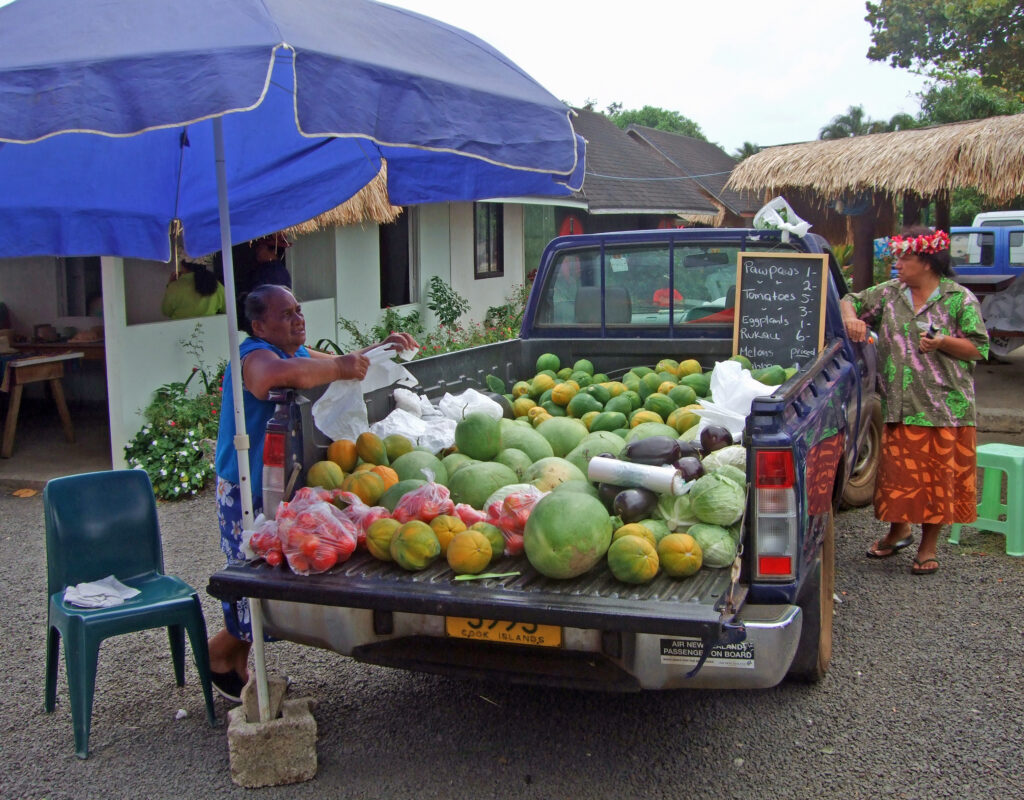 If you want to see a really different way of selling though, look out for the unique fish tree and gaze up into its branches. A sign explains that a traditional means of marketing a fisherman's catch is to sew it into a bundle or tui and hang it from a branch ready for a buyer.
Everywhere, there's an intoxicatingly sweet scent of white gardenia or tiare Maori as they're known locally, woven with other flowers into multicoloured garlands or eis. Local heads, necks and stalls are adorned with them. And the bustle, buying and gossip are played out on Saturday to the soundtrack of islanders in their traditional dress singing and dancing not just for the tourists, but for the sheer joy of sharing what is their national "sport".
In late July, dancers, singers and drummers from across all of the islands descend on Rarotonga for what I suppose you could call the sport's cup final and the coveted title of 'Dancer of the Year'. It's all part of the annual constitution celebrations, Te Maeva Nui which translates as the major or most important celebration. A float parade, food festival and church services feature in a two-week programme, climaxing with much cheering and shouting at an awards ceremony at the National Auditorium.
Discovering more of Rarotonga is easy. The main road around it is just 30 kms long and 'Cook's Island Bus' travels the whole length. The only decision you need to make is whether to go in a clockwise or anti-clockwise direction; each bus has a board or sign on the front telling you which way it's going and it'll stop almost anywhere you want it to. Or hire a bike..they're ubiquitous

A definite 'must stop' is Tamarind House close to the town centre. Built in 1904 as a home for the management of the Union Steamship Company of New Zealand which was the most important shipping company of the time, it's probably the finest restaurant on the island, and certainly the one with the most stunning setting. Two and a half acres of land sweep down to the Muri lagoon where you can sip cocktails at sunset under the palm trees and dine in old-fashioned elegance to the accompaniment of gentle sea breezes.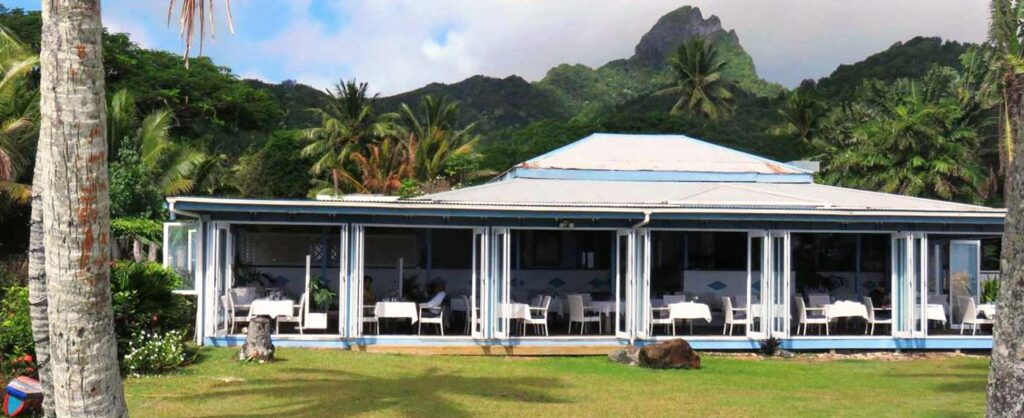 If the Tamarind is the epitome of elegance, another iconic establishment on the 'must visit' list is just down the road at the harbour and it's…well, different, but in a good way. You can't miss 'Trader Jacks'. The name is painted in huge red letters on its white metal roof. And it's hard to believe it's only been around since 1986 because it's very much an institution thanks to its 74 year old owner, Jack Cooper who describes himself modestly as "the Gordon Ramsay of the Rarotonga ecosphere".
There's no doubt though that this is an island that is changing and becoming more commercialised in the relentless quest for tourist dollars. Hen and stag parties, unknown 10 years ago, are becoming more common, there's a party bus which will take you on a tour of half a dozen bars and quad bike off-roading "adventures" to try. But there is still plenty that's unique to fill your mind with amazing memories and your camera with countless pictures.
There's so much more to the Cook Islands than just Rarotonga though – 14 other islands to be precise, although two are deserted. Each island has a story to tell. There's the one populated and owned entirely by the descendants of an Englishman and three of his five wives, another where buried treasure lies undiscovered to this day, an island with a church that was literally divided down the centre by a brick wall after a row about interior decoration and another where islanders enjoy a sort of cricket whose games can last for weeks on end and obscene speeches are an essential part of play.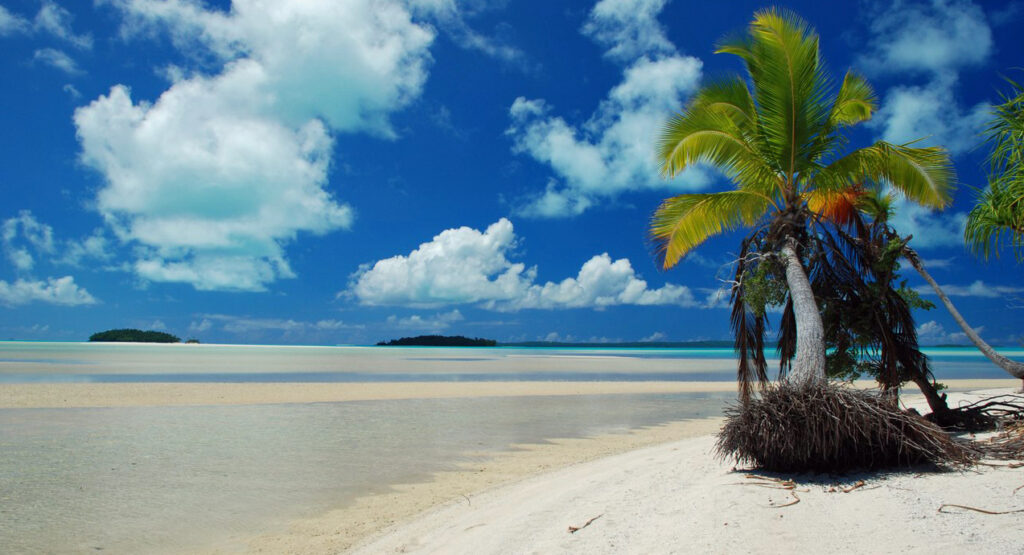 Privately owned Air Rarotonga will fly you to eight of these truly unspoiled destinations on their small fleet of Embraer Bandeirante, Saab 340 and Cessna Citation II Model 350 planes. Tickets to the remotest islands with their crushed coral airstrips are more than NZ$1500 return. Or join me, when the borders re-open to this country which has never had a single case of Covid, on a 4 day long Northern Atolls expedition visiting and staying on some of the most remote islands. You won't rack up any frequent flyer points, but you will take away memories to last a lifetime.
*Qatar Airways offer flights via New Zealand where you change onto Air New Zealand for the final leg. So you could earn Avios and Tier Points on the Qatar flights.